Yoga vs. Pilates: The differences and benefits
Understanding the difference between yoga and Pilates can be difficult. We've explained the key differences and benefits of both.
We're committed to our readers and editorial independence. We don't compare all products in the market and may receive compensation when we refer you to our partners, but this does not influence our opinions or reviews. Learn more about Finder.
If you're one of the people who assume that yoga and Pilates are basically the same thing, it's time to rethink what you think you know about both types of fitness. Although they have some key similarities and share some of the same principles, there are some important differences between them and this may mean that you prefer one over the other.
Pilates
Pilates is a lot more modern than yoga and has only been around since the end of the Second World War. It's a very disciplined and structured type of exercise – much more so than yoga.
Pilates is considered to be low impact and is aimed at strengthening the body. Dancers often use Pilates to improve their strength and flexibility.
What are the types of Pilates?
Pilates can be either equipment based or mat based. If you just want to keep things simple you can do Pilates work on a mat, but using equipment takes things up a notch. Pilates equipment can bring resistance to your workouts, for example.
What are the benefits of Pilates?
Pilates can tone the whole body and is a popular way to get a leaner look without building muscle. If you want to sculpt your body a bit more but don't fancy weight training, Pilates could be for you.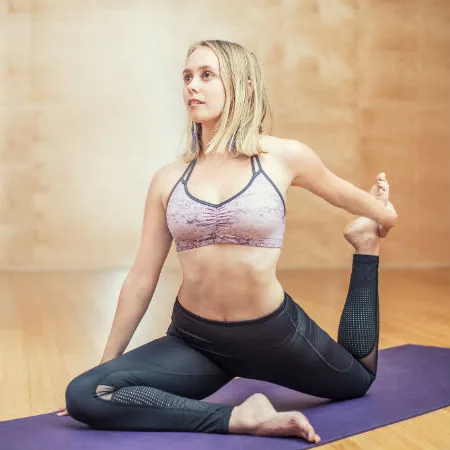 It's also great for building stronger abdominal and back muscles and for encouraging the body to tap into its natural healing powers. If you're keen to get a flatter stomach, Pilates is definitely a great choice.
Yoga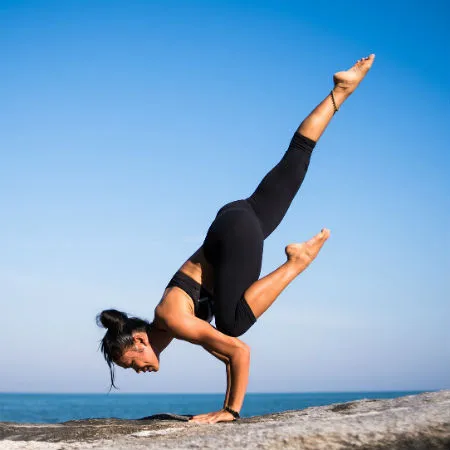 Yoga is thought to have its roots in India and has been practised for thousands of years. Essentially, it is a range of postures that are designed to make you more flexible and improve your muscle strength. Unlike Pilates, it tends to involve meditation and deep breathing.
Like Pilates, yoga is usually a low impact exercise but power yoga can offer some cardio benefits and is on a par with walking at a brisk pace.
What are the types of yoga?
There are lots of different types of yoga and some are more physical than others. Which type works best for you depends on how intense you want to get and whether you prefer some of the more spiritual aspects of yoga. Some of the main types include:
Hatha yoga – Hatha yoga combines postures and breathing techniques. Your breathing is a key part of this type of yoga, which helps you to relax and reduce your stress levels.
Vinyasa yoga – Also known as power yoga, Vinyasa yoga is performed at a faster speed than many other types of yoga. It involves both seated and standing postures and inversions such as shoulder stands. If weight loss is your goal when doing yoga, this is a good choice as you'll burn more calories.
Kundalini yoga – Kundalini yoga aims to invigorate your body and relax your mind. It's based on the idea that energy is stored at the bottom of your spine and can be released through this type of yoga.
Ashtanga yoga – If improving your strength, endurance, flexibility and balance is your aim, you'll love this type of yoga. This is another type of yoga that can be difficult for beginners but with regular practice, it does get easier!
Yin yoga – This type of yoga is all about calming your mind and body.
Bikram yoga – Want to detox? This is the perfect yoga option for you but be warned – things will get sweaty!
Restorative yoga – Passive stretching is the main focus of restorative yoga. Compared to some other types of yoga, you barely move at all and only go through a small number of postures but it helps your muscles to get some intense relaxation.
Chair yoga – Want to get the benefits of yoga but not overstretch yourself? Chair yoga is ideal for people who are less mobile as it's less strenuous on the muscles.
What are the benefits of yoga?
Some of the benefits of yoga include:
Better flexibility
Greater strength
Improved blood flow, especially to vital organs
Stronger joints
Better wellbeing
With yoga, you'll work pretty much every muscle in your body through the various poses.
What are the key differences between Pilates and yoga?
Both yoga and Pilates are based on improving your strength and flexibility but Pilates has a greater focus on getting a stronger core. You may well strengthen your core through yoga poses but this isn't a key aim compared to Pilates.
Breathing is important to both yoga and Pilates but the way you breath isn't the same. Yoga uses breathing on a much deeper level and you're aiming to breathe in line with the poses you're performing. The way you breathe can vary depending on the type of yoga you're doing.
For Pilates, breathing is more straightforward and usually involves controlled breathing in through your nose and out through your mouth to start a muscle contraction.
Although yoga and Pilates are quite different, they can actually complement each other and many people choose to do them both, rather than picking one over the other. It's quite common to start off with yoga poses then switch to Pilates, and you can use Pilates to get stronger for your yoga poses.
Are they safe for pregnant women?
Pregnancy yoga and pregnancy Pilates are becoming more popular amongst pregnant women so there's no reason to shy away from either while you're pregnant.
In fact, both pregnancy yoga and pregnancy Pilates can have lots of benefits for mums-to-be. The traditional yoga and Pilates exercises are adapted to address specific concerns that crop up during pregnancy.
Some of the things they can do include:
Pregnancy yoga can help you maintain good posture, even as your bump grows. Normally, your pelvis will be tipped out of line during pregnancy but this can be minimised.
Both pregnancy yoga and pregnancy Pilates can help to get your body in the best shape for giving birth, relieve back and pelvic pain and relax you during pregnancy.
Whether you choose yoga versus Pilates often depends on what you're hoping to achieve. And if you really can't make up your mind, you can always do them both and get double the benefits!
Find out where to buy yoga and Pilates equipment
---
If you're after a bargain, use one our discount codes:
Popular Sport & Fitness coupon codes
| Last checked | Code description | Code |
| --- | --- | --- |
| 20 Mar 2020 | Extra 10% off all orders over $50 | AFF**** |
| 18 Nov 2019 | $15 off with orders over $100 | WWE**** |
| 18 Nov 2019 | $25 off with orders over $150 | WWE**** |
| 11 Dec 2017 | 40% off Super Greens Double Pack + FREE Aussie Post | SUP**** |
| 14 Sep 2020 | 15% off your first order | Tha**** |
More guides on Finder