WWE 2K17 Review: Welcome to (same old) Suplex City
WWE 2K17 looks good, but it's still stuck with the same core gameplay problems it's had for years now.
We're reader-supported and may be paid when you visit links to partner sites. We don't compare all products in the market, but we're working on it!
The combination of Professional Wrestling and video games should be an absolute natural fit. Pro wrestling is all about the spectacle, staging elaborate fights where (in theory, and as per Jim Ross' famous call) "anything can happen", which sounds as much like a good game of Street Fighter as anything else.
Good wrestling games can feed the existing fanbase and entice new players, because while you might not know the difference between a wristlock and a wristwatch, thumping someone's (digital) head against a turnbuckle never gets old. Remember folks, don't try this at home.
Pro Wrestling has seen some fascinating game series in its time, with many older gamers generally tilting their favour towards either Human/Spike's Fire Pro series, or the classic N64 AKI-developed No Mercy. Leaving aside Fire Pro's disastrous Xbox 360 Arcade game, though, for the past few years the only game in town has been 2K's (previously THQ's) WWE 2K series. It's the biggest brand in sports entertainment with the widest roster of wrestling superstars, so it should be awesome, right?
The 2K17 iteration brings with it a few neat changes to the recipe, but the underlying engine remains the same curious mix of arcade and simulation-style play. If you were already frustrated with the slow development by Yukes of an engine developers have been iterating on for many years now you're not likely to be massively impressed with WWE 2K17. They've certainly had long enough. Depending on how you count it, it could be sixteen years, all the way back to WWF Smackdown! on the PS1, or even 21 years if you count the Toukon Retsuden games.
2K17's changes relative to the 2K16 iteration are relatively minor, including a two-stage reversals process that can either get you out of a grapple or inflict damage on your opponent if you get the timing right. A more robust KO mechanic pops up in multi-man matches that sees heavily beaten wrestlers roll out of the ring, to better match the flow of how most 3-6 man matches actually play out. You can opt to stand a little earlier when knocked out of the ring at the price of some in-game energy, or wait out and get a buff for resting.
Still, the gameplay is mostly slow and measured, except when it isn't. It's a mix where you can see what developers Yukes were going for, but they're frustratingly still not quite there yet.
What that leaves is a game that switches between feeling like an arcade fighter (which is where you're more likely to get your less-wrestling-inclined friends to play) and a straight-up simulation, where understanding how submission wheels, reversal timing and button-prompt minigames rule the day. The latter gives it depth of a sort, but it's not a depth that's terribly satisfying, and other, much older wrestling titles have handled that simulation side with much more finesse.
Ladder placement has been rather rigidly enforced, which has the benefit of meaning you're nearly always going to place a ladder underneath your title belt (or Money In The Bank briefcase) rather than playing guessing games as was the case in older WWE titles. However, that's a mixed blessing as characters will wander around rather stiltedly if you're not in an approved ladder position, and the same is true for a range of pre-rendered in-match situations such as breaking the announcer's table or many corner turnbuckle moves. Clipping of characters is still quite common, as is random odd AI behaviour in-match, such as standing near ring steps twitching back and forth if you're on the other side of them.
For solo players, 2K Showcase mode, which used to use a particular epoch or character as the basis of some fixed history matches, is completely absent from WWE 2K17. While Showcase had its issues, because achieving some objectives in set matches could become a chore, it still feels like a miss not to include some of the vast library of content that WWE has in its archives. WWE pretty much owns wrestling history, and it would be very nice to acknowledge that.
Instead, all you've got is the My Career mode and WWE Universe modes, both of which will happily serve up match after match if that's your thing. For the Career mode the main new inclusion is a bland, text-only promo mini-game that doesn't add much beyond confusion. It's all well and good to play up the heel/face mechanic, but the choices you're presented with don't always match up with the style you're likely to choose, and presenting the entire thing in text feels like it's regressive when you're reading out Brock Lesnar's lines rather than hearing him growl them out.
Character creation continues to be a very strong point of the series, with the ability to create just about anyone you'd care to if you're willing to put in the time with what is a very advanced character creation system.
If you're lazy or strapped for time, the library of community creations is already fairly robust, as we discovered putting together an epic Tables, Ladders and Chairs match featuring Doink The Clown, ECW alumni Raven and Rob Van Dam and, because he was available, Squirtle.
Squirtle, if you're interested, is a violent psychopath of a Pokémon with a fondness for hitting people in the head with chairs. Don't mess with Squirtle in the ring, people!
You'd expect an annual sports title to have updated rosters, and here WWE2K17 both impressed and annoyed me. The roster is very wide, with plenty of current stars and a wide array of unlockable legends, encompassing classic stars like Bret "Hitman" Hart or the classic version of The Undertaker, as well as more mid-card talent such as Larry Zbyszko or the Bushwhackers.
Most are unlockable via easily earned in-game points giving you the chance to mix and match current superstars with the grapplers that came before them. This is all well and impressive, but then there's the DLC sting to deal with.
If you're a fan of current NXT champion Shinsuke Nakamura, then you're in for a DLC hit, because he's only available out of the box in the NXT edition of WWE2K17, alongside Nia Jax and Apollo Crews, neither of whom are in NXT any more. You can't unlock him through gameplay, but 2K will happily take your money to make him available instead.
Given other lesser NXT talent is present in the vanilla version of the game, his exclusion feels like money grubbing work on 2K's part, especially when you consider that character creation is built right into the game. Yes, at least a few folks have created him, but it's not the same thing. By all means use DLC as a way to deliver new game modes, storylines or match types, but selling us characters when we can create them ourselves feels very cheap indeed.
2K17 is better than 2K16 in core gameplay terms, but the removal of the showcase mode, and the fact that 2K/Yukes don't quite seem willing to pull the pin on the underlying engine and try something completely new means that this is a game best suited for the really hardcore fans who would likely buy every year's iteration anyway.
WWE 2K17 is arguably the best this engine's been for a while, but it's time that 2K Games and Yukes looked at a new engine and a new, more natural way to merge pro wrestling and videogames, rather than minor tweaks and roster upgrades each year.
We reviewed WWE 2K17 on Xbox One with a copy provided by the publisher.
---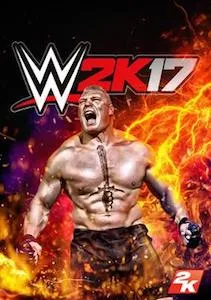 Click to order WWE 2K17 Xbox One Game
from ozgameshop.com
View details
---
More guides on Finder