Wreckfest review : Oh what a day! What a LOVELY day!
If you'd like to start your morning with a car-nage buffet that's all-you-can-eat, Wreckfest is well worth ordering.
We're reader-supported and may be paid when you visit links to partner sites. We don't compare all products in the market, but we're working on it!
You're looking at the spiritual successor to the FlatOut series with original developer Bugbear back at the wheel once more after a long hiatus. Forget fancy powersliding and precision cornering. Say goodbye to drool-worthy hypercars. Wreckfest is about getting sideways in the sloppiest of jalopies as you shred a field of rivals.
And oh how they do shred. Whereas the hook of the old FlatOut games was the ability to eject your driver through the windshield, Wreckfest's focus is on fetishistic soft-body damage modelling, which enables location-based damage that affects the driving dynamics of vehicles in a realistic fashion. Panels shear off. Family-sized sedans crunch down into go karts. If you're rammed off into the scenery that's bordering the raceway, expect to have to do a lap or two with half a fence speared though your window (or radiator). I once finished a race with a tyre riding shotgun next to me. We split the prize money. He was pretty pumped about it.
---
---
You'll find that very few races in Wreckfest will be clean. This is either because the field of AI opponents will decide to get overly shunty on you (and they will, thanks to a vengeance system) or because you've grossly overestimated the abilities of your car. It sort of comes with the territory when you go from driving supercars in GT Sport to paddock bashing over loose gravel and mud. Also, though the upgrade system is extensive, you never can tune one of these unloved junkers into something other than a V8 land ship. Wreckfest is all about a Dukes of Hazzard experience (lots of horses under the hood with a suspension system that feels like a quad stack of pancakes) and it's all the better for it.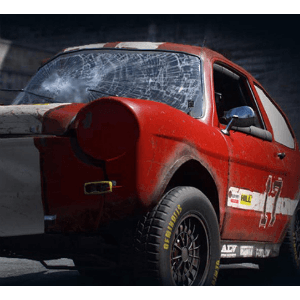 The main course of Wreckfest is five championships divided into ten four-race events which, sadly, must be slogged through linearly. Expect to become roadblocked more than a few times by races filled with competitors that are just beyond your capabilities and the only way to get on that podium is to blow your cash on roughly two dozen mechanical options. This wouldn't be a problem if Bugbear wasn't stingy with its prize money. There's also a car-rating system that forces you to buy into tiers of cars – effectively forcing you to restart the upgrading process again and again, rather than pimping one jalopy out over the course of many multiple championships.
This problem gets exacerbated by forcing you to spend your hard-earned moolah on two different disciplines. You'll have to devote one side of your garage to race-built speed demons and the remainder will need to be heavy, caterpillar-less tanks used for vehicular combat. Yep, at midpoints through your career progression you'll be forced to enter glorious, good ol' fashioned destruction derby events. Sometimes it'll be a race on the sort of overlapping track that'd give an OH&S official a heart attack. Other times, 24 of you will be crammed into an arena and it's Thunderdome rules until you win.
While the racing events are entertaining and challenging, derbies are where Wreckfest kicks it up a few gears. Bugbear has been at vehicular combat for a few decades now and this game contains some of their most devious arena designs yet. You get the usual mud pits and grass arenas but also quadrangles bordered by mesh halfpipes and bloodbowls that have jump ramps that enable death-from-above antics. The AI is reasonably intelligent and vindictive, though it's a poor alternative to playing online against 23 sociopathic humans. Trust me, these matches get to PUBG levels of intense when it comes down to the last three cars.
If that wasn't fun enough, Wreckfest includes a series of weird challenge events that feel like they were ripped from the twisted minds of The Grand Tour lads. Before you can even begin the solo career, you'll need to engage in a destruction derby between ride-on lawnmowers. I also had fond memories of trying to nail 9 laps of an oval track against a field of 20 school buses while I was in that awful three-wheeled car from Mr Bean.
All this being said, the side-shenanigans fall well short of ye olde FlatOut titles. Those games offered an overwhelming cavalcade of skill games that felt like a cross between an episode of the TV show Wipeout and a seatbelt safety test gone wrong. It's a shame to see that lunacy has been pared back to virtual non-existence. Hopefully, mods will fix this right up.
That loss aside, Wreckfest does a lot more right than it does wrong. This is a dinosaur that's as lovable as the creaking junkers portrayed – a racing experience unlike anything else in the modern marketplace. Buy in if you want a love letter to a time when car scrums were king and wanton destruction of hard-earned, shitty cars was desired over flashy super cars insta-bought by microtransactions. Play it online with the right sort of maniacs and you'll find that Wreckfest can be served all day long.
We reviewed Wreckfest on PlayStation 4 with a copy provided by the publisher.
Wreckfest
7.5 VERY GOOD
What we liked...
Spectacular deformation in crashes
Weighty handling and sweet muscle car feel
Online demolitions are a welcome return
What we didn't like...
UI design and soundtrack are irritating
Lacks modern creature comforts like rewinds
Lengthy load times, hemmed in career progression
I miss trips through the windshield
VERDICT
Few people do destruction better than Bugbear and this is true pedigree. Unfortunately, the excellent racing and derbies are lashed to an unsatisfying career mode that has really put the brakes on the FlatOut series' wackiness.
For more information on how finder.com.au scores games, check our review guidelines.