Worms WMD Review: "A riot with a big historical problem"
There's nothing quite like slipping back into the highly explosive world of Worms – except for every other Worms game, that is.
We're reader-supported and may be paid when you visit links to partner sites. We don't compare all products in the market, but we're working on it!
I feel like I've been playing Worms games for quite a long time now. If I pull out a calendar (they were the paper way we kept track of what date it was before these new-fangled smartphones, younglings), I can see that indeed, I have been. The original Worms came out way back in 1995. 1995! The world was a very different place back then, with the first title coming out on PC and Amiga. If you have to ask what an Amiga was, then I pity you. You really missed out.
Still, what you can't have missed out on is the fact that regular as clockwork, there have been plenty of Worms titles in the intervening period. More than there have been years, in fact, and that's not counting the wacky spin-off titles such as Worms Pinball or Worms Golf. It's safe to say that developers Team 17 have made an awful lot out of the alleged militaristic attitudes of blind invertebrates to the point where it's a game series that's old enough to drink in the USA.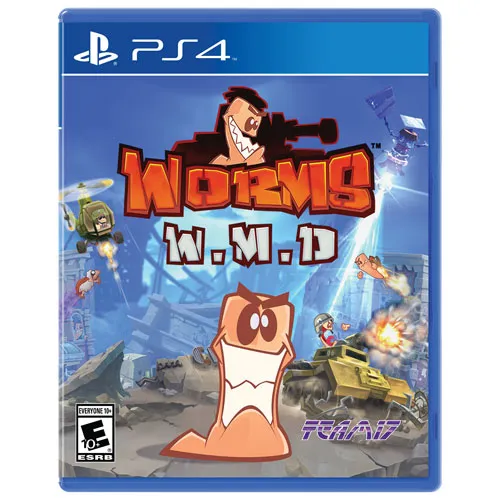 Click to order Worms WMD PS4
from base.com
Order it today from base.com
View details
Worms: WMD is the latest title in the exceptionally long-running Worms franchise, and while playing it is instantly familiar, this has some particular benefits and one very obvious drawback. Worms remains, as it ever was, a game of riotous multiplayer combat where you take on a team of humorously named worms intent on blowing their enemies apart with a range of bazookas, shotguns, exploding sheep, dragon punches and holy hand grenades.
No, don't ask how worms developed ballistic weaponry with no opposable thumbs. Worms WMD is very much a game of going with the flow, whether you're in a commanding lead or you've just accidentally thrown a cluster grenade down your own foxhole and exterminated half your squad as your turn.
Worms WMD's new quirks are the inclusion of vehicles, ranging from tanks to choppers to mechs, and even imported models such as the vehicles from Rocket League. You can hop in and out of these machines of destruction at will, and they are fun, mostly because they're not as unbalanced as the equation of Worm vs Tank might suggest. When it's your turn you can turf anyone out of any vehicle simply by making your way to it, which also opens up all kinds of strategies. It's extremely entertaining to chuck a worm out of a helicopter, drop some dynamite at his non-existent feet and then make your escape in his own helicopter before it all goes off.
Worms WMD also introduces buildings, and these are more than just landscape to be blown apart with bazookas, although you can still do just that. A worm in a structure is hidden unless it's your worm, which means you can strategically hide there, at least for a while, with the obvious risk that comes from having, say, a grenade lobbed into an enclosed space. The results aren't always pretty, although they're predictably comical.
Worms WMD also features a crafting system that allows you to build new weapons from parts of other weapons, or if you prefer, breaking down your existing ones to add to your toolbox. Crafting is a mixed offering, because while the interface is simple enough and it does add some complexity and an array of hyped-up weapons to pick from, it also means that many players will spend longer on each individual turn, which is a little irritating, especially in local play mode. Worms is at its best when it's fast and frantic, not slow and ponderous.
As has long been the case for the Worms series, single player is present but it's really not the point. There's not much fun to be had killing AI-based worms, because they're either cold heartless super-efficient sniping machines that never miss, or blithering idiots that sit there pondering their move for many valuable seconds before blithely walking into landmines right next to their own team mates.
The meat of the game comes in multiplayer, which is supported both online and in local modes. Local is still best for worms, because it's one of those games that genuinely does come from a time when that's all you'd ever do for multiplayer. That, and laughing when you accidentally drop a bunker buster bomb onto every vehicle and half the worms in a level is something that's worth sharing in person.
At a basic level then, Worms WMD is a riot, but it's a riot with a historical problem. It's fine and fun to play, but this essentially boils down to the reasons why Worms has always been fun to play. It's hectic and not always serious fun, but it's fun you could have with just about any other Worms game to date.
You could, if you're old and dusty like me, even dig out an Amiga and play the original with much the same effect, even if the visuals aren't quite as sharp as those in Worms WMD. For veterans of what is a veteran series itself then, while Worms WMD has some interesting quirks, they might not be enough to unseat any other Worms games you might own.
Sure, if you've never played a Worms title before (and without asking where you've been) it's still one of the most fun couch gaming experiences you can have. If that's you it's an easy recommendation, but there's little doubt that Team 17 doesn't have much more that it can milk from the franchise. Which inevitably means, I'm certain, that 2017 will see the release of Worms: WMDPocalypse, or something similar.
We reviewed Worms WMD on PlayStation 4 with a copy provided by the publisher.
---
Worms WMD is available now from $29.99
---