World of Warcraft: Battle for Azeroth review
It's a slightly flawed expansion that still delivers some WoW-factor.
We're reader-supported and may be paid when you visit links to partner sites. We don't compare all products in the market, but we're working on it!
I held off on reviewing World of Warcraft: Battle for Azeroth for two very important reasons. First, anybody who slaps a score on an MMO one week after launch is nuts – you need to give a game like this time to breathe to provide answers to some very long-term questions. Is it short and sweet? Or does it have a compelling endgame – a tail longer than the mighty dragon Onyxia's? Also, do the new mechanics get old fast, or is this the sort of all-consuming rethink that'll serve as the catalyst for many an IRL divorce.
Second, I held off because NBN co. was messing with my exchange or something. For a few days, my Internet was reduced to kilobyte deliveries made twice a day by bullock train. Not ideal when you're dealing with an online-only title.
But that's enough of my tale of woe. Let's instead get stuck into Blizzard's continuing one. After the last expansion, the march of the Legion exacted a terrible toll on the land of Azeroth. With no common foe, the jagged alliance between the Alliance and Horde is now torn asunder and it's on for young and centuries-old again. In preparation for an apocalyptic brouhaha, both sides decide to recruit new races to replenish their depleted ranks. In player terms, this means exploring new territory in the Great Sea between the Alliance's Eastern Kingdoms and Team Horde's Kalimdor.
---
---
The goody-two-shoes Alliance seeks reinforcements from monster hunter Jaina Proudmoore, leader of the fractious seafaring folk who live in Kul Tiras. Honestly, it's a lovely new triple-zone that I lost many a happy hour exploring. You'll be tasked with quests to de-curse Dustavar's ochre forests, cull a community of quillboars in the canals of Stormsong Valley and smite many a pirate upon the mountainsides of Tiragarde Sound.
Essentially, it's a 14-step intro quest chain that comes and goes without too many twists and turns. Perfectly solid, but it didn't blow my Night Elf brows back. That said, I did enjoy mixing it up a little with the new Alliance races (Void Elves, Lightforged Draenei, Dark Iron Dwarf) and found them to be worthy additions, even though they didn't lure me away from my old faithfuls.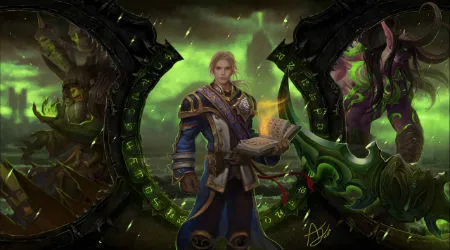 For those of you who think evil will always triumph (because good is dumb) BFA has a few Horde-centric positives as well. Their source of new recruits come from the ancient empire of Zandalar, an area that's home to more trolls than 4chan. You'll be asked to slog your way through the Titan-filled bogs of Nazmir, stomp blood-troll fanatics around the capital Zuldazar and out-snake cobra people in the burning wastes of Vol'dun. I personally liked this overall quest chain a bit better than the Alliance offering, though I suspect it was just that indefinable satisfaction one gets when playing as some new bad guys (Highmountain Tauren, Nightborne Elves and Zandalari Trolls).
That said, and no matter which side you take, everybody can get into Warfronts, 20-person co-op missions that have you sieging objectives as a means to increase your faction's stake in the larger fight. It has legacy scenarios, intelligently designed boss fights and sly winks to the RTS days of the series – subtle fan-service for the crusty old faithful like myself. The only perceivable downside in my mind is that it's a special event that rotates in and out for each faction.
Speaking of cool new content, you can also go explore the unmapped islands of Azeroth – each of them neat little mixes of PvE and PvP. Basically, a strike team of three players will land on a shore and try to strip the island of loot while dealing with mobs, or equally opportunistic enemy players. It's easily my most favourite bit of content in BFA, thanks to the AI exhibiting surprisingly human-like strategies to mess you up and deny you some hard-earned Azerite.
Yep, Azerite will become your new addiction in WoW. Being the custodian of the Heart of Azeroth allows you to infuse armour with Titanic Might. Basically, the filthy Legion littered the land with this new uber-resource – fancy unobtainum that allows you to select from tiered perks to effectively increase your power beyond the new 120 level cap. To put that number into perspective: you can insta-boost an old favourite up to 110. Yes, you'll avoid a whole lot of grinding, but any OG who did the hard yards will be rewarded with Heritage Armour. So that's nice.
Now, shinier stuff and more endgame content might sound all well and good on paper, but the sad fact is we're a month into BFA and this gear system is still the worst part of the expansion. On the one hand, its clothing is a take on Legion's Artifact Weapon system – the more you level up the heart, the more tiers and latent abilities will become available for your fancy mithril underpants (or whatever it is in your wardrobe). On the other hand, most of the boosts offered are passive, kind of boring and won't require you to mix up your usual go-to tactics, like Artifact weaponry often did. Worse, in order to give these lacklustre bits of armour more...lustre...the raid set has been nerfed of their often delightfully OP set bonuses.
It's all a bit of a mess, to be honest. Not unfixable, but Blizzard really should have sorted this out before launch rather than allow it to go on for a month. Hopefully the devs move quickly to stop an exodus of disgruntled players. Mind you, it has to be said that the player base that is still hanging around are quite appreciative of the rethought Communities system. It's now a cinch to find and recruit like-minded, diehard randos for the new Raid and Mythic+ dungeons.
That said, the nerfing of the rewards has sapped a lot of the appeal out of the Uldir raid. This is quite a shame because it's a thoroughly decent and challenging bit of content when compared to the WoW raids of yesteryear. I won't spoil too much of it, but suffice it to say that there are eight bosses and the setting – an overrun, underground Area 51 for the study of the Old Gods – is a pleasure to poke around in. More players need the incentive to get in and experience it.
In the end, Battle for Azeroth isn't perfect, but it does a heck of a lot more right than it does wrong. Yes, the all-important loot system is lopsided and in need of a rethink, but there's just no denying the sheer amount of great content on offer here in two (!!) immaculately designed and diverse continents. Then you have the randomising longevity of Island Expeditions and Warfront challenges plus a decent Raid that'll forge powerful friendships (or ruin them horribly). At minimum, this is above the quality of the somewhat experimental Legion expansion. Reactivate your guild and give it a shot.
---
We reviewed World of Warcraft: Battle for Azeroth on PC with a copy provided by the publisher.
World of Warcraft: Battle for Azeroth
8.0 EXCEPTIONAL
What we liked...
New continents are pretty, well designed and bursting with lore
Island Expeditions/Warfronts are addictive
Very decent raid content
New races are worth grinding up from scratch
What we didn't like...
More ho-hum dungeons and quests than usual
Azerite gear is currently a flawed concept
A host of minor tweaks that should have been sorted earlier
VERDICT
It's bursting with content, diverse continents and cool new modes but is let down by a lack of incentive brought on by a somewhat misguided Heart of Azeroth mechanic and raid gear nerfing. That said, it's not an unpatchable problem and is still worth a buy.
Available for PC
For more information on how finder.com.au scores games, check our review guidelines.
---