World of Final Fantasy Review
Gotta imprism 'em all
We're reader-supported and may be paid when you visit links to partner sites. We don't compare all products in the market, but we're working on it!
If you had told me six months ago to settle for a chibi-spinoff of the Final Fantasy series until FFXV releases, I would have told you get on your Chocobo. However, after spending some significant time with Square's wonderful World of Final Fantasy (WoFF), I'm a total convert.
Even though I'm personally well-and-truly ready to move past random encounters in video games, WoFF's turn-based active time battles and monster (mirage) collection/evolution system work as a comfortable replacement for the long-awaited console Pokemon experience.
We've spent over 20 hours with World of Final Fantasy. Here's what we think so far.
Comparing Chocobos and Charmanders
It's impossible to avoid the Pokemon comparison with WoFF. From catching them all, to evolving (or Transfigure, as it's referred to in this universe) them all, to battling to be the very best mirage keeper, the similarities are everywhere.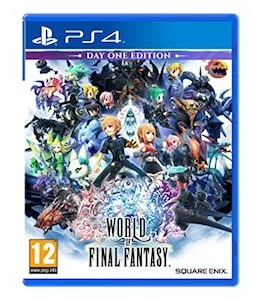 World Of Final Fantasy PS4 Game
from ozgameshop.com
The memorable legends of Final Fantasy come to life in this imaginative, colorful world as an epic story fit for the smallest of heroes unfolds.
View details
WoFF isn't the first series to try and capture the magic Pocket Monsters made popular back in '96 (even EA had something in the works) and it won't be the last. The difference here is that the Final Fantasy universe has a long history of beloved characters and monsters to draw from.
When you catch a baby Frit, you truly want to nurture it to evolve into the devastatingly powerful and iconic summon Ifrit. When you wrangle a baby Chocobo early on, you immediately begin grinding away, because you know that eventually you will be able to ride it across the chibi world of Grymoire.
It also helps that the characters and monsters, in their WoFF forms, are cute as hell.
Loads of loveable characters with one tiny the-problem
This being the game to celebrate Final Fantasy's 30th anniversary, there are more references and returning characters than you can poke a Buster Sword at. The sheer amount of characters and stories to consider makes tough work for the narrative designers who have to make sure WoFF stands on its own.
The good news is that the game definitely succeeds. From the Warrior of Light, to Yuna, to Squall and Sephiroth, each classic character is meaningfully inserted into WoFF's plot with grace and style without taking anything away from WoFF's protagonist twins, Reynn and Lann.
Reynn and Lann are also welcome additions to the Final Fantasy universe. While Lann's dumb sense of humour and endless puns are as endearing as much as they're cringeworthy, Reynn is a true badass who manages to ground her more ridiculous sibling.
While WoFF's story works a treat when it focuses on the siblings' mysterious past, it can begin to grate whenever the unbearably childish sidekick Tama is on-screen. Tama can't finish a sentence without triggering a verbal tic where it places "the" in front of every second word. It will drive you the-insane in no time, and soon enough, you'll be wishing you could reach through the television to the-strangle the absurd fox-fairy hybrid.
I would have much preferred Tama's frenemy, Seraphie, as the companion creature. Seraphie speaks eyes half shut speaks with a sarcastic drawl that makes her sound like a husky-voiced aunt who has just finished the last bottle of merlot at Christmas lunch.
Fast-forward fantasy
As you'd expect from a Square Enix title, there's a cutscene and some dialogue every time you turn a corner. As wonderful as they are (usually), WoFF is a big game and there are only so many hours in a day.
Thankfully, Square has included a fast-forward button (R2) that can be used to quickly scrub through all videos and dialogue. There are still subtitles, so depending on how quickly you can read, you can burn through the story twice as fast and still get the whole picture.
The downside to this is that you miss the majority of the incredible voice acting. Most of the characters' acting here (especially Seraphie) is on point. When it's a light-hearted character, like Chocolatte (WoFF's eccentric item vendor), the voice acting is suitably insane; when the character is darker, more menacing, like the mysterious Plume Knight antagonist, the tone is much more serious.
Overall, the characters are as lovable and endearing as those of previous Final Fantasy entries. This is great, because you'll be spending a lot of time with them in the long grind to the top.
Vi the very best, like no one ever was
On the surface, World of Final Fantasy's active time battle (ATB) system is just as deep (if not more so) as Pokemon's turn-based battles. You've got HP, AP and elemental strengths and weaknesses.
Where it gets a little more complicated is in the game's stacking system. You have four stacks (two for both Lann and Reynn), each with three spots available. Large characters sit at the bottom, medium in the middle and small on top.
It's kind of like a totem pole of Final Fantasy characters. This not only combines the HP and attack of every character stacked, but it also combines certain abilities to form one powerful attack. Stack three characters with the fire attack and you've got yourself Firaga.
There are more complexities to this system that I'll delve further into in the final review, but right now I'm having a lot of fun juggling types and characters in each stack - more fun than I've had organising my Pokemon party in years.
The only issue with this system is that it's not explained very well. There are tutorials – man, are there tutorials – and there's even a "tip jar" where each gameplay lesson is stored, but the explanations are often way too simple and favour lame jokes over helpful information.
20 hours in, my experience with World of Final Fantasy has been an insanely positive one. It scratches the monster-catching itch on consoles that Pokemon mastered years ago, and does so with story and characters that don't just celebrate the Final Fantasy universe but add their own charm to it. That could flip depending on how much variety Square Enix introduces in the many hours I've still got to play, but for now I'm smitten.
While not all characters are created with equal charm and some of the game's battling systems are poorly explained, it's a worthy addition to the Final Fantasy universe and a serious Pokemon competitor. It also proves the case for a fully-fledged Pokemon title on Nintendo Switch.
More guides on Finder