WipEout Omega Collection review
WipEout Omega Collection isn't a new game, but it's a spectacular realisation of Psygnosis' classic-yet-futuristic-racer that shouldn't be missed.
We're reader-supported and may be paid when you visit links to partner sites. We don't compare all products in the market, but we're working on it!
I can still keenly recall the very first time I laid eyes on a WipEout game. A friend of mine had sold pretty much everything he owned in order to buy one of the first PlayStations sold in Australia. He saw it as a good investment thanks to games such as Tekken and, of course, WipEout. WipEout was clearly Psygnosis' riff on the futuristic action first seen through Nintendo's excellent F-Zero, accentuated with some classic 90s electronica soundtracks.
Indeed, if you want a game that absolutely screams that it was built in the 1990s, load up the original WipEout and indulge yourself while I weep about the fact that 1995 was 22 years ago, and I'm not getting any younger. Except that the odds are fairly good that you, dear reader, don't actually have an original PlayStation any longer. Also, I can't seem to find that damned fountain of youth.
Still, at least we both have games like WipEout Omega Collection. It forms an essential love letter to the WipEout games of old while applying a fancy new coat of up to 4K paint to those still iconic ship designs.
In many ways, the most pertinent criticism of WipEout Omega Collection that you could come up with would be the fact that it's not actually an original game at all. The clue is in that title because it's instead a collection of three different recent era WipEout games.
You get the PS3's WipEout HD and its Fury expansion, as well as the PS Vita only WipEout 2048, so in strict WipEout terms, it's part of the more recent chronology on offer here. Each can be played through separately, but the essential handling and approach is identical across all games, with a grand total of 26 very high-speed racing circuits to fling your anti-gravity craft around.
Where F-Zero was about speed with the threat of explosive death always beckoning, WipEout has always taken a speed-above-all approach, with weapons that largely existed to look cool and slow down your foes or speed up your approach respectively.
There's a balancing act at play here between weapon utility and speed, because a useless weapon may as well be traded in for extra energy, but holding onto a more powerful weapon means skipping multiple weapon pads while you wait to set it off. Still, it's all a tradeoff against the pursuit of speed at its core essence.
That's because even the smallest fraction of a second really does matter in WipEout, so even gently brushing against a track wall can see you tumble down the rankings before you've had the time to even think about adjusting your air brakes. WipEout Omega Collection is unrelentingly tough to the new player, with very little in the way of obvious rubber banding to keep you in the race. If you suck at any of the games in WipEout Omega Collection, you've only got yourself to blame, and the only way to get better is to keep on trying.
The game itself is naturally a visual treat, but then the core designs of WipEout's ships had a very distinctive, albeit 90s, look to them that has stood the test of time well. They're simply sharper and smoother visually than they used to be way back when.
I wasn't sure how true this would be, so I fired up WipEout 2097 on the original PlayStation (I never throw anything out) to check, and while it's grainy, it's still fine to my ageing eyes.
WipEout Omega Collection, though, is so very much sharper and faster, and it's an upgrade that's very welcome indeed. If you're rocking a PS4 Pro and a suitable 4K display, it scales up to pixel-sharp 4K resolution while retaining that same fluid 60fps gameplay, which is very nice indeed. It's still exceptionally pretty even at 1080p, though. The one missing feature is any kind of PSVR support, although that could be a blessing in disguise considering how incredibly rapidly your ship flies around the track.
Classical retro gamers might decry that you get an "all new" soundtrack, but it's still plenty fast enough and suits the theme quite well. You could always play the classic EDM tracks from another sound source or via Spotify on your PS4 or PS4 Pro while you race if it truly bothers you.
WipEout Omega Collection isn't going to be great value for owners of the existing PS3 and Vita titles that have played them out, but if it's been a long while since you slipped on your anti-gravity boots and got ready to race, it's a great title, even if it is just a collection of older titles with a new paint job. A truly new WipEout would be even better, but this will do very nicely to fill the gap, Sony.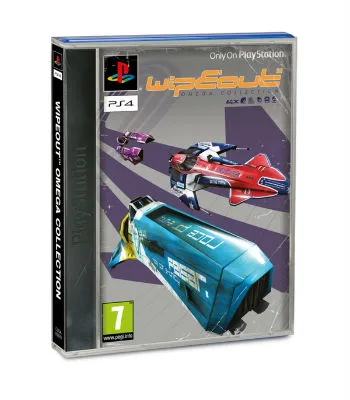 Purchase WipEout Omega
from ozgameshop.com
Order and receive you game now from Ozgameshop!
View details
WipEout Omega Collection review
8.5 EXCEPTIONAL
What we liked...
Fast
Furious
But no Vin Diesel
What we didn't like...
No VR support
Not a new game
VERDICT
While its core concept is derivative, there still really isn't anything quite like the WipEout experience, whether you're an old-school relic or a brand new gamer.
There's not much in the Omega Collection if you've already got HD, Fury and/or WipEout 2048 and have played them to exhaustion, but for anyone who's not played WipEout in years, or perhaps ever, they're compulsive and near-essential games. If this was an entirely new IP on Sony's part they'd easily score in the high nines, but even as a rehash of existing content they're still an essential collection of games.
Available for
For more information on how finder scores games, check our review guidelines.