4 reasons why October could be the right time to renovate
The weather is good, rates are low and the market is slow. The time is ripe for renovation.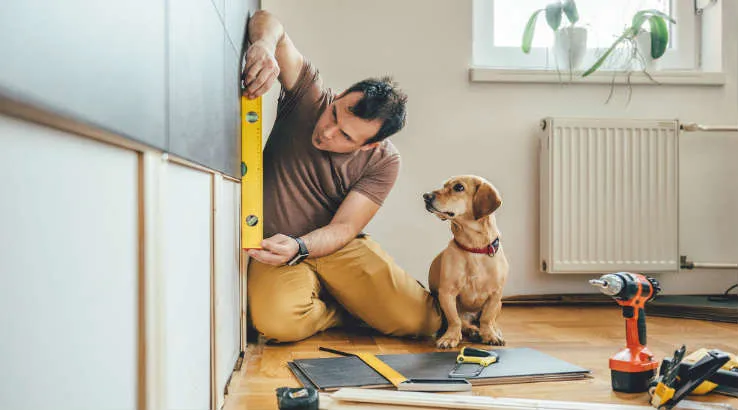 If you've been watching the latest series of The Block, odds are you're beginning to feel the reno bug. As the series winds down and the contestants' houses start to take shape, you might be feeling the inspiration to begin your own renovation project.
The good news is it's a great time of year to get started. Here are four reasons why:
1. The warm weather is your ally
Spring is upon us and temperatures are already soaring. Thankfully, they have yet to hit the punishing highs we're likely to see this summer, and this can work to your advantage in a renovation project.
Warm-but-not-too-warm weather is a great time to tackle a renovation project. If it's a smaller DIY project, you'll benefit from being able to work in comfortable temperatures. However, a full-scale overhaul is where you'll really appreciate the importance of good weather.
If you're tearing out walls and ceilings and plan to have your house open to the elements, spring is a great time to do it. For example, in Sydney the average high in October is 22 while the average low is 14, and October has fewer average days of rainfall than the summer months. Details like these are important when you could spend weeks or months without a roof or walls in sections of your home.
2. You can get in before the Christmas shutdown
Like most industries, the building industry typically downs tools over the holiday period. Christmas is a difficult time to find trades and source supplies for a renovation project.
According to Renovation Junkies, you should plan on 4-6 weeks of renovation time for every $80,000 you spend. When you're planning your renovation count on very little work happening from the period right before Christmas all the way through Australia Day, which could potentially add another 4 weeks to your renovation time.
Jumping on your renovation project now could mean either finishing or making decent headway before the holiday shutdown period. This is an important factor to take into account for large-scale renovations considering the amount of disruption they could cause to your day-to-day life.
3. The property market is cooling
If you're pondering whether to take on a major renovation project or just sell up, a cooling property market could make staying put the wiser decision.
The latest CoreLogic Hedonic Home Value Index showed a slowing property market across the country, with combined capital city dwelling values growing just 0.1% for the month of August. The result was driven by a flat Sydney market, which saw no growth for the month.
On top of this, auction clearance rates around the country have been sluggish. The week ending 24 September saw the average capital city auction clearance rate fall to 70.7%, down from 75.4% from the same weekend last year.
With this in mind, you might be better served adding value to your current home rather than trying to sell at the moment. A major renovation can add up to 10% to the value of your home, particularly if you hold your home for more than 5 years.
Interestingly, according to HGTV, the renovation projects that could see the biggest return on investment are the simplest ones. Improving kerb appeal, adding insulation or fixing minor exterior faults can make a big difference to how your property performs when it comes time to sell.
Renovations guide: learn how to renovate your property and make a profit
4. Line of credit home loan rates are low
When you're figuring out finance for your renovation, a great option could be a line of credit home loan. This type of loan allows you to unlock the existing equity in your home.
A line of credit home loan gives you a flexible transactional home loan that allows you to spend up to a credit limit determined by the amount of equity you have in your home. Many lenders will offer you a credit limit up to 80% of the value of your existing equity. Interest on the loans is only calculated on the amount you use.
With a competitive home loan environment, line of credit loans are offering attractive rates at the moment. Lenders in the finder.com.au database are currently offering line of credit home loans with rates below 4%. This could make it an advantageous time to finance your renovation project.
You can compare line of credit home loans in the table below. And if you have decided that now is the right time to renovate, read our guide to learn how to plan and prepare for your project.
Compare line of credit home loans
Rates last updated February 18th, 2020
An Aussie mortgage broker can find the right home loan for you.
FREE Suburb and Property Report with every appointment.

Access 3,000+ loans from over 20 lenders.

Get expert help with your loan application, including paperwork and eligibility.
---
The Adviser's number 1 placed mortgage broker 7 years running (2013-2019)
Image: Shutterstock
Related Posts