Which side of the road to drive on in each country [infographic]
Right or left? Your questions are answered in one simple infographic.
Hiring a car while on holiday affords you the flexibility to travel at your own pace while soaking up the local scenery.
One of the first questions that might come to mind when choosing to hire a car is "Which side of the road do they drive on?" While the majority travel to the right, many countries that were British colonies, including Australia, take to the left side of the road.
Even if you're not driving while on holiday, knowing which side of the road cars drive is a handy tool to have as a pedestrian. Especially as an Aussie adjusting to looking to the left first, instead of the right, before crossing the road.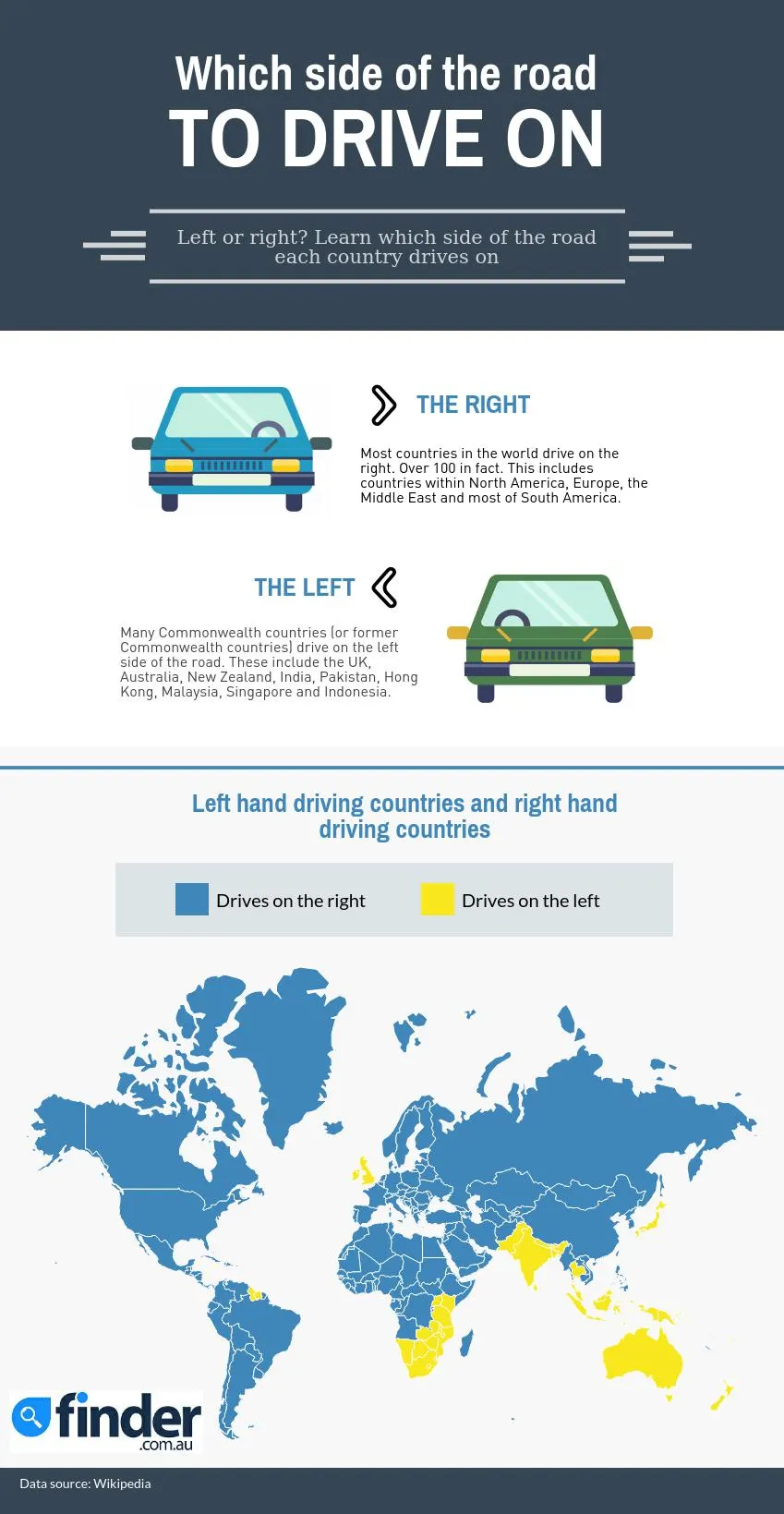 ---
Countries and the side of the road they drive on
Right or left? Here's what side each UN recognised country takes to on the road.
| Country | Road traffic |
| --- | --- |
| Afghanistan | Right |
| Albania | Right |
| Algeria | Right |
| Andorra | Right |
| Angola | Right |
| Antigua and Barbuda | Left |
| Argentina | Right |
| Armenia | Right |
| Australia | Left |
| Austria | Right |
| Azerbaijan | Right |
| Bahamas | Left |
| Bahrain | Right |
| Bangladesh | Left |
| Barbados | Left |
| Belarus | Right |
| Belgium | Right |
| Belize | Right |
| Benin | Right |
| Bhutan | Left |
| Bolivia | Right |
| Bosnia and Herzegovina | Right |
| Botswana | Left |
| Brazil | Right |
| Brunei | Left |
| Bulgaria | Right |
| Burkina Faso | Right |
| Burundi | Right |
| Cambodia | Right |
| Cameroon | Right |
| Canada | Right |
| Cape Verde | Right |
| Central African Republic | Right |
| Chad | Right |
| Chile | Right |
| China | Right (mainland China) Left (Hong Kong, Macau) |
| Colombia | Right |
| Comoros | Right |
| Congo | Right |
| Costa Rica | Right |
| Croatia | Right |
| Cuba | Right |
| Cyprus | Left |
| Czech Republic | Right |
| Côte d'Ivoire | Right |
| Democratic Republic of Congo | Right |
| Denmark | Right |
| Djibouti | Right |
| Dominica | Left |
| Dominican Republic | Right |
| East Timor | Left |
| Ecuador | Right |
| Egypt | Right |
| El Salvador | Right |
| Equatorial Guinea | Right |
| Eritrea | Right |
| Estonia | Right |
| Ethiopia | Right |
| Fiji | Left |
| Finland | Right |
| France | Right |
| Gabon | Right |
| Gambia | Right |
| Georgia | Right |
| Germany | Right |
| Ghana | Right |
| Greece | Right |
| Grenada | Left |
| Guatemala | Right |
| Guinea | Right |
| Guinea-Bissau | Right |
| Guyana | Left |
| Haiti | Right |
| Honduras | Right |
| Hungary | Right |
| Iceland | Right |
| India | Left |
| Indonesia | Left |
| Iran | Right |
| Iraq | Right |
| Ireland | Left |
| Israel | Right |
| Italy | Right |
| Jamaica | Left |
| Japan | Left |
| Jordan | Right |
| Kazakhstan | Right |
| Kenya | Left |
| Kiribati | Left |
| Kuwait | Right |
| Kyrgyzstan | Right |
| Laos | Right |
| Latvia | Right |
| Lebanon | Right |
| Lesotho | Left |
| Liberia | Right |
| Libya | Right |
| Liechtenstein | Right |
| Lithuania | Right |
| Luxembourg | Right |
| Macedonia | Right |
| Madagascar | Right |
| Malawi | Left |
| Malaysia | Left |
| Maldives | Left |
| Mali | Right |
| Malta | Left |
| Marshall Islands | Right |
| Mauritania | Right |
| Mauritius | Left |
| Mexico | Right |
| Micronesia | Right |
| Moldova | Right |
| Monaco | Right |
| Mongolia | Right |
| Montenegro | Right |
| Morocco | Right |
| Mozambique | Left |
| Myanmar | Right |
| Namibia | Left |
| Nauru | Left |
| Nepal | Left |
| Netherlands | Right |
| New Zealand | Left |
| Nicaragua | Right |
| Niger | Right |
| Nigeria | Right |
| North Korea and South Korea | Right |
| Norway | Right |
| Oman | Right |
| Pakistan | Left |
| Palau | Right |
| Palestine | Right |
| Panama | Right |
| Papua New Guinea | Left |
| Paraguay | Right |
| Peru | Right |
| Philippines | Right |
| Poland | Right |
| Portugal | Right |
| Qatar | Right |
| Romania | Right |
| Russia | Right |
| Rwanda | Right |
| Saint Kitts and Nevis | Left |
| Saint Lucia | Left |
| Saint Vincent and the Grenadines | Left |
| Samoa | Left |
| San Marino | Right |
| Saudi Arabia | Right |
| Senegal | Right |
| Serbia | Right |
| Seychelles | Left |
| Sierra Leone | Right |
| Singapore | Left |
| Slovakia | Right |
| Slovenia | Right |
| Solomon Islands | Left |
| Somalia | Right |
| South Africa | Left |
| South Sudan | Right |
| Spain | Right |
| Sri Lanka | Left |
| Sudan | Right |
| Suriname | Left |
| Swaziland | Left |
| Sweden | Right |
| Switzerland | Right |
| Syria | Right |
| São Tomé and Príncipe | Right |
| Taiwan | Right |
| Tajikistan | Right |
| Tanzania | Left |
| Thailand | Left |
| Togo | Right |
| Tonga | Left |
| Trinidad and Tobago | Left |
| Tunisia | Right |
| Turkey | Right |
| Turkmenistan | Right |
| Tuvalu | Left |
| Uganda | Left |
| Ukraine | Right |
| United Arab Emirates | Right |
| United Kingdom | Left |
| United States | Right |
| Uruguay | Right |
| Uzbekistan | Right |
| Vanuatu | Right |
| Venezuela | Right |
| Vietnam | Right |
| Yemen | Right |
| Zambia | Left |
| Zimbabwe | Left |
---
Worldwide car hire deals
Popular Car Hire coupon codes
| Last checked | Code description | Code |
| --- | --- | --- |
| 15 Sep 2020 | $20 off Australia rentals | FIN**** |
| 29 Jul 2020 | Get $20 credit | FIN**** |
| 7 Sep 2020 | Free double upgrade on rentals | UPD**** |
| 7 Sep 2020 | 4th day free + free upgrade on Australia car hires | TPP**** |
| 29 Jul 2020 | Free upgrade on Australia rentals | 205**** |
---
Follow us for all the latest deals and coupon codes
Related Posts