Which apps are compatible with Windows 10?
Will your favourite software still run on Windows 10? We've got the answer.
Windows 10 is the latest iteration of Microsoft's long running Windows operating system. Having a legacy of applications -- many millions of them -- means that there's a lot of ground to cover in terms of keeping applications working and up to date. To further complicate matters, Windows offers two different types of applications to consider.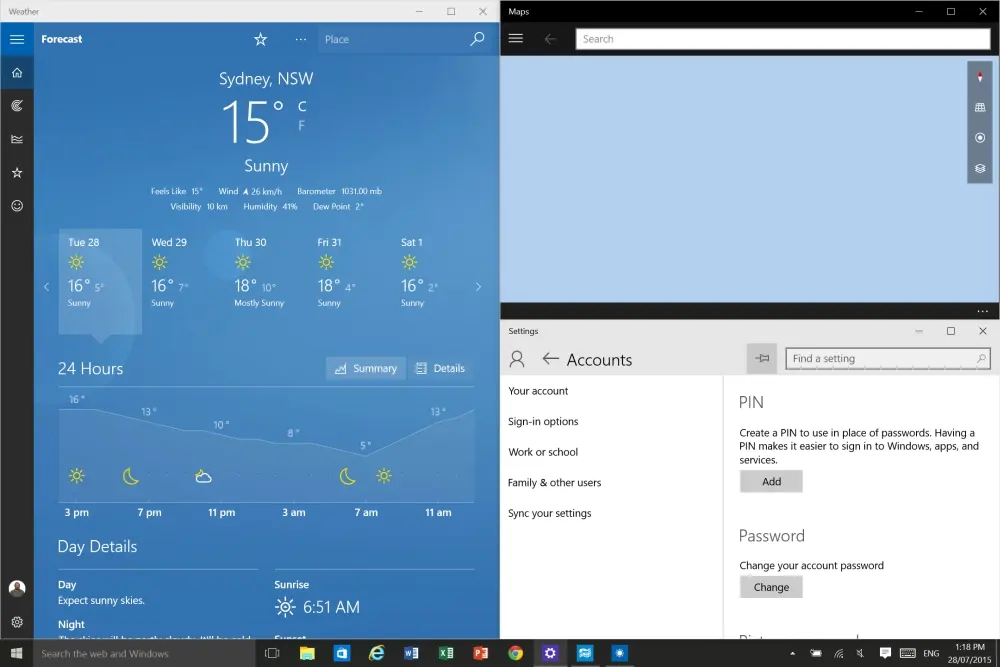 How app compatibility works in Windows 10
Windows 10 in its Home and Pro variants should work with any app written for the standard desktop environment under the same kinds of conditions that they previously ran. In other words: chances are your favourite piece of software will continue to work just fine.
One of the major changes that Windows 8 brought to the Windows ecosystem was the introduction of full screen touch-centric apps, variously called "Metro" or "Modern" apps. These used a different development infrastructure which meant that they were Windows 8 only apps, delivered through Microsoft's Windows Store in the same way that Apple offers iOS Apps through the iTunes store. Tablet users enjoyed these; desktop users tended to find being bombarded with a screen filled with colour and no menus or Close buttons disconcerting.
With Windows 10, there's no strict differentiation between Metro/Modern apps and desktop apps. Metro/Modern apps now adopt a desktop windowed approach by default, although you can still make them full screen if you wish.
Under Windows 10, there are essentially two classes of applications. Classic desktop applications are, according to Microsoft's official nomenclature, "Windows Desktop Applications". As the name suggests, these are apps that will run on the versions of Windows 10 that feature a full desktop environment, but not on those that don't, such as Windows 10 Mobile and Windows 10 iOT. (If you're not across the different versions of Windows, check out our complete guide.)
Then there are Windows 10 Apps. These are the ones that are intended to be universal across all Windows device types, or at least easy for developers to port across Windows types, keeping in mind that the interface on a Windows 10 phone is slightly different to that of a full desktop.
So what's the practical upshot of all that? If you have got existing Windows applications on your computer they should in theory work with Windows 10, because it retains legacy support for older Windows applications. If an app runs on Windows 7 or 8, it's almost certainly compatible, excluding certain deep level applications such as malware scanners or registry cleaners that may need updates in order to function. If you're using an older operating system than Windows 7, you may have to implement the compatibility mode option in order to make an application run. Windows 10 should detect when an application has software hooks that require older versions of Windows and start up the compatibility mode automatically.
In cases where it doesn't, you can launch it yourself by right clicking on the misbehaving application and selecting "Troubleshoot Compatibility" to try to sort out an environment where an application may run. This isn't a magic bullet that will enable every application stretching back decades will run, but may help in getting older apps that may never otherwise be updated for Windows 10 to operate.
Pros and cons of Windows Store apps
Some applications will be offered both as Windows Store Apps and as standalone desktop versions, so if you have the choice, which should you opt for?
The advantage of the Windows Store model is that it offers a one-stop marketplace for apps and app updates. As such, you're not stuck dealing with a vendor website or an application that constantly pesters for updates or fails to find them, because they're all managed through the App store interface. Updates should be installed automatically without you having to worry about them.
The Windows Store is also home to the universal "Windows App" style applications, which opens up the possibilities for buying an app once and then running it across your entire Windows device fleet, subject of course to the developer's allowances for multiple app instances, and whether they've particularly coded around the slightly different interface on Windows 10 Mobile devices.
The downside is that the Windows Store isn't a new concept; it's the evolution of the store that's already present in Windows 8, and which was plagued with knock-off apps and fairly poor search capabilities. These are areas that Microsoft seriously needs to address if it wants both consumers and developers to take the Windows Store seriously, although at least you're still free to install Windows desktop applications regardless.
Problem Apps And Windows 10
A new operating system brings with it the challenge of getting applications that already exist to play nicely in the new environment. With literally millions of applications it's impossible to list each and every one that does or doesn't work right away, but in at least one sense you don't need to. Part of the Windows update process if you're coming from a Windows 7 or Windows 8 machine is the compatibility checker, which scans your PC and delivers a report on the hardware and applications that are known to be either compatible or incompatible. You can run the compatibility checker from the Get Windows 10 app that pops up to convince you to upgrade without actually going through the upgrade process.
That should give you a baseline to work from, but there are always going to be smaller quirks. Most malware suites aren't yet fully compatible, but that should come relatively quickly, and it's not surprising they need a little extra work given how heavily they hook into the operating system itself. Likewise, more heavy duty applications may struggle under Windows 10, at least initially; there are some reports, for example, of Photoshop users finding Windows 10 to be a poor match at launch.
Apps which will be available in Windows Store versions
As a basic rule of thumb, if there's an existing Windows 8 Store app, it will be replicated in the Windows 10 Store, because Microsoft wants to hit the ground running with its new operating system. There have been issues with dodgy apps taking on the name or copyright of other apps in the Windows 8 Store, although Microsoft has been working hard to minimise this problem, and hopefully will have a better experience available for consumers with Windows 10.
In terms of big-name applications, many are yet to announce specific Windows Store versions, and for some vendors they're not going to want to give up deep control of their apps to Microsoft. Adobe, for example, offers its Creative Cloud package of design apps -- Photoshop and its fellows -- and that's not currently a Windows Store offering, nor is it likely to be. What Adobe does offer is its simpler image editing tool, Photoshop Express.
On the social media side, there are apps for Twitter and Facebook with a full screen "Modern" style.
For video, you'll find a specific app for Netflix , although that can always be accessed from a web browser regardless. For local video playback, there's a version of VLC that works as a universal app.
Microsoft's clearly keen to replicate the success that Apple and Google have enjoyed with their app stores, although it remains to be seen if it can persuade other, larger software players to use the Windows Store.