Where to watch Rick and Morty in Australia
Absurdity at 88mph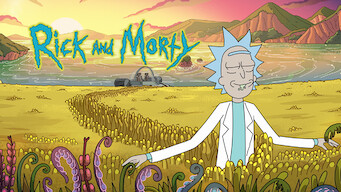 Title
Rick and Morty
Year released
2019
Genres
TV Shows, TV Sci-Fi & Fantasy, Sitcoms, Animation, TV Animated Comedies, TV Comedies, TV Action & Adventure, Adult Animation, US TV Shows, Sci-Fi TV
Classification
MA 15+
Strong animated violence and coarse language
Synopsis
One is a dazzling scientist; the other, his dimwitted progeny. The result is a match made in mayhem.
Seasons
Season 1
Season 2
Season 3
Season 4
Cast and crew
Justin Roiland
Chris Parnell
Spencer Grammer
Sarah Chalke
Here's a little maths problem for you: what do you get when you take Back to the Future, add in copious amounts of alcohol, subtract all the hard science and logical consistency, and then divide the result into concentrated 22-minute chunks? Why, Rick and Morty, of course! Chronicling the time-travelling adventures of Rick Sanchez, an alcoholic mad scientist with little regard for anyone but himself, and his teenage grandson Morty Smith, a timid kid frequently traumatised by Rick's reckless plans, the hugely popular cartoon series delivers off-the-wall humour at a pace that puts Monty Python to shame.
Ever since the first episode aired back in 2013, Rick and Morty has been hailed as a cult comedy hit, receiving near-universal acclaim from critics around the world. If you haven't had a chance to watch it for yourself yet, never fear; we've rounded up all the places to watch Rick and Morty online in Australia for your convenience. Grab a drink and settle down; it's time to watch some 'toons.
Try before you buy with these
free trials
Related Posts
Stream the best and save