Dare Me on Netflix Australia: This slow-burn thriller makes for a delicious binge
This gritty cheerleading series will become your next obsession.
WATCH NOW
RENT/BUY
Sorry, we've found no buying or renting options for this title.
CURRENT OFFERS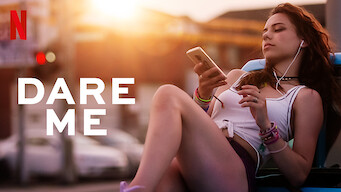 Title
Dare Me
Year released
2019
Genres
TV Shows, TV Dramas, Crime TV Dramas, Crime TV Shows, Teen TV Shows, US TV Shows, TV Thrillers, Netflix Originals, TV Shows Based on Books
Classification
M
Coarse Language, Mature Themes, Violence, Sex Scenes
Synopsis
As cheerleaders and best friends, they lived by one rule: Always support your girl. Then she arrived — and it all came tumbling down.
Seasons
Cast and crew
Willa Fitzgerald
Herizen Guardiola
Marlo Kelly
Rob Heaps
Zach Roerig
Paul Fitzgerald
Alison Thornton
Tammy Blanchard
Amanda Brugel
Chris Zylka
"There's something dangerous about the boredom of teenage girls." That's how the trailer for Dare Me, a new cheerleading series, kicks off. It's a combo of You and Cheer, two Netflix shows that have been particularly well-received recently.
Dare Me premiered in the US late last year on a small network. That's similar to the trajectory of You, a series that exploded once it became available internationally on Netflix. Also, just like You, Dare Me is a dark show that's best enjoyed as a binge, with twists and turns that will make you want to watch the next episode immediately.
Instead of following a charming stalker, the action revolves around cheerleaders, whose bonds are tested when a new coach enters their lives. Intrigued? Here's everything you need to know to tune in.
What is Dare Me about?
Based on the novel of the same name by Megan Abbott, Dare Me takes place in a small town and follows the lives of competitive high school cheerleaders. When a new cheerleading coach takes over the squad ruled by Beth and her best friend Addy, loyalties flip and relationships crumble. To make things even more interesting, a murder that occurs in town changes everything.
Is Dare Me any good?
Yes. As we've already mentioned, the show has already aired in the US to positive reviews. It currently has an 82% score on Rotten Tomatoes, with critics praising it as a "deft exploration of the interiority of teen life". Author Megan Abbott was involved as an executive producer, so if you're a fan of the book, it's pretty much guaranteed that you'll be happy with the adaptation.
Most importantly, the series tackles important themes like bullying, friendship and loyalty. It does so in a stylish manner, with the visuals giving us strong Euphoria vibes.
Dare Me is interested in exploring mean girl drama in-depth, so expect more nuance than the standard "two girls are pitted against each other and all hell breaks loose" trope. Additionally, the twists and atmosphere make Dare Me very addictive, so there's a good chance the show will keep you glued to the screen.
WATCH NOW
RENT/BUY
Sorry, we've found no buying or renting options for this title.
CURRENT OFFERS
Try before you buy with these
free trials
Related Posts
Stream the best and save