Where to watch American Vandal online in Australia
The mystery of who drew the dicks will draw you into the very final minute.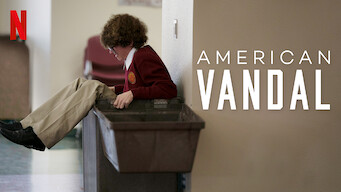 Title
American Vandal
Year released
2018
Genres
TV Shows, TV Comedies, Crime TV Shows, Teen TV Shows, US TV Shows, Netflix Originals
Classification
MA 15+
Strong Nudity, Strong Sex Scenes, Strong Crude Humour
Synopsis
With one mystery down, it's time for them to focus on No. 2 and get to the bottom of one question: Who is the Turd Burglar?
Seasons
Cast and crew
Tyler Alvarez
Griffin Gluck
Jimmy Tatro
Camille Hyde
Lou Wilson
Eduardo Franco
Jessica Juarez
Camille Ramsey
Calum Worthy
G. Hannelius
Karly Rothenberg
Travis Tope
American Vandal is a true-crime documentary satire centred on the true culprit of a high school prank taken too far. The prank involved over twenty-seven faculty cars being vandalised with dicks spray-painted all over them.
The documentary takes place over eight episodes, and is an investigation into the controversial and unjust expulsion of a student who swears he is innocent. American Vandal seeks to find the real prankster and set the record straight.
Try before you buy with these
free trials
Related Posts
Stream the best and save