Where should you live in order to survive the zombie apocalypse?

These suburbs combine zombie safety and convenience for your perfect refuge during the end of the world.
If The Walking Dead has taught us anything, it's that in the midst of a zombie apocalypse, the true monster is man. But seriously, though, you still need to watch out for those zombies.
On the inevitable day when the dead rise to walk the earth feasting on the flesh of the living, you'll want a safe place to huddle with your ragtag group of survivors. You could move to the Outback and begin your doomsday prepping now, but how's that going to impact your day job? Conversely, you could try to flee the city after the zombie apocalypse, but by then it'll be too little, too late.
That's why we've done the hard work for you by finding the most zombie-proof capital city suburbs that will let you commute to the city while civilisation still stands, and provide you shelter once it falls. We based our picks on low population density, zombie-impeding topography and proximity to food sources. As the old saying goes, an ounce of prevention is worth an entire arsenal of baseball bats wrapped in barbed wire.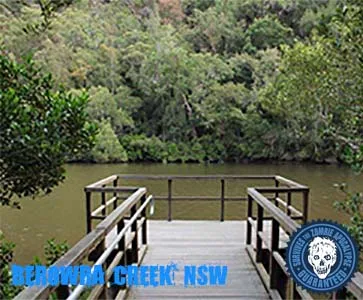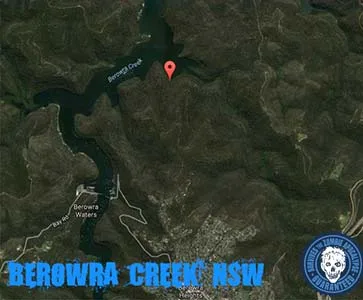 Picture source: National Parks Website; Google Earth.
Sydney: Berowra Creek
Situated about 40 kilometres from the Sydney CBD, Berowra Creek offers seclusion and natural beauty. At only two people per square kilometre, the potential zombie density is incredibly low. There are plenty of hiding spots in the dense bushland of neighbouring Marramarra National Park, and nearby Pelican Island could serve as a convenient fallback position in a worst case scenario. The one drawback is the availability of food sources. There are two cafes within 10 kilometres that you could plunder, but you'll probably need to become adept at gathering food from your surroundings. One property is currently listed for sale in Berowra Creek, and it's going for $880,000.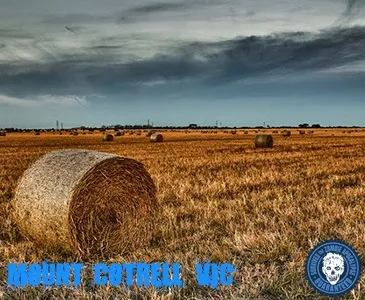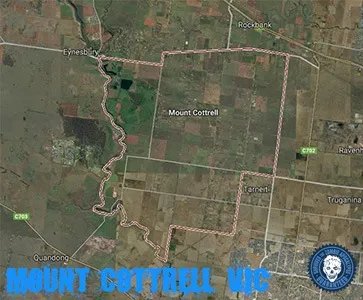 Picture source: © All Rights Reserved 2014 
by JDavies; Google Earth.
Melbourne: Mount Cottrell
You'll want to get in quick, and then hope against hope that the zombie apocalypse moves faster than property developers, because Mount Cottrell is set to undergo massive development. At the moment, though, this suburb found a mere 28 kilometres from Melbourne's CBD is ideal for the zombie-phobic. Its rolling fields offer a beautiful view of the Melbourne skyline, as well as a clear line of sight to see the shuffling hordes coming hours before they reach you. There are two supermarkets and two chemists within 7 kilometres, so you'll be able to source both food and medicine. At six people per square kilometre, it's light on potential zombies. Vacant land in Mount Cottrell is selling for around $600,000-$700,000 per lot.
---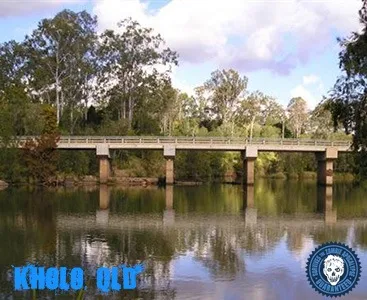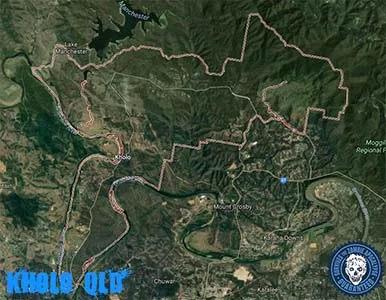 Picture source: © All Rights Reserved 2008
 by sweetwaterfishing.com.au; Google Earth.
Brisbane: Kholo
Kholo might be our favourite zombie-proof suburb because it has so many things going for it. It's a mere 47 minute drive into Brisbane via the M5, but at 10 people per square kilometre it seems a million miles from the city's hustle, bustle and brain-eating crowds of desiccated corpses. There are two supermarkets within 6 kilometres. Best of all, the suburb is surrounded on three sides by the Brisbane River, with a narrow isthmus that could easily be blocked off. Recently sold homes in Kholo range from $500,000-750,000.
---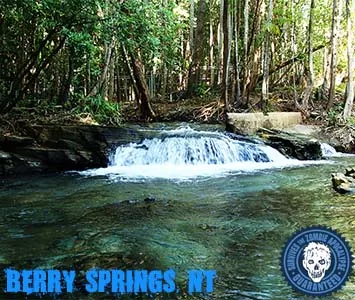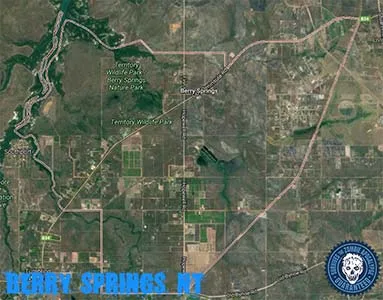 Picture source: NT Government website; Google Earth.
Darwin: Berry Springs
There are so many rural areas within easy reach of Darwin, it's difficult to choose. For our money, though, it's hard to beat Berry Springs. It's a short 28 kilometres from Darwin's CBD, and at three people per square kilometre, it's veritably deserted. There's plenty of bushland, as well as good sources of freshwater. The suburb even has an IGA you can plunder. Perhaps best of all, the local crocs will take care of most of the zombies for you. Recent sales in Berry Springs have ranged from $600,000-$700,000.
---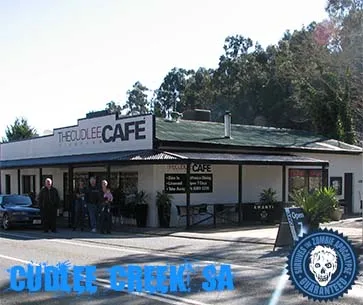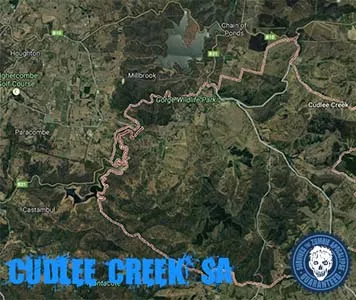 Picture source: Alan Lewis; Google Earth.
Adelaide: Cudlee Creek
At 11 people per square kilometre Cudlee Creek, located 22 kilometres from Adelaide's CBD, is the most densely populated of our zombie-proof suburbs. But let's be honest: If you can't kill 11 zombies per square kilometre, you don't deserve to survive the apocalypse, let alone Australia's self-styled murder capital. Cudlee Creek may also be one of the most convenient suburbs, with two supermarkets and a chemist within just 5 kilometres. The Gorge Wildlife Park also offers plenty of hiding spots. Houses in the suburb have ranged in price between $660-840,000.
---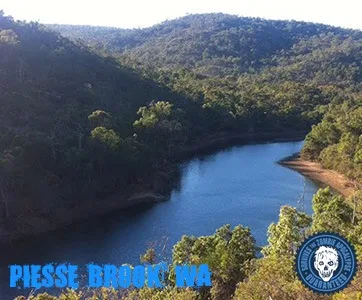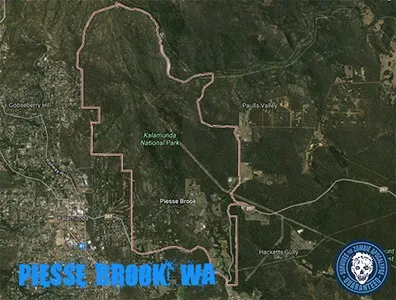 Picture source: © All Rights Reserved 
by Simon Rees Photography; Google Earth.
Perth: Piesse Brook
Piesse Brook, located 24 kilometres from Perth's CBD, is surrounded by dense bushland and national parks. Neighbouring Kalamunda Park offers hilly high ground that could be easily fortified should worse come worse. But at only eight people per square kilometre, it's doubtful you're going to be beset by masses of undead. There are two supermarkets within 5 kilometres, and only two roads into the suburb. These could be easily cut off, forcing the zombies to trudge through densely forested areas instead. As we all know, zombies choose the path of least resistance. They'd probably get bored and look for easier pickings elsewhere. If you want to buy in the suburb now, the one recent sale we found was for $890,000.
---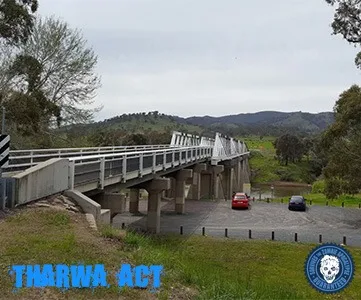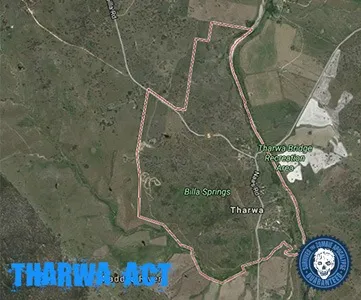 Picture source: Google Earth.
Canberra: Tharwa
Tharwa is the most sparsely populated suburb on our list at a mere one person per square kilometre. Play your cards right and that one person can be you. It's a mere 22 kilometres from Canberra's CBD, but is nearly entirely surrounded by wilderness. Specifically, the Bimberi Wilderness provides a vast refuge in the very unlikely event Tharwa is overrun. Sourcing food and medicine is a bit more of a chore here, with the closest supermarkets and chemists 12 kilometres away, but at least it'll be a lovely, scenic walk (corpses aside). There haven't been any recent house sales in Tharwa, but you can currently buy two adjacent lots for $799,999, perfect for building your own zombie-proof hideout.
---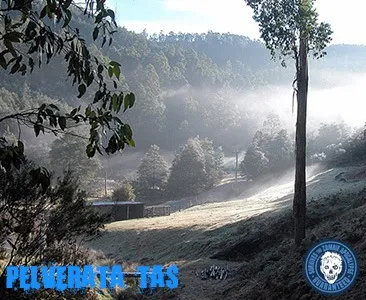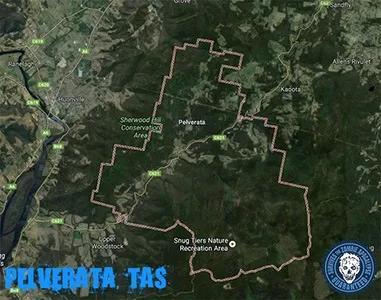 Picture source: © All Rights Reserved 2009 
by jhdee, Google Earth.
Hobart: Pelverata
Much like Darwin, Hobart is an embarrassment of riches when it comes to zombie-proof areas. Pelverata stands out, however, because it offers plenty of high ground, two supermarkets and a chemist within 6 kilometres and only five people per square kilometre. The suburb is a quick 26 kilometres from Hobart's CBD. Our favourite feature is the Egg Islands, two narrow islands surrounded by the Huon River that should offer complete safety. We apologise in advance if it turns out zombies can swim. Houses in Pelverata have recently sold for between $250,000-400,000.
---