What's open in Melbourne right now?
The shopping centres, restaurants and venues that are open in Melbourne during the coronavirus (COVID-19) pandemic.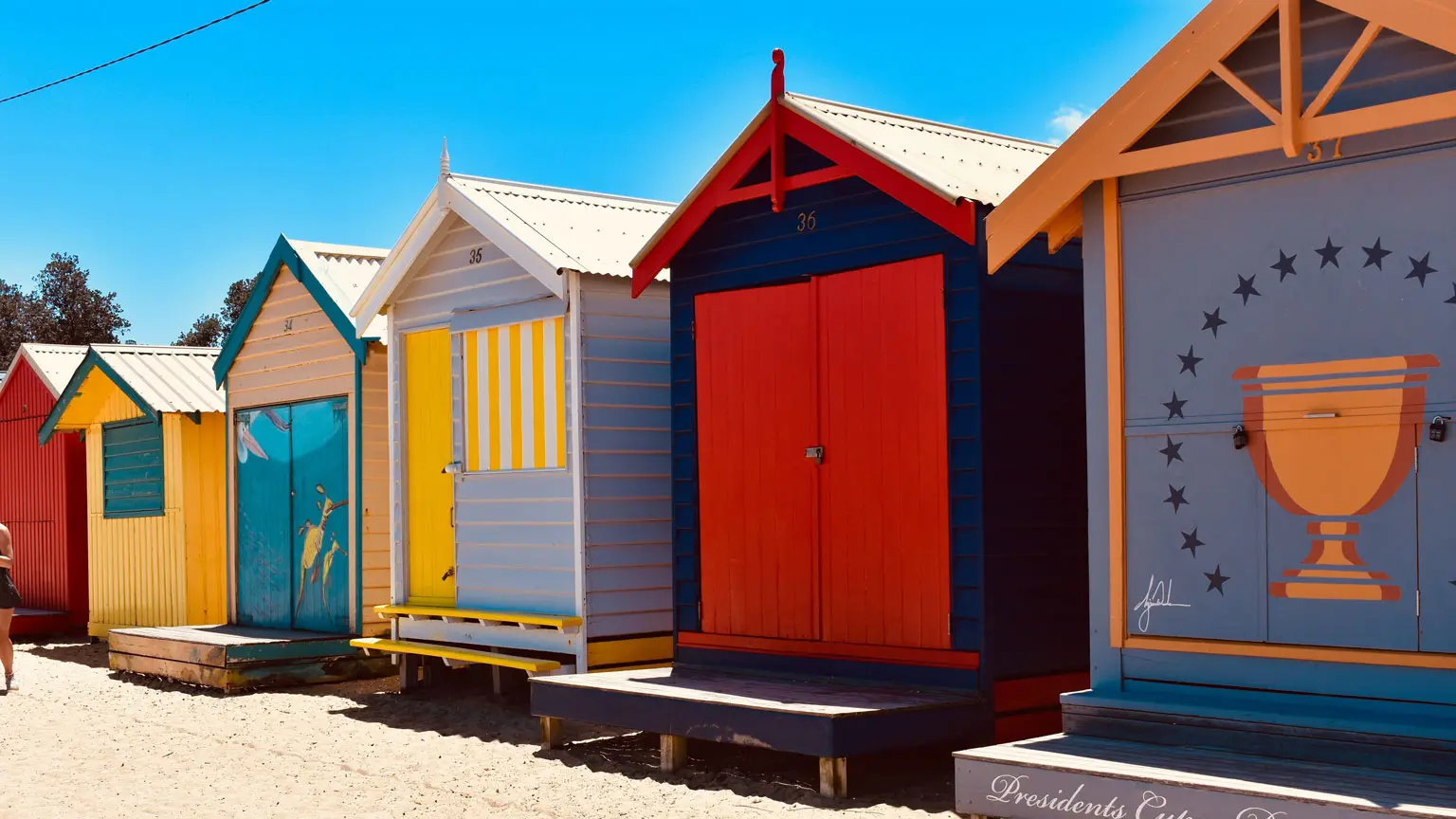 Victoria has started to ease restrictions across the state, and from 1 June, up to 20 people can gather in a household or outdoor space. Restaurants, cafes and pubs can reopen their doors and serve 20 people at a time and overnight stays across the state will be permitted.
If you want to go out for some fresh air or catch up with loved ones, restrictions are continually being eased to make this possible. Public spaces have additional health and safety measures at this time to comply with regulations.
If you're seeking inspiration, see our top recommendations for things to do in Melbourne and the best places to visit in the city. Plus, see what's open in Melbourne during the June long weekend.
Note: The below is accurate as of the time of writing on 4 June 2020. It's best to confirm with the attractions directly before visiting in case there has been a last-minute change.
June 1: What can I now do in Melbourne?
Go to a household with up to 20 visitors at one time
Gather outdoors in groups of up to 20 people
Dine in cafes, restaurants and pubs with up to 20 customers at one time
Play outdoor group sports with a maximum of 20 people
Swim in indoor or outdoor swimming pools, or go to skate parks and playgrounds
Stay in hotels, motels and other accommodation is permitted
Visit drive-in cinemas, galleries, museums, outdoor amusement parks, zoos and arcades with up to 20 people in each separate space at one time
Get beauty and personal care services can open and serve 20 customers at one time
Spend the night at a campground or caravan parks
Join a religious gatherings at places of worship with up to 20 worshippers at one time
Attend a weddings with up to 20 guests, including the celebrant
Go to a funerals with up to 50 people
Travelling within Victoria
As of 1 June, you'll now be able to travel freely within the state, granted you're feeling well. According to the state government, Victorians are free to stay in a holiday homes and private residences, tourist accommodation (like hotels and caravan parks) and go camping. Accommodation with shared services, like a hostel or campground that has shared bathrooms, kitchens and spas, will not be able to open. You are, however, permitted to camp at back country sites without shared facilities.
If you're itching to explore the state, here's our guide to our favourite places to see in Victoria.
Explore Victoria and save with one of our travel deals:
---
What's open in Melbourne?
Popular attractions reopening in June
Some popular Melbourne attractions are re-opening. As restrictions may be in place, it's not a bad idea to pre-book so you won't arrive disappointed.
Melbourne parks
There is over 480 hectares of parks and gardens open for exploring and to grab that much needed breath of fresh air in Melbourne. You can gather with up to 20 people outdoors. Just remember social distancing rules still apply.
Here are some popular parks open in Melbourne:
Catani Gardens
Flagstaff Gardens
Carlton Gardens
Docklands Park
Fitzroy Gardens
Kings Domain
Queen Victoria Gardens
Treasury Gardens
Birrarung Marr
JJ Holland Park
Royal Park
Shrine of Remembrance Reserve
Melbourne walking trails
If you want get out and about, hitting up a walking trail in your area is a great way to get your daily exercise in and stretch your legs.
Again, be vigilant about social distancing and stay 1.5 metres away from other hikers at all times.
Dandenong Ranges: All tracks open
Grampians National Park: All tracks open
St Kilda Pier: Open
Wilsons Promontory National Park : All tracks open
Major sites along the Great Ocean Road: All tracks open
Yarra Valley: All tracks open
Mornington Peninsula: All tracks open
Melbourne beaches
Victorians can access beaches for the purpose of swimming, walking your pets and general walking, jogging or running. However, gatherings of more than 20 people are not permitted and you must maintain a distance of 1.5 metres between yourself and other visitors.
Shopping centres and markets
While most of the social events taking place at the markets and holiday events have been cancelled or postponed, many of the city's shops and markets do remain open, including:
Prahran Market :Remains open from 7am–5pm on Tuesdays, Thursdays, Fridays and Saturdays. It's also open on Sundays from 10am–3pm.
Queen Victoria Market: The market remains open for fresh produce, takeaway good and speciality goods from 6am–3pm Tuesday to Friday, 6am–4pm on Saturday and 9am–4pm on Sunday. Events including the Melbourne Food and Wine Festival, Sri Lankan Festival and Philippine Festival have been postponed. The Europa Night Market has also been cancelled.
South Melbourne Market: Open as usual from 8am–4pm Wednesday, Saturday and Sunday and from 8am–5pm on Fridays.
Melbourne Central: Open with limited stores from 10am–7pm daily, except Thursdays when it's open from 10am–9pm.
Emporium Melbourne: Open as usual from 10am–7pm daily, except Thursdays and Fridays when it's open from 10am–9pm.
---
What's closed in Melbourne?
If you're heading out, here's what's closed in Melbourne so you don't waste the trek.
Cinemas, amusement parks and entertainment venues: Some attractions including Luna Park and Eureka Skydeck remain closed.
Galleries and Museums: Includes Melbourne Museum, Scienceworks, Immigration Museum and the Royal Exhibition Building.
Indoor and outdoor markets: All non-essential food markets including St Kilda Esplanade, Arts Centre Melbourne Sunday Market and Sunday Market Camberwell. Check before you visit as larger markets are still running.
Gyms: Indoor gyms remain closed.
Nightclubs: Nightclubs are temporarily closed.
Restaurants and cafes offering dine-in and takeaway in Melbourne
Here's a snapshot of which restaurants and cafes are offering dine-in and takeaway in Melbourne.
If you know or own a restaurant that's open and isn't on the list, please leave it in the comments below and we'll add it to the list
| Restaurant name | Address | Cuisine | Opening dates |
| --- | --- | --- | --- |
| Acre | 78 Middleborough Road, Burwood East | Cafe | 5 June |
| Añada | 197 Gertrude Street, Fitzroy | Spanish, Tapas | 2 June |
| Bang Bang at the Rifle Club | 294 Glenhuntly Road, Elsternwick | Thai, Vietnamese | 3 June |
| Bar Carolina | 44 Toorak Road, South Yarra | Italian | 1 June |
| Bistro Gitan | 52 Toorak Road West, South Yarra | French | 2 June |
| Bodega Underground | 55 Little Bourke Street, Melbourne | Mexican | 5 June |
| Bomba | 103 Lonsdale Street, Melbourne | Bar, Tapas | 1 June |
| Bottega | 74 Bourke Street, Melbourne | European, Italian, Modern Australian | 3 June |
| Builders Arms Hotel | 211 Gertrude Street, Fitzroy | Modern Australian | 1 June |
| Cafe Di Stasio | 31 Fitzroy Street, St Kilda | Italian | 1 June |
| Caffe e Cucina | 581 Chapel Street, South Yarra | Italian | 1 June |
| Carlton Wine Room | 172-174 Faraday Street, Carlton | European, Italian, Modern Australian | 1 June |
| Cumulus Inc. | Level 1 79 Bourke Street, Melbourne | Modern European, Contemporary | 1 June |
| Cutler & Co. | 55-57 Gertrude Street, Fitzroy | Modern Australian | 4 June |
| Daughter In Law | 37 Little Bourke Street, Melbourne | Italian | TBC |
| David's | 4 Cecil Place, Prahran | Chinese | 1 June |
| Dessous | 164 Flinders Lane, Melbourne | Bar | 1 June |
| Di Stasio Citta | 35 Spring Street, Melbourne | Italian | 1 June |
| Embla | 122 Russell Street, Melbourne | Bar, Contemporary | 1 June |
| Entrecôte South Yarra | 133 Domain Road South Yarra 3141 | French | 1 June |
| Estelle | 243 High Street, Northcote | European | 1 June |
| Fancy's Hank | Level 1 79 Bourke Street, Melbourne | American, BBQ | 1 June |
| Feast of Merit | Restaurant 117 Swan Street, Richmond | Cafe, Middle Eastern | 3 June |
| Firebird | 223 High Street, Windsor | Vietnamese, Asian | 4 June |
| Frederic | 9-11 Cremorne Street, Cremorne | European, Italian, Spanish, French | 2 June |
| Future Future | 191 Swan Street, Richmond | Japanese | 1 June |
| Half Acre | 112 Munro Street, South Melbourne | Modern Australian | 5 June |
| Hanoi Hannah New Quarter | 79 Swan Street, Richmond | Vietnamese, Asian | 1 June |
| Hanoi Hannah Vol. II | 306 Glenhuntly Road, Elsternwick | Vietnamese | 1 June |
| Hello José | 85 Peel Street , West Melbourne | Bar, Mexican | 2 June |
| Ichi Ni | 12 The Esplanade, St Kilda | Japanese, Sushi | 1 June |
| Ichi Ni Nana | Ground Floor 127 Brunswick Street, Fitzroy | Japanese, Sushi | 1 June |
| Ides | 92 Smith Street, Collingwood | Australian | 4 June |
| Kazuki's | 121 Lygon Street, Carlton | Japanes, Contemporary | 1 June |
| L'Hôtel Gitan | 32 Commercial Road, Prahran | French | 1 June |
| Lagoon Dining | 263 Lygon Street, Carlton | Chinese, Asian | 4 June |
| Laura | 15 Laura Street, Aspendale, Melbourne | Burger, Seafood | 1 June |
| Luxsmith | 5 Gamon Street , Seddon | Asian, Fusion | 3 June |
| Marameo | 6 Russell Place, Melbourne | Italian | 3 June |
| Matilda | 159 Domain Road, South Yarra | Contemporary, Australian | 1 June |
| Matteo's | 533 Brunswick Street, Fitzroy North | Asian, Fusion | 1 June |
| Mister Bianco | 285 High Street, Kew | Italian | 1 June |
| Mrs Singh | 88 Flinders Lane, Melbourne | Indian | 1 June |
| Neptune Food & Wine | 212 High Street, Windsor | Bar, Mediterranean | 3 June |
| Noir | 175 Swan Street, Richmond | French, Australian | 1 June |
| Nomada Food & Wine | 412 Brunswick Street, Fitzroy | Spanish, Tapas | 2 June |
| Oh Loretta! | 324 High Street, Northcote | Modern European | 3 June |
| Omnia | 625 Chapel Street, South Yarra | European | 3 June |
| Onda | 280 Bridge Road, Richmond | Latin American, Fusion | 3 June |
| Oster | 76-78 Bridge Road, Richmond | Modern European | 3 June |
| Panama Dining Room and Bar | Level 3 231 Smith St, Fitzroy | European, French | 3 June |
| Panda Hot Pot | 100 Victoria Street, Carlton | Chinese | 1 June |
| Pepe's Italian & Liquor | 275 Exhibition Street, Melbourne | European, Italian | 1 June |
| Pinchy's | Level 1 200 Bourke Street, Melbourne | Seafood | 2 June |
| Point Leo Estate | 3649 Frankston-Flinders Road, Merricks | Contemporary, Australian | 1 June |
| Pretty Little | 296 Carlisle Street, Balaclava | Modern Australian | 4 June |
| Ruyi | 16 Liverpool Street, Melbourne | Chinese, Asian | 4 June |
| Ryne | 203-205 St Georges Road, Fitzroy North | Contemporary, French | 3 June |
| Sebastian | 26 Esplanade, Williamstown | European | 3 June |
| Shadowboxer Bar & Kitchen | 302 Toorak Road, South Yarra | Bar, Modern Australian | 3 June |
| Steer Dining Room | 15 Claremont Street, South Yarra | Modern Australian, Steak | 2 June |
| Supernormal | 180 Flinders Lane, Melbourne | Asian, Fusion | 1 June |
| Tetto di Carolina | 48 Toorak Road, South Yarra | Italian | 3 June |
| The Alphington Social | 7 Rowe Street, Alphington | Italian | 3 June |
| The French Brasserie | 2 Malthouse Lane, Melbourne | French, European | 3 June |
| Tokyo Tina | 66A-B Chapel Street, Windsor | Japanese,Asian | 1 June |
| Restaurant | Cuisine | Address | See available deals |
| --- | --- | --- | --- |
| At Siam Thai Restaurant | Thai | 165A Bourke Street, Melbourne | See deals |
| The Piano Restaurant & Bar | Thai, Asian, Halal | 18-20 Bridge Road, Richmond, 3121 | See deals |
| Old Man Pho - Southbank | Vietnamese, Asian | Shop 2/1 Southbank Boulevard, Southbank, 3006 | See deals |
| Pelicana Chicken | Chicken | 163 Franklin Street, Melbourne, 3000 | See deals |
| Oh Dumplings | Chinese, Asian | 530 Little Bourke Street, Melbourne, 3000 and 518 Little Bourke Street, Melbourne | See deals |
| Shiraaz Fine Indian Cuisine | Indian | 22 William Street, Melbourne, 3000 | See deals |
| King Tea | Asian, Dessert | Shop 7A/2 Elizabeth Street, Melbourne, 3004 and Shop 3/405-411 Sussex St, Haymarket | See deals |
| The Secret Recipe, Indian Fusion Restaurant | Indian, Vegetarian | 495-497 Spencer Street, West Melbourne, 3003 and Shop 5/22 Baildon St, Kangaroo Point | See deals |
| Them Authentic Vietnamese Cuisine & Rolls | Vietnamese, Asian | 13 Siddeley Street, Docklands, 3008 | See deals |
| Little Cupcakes - William St | Cake, Dessert | TG06/181 William Street, Melbourne, 3000 | See deals |
| A Cup of Diamond | Asian | 272-282 Lonsdale Street, Melbourne, 3000 | See deals |
| Cooking Corner | Asian | 542 Little Bourke Street, Melbourne, 3000 | See deals |
| The Golden Spoon on Bourke | Indian | 45 Bourke Street, Melbourne, 3000 | See deals |
| Little Cupcakes, Queen St | Cake, Dessert | 4/118-126 Queen Street, Melbourne, 3000 | See deals |
| Baybeach Pizza and Pasta Restaurant | Pizza | 238 Bay Street , Port Melbourne, 3207 | See deals |
| Little Cupcakes | Cake, Dessert | Shop 7, Degraves Street, Melbourne, 3004 | See deals |
| Joes Pizza Square | Pizza, Italian | 215 Abbotsford Street, North Melbourne, 3051 and 415 Henley Beach Road, Brooklyn Park | See deals |
| The Uleg | Chinese, Asian | 49 Toorak Road, South Yarra, 3141 | |
| Chin Chin | Asian | 125 Flinders Ln, Melbourne VIC 3000 | |
| Fancy Hank's | BBQ | 1/79 Bourke St, Melbourne VIC 3000 | |
| Urban Alley Brewery | Pizza, Alcohol | Shop 609, 12 Star Circus, Docklands, 3008 | |
| Bar Margaux | French | Basement/111 Lonsdale St, Melbourne VIC 3000 | |
| Bar Carolina | Italian | 44 Toorak Rd, South Yarra | |
| Botherambo | Southeast Asian | 65 Swan St, Melbourne | |
| Connie's Pizza | Pizza | 234A Russell St, Melbourne VIC 3000 | |
| Tulum | Turkish | 217 Carlisle St, Balaclava VIC 3183 | |
| The Moldy Fig | Americana | 120-122 Lygon St, Brunswick East VIC 3057 | |
| Capitano | Italian | 421 Rathdowne St, Carlton VIC 3053 | |
| Oriental Teahouse | Chinese | 378 Little Collins St | |
| Mr Miyagi | Japanese | 99 Chapel St, Windsor VIC 3181 | |
| Tipico | Italian | 242 High St, Windsor VIC 3181 | |
| RuYi | Dumplings | Ground Floor, 16 Liverpool St, Melbourne VIC 3000 | |
| Dohtonbori Okonomiyaki | Japanese | The District Docklands, Level 1/14B Star Circus, Docklands VIC 3008 | |
| The Empress | Pub | 714 Nicholson St, Fitzroy North VIC 3068 | |
| Henry Sugar | Modern | 296-298 Rathdowne St, Carlton North VIC 3054 | |
| Bar Saracen | Lebanese | Ground/22 Punch Ln, Melbourne VIC 3000 | |
| Epocha | European | 49 Rathdowne St, Carlton VIC 3053 | |
| Elyros | Greek | 871 Burke Rd, Camberwell VIC 3124 | |
| ST. Ali | Cafe | 12-18 Yarra Pl, South Melbourne VIC 3205 | |
| Galah | Italian | 216 High St, Windsor VIC 3181 | |
| Grossi Florentino | Italian | 80 Bourke St, Melbourne VIC 3000 | |
| Ryne | French | 203 St Georges Rd, Fitzroy North VIC 3065 | |
| Atlas Dining | Modern | 133 Commercial Rd, South Yarra VIC 3141 | |
| Bon 'Ap | French | 193 Brunswick St, Fitzroy VIC 3065 | |
| Marios | Italian | 303 Brunswick St, Fitzroy VIC 3065 | |
| Sibling | Cafe | 611 Nicholson St, Carlton North VIC 3054 | |
| Kinfolk | Cafe | 673 Bourke St, Melbourne VIC 3000 | |
| Cibi | Japanese | 33/39 Keele St, Collingwood VIC 3066 | |
| ISH | Indian | 199 Gertrude St, Fitzroy VIC 3065 | |
| Navi | Modern | 83b Gamon St, Yarraville VIC 3013 | |
| Wide Open Road | Cafe | 274 Barkly St, Brunswick VIC 3056 | |
| Taquito | Mexican | 350 Drummond St, Carlton VIC 3053 | |
| Alba's | Lebanese | 109 Elgin St, Carlton | |
| Arkibar Cucina | Italian | 100 Dorcas St, Southbank | |
| Attica | Bakery | 74 Glen Eira Rd, Ripponlea VIC 3185 | |
| Belles Hot Chicken | Fried chicken | All locations | |
| Babajan | Cafe | 713 Nicholson St, Carlton North VIC 3054 | |
| Caffe e Cucina | Italian | 581 Chapel St, South Yarra VIC 3141 | |
| Chargrill Charlie's | Chicken | All locations | |
| Elyros | Restaurant and wine bar | 871 Burke Rd, Camberwell VIC 3124 | |
| Epocha | European | 49 Rathdowne St, Carlton VIC 3053 | |
| Daughter in Law | Australian Indian | 37-41 Little Bourke St, Melbourne VIC 3000 | |
| Di Stasio Citta | Italian | Melbourne CBD and St Kilda | |
| Future Future | Japanese | 191 Swan St, Richmond VIC 3121 | |
| Grossi Florentino | Italian | 80 Bourke St, Melbourne VIC 3000 | |
| Half Acre | Pizza | 112 Munro St, South Melbourne VIC 3205 | |
| Horn Please | Indian | 167 St Georges Rd, Fitzroy North VIC 3068 | |
| Il Bacaro | Italian | 168-170 Little Collins St, Melbourne VIC 3000 | |
| Bar Carolina | Italian | 44 Toorak Rd, South Yarra VIC 3141 | |
| Juanita Peaches | Americana | 12 Edward St, Brunswick VIC 3056 | |
| Le Bouchon French Cuisine | French | 10/2-8 Russell St, Balnarring VIC 3926 | |
| Lagoon Dining | Chinese | 263 Lygon St, Carlton VIC 3053 | |
| Lezzet Anatolian Kitchen | Turkish | 81 Brighton Rd, Elwood VIC 3184 | |
| Lagotto | Italian | 1 York St, Fitzroy North VIC 3068 | |
| Lume | Fine dining | 226 Coventry St, South Melbourne VIC 3205 | |
| Geppetto Trattoria | Italian | 78A Wellington Parade, East Melbourne VIC 3002 | |
| Little Latina Lucy | Latino | 25 Easey St, Collingwood VIC 3066 | |
| Lune Croissanterie | Pastries | Fitzroy and Melbourne | |
| Maker & Monger | Cheese | Prahran Market, Stall 98/163 Commercial Rd, South Yarra VIC 3141 | |
| Mamak Melbourne | Malaysian | 366 Lonsdale St, Melbourne VIC 3000 | |
| Marameo | Italian | 6 Russell Pl, Melbourne VIC 3000 | |
| Miss Ruben | Deli style cafe | 76 Glen Eira Rd, Ripponlea VIC 3185 | |
| Mono-XO | Japanese | Rear 191A Smith Street Enter via, Charles St, Fitzroy VIC 3065 | |
| Neighbourhood wine | Wine bar | 1 Reid St, Fitzroy North VIC 3068 | |
| Moroccan Soup Bay | Vegatarian | 183 St Georges Rd, Fitzroy North VIC 3068 | |
| Patricia | Cafe | 493-495 Little Bourke St, Melbourne VIC 3000 | |
| Philhellene | Greek | 551-553 Mt Alexander Rd, Moonee Ponds VIC 3039 | |
| Prince Wine Store and Bellota | Wine shop | 177 Bank St, South Melbourne VIC 3205 | |
| Red Spice Road-To-Go | Southeast Asian | 141 Queen St, Melbourne VIC 3000 | |
| Ryne | French | 203 St Georges Rd, Fitzroy North VIC 3065 | |
| Punch Lane Wine Bar | Modern | 43 Little Bourke St, Melbourne VIC 3000 | |
| Saint.Urban | Wine bar | 213 Swan St, Richmond VIC 3121 | |
| Smith & Daughters | Vegan | 175 Brunswick St, Fitzroy VIC 3065 | |
| Shop Bao Ngoc | Vietnamese | 387 Victoria St, Brunswick VIC 3056 | |
| The The Victor Wine Room | Cheese, charcuterie and wine | 67 Cardigan Pl, Albert Park VIC 3206 | |
| Wise Guys Pizza 'n' Pasta - South Melbourne | Pizza, Italian | 102 Park st, South Melbourne, 3205 | |
| Smokin' Joes Pizza & Grill | Pizza, Pasta | 440 Church Street, Richmond, 3121 | |
| Chilli India Melbourne Central | Indian | Shop GD086, 211 La Trobe Street, Melbourne, 3000 | |
| Tadka Hut Indian Cuisine | Indian, Pakistani, Halal | 82 Wellington Parade, East Melbourne, 3002 | |
| Dumpling World | Chinese, Asian | Shop 7/608 Collins Street, Melbourne, 3000 | |
| Herbs & Beans | Cafe | 6/551 Little Lonsdale Street, Melbourne, 3000 | |
| 180° Turkish Street Food | Turkish, Middle Eastern | 2/9 Yarra Street, South Yarra, 3141 | |
| Loving Hut - West Melbourne | Vegan, Asian | 185 Victoria Street, West Melbourne, 3003 | |
| Boogie House Malatang | Chinese | 466 Swanston Street, Carlton, 3053 | |
| Billy's District | Modern Australian | Shop CW G02, 440 Docklands Drive, Docklands, 3008 | |
| Madame K's Vegetarian - King Street | Thai, Vegetarian | 273 King Street, Melbourne, 3000 | |
| The Best Guilin Rice Noodles | Chinese, Asian | 72 Victoria Street, Carlton, 3053 | |
| Water Flame | Chinese | 2/340 Little Lonsdale Street, Melbourne, 3004 | |
| Hello Dumpling | Chinese | 382-384 Elizabeth Street, Melbourne, 3000 | |
| Mr Kitchen - Melbourne Swanston | Chinese, Cafe | 319 Swanston Street, Melbourne, 3000 | |
| Cafe Soho | Asian | 235 Bourke Street, Melbourne, 3000 | |
| Wonderbowl - Swanston | Asian | 267 Little Lonsdale Street, Melbourne, 3000 | |
| Foodie Mart - Melbourne | Alcohol | 648 Elizabeth Street, Melbourne, 3000 | |
| District Mot - Melbourne | Vietnamese | 9 Rose Lane, Melbourne, 3000 | |
| Oko Oko - Carlton | Japanese, Asian | 644 Swanston Street, Carlton, 3053 | |
| Korean Table | Korean, Asian | 33 Rose Lane, Melbourne, 3000 | |
| I Wrap Cafe - Vietnamese Street Food | Vietnamese, Asian | 595 Elizabeth Street, Melbourne, 3000 | |
| Flames of India | Indian, Vegan, Halal | 470 Spencer Street, West Melbourne, 3003 | |
| Pepperoni's | Pizza, Italian | 7A Elizabeth st, Melbourne, 3000 | |
| Flavours of Indus | Indian, Asian | 104 Lygon Street, Carlton, 3053 | |
| Zambrero - Melbourne University | Mexican, Fast Food | Tin Alley, Parkville, 3052 | |
| iTaipei | Taiwanese | 599 Elizabeth Street, Melbourne, 3000 | |
| Swanston Halal Food Centre | Kebab, Pizza | 2 37 Swanston Street, Melbourne, 3000 | |
| Chilli Everest | Nepalese | Shop 6, 211 La Trobe Street, Melbourne, 3000 | |
| San Churro - Docklands | Dessert, Spanish | 440 Docklands Drive, Docklands, 3008 | |
| Cindy's Kitchen | Chinese, Malaysian | Shop 2, 520 Victoria Street, North Melbourne, 3051 | |
| Biryani House - Melbourne | Indian | 343 King Street, West Melbourne, 3003 | |
| Oporto - Melbourne Central | Chicken, Burgers | 211 La Trobe Street, Melbourne, 3000 | |
| Kaki Lima RMIT | Indonesian, Asian | 1 Stewart Street, Melbourne, 3000 | |
| Dosa Hut CBD | Indian, South Indian, Halal | 209 King Street, Melbourne, 3000 | |
| South Melbourne Fish and Chip Shop | Fish & Chips | 360 Clarendon Street, South Melbourne, 3205 | |
| Killiney Kopitiam Lygon St (Halal) | Malaysian, Chinese, Halal | 114 Lygon Street, Carlton, 3053 | |
| Kebab Republic | Kebab, Middle Eastern | 151 Kings Way, Southbank, 3006 | |
| Penang | Malaysian | 177 Clarendon Street, South Melbourne, 3205 | |
| I Love Chicken | Korean, Chicken | 617 Lonsdale Street, Melbourne, 3000 | |
| Classic Curry | Indian | 597 Elizabeth st, Melbourne, 3000 | |
| Bhoj Restaurant - Docklands | Indian | 54 New Quay promenade, Docklands, 3008 | |
| New York Minute - Carlton | Burgers, American | 235-237 Faraday Street, Carlton, 3053 | |
| Kebab Connection | Turkish | 320 Victoria Street, North Melbourne, 3051 | |
| Crust Pizza - Melbourne CBD | Pizza, Italian | 377 Lonsdale Street, Melbourne, 3000 | |
| Adonai | African | 478 Drummond Sreet, Carlton, 3053 | |
| Fukutontei Ramen - Docklands | Japanese | 440 Docklands Drive, Docklands, 3008 | |
| Souvlaki & Burger Hub | American | 360 Clarendon Street, South Melbourne, 3205 | |
| Bedi's Indian Restaurant | Indian | 118 Park st, South Melbourne, 3205 | |
| Viva Kebabs, Grill & Pizza | Kebab | 520 Flinders Street, Melbourne, 3000 | |
| Rajputana | Indian | 280 King Street, Melbourne, 3000 | |
| Spudbar - South Melbourne | Salad, Vegetarian | 246 Clarendon Street, South Melbourne, 3205 | |
| Tejas Modern Indian Restaurant | Indian, Halal | 20-22 McKillop Street, Melbourne, 3000 | |
| The Olive Jar | Pizza, Italian | 168-170 Rathdowne Street, Carlton, 3053 | |
| Dumplings Plus - Swanston St | Asian, Chinese | 269 Swanston Street, Melbourne, 3000 | |
| Pud Thai Vs Pho | Thai, Asian | 60 Siddeley st, Docklands, 3008 | |
| Oporto - South Melbourne | Chicken, Burgers | 265 Clarendon Street, South Melbourne, 3205 | |
| Flinders Kebab | Kebab, Lebanese | Unit 2/534 Flinders Street, Melbourne, 3000 | |
| Killiney Kopitiam Bourke St (Halal) | Malaysian, Chinese, Halal | 108 Bourke Street, Melbourne, 3000 | |
| Lord of the Fries - Elizabeth Street | Vegan, Burgers | 288 Flinders Street, Melbourne, 3000 | |
| Carl's Jr - Docklands | Burgers, American | 440 Docklands Drive, Docklands, 3008 | |
| Thai City Restaurant | Thai, Asian | 124 Lygon st, Carlton, 3053 | |
| Miss Siam Thai Cuisine | Thai, Asian | 1B/568 Collins Street, Melbourne, 3000 | |
| Curry in Carlton | Indian, Halal | 192 Elgin Street, Carlton, 3053 | |
| Bon Bon Boy Pure Vietnamese - Spencer St | Vietnamese, Asian | 656 Little Bourke Street, Melbourne, 3000 | |
| The Moghals | Kebab, Indian, Halal | 5 369 King Street, West Melbourne, 3003 | |
| Katsu House | Asian | Shop 9, Level 4, 100 Harbour Esplanade, Docklands, 3008 | |
| Real Kebab | Kebab, Middle Eastern | 551 Little Lonsdale Street, Melbourne, 3000 | |
| Laksa Bar | Asian, Malaysian | 108 Little Lonsdale Street, Melbourne, 3000 | |
| Criniti's - Carlton | Italian, Pizza | 204 Faraday Street, Carlton, 3053 | |
| Tokyo Maki - Melbourne | Japanese, Asian | 547 Flinders Street, Melbourne, 3000 | |
| La Figo | Pizza, Italian | 181 King st, Melbourne, 3000 | |
| House of kebabs (Pizzas & Burger) | Pizza, Burgers | 271 King Street, Melbourne, 3000 | |
| Pok Pok Docklands | Thai, Asian | 801-803 Bourke Street , Docklands, 3008 | |
| Three Little Dumplings | Chinese, Asian | 187 Clarendon Street, South Melbourne, 3205 | |
| Taco Bill - Collins Street | Mexican | 412 Collins Street, Melbourne, 3000 | |
| La Porchetta - North Melbourne | Italian, Pizza | 480 Victoria Street, North Melbourne, 3051 | |
| Royal Kebab Cafe | Kebab | 193 Flemington Road, North Melbourne, 3051 | |
| The Art of Fried Chicken | American, Fast Food | 189 Clarendon St, South Melbourne, 3205 | |
| Chilangos Mexican Cantina | Mexican | Goldsbrough Lane, Melbourne, 3000 | |
| Nine Elephants Thai Restaurant | Thai | 67 Village Street, Docklands, 3008 | |
| Criniti's - Southbank | Italian, Pizza | 645 Freshwater Place, Southbank, 3006 | |
| Pizza Forno Kitchen | Pizza, Italian | 153 Kings Way, Southbank, 3006 | |
| Subway- Swanston Walk | Sandwiches, Fast Food | 37 Swanston Street, Melbourne, 3053 | |
| Amigos Restaurant - Hardware lane | Latin-American | 75 Hardware lane, Melbourne, 3000 | |
| Russell's Kebab & Pizza | Kebab, Pizza | 294 Russell Street, Melbourne, 3000 | |
| Subway - Elizabeth St | Sandwiches, Fast Food | 1 Elizabeth Street, Melbourne, 3000 | |
| Rolling Nori Japanese Cafe | Japanese | 11 Rose Lane, Melbourne, 3004 | |
| Wonder Sushi | Japanese, Asian | Shop 13, 89-91 City Road, Southbank, 3006 | |
| Bricklane Bagels | Cafe, Bakery | 224 Clarendon Street, South Melbourne, 3205 | |
| Bubba Pizza - Richmond | Pizza, Italian | 284 Bridge Road , Richmond, 3121 | |
| Malay Momma | Malaysian, Asian | 56 Kavanagh Street, Southbank, 3006 | |
| Lamb on Brunswick Street | Greek | 314 Brunswick Street, Fitzroy, 3065 | |
| Skordo | Greek | 178 Ferrars Street, South Melbourne, 3205 | |
| Mad Mex - Melbourne Central | Mexican, Vegetarian | Shop L02 263, 211 La Trobe Street, Melbourne, 3000 | |
| Hudson Coffee | Cafe | LGK2/211 La Trobe Street, Melbourne, 3000 | |
| Smith Kebab's | Mediterranean, Middle Eastern, Halal | 74 Smith st, Collingwood, 3066 | |
| First Burger | Burgers, Australian | 231 Elizabeth Street, Melbourne, 3000 | |
| Jon Smith Subs Docklands | Australian, Sandwiches | 2 Star Circus, Docklands, 3008 | |
| Mad Mex QV | Mexican, Vegetarian | QV Food Court, 210 Lonsdale Street, Melbourne, 3000 | |
| Sassy Buns - Burgers & Beers | Burgers | 9 Dryburgh Street, West Melbourne, 3003 | |
| Simply Indian - Docklands | Indian | B13/764 Bourke Street, Docklands, 3008 | |
| King Curry | Indian | 10 King Street, Melbourne, 3000 | |
| Rice Workshop - Chinatown | Japanese, Vegan | 238 Little Bourke Street, Melbourne, 3000 | |
| Mad Mex SX Tower | Mexican, Vegetarian | Shop E5 Southern Cross Lane, 121 Exhibition Street, Melbourne, 3000 | |
| Luis Pizza CBD | Pizza, BBQ | 231 Elizabeth Street, Melbourne, 3000 | |
| Mama Tsai | Asian, Chinese | 165 Pelham Street, Carlton, 3053 | |
| Milan Pasta | Italian, Australian | 231 Elizabeth Street, Melbourne, 3000 | |
| On It Burgers - Abbotsford | Burgers, American | 349-351 Victoria Street, Abbotsford, 3067 | |
| Master Roll Vietnam - Burke Street | Vietnamese, Asian | Shop 12, 108 Burke Street, Melbourne, 3000 | |
| Hungry Dumpling | Chinese, Comfort Food | 231 Elizabeth Street, Melbourne, 3000 | |
| Mad Mex - Flinders Lane | Mexican, Vegetarian | Shop 5, 35 Elizabeth Street, Melbourne, 3000 | |
| Mad Mex DFO South Wharf | Mexican, Vegetarian | Shop FB008, 20 Convention Centre Place, South Wharf, 3006 | |
| Mad Mex South Melbourne | Mexican, Vegetarian | Clarendon Centre, Shop 2 & 3, 261 Clarendon Street, South Melbourne, 3205 | |
| Hasir Kebabs | Kebab, Middle Eastern | 285 Smith Street, Fitzroy, 3065 | |
| Sassy.x Restaurant & Bar | Pizza, Italian | 9 Dryburgh Street, West Melbourne, 3003 | |
| Master Roll Vietnam - Lonsdale Street | Vietnamese, Asian | Ground Floor, 18-21 Lonsdale Street, Melbourne, 3000 | |
| Egglab | Burgers | 122 Johnston Street, Fitzroy, 3065 | |
| Clarendon Station | Malaysian, Asian | 209 - 215 Clarendon Street, South Melbourne, 3205 | |
| Burger a Gogo | Burgers | 106 Hoddle Street, Abbotsford, 3067 | |
| Lilong by Taste of Shanghai - Melbourne | Chinese | L03 Melbourne Central, Shop 302, 300 Lonsdale St, Melbourne, 3000 | |
| Sanhe Congee | Chinese, Asian | 87 Peel Street, West Melbourne, 3003 | |
| Vinh Long 2 | Vietnamese, Chinese | 183 Brunswick Street, Fitzroy, 3065 | |
| Sandwich Chefs - Spencer Street | Sandwiches | Spencer St Shopping Centre, Shop F212, Docklands, 3008 | |
| Il Gusto | Italian | 256 Lygon Street, Carlton, 3053 | |
| Richmond Noodle World | Asian | 239 Bridge Road, Richmond, 3121 | |
| Yassas The Greek Way | Greek | The District, Shop CWG14A, GF, 440 Docklands Drive, Docklands, 3008 | |
| D'Lemon Grass Restaurant | Malaysian, Indian | 90 Victoria Street, Richmond, 3121 | |
| Meet Bowl | Indonesian, Indo-Chinese | 95 York Street, South Melbourne, 3205 | |
| Xeom (Viet Street Food) | Vietnamese, Asian | 194 Smith Street, Collingwood, 3066 | |
| Queen Street Rescue | Modern Australian | 189 Queen Street, Melbourne, 3000 | |
| Pho Dzung Tan Dinh | Vietnamese | 208 Victoria Street, Richmond, 3121 | |
| Tex Mex | Mexican | 178 Ferrars Street, South Melbourne, 3205 | |
| Matsumoto Japanese Restaurant | Japanese | 48 Lygon Street, Brunswick East, 3057 | |
| Wah On Chinese Takeaway | Chinese | 81 Cambridge Street, Collingwood, 3066 | |
| 8 Miles Cafe & Convenience Store | Cafe, Italian | 8 Miles Street, Southbank, 3006 | |
| Kebabs R Yummy | Kebab, Turkish | 192 Wells Street, South Melbourne, 3205 | |
| Lord of the Fries - Southern Cross Station | Vegan, American | Spencer Street, Melbourne, 3004 | |
| T4 Fina's P/L | Vietnamese, Vegan | 339 Brunswick Street, Fitzroy, 3065 | |
| East Meets West | Asian | 406 Brunswick Street, Fitzroy, 3065 | |
| Cafe Keblaki Grill House | Kebab, Turkish | 362 Spencer Street, West Melbourne, 3003 | |
| The Origin Tales | Vegan, Singaporean | 41 Lygon Street, Brunswick East, 3057 | |
| Noodle Hut - Brunswick | Dessert, Asian | 59 Sydney Road, Brunswick, 3056 | |
| D'PENYETZ & D'CENDOL | Indonesian, Malaysian | 112 Lygon Street, Carlton, 3053 | |
| Oda Sushi | Japanese | 238 Flinders Lane, Melbourne, 3000 | |
| Fish and Chips on Victoria | Fish & Chips | 397 Victoria Street, Abbotsford, 3067 | |
| Pho Nung Vietnamese Restaurant | Vietnamese, Asian | Ground Level, 530 Little Collins Street, Melbourne, 3000 | |
| Studio Coffee | Cafe, Pizza | Basement, Shop F6, 20 Convention Centre Place, South Wharf, 3006 | |
| Anatolia Tantuni | Middle Eastern, Turkish, Halal | 15 Johnston Street, Fitzroy, 3065 | |
| Lord of The Fries - Brunswick Street | Vegan, Burgers | 383 Brunswick Street, Fitzroy, 3065 | |
| Burger Road - Fitzroy | Burgers, Wings | 30 Johnston Street, Fitzroy, 3065 | |
| Rock Salt & Vinegar | Fish & Chips, Burgers | 258 Smith Street, Collingwood, 3066 | |
| Rincon Argentino | Argentinian | 84 Dudley Street, West Melbourne, 3003 | |
| Pachamama's Kitchen - Brunswick | Cafe | 74-78 Sydney Road, Brunswick, 3056 | |
| Proud Sprout | International, Salad | 76 Smith Street, Collingwood, 3066 | |
| Crust Pizza - Port Melbourne | Pizza, Italian | 85 Bay Street, Port Melbourne, 3207 | |
| Perkup Breakfast & Burgers | Burgers | 610 Collins Street, Melbourne, 3000 | |
| Pie Face - Kingsway | Bakery, Australian | 151 Kings Way, Southbank, 3006 | |
| Buffalos Burgers and Wings | American, Burgers | CGO1, The District Docklands 390 Waterfront Way, Docklands, 3008 | |
| Tutto Premium Frozen Yogurt and Desserts | Dessert | 81 Grattan Street, Carlton, 3053 | |
| Mook Ji Bar | Korean | 406 Lonsdale Street, Melbourne, 3000 | |
| The Seasoning House | Thai | 246A Victoria Street, Richmond, 3121 | |
| Keboo Kebabs | Mediterranean, Kebab | 126 Smith Street, Collingwood, 3066 | |
| Lord of The Fries - Docklands | Vegetarian | 8 Star Circus, Docklands, 3008 | |
| Pho Thin 13 Lo Duc | Vietnamese, Vegan | Shop C, 389 Lonsdale Street, Melbourne, 3000 | |
| 10 & Full | Burgers | 178 Ferrars Street, South Melbourne, 3205 | |
| Fina's Vegetarian Cafe | Vietnamese, Vegan | 268 Victoria Street, Richmond, 3121 | |
| Perso Kebab | Burgers, Halal | Shop 15/60 Siddeley Street, Docklands, 3008 | |
| Curry Vault Indian Restaurant & Bar | Indian, Dessert | 18 Bank Place, Melbourne, 3000 | |
| Subway- Spencer St | Sandwiches, Fast Food | 190 Spencer Street, Melbourne, 3000 | |
| The Churro's Gourmet | Dessert | 81 Grattan Street, Carlton, 3053 | |
| Kiwi Fish and Burger Bar | Fish & Chips, Burgers | 412-442 Victoria Parade, East Melbourne, 3002 | |
| Blue Chillies | Malaysian, Asian | 182 Brunswick Street, Fitzroy, 3065 | |
| Big Al's Fried Chicken | Chicken | 349-351 Victoria Street, Abbotsford, 3067 | |
| Gangnam Pocha | Korean, Chicken | 270 King Street, Melbourne, 3000 | |
| Pho Vietnam Yummy | Vietnamese, Asian | 1/1 Bank Street, South Melbourne, 3205 | |
| Pancake Master | Pancakes, Dessert | 81 Grattan Street, Carlton, 3053 | |
| Rosa Mexicano | Mexican | 293 Clarendon Street, South Melbourne, 3205 | |
| ISpicy Richmond | Thai | 80 Victoria Street, Richmond, 3121 | |
| Taste Indonesia | Indonesian, Asian | 329-331 Clarendon Street, South Melbourne, 3205 | |
| Thaiger Rabbit by Ying Thai | Thai, Asian | 391 Victoria Street, Abbotsford, 3067 | |
| Chicken On Lygon | Chicken, Burgers | 61 Lygon Street, East Brunswick, 3057 | |
| Arabesque Restaurant | Middle Eastern | 642 Elizabeth Street, Melbourne, 3000 | |
| Tiger Tea | Dessert, Cafe | Shop 21/200 Bourke Street, Melbourne, 3000 | |
| Sushi Lian | Asian, Sushi | 2 Queen Street, Melbourne, 3000 | |
| Lost Angel Bar & Restaurant | Thai, Asian | 285 Spring Street, Melbourne, 3000 | |
| Jai Hind Indian Restaurant | Indian | 5/120 Spencer Street, Melbourne, 3000 | |
| Ba'get - Russell St | Vietnamese | 132 Russell Street, Melbourne, 3000 | |
| Rolld 50 - Lonsdale | Vietnamese, Asian | 50 Lonsdale Street, Melbourne, 3000 | |
| Mary's Kitchen | Cafe, Sandwiches | Shop 1/530 Little Collins Street, Melbourne, 3000 | |
| CHAI ROTI | Indian | 4/221 Queen Street, Melbourne, 3000 | |
| B & B'guette Cafe | Vietnamese, Asian | 305 Exhibition Street, Melbourne, 3000 | |
| Pho7 | Vietnamese | 136 Elizabeth Street, Melbourne, 3000 | |
| Ministry Of Curry | Sri Lankan | Shop 10/318-322 Little Collins Street, Melbourne, 3000 | |
| Kebab Hub | Kebab, Mediterranean | 179 Bourke Street, Melbourne, 3000 | |
| Madame's Kitchen | Cafe, Burgers | 50 Lonsdale Street, Melbourne, 3000 | |
| Auntie's Gozleme | Turkish | 13 Bligh Place, Melbourne, 3000 | |
| Gangster Wrap | Kebab | 13 Bligh Place, Melbourne, 3000 | |
| King Jon's Greek Tavern | Greek, Fast Food | 185 King Street, Melbourne, 3000 | |
| Chinese Kitchen on Lygon | Chinese | 232 Lygon Street, Carlton, 3053 | |
| Shonan Kamakura | Japanese | 9 Katherine Place, Melbourne, 3000 | |
| Xeo Xoi 1996 | Vietnamese | 585 Little Collins Street, Melbourne, 3000 | |
| Bababoi Kitchen and Bar | Malaysian | Shop 2, 60 Siddeley Street, Docklands, 3008 | |
| Tribeca Pizza Pasta Bar | Pizza, Italian | Shop 6 & 7 Tribeca, 412-442 Victoria Pde, East Melbourne, 3002 | |
| The Coffee Club - Docklands | Cafe | 440 Docklands Drive , Docklands, 3008 | |
| Falafel Place | Vegetarian, Middle Eastern | 264 Smith Street, Collingwood, 3066 | |
| Efektiv Convenience | Grocery | 97 Merchant Street, Docklands, 3008 | |
| Coventry's Pantry | Cafe, Australian | 35 Coventry Street, Southbank, 3006 | |
| Cuate - South Melbourne | Mexican | 178 Ferrars Street, South Melbourne, 3205 | |
| Charcoal Pit Burgers | Burgers, American | 178 Ferrars Street, South Melbourne, 3205 | |
| Yeetus | Asian, Thai | 300 Clarendon Street, South Melbourne, 3205 | |
| Bomb Cafe | Cafe, Sandwiches | 229 Johnston Street, Abbotsford, 3067 | |
| Pie Face - Kensington | Bakery, Australian | United Petroleum 150-160 Dynon Road, Kensington, 3031 | |
| MAI Japanese Restaurant | Japanese, Asian | 230 Hoddle Street, Abbotsford, 3067 | |
| Spud's & Chook's | Chicken, Japanese | 230 Hoddle Street, Abbotsford, 3067 | |
| Tub O' Dough - Richmond | Dessert, Pizza | 440a Church Street, Richmond, 3121 | |
| Eighty8 Kitchen | Mediterranean, Modern Australian | 88b Sydney Road, Brunswick, 3056 | |
| The Quarry Hotel | Modern Australian | 101 Lygon Street, Brunswick East, 3057 | |
| Turkish Kebabs - South Melbourne | Turkish, Kebab | 286 Clarendon st, South Melbourne, 3205 | |
| Noulboo | Korean, Seafood | 768 Bourke Street, Docklands, 3008 | |
| Roku Ichi Laksa Ramen | Japanese, Vegetarian | 68 La Trobe St, Melbourne, 3000 | |
| Uzu Melbourne - Curry Laksa Ramen | Japanese, Asian | 8 Artemis Lane , Melbourne, 3000 | |
| Le Taj Fine Indian Food | Indian, Vegetarian | 70-74 Rosslyn st, West Melbourne, 3003 | |
| Higashi | Japanese, Asian | 24 Jane Bell Lane, Melbourne, 3000 | |
| BuuBBuB Thai Restaurant | Thai | 353 Smith St, Fitzroy, 3065 | |
| Docklands Pizzeria | Pizza, Italian | 42 Caravel Lane, Docklands, 3008 | |
| Cafe On Bourke | Italian | 50 Bourke st, Melbourne, 3000 | |
| Shizuku Ramen - Black Truffle Shoyu Ramen | Japanese, Vegetarian | 309 Victoria st, Abbotsford, 3067 | |
| Zafeera's Fine Malaysian Indian Cuisine | Malaysian, Indian | 563 Nicholson Street, Carlton North, 3054 | |
| Fahrenheit Pizza | Pizza, Italian | 4, 1-3 Smith Street , Fitzroy, 3065 | |
| La Casa Pizza and Pasta | Pizza, Italian, Halal | 59 Brunswick Street, Fitzroy, 3065 | |
| S H II Z U K U - Craft Beer, Wine & Fried Chicken | Burgers, Japanese | 1/309 Victoria Street , Abbotsford, 3067 | |
| 400 Gradi - Brunswick | Italian, Pizza | 99 Lygon Street, Brunswick East, 3057 | |
| Slurp Shop - Curry Laksa & Gyoza | Japanese, Korean | 68 Smith Street , Collingwood, 3066 | |
| Port of India | Indian | 238 Bay Street, Port Melbourne, 3207 | |
| Nami - Curry Laksa & Bao | Japanese | 84 Chapel St, Windsor, 3181 | |
| Caca Chicken - Carlton | Chicken, Fast Food | 230 Lygon Street, Carlton, 3053 | |
| Nami - Bento, Chilli Crab & New World Ramen | Chinese, Japanese | 14 Droop St , Footscray, 3011 | |
| Fahrenheit Pizza - Express | Pizza, Italian | 1-3 Smith Street, Fitzroy, 3065 | |
| Uzu - Tapas, Rice & Gyoza Bar | Chinese, Japanese | 244 Union rd, Ascot Vale, 3032 | |
| Mist | Chinese, Japanese | 94 Hudsons Road, Spotswood, 3015 | |
| The Strands Society | Burgers, Japanese | 444 High Street, Preston, 3072 | |
| Shizuku - Hainan Fried Chicken Rice | Japanese, Asian | 250 Hampshire Road, Sunshine, 3020 | |
| Slurp Shop - Laksa, Rendang & Roti | Japanese, Malaysian | 254 Hampshire Rd , Sunshine, 3020 | |
| Pizza Pizza Pizza | Pizza, Italian | 16 Meyers Place, Melbourne, 3000 | |
| Chine on Paramount Chinese Restaurant | Chinese | 101 Little Bourke st, Melbourne, 3000 | |
| Gourmet Curry Hut | Indian, Halal | 3-4, 318 Little Collins st, Melbourne, 3000 | |
| Crossways Restaurant | Vegetarian | 123 Swanston st, Melbourne, 3000 | |
| The Trust Melbourne | Italian | 405 Flinders Lane, Melbourne, 3000 | |
| Bokchoy Tang | Chinese | Federation Square Cnr Flinders & Swanston Streets , Melbourne, 3000 | |
| The Coffee Club - Docklands | Cafe | 440 Docklands Drive, Docklands, 3008 | |
| Yo Sushi Noodle | Japanese, Asian | 462 Church Street, Richmond, 3121 | |
| Il Amalfi Pizza Pasta - Hawthorn | Pizza, Alcohol | Shop 4/813 Glenferrie Road, Hawthorn, 3122 | |
| Achilles Greek Street Food | Greek | 311 Brunswick Street, Fitzroy, 3065 | |
| Code 3 | Cafe | 313 Spencer Street, Docklands, 3008 | |
| Pizze Societe | Pizza, Italian | 2 South Wharf drv, Docklands, 3008 | |
| Lt. Bento Hut | Japanese, Asian | Shop LG 06 300 longsdale Street, Melbourne, 3000 | |
| Royal Orchid Thai Cafe | Thai | 363 Bay Street, Port Melbourne, 3207 | |
| Tono On Borsari | Pizza, Italian | 201 Lygon Street, Carlton, 3053 | |
| Pizza @ 888 | Pizza, Italian | Shop 5/888 Collins Street, Docklands, 3008 | |
| New York Minute - South Melbourne | Burgers, American | 190 Coventry Street, South Melbourne, 3205 | |
| The Kathmandu Cottage | Indian, Nepalese, Halal | 349 Victoria Street, West Melbourne, 3003 | |
| Smile Thai Cuisine - West Melbourne | Thai, Asian | 357 Victoria Street, West Melbourne, 3003 | |
| Nizams Indian Restaurant | Indian | Shop 5, 520 Victoria Street , North Melbourne, 3051 | |
| Carlton Pizzeria | Italian, Pizza | 160 Rathdowne Street , Carlton, 3053 | |
| Kebab Kingz | Turkish, Kebab, Halal | Dudley Street & Spencer Street , West Melbourne, 3003 | |
| Ohsso Korean Street Food | Korean, Asian | 28 Hardware Lane, Melbourne, 3000 | |
| Eat Pizza - Melbourne | Pizza, Italian | 1C/557 Flinders Street, Melbourne, 3000 | |
| Royale Pizza | Pizza, Italian | 56 Spencer Street , Melbourne, 3000 | |
| Pizza Max (West Melbourne) | Pizza, American | 501 Spencer Street, West Melbourne, 3003 | |
| Toto's Pizza House - South Melbourne | Pizza | Shop 1 / 148 Clarendon Street , South Melbourne, 3205 | |
| Duke Pizza | Pizza, Italian | Shop 1, 660 Elizabeth Street, Melbourne, 3000 | |
| Punjabi Curry Cafe - Collingwood | Indian, Alcohol | 87 Johnston st, Collingwood, 3066 | |
| Toto's Pizza House | Pizza, Italian | 101 Lygon st, Carlton, 3053 | |
| Kass Kass | Korean | Shop 1 / 500 Flinders st, Melbourne, 3000 | |
| Kebab Cottage | Kebab, Pizza, Halal | 62 Johnston Street, Fitzroy, 3065 | |
| St Kilda Handcrafted Pizza and Burger | Pizza, Burgers | 302 Saint Kilda Road, St Kilda, 3182 | |
| Crisp Handcrafted Pizza | Pizza | 279 Racecourse rd, Kensington, 3031 | |
| Solidaire | Lebanese | Shop 16 17/28 Newquay Promenade, Docklands, 3008 | |
| Jai Ho Indian Restaurant - Richmond | Indian | 205 Swan st, Richmond, 3121 | |
| Queen Caterina Pizza e` Birra | Pizza, Italian | 78 Wellington Parade, East Melbourne, 3002 | |
| Kebab Kingz - Richmond | Kebab, Mediterranean | 35 Hoddle Street, Richmond, 3121 | |
| Souvlaki King Eatery | Greek, Italian, Halal | 311A Brunswick Street, Fitzroy, 3065 | |
| iCurry Indian Restaurant | Indian | 278 St Kilda rd, St Kilda, 3182 | |
| Dum Matka - Collingwood | Indian | 284 Smith Street, Collingwood, 3066 | |
| Sushi Train - Fitzroy | Japanese | 300 Napier Street, Fitzroy, 3065 | |
| Curly Joe's - North Fitzroy | Pizza, Italian | 892 Nicholson Street , Fitzroy North, 3068 | |
| The Thai Classic | Thai | 507 Nicholson Street, Carlton North, 3054 | |
| Papamero | Italian, Pizza | 57 Sydney Road, Brunswick, 3056 | |
| I Absolute Thai Restaurant & Cafe | Thai, Asian | 651 Nicholson st, Carlton North, 3054 | |
| Leyalina | Egyptian, Vegetarian | 191 Lygon Street, Carlton, 3053 | |
| Shawarma Rolls & Pizza | Middle Eastern, Pizza | 318 Brunswick Street, Fitzroy, 3065 | |
| Curry Smuggler | Indian | 223 Brunswick Street, Fitzroy, 3065 | |
| Alibaba Kebab | Kebab, Pizza, Halal | 60 Johnston Street, Fitzroy, 3065 | |
| Mama Nee Thai Restaurant | Thai, Asian | 324 Smith st, Collingwood, 3066 | |
| Crave Pizza & Fresh Pasta | Pizza, Italian | Shop 1/5 Wilson Street, South Yarra, 3141 | |
| Zero Gradi | Italian | 93-97 Lygon Street, Brunswick East, 3057 | |
| Casa Tajine | Moroccan, Mediterranean | 164 Rathdowne Street, Carlton, 3053 | |
| Curry Cafe - Northcote | Indian, Vegan | 73 High st, Northcote, 3070 | |
| Golden Lentils | Vegan, Vegetarian | 205 Swan Street, Richmond, 3121 | |
| The Noble Experiment | Modern Australian | 284 Smith Street, Collingwood, 3066 | |
| New York Minute - Brunswick East | Burgers, American | 46 Lygon Street, Brunswick East, 3057 | |
| Third Wave | Burgers, BBQ | 189 Rouse st, Port Melbourne, 3207 | |
| Rosslyn Pizzeria | Pizza, Alcohol | 70 Rosslyn Street, West Melbourne, 3003 | |
| Big Mumma's Fried Chicken | Chicken | 46 Lygon Street, Brunswick East, 3057 | |
| The Uleg | Indonesian, Asian | 312 Sydney Road, Brunswick, 3056 | |
| Healthy or Not | Modern Australian | Shop 1, 398 Lonsdale Street, Melbourne, 3000 | |
| Nirankar Restaurant | Indian, Dessert | 174 Queen st, Melbourne, 3000 | |
| Mixity Restaurant And Cafe | Mediterranean | 171 Lygon Street, Carlton, 3053 | |
| Gemma Simply Italian | Italian, Pizza | 183 Elgin Street, Carlton, 3053 | |
| SGG Fried Chicken | Asian, Taiwanese | 104/33 Wreckyn Street, North Melbourne, 3051 | |
| Blackout Restaurant & Lounge | Mediterranean, Burgers | 342 Brunswick Street, Fitzroy, 3065 | |
| Bombay Bird | Burgers, Indian | 26 Sutton Place, Carlton, 3053 | |
| Watermark Docklands | Pizza, Italian | 800 Bourke Street, Docklands, 3008 | |
| Lucky's Lasagna | Italian | 274, Rear, Brunswick Street, Fitzroy, 3065 | |
| Gelato Compà | Dessert | 381 Brunswick Street, Fitzroy, 3065 | |
| Mamma Vittoria Restaurant | Italian | 343-345 Smith st, Fitzroy, 3065 | |
| Pasta Classica by Dannypasta | Italian | 352 Smith Street, Collingwood, 3066 | |
| Chookity Wings | Chicken | 374 Smith Street, Collingwood, 3066 | |
| Burger Joint | Japanese, Alcohol | 1, 311a Victoria st, Richmond, 3121 | |
| Greedy Bear Bistro | Australian | 484 Smith Street, Collingwood, 3066 | |
| Pizza vs Burger | Pizza, Alcohol | 307 Victoria Street, Abbotsford, 3067 | |
| Two Hands Restaurant & Bar | Burgers, Japanese | 311a Victoria Street, Abbotsford, 3067 | |
| Shinwa Izakaya | Japanese, Asian | 139 Sydney Road, Brunswick, 3056 | |
| Ancient Memories Resturant | Kebab, Halal | 62-64 Lygon Street, Brunswick East, 3057 | |
| Pizza Hub | Pizza, Italian | 96 Greville Street, Prahran, 3181 | |
| Bibimbap | Korean | 21 Katherine Place, Melbourne, 3000 | |
| Ratee Thai | Thai | Exchange Tower, Food Court, Shop 2, Melbourne, 3000 | |
| Delhi Rocks - Swanston Street | Indian, Vegetarian | 1/123 Swanston Street, Melbourne, 3000 | |
| Royal Domain Cafe | Cafe, Burgers | Shop 11a, 360 Saint Kilda Road, Melbourne, 3004 | |
| Omi Qv | Asian | QV Melbourne, Shop 1-036, Melbourne, 3000 | |
| Blu Point Cafe | Cafe | 336 Russell Street, Melbourne, 3000 | |
| Emma's Fried Rice | Chinese, Asian | 46 Little La Trobe Street, Melbourne, 3004 | |
| Tako Sushi Japanese Cafe - Melbourne | Japanese, Asian | 227 Collins Street, Melbourne, 3000 | |
| Old Mates Pizza and Pasta | Pizza, Italian | 290-292 Clarendon Street, South Melbourne, 3205 | |
| PappaRich Express - Collins Street | Malaysian, Asian | 360 Collins Street, Melbourne, 3000 | |
| Thailicious - Melbourne | Thai | 1, 355 Exhibition st, Melbourne, 3000 | |
| Chilli India | Indian, Vegetarian, Halal | 79 Batmans Hill Drive, Docklands, 3008 | |
| Pepper Lunch - Elizabeth St | Asian | 311 Elizabeth Street, Melbourne, 3000 | |
| Grandma's Dumplings | Chinese, Asian | 311 Exhibition Street, Melbourne, 3000 | |
| S J Sushi Noodle Town | Japanese, Asian | 31 Errol Street, North Melbourne, 3051 | |
| San Churro - QV | Dessert, Cafe | QV Centre, 210 Lonsdale Street, Melbourne, 3000 | |
| Desi Dhaba | Indian | 134 Flinders st, Melbourne, 3000 | |
| NL House (Nasi Lemak House) | Malaysian, Asian, Halal | 115 Grattan st, Melbourne, 3000 | |
| 11 Inch Pizza | Pizza, Italian | 353-359 Little Collins Street, Melbourne, 3000 | |
| Bite Pizza And Kebab | Pizza, Kebab | 92 Rebecca Walk, Melbourne, 3000 | |
| Pita Pit - Docklands | Salad, Fast Food | 842 Bourke Street, Docklands, 3008 | |
| Spicy Affair Bar and Restaurant | Indian, Halal | 235 Clarendon Street, South Melbourne, 3205 | |
| Filous Patisserie | Dessert, Bakery | 187 Fenwick Street, Carlton North, 3054 | |
| Nelayan Restaurant - Melbourne CBD | Indonesian, Asian | 265 Swanston Street, Melbourne, 3000 | |
| Runnin' On Empty | Chicken, Wings | 320 Brunswick Street, Fitzroy, 3065 | |
| Yassas - The Greek Way | Greek | 4-9 3 Southgate Avenue, Southbank, 3006 | |
| Circolo Italian Restaurant | Pizza, Italian | 58 Clarke Street , Southbank, 3006 | |
| Korean Fry Chicken | Korean, Asian | 230 Lygon Street, Carlton, 3053 | |
| Addict Food and Coffee | Burgers, Cafe | 240 Johnston Street, Fitzroy, 3065 | |
| Twenty & Six Espresso | Cafe | 594 Queensberry Street, North Melbourne, 3051 | |
| Yum Shanghai Dumplings | Chinese | 86 Victoria Street, Richmond, 3121 | |
| El Sabor | Mexican | 500 Victoria Street, North Melbourne, 3051 | |
| Super Bowl Pho & Bun Bo Hue | Vietnamese, Vegetarian | 252 Victoria Street, Richmond, 3121 | |
| Sonex Cafe | Sandwiches | 324 King st, Melbourne, 3000 | |
| Kitchen Samrat | Indian | 36 Leeds St, Footscray, 3011 | |
| Burgerlords | Burgers, American | 359 Brunswick Street, Fitzroy, 3065 | |
| Hellenic Souvlaki | Greek | 346 Brunswick Street, Fitzroy, 3065 | |
| Soko Laksa | Japanese, Vegetarian | 311 Victoria Street , Abbotsford, 3067 | |
| Papa Gino's | Italian | 221 Lygon Street, Carlton, 3053 | |
| The Pancake Parlour - Melbourne Central | Dessert, Australian | Melbourne Central Shopping Center, Shop 319, Melbourne, 3000 | |
| DIM SUM DEPOT | Chinese, Asian | 448 Bridge Road, Richmond, 3121 | |
| Little Lygon | Italian, Steak | 222 Lygon Street, Carlton, 3053 | |
| Pie Face Melbourne | Cafe | Shop 2 415 Elizabeth Street, Melbourne, 3000 | |
| Spudbar - QV Centre | Salad, Vegetarian | QV Centre, Shop 017 Level 1, Melbourne, 3000 | |
| Goldie Asian Canteen + Brew | Asian | 399 Little Lonsdale Street, Melbourne, 3000 | |
| Upstairs 360 | Korean | 360 La Trobe Street, Melbourne, 3000 | |
| Sonnys Fried Chicken & Burgers | Chicken, Burgers | 29 Lygon Street, Carlton, 3053 | |
| Inactive Taco Bill - Russell Street | Mexican, Latin-American | 142 Russell st, Melbourne, 3000 | |
| B'cos Brazil | Brazilian, Salad | 353 Little Collins Street, Melbourne, 3000 | |
| Bullrun on Bourke | International, Cafe | 488 Bourke Street, Melbourne, 3000 | |
| Xpressomondo - Melbourne | Cafe | 33 Degraves Street, Melbourne, 3000 | |
| The Rattlesnake Saloon | Mexican | 140 Lygon Street, Carlton, 3053 | |
| Jack & Bones Island Bar | Burgers, American | 107 Flinders Lane, Melbourne, 3000 | |
| Little Lygon | Italian, Steak | 222 Lygon Street, Carlton, 3053 | |
| Cafe Lansdowne | Middle Eastern, Cafe | 23 Lansdowne Street, East Melbourne, 3002 | |
| The Castle Hotel | Modern Australian, Italian | 56 Courtney Street, North Melbourne, 3051 | |
| AU802 Cafe Restaurant & Bar | Modern Australian | 802 Swanston Street, Carlton, 3053 | |
| Mint-O-Mustard | Indian, Halal | 42 Newquay Promenade , Docklands, 3008 | |
| The Pancake Parlour - Docklands | Dessert, European | Shop CW F05, 440 Docklands Drive, Docklands, 3008 | |
| Two Fat Indians | Indian | 166 Wellington Parade, East Melbourne, 3002 | |
| SPQR Pizzeria | Pizza, Italian | 102 Studio Lane, Docklands, 3008 | |
| Tonkin | Vietnamese, Asian | 346 Smith Street, Collingwood, 3066 | |
| Uomasa Japanese Restaurant | Japanese | 75B Dorcas Street, South Melbourne, 3205 | |
| Slamwich | Burgers | 374 Smith Street, Collingwood, 3066 | |
| Oneyada | Thai, Cafe | 239 Victoria Street, Abbotsford, 3067 | |
| Ziggy's Eatery - South Melbourne | Burgers, Salad | 263 Coventry Street, South Melbourne, 3205 | |
| La Bodega de Andres | Spanish, Tapas | 361 Brunswick Street, Fitzroy North, 3068 | |
| New Somali Kitchen | African | 284 Racecourse Road, Flemington, 3031 | |
| Grandma's Burrito Bar | Mexican | 324 Toorak Road, South Yarra, 3141 | |
| Treviso Bar and Dining | Pizza, Italian | Basement 4-10 Bank Place, Melbourne, 3000 | |
Related Posts