What to expect from Samsung's "Galaxy Unpacked" Galaxy S10 launch
The Galaxy S10 family for sure, but Samsung's got a few other surprises ready to unveil this week.
Samsung doesn't just hold product launches where it shows off a single device at a time. Instead, it holds events it calls "Galaxy Unpacked", and its first such show for 2019 takes place this week, where the South Korean firm is expected to launch the Samsung Galaxy S10 family. However, that's not the only new product we're expecting to see taking the stage this week in San Francisco.
When is Samsung Galaxy Unpacked?
Samsung's Galaxy Unpacked event for the Galaxy S10 launch will take place in San Francisco on 20 February at 11am, US Pacific Time.
The time zone difference between Australia and the US means that it kicks off here on 21 February 2019 at 6am AEDT. Australia being the size that it is, means the event will start at slightly different times depending on your time zone:
WA: 3am 21 February 2019
QLD: 5am 21 February 2019
SA/NT: 5:30am 21 February 2019
NSW/VIC/TAS/ACT: 6am 21 February 2019
Can I watch Samsung Galaxy Unpacked online?
You certainly can! Samsung will live stream the event direct from San Francisco. So no matter where you are on the planet, as long as you've got an Internet connection you can tune in. Samsung will stream the whole event on its website from the times listed above.
What will Samsung announce at Samsung Galaxy Unpacked?
There's a number of products we're expecting Samsung to outright launch at Galaxy Unpacked, as well as at least one "teased" product. Let's get right to the details.
A celebration of 10 years of Galaxy S phones
Image: Shutterstock
Samsung hasn't been particularly shy in pointing out that it's celebrating 10 years of Galaxy S phones.
9 Days to go. pic.twitter.com/yOXfOlW0Tu

— Samsung Australia (@SamsungAU) February 12, 2019
It seems all too likely that it will take some time, probably at the start of the event, talking up the history of Galaxy S phones and with good cause. Samsung relatively quickly came to dominate the premium phone space with the Galaxy S family, so it's got plenty to be proud of.
Galaxy S10 series

The undeniable star of the show in terms of phones you'll be able to buy soon will be a trio of new phones:
You can click on any of the links above to get more detail on each handset, but the brief version is that we're expecting all-new processors, triple cameras on the top-tier Galaxy S10 and Galaxy S10+, and improved battery performance.
Samsung knows full well that the Galaxy S class phones are its most popular flagship devices, so expectations are high.
A 5G Galaxy S10 phone
Image: Shutterstock
The new Samsung Galaxy S10 family is expected at first to consist of purely 4G-capable handsets, but that doesn't mean that Samsung is going to ignore the incoming reality of 5G capable handsets. Rumours suggest that it's working on a version of the Galaxy S10 with inbuilt 5G support, and possibly a larger battery capacity than the 4G versions. Dubbed by some as the "Galaxy S10 X", it's expected to be a seriously pricey phone, with suggested pricing around US$1,400 outright.
Here's the problem for Samsung. 5G networks are launching in 2019, but the general expectation is that we won't see 5G-ready handsets until at least mid-2019. There's not much point launching a phone that'll do 5G with no 5G networks for it to take advantage of, after all.
As such, it wouldn't be surprising to see the Galaxy S10 X "launched" at Galaxy Unpacked, in that it will be formally named and maybe shown off, but we're expecting that it won't be available quite as immediately as the 4G variants of the Galaxy S10.
Speaking of devices that Samsung's going to show off but not sell straight away...
Samsung foldable phone

Samsung has been on a slow burn with its foldable phone ambitions. It showed off what it calls the "Infinity Flex" display last November but deliberately obscured most of the actual phone at that time.
It's since outright stated that it will show off its foldable phone again at the Galaxy S10 launch. There's also this teaser video that shows a phone unfolding, although that's also a little more in the concept space, as is much of the clip:
Foldable phones are being hyped as 2019's big new mobile technology trend, but there's not much of a chance that Samsung would opt to cruel its Galaxy S10 sales by actually launching its foldable phones. We could be wrong, but our expectation is that that slow burn will continue with just a few more details – and maybe a more in-depth look – at the foldable Galaxy F phone at Galaxy Unpacked 2019.
Samsung Galaxy Watch Active

Samsung has long form in the wearable space, and it's expected that alongside the Galaxy S10 series, it will launch its latest smart wearable, the Samsung Galaxy Watch Active.
Is it a leak when the company involved not only makes the information available, but does so in a public-facing app? A "leak" within the Samsung Wearable app outed the naming structure for the new watch, with the suggestion that it will come with a 40mm case in at least 2 colour variants.
Some design leaks suggest that Samsung might drop its unique rotating bezel found on its earlier "Gear" watches for the Galaxy Watch Active, but it seems likely that it will still run on Samsung's own inhouse Tizen OS, and not Google's Wear OS.
Samsung Galaxy Fit and Galaxy Fit e

If smart watches aren't your style, you may be interested in the other wearables uncovered in Samsung's Wearables app, namely the Galaxy Fit and Galaxy Fit e.
The visual icon suggests a device that's likely to be an evolution of Samsung's existing wearables products, although it's not at all clear what the difference between the Galaxy Fit and Galaxy Fit e models will be. Early Bluetooth certification documents suggested the Galaxy Fit e naming structure, but it seems unlikely that the regular model wouldn't be Bluetooth capable either.
Samsung Galaxy Buds
Image: Winfuture
Samsung's not a newcomer to the standalone headphones space, with sets like the Gear IconX already available.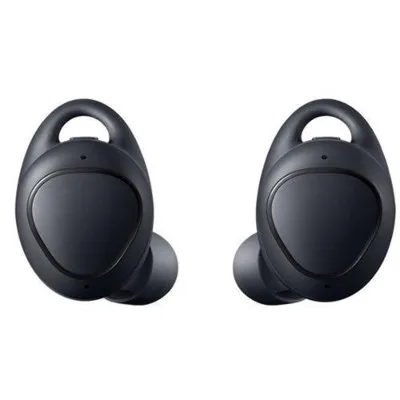 Buy a pair of Samsung Gear IconX (2018) wireless headphones
from Amazon
Longer battery life and better wireless range make the latest model of Samsung's Gear IconX earbuds a solid choice for Galaxy phone owners. Pick up a pair from Amazon Australia today.
View details
The same leak that outed the Galaxy Watch Active also confirmed the existence of Samsung's newest wireless headphones, the Samsung Galaxy Buds. Images have suggested the near-standard arrangement of two buds in a charging case, and there's the intriguing suggestion that the case may be able to charge from the Galaxy S10 itself to keep topped up.
Samsung Galaxy Home

The Galaxy Home isn't a new product, having been announced mid-2018, but it's a smart speaker with a problem.
That problem is that Samsung hasn't actually made it available to sell anywhere just yet. Samsung's big push for home automation and AI would make a smart speaker a rather obvious inclusion to its product portfolio.
We already know what the Samsung Galaxy Home is likely to look like, but will we get some more concrete information about actual availability at Samsung Galaxy Unpacked 2019? We'll have to wait and see.
Samsung Galaxy Tab S5e
Samsung didn't actually wait until Galaxy Unpacked to announced its latest tablet device, unveiling the Samsung Galaxy Tab S5e in the week prior. Samsung's pitching it as a combination productivity device with optional keyboard and DeX support as well as entertainment device, and you can find out all about it here.
Latest mobile phones headlines