What premium perks can you get with the Citi Prestige?
With a bonus 150,000 points offer, free hotel stays and airport lounge access, the Citi Prestige gives you plenty of ways to be rewarded.
The Citi Prestige is a top-tier credit card for big spenders, with a high minimum income requirement of $150,000 p.a. and credit limits starting from $30,000. It also has one of the highest introductory bonus point offers on the market, earns between one and three points per $1 spent and comes with extras including a free hotel stay, complimentary airport transfer and Priority Pass membership.
But with a $700 annual fee, it's worth looking at all the features and costs before you apply. We've broken them down in detail here so you can decide if the Citi Prestige is a card you want.
finder.com.au's 5 fave features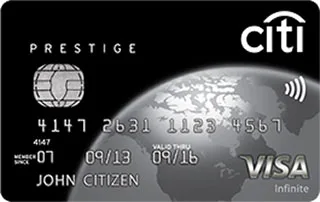 150,000 bonus Points
Complimentary hotel stay offers
Priority Pass membership
Luxury airport transfer service
Complimentary travel insurance
Please note that the rates, fees and features mentioned here were correct at the time of publication.
How many points can I earn?
Bonus points
The introductory offer on this card is one of the most competitive on the market, giving you 150,000 bonus points when you spend $3,000 in the first 90 days from card approval. You can get this offer if you apply by 31 January 2018 and the points will be credited to your account within 6-8 weeks of meeting the spending requirement.
Depending on the purchases that make up your spending in those first 90 days, you'll also earn between one and three points per $1 on top of the bonus. This could give you between 153,000 and 159,000 points in the first three months you have the card.
Some examples of the rewards you could get with your points include $600 of travel through Flight Centre (made up of one $500 gift card and a $100 gift card) or $650 of David Jones gift cards (made up of a $500, $100 and $50 gift card). You could also transfer your points to an eligible frequent flyer program, such as Velocity, with 150,000 Citi Rewards points giving you 60,000 Velocity Points.
Earn rates
With the Citi Prestige different types of purchases have different earn rates. Here's how it's broken down:
Three points per $1 spent
This earning rate applies to all eligible international spending. You also earn three points for every $1 spent on selected domestic purchases made and booked directly through a range of major restaurants and restaurant chains, hotel chains and airlines (flights only)
Two points per $1 spent.
You'll get this earning rate for selected domestic purchases made at major petrol outlets, supermarkets and national retailers.

One point per $1 spent.
This applies for all other eligible purchases.
There's no cap on the points you can earn with the Citi Prestige but, as with most reward cards, there are some transactions that aren't eligible. These include cash advances, balance transfers, BPAY payments, government-related transactions and transactions made in operating a business.
Perks and privileges
The Citi Prestige is full of extras that can help you save on travel, shopping and lifestyle experiences. Here's a rundown of some standout features you can enjoy:
Complimentary hotel accommodations
This card offers two ways to get a free night at eligible hotels around the world. First, you'll get one free night's stay per calendar year through the card's "Complimentary Hotel Stay Benefit". You just need to book your stay by calling 1800 782 948.
The second option gives you a free extra night at any hotel worldwide when you stay for four consecutive nights. The extra night is added to your current booking, meaning you'd get five nights at the one hotel but only pay for four.
Priority Pass membership
This perk gives you complimentary Priority Pass standard membership so you can enjoy unlimited lounge visits at airports all around the world. To unlock this benefit on the Citi Prestige, you need to enrol first at Priority Pass.
Luxury airport transfer service
You can start and end your travel in style with a complimentary one-way transfer to or from selected airports twice per year in the Asia Pacific. There is a lot of fine print around this offer though, such as the limit of two large suitcases and four passengers per car. Still, if you can make use of this service, it will add to the value you get from the card.
Complimentary insurance
Use the Citi Prestige to pay for your return travel tickets and you'll enjoy complimentary international travel insurance for you, your eligible spouse and any dependent children travelling with you. You'll also get complimentary interstate flight inconvenience insurance, purchase protection insurance, extended warranty insurance and a guaranteed pricing scheme that's designed to help you get the lowest price for eligible items you buy with your card.
As well as these premium extras, the Citi Prestige also gives you access to a concierge service and Visa Premium offers that could come in handy at times.
How much does this card cost?
The rewards and extras on this card come at a cost, with an annual fee of $700. In comparison, other rewards cards on the high-end of the scale have annual fees ranging from $375 to $450.
So how do the benefits on the Citi Prestige weigh up against it's annual fee? The bonus points go a long way towards cancelling out the cost in the first year, with the potential to get $650 value from gift cards, 60,000 Velocity Points or any other reward.
Beyond that, the Priority Pass membership is valued at US$99, while a free night at a hotel in Australia could give you anywhere from $150 to $300 or more in value depending on the location. Keep in mind that the free night added onto a four-night hotel stay is a perk you can use over and over again, so there is scope to offset the cost of the annual fee after the first year. But it does depend on how much you use the complimentary extras.
It's also worth noting the Citi Prestige has a standard variable purchase rate of 20.99% p.a. If you carry a balance from month-to-month, the interest charges will make this card a lot more expensive. This is pretty standard for reward cards and premium cards, so you're most likely to get value from them when you pay the full amount owing on each statement.
How does it compare to other cards?
While this high-end credit card does offer a lot of prestigious features, the upfront and potential costs mean you should compare it to other options before you decide whether or not to apply. As an example, let's take a look at how it compares to another premium card with a high bonus point offer: the NAB Rewards Signature.
This card offers 100,000 bonus points when you apply by 25 February 2018 and spend $3,000 on purchases in the first 60 days. So that's 30 days less time to meet the spending requirement and 50,000 fewer bonus points. That's enough for $500 in gift cards or 50,000 Velocity Points, compared to the Citi Prestige's $650 gift cards and 60,000 Velocity Points.
It's worth noting that NAB Rewards has a slightly higher exchange rate for Velocity, with three points giving you 1.5 frequent flyer points compared to the Prestige's 2.5 points for one Velocity Point.
In terms of earn rates, the NAB Premium also offers tiered earn rates. While most everyday purchases earn the standard 1.25 points per $1, with this card you earn double points at major department and hardware stores (working out to 2.5 points per $1) and triple points for overseas purchases and spending with Webjet (or 3.75 points per $1 spent). So if you regularly spend overseas, you could earn more points with this card than the Citi Prestige.
However, the complimentary extras are where we start to see key differences. The key perks on the NAB Rewards Signature are a concierge service and seven types of complimentary insurance, including overseas travel insurance, domestic hotel burglary insurance and price protection cover. So if you want hotel stays, airport lounge access and the option of an airport transfer service, the Prestige is a better option.
Fewer features could also be one of the reasons for the NAB Reward Signature's other major difference: costs. It has a much lower annual fee than the Citi Prestige at $295 p.a. and a slightly more competitive standard variable purchase rate of 19.99% p.a.
While both of these cards are premium options with high bonus point offers, it's clear that they suit very different needs. So remember to compare the fees, rates and extras available to find a card that's right for you.
Please note that terms and conditions apply. For a more comprehensive overview of the card's rates and fees, check out our review of the Citi Prestige Credit Card.
Images: Shutterstock