What is Google Assistant?
Google's voice assistant might not have a fancy name like Siri or Alexa, but that doesn't mean it isn't a powerful addition to your Android phone.
If you're new to Android then you might be new to the idea of Google Assistant. This is Google's voice-activated assistant, filling a very similar role to Siri, Alexa or even Cortana. But it's more than just a way to chat with your phone – much more.
Google Now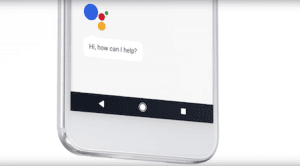 Google Assistant grew from what was known as Google Now. Now was officially phased out in late 2016 but the idea behind it was to predict the information you needed before you even asked for it.
This could be as simple as letting you know about a restaurant nearby (based on your location data) or the daily weather, or even sporting scores based on searches you had previously made for particular teams.
Google Assistant does all that but adds two-way communication. You can ask questions or issue commands in natural language and a Google Assistant can respond in the same way. It's a more natural way to communicate, and a lot more powerful.
Google Assistant across devices
Thanks to the recent push by Google for its Home range of speakers, you'd be forgiven for thinking that Google Assistant was just something available on those devices.
Actually, Google Assistant is wired into a number of different gadgets from TVs to, of course, many (but not all) Android phones.
Can I get Google Assistant?
Your access to Google Assistant largely depends on the age of your Android phone. Google has some pretty clear guidelines for what you need for Google Assistant to work:
Android 6.0 or later (aka Android Marshmallow)
Google app 6.13 or above
Google Play services
1.4GB of memory
At least 720p screen resolution
Finally, your device must be set to one of the following languages: English, French, German, Italian, Japanese, Korean, Spanish or Portuguese (Brazil)
If you fit the bill you can turn it on by opening the Google app (it's the G) then going to the three parallel lines to open the Menu. Go to settings, find Google Assistant and tap Turn On.
If you have a Google Pixel phone, it's even easier: just say "Ok Google" and when asked, "turn Assistant on". For some devices (including the Pixel phones) you'll also be prompted to set up Google Assistant when you're first setting up your shiny new mobile phone.
What will Google Assistant do for me?
Quite a lot. You can ask it the weather or to find you a restaurant nearby. You can ask it to call your mum on the speaker phone or tell it to remind you to take the washing off the line in 90 minutes.
The more Google services you use, the more it knows about you and the more useful it can be. This is true whether it's telling you about appointments coming up, offering you traffic advice based on your daily commute and much more.
Google Assistant is only getting bigger
Google Assistant isn't going anywhere and it's only going to get bigger and better. It's coming to headphones like the Bose QuietComfort 35 II as well as Google Pixel Buds and Sony has plans for it be on some of its earbuds later this year.
The more you use it, the more it understands and it gets better at contextualising your questions and requests. And yes, as so famously demonstrated by Google Home, it can be used to control smart devices such as lights and more.
In case you were wondering: yes, you can use it on Apple iPhones, if you've decided that you and Siri need some time apart.
Related Posts