Wet cat food buying guide
Learn how to compare wet cat food options to choose the right food for your feline friend.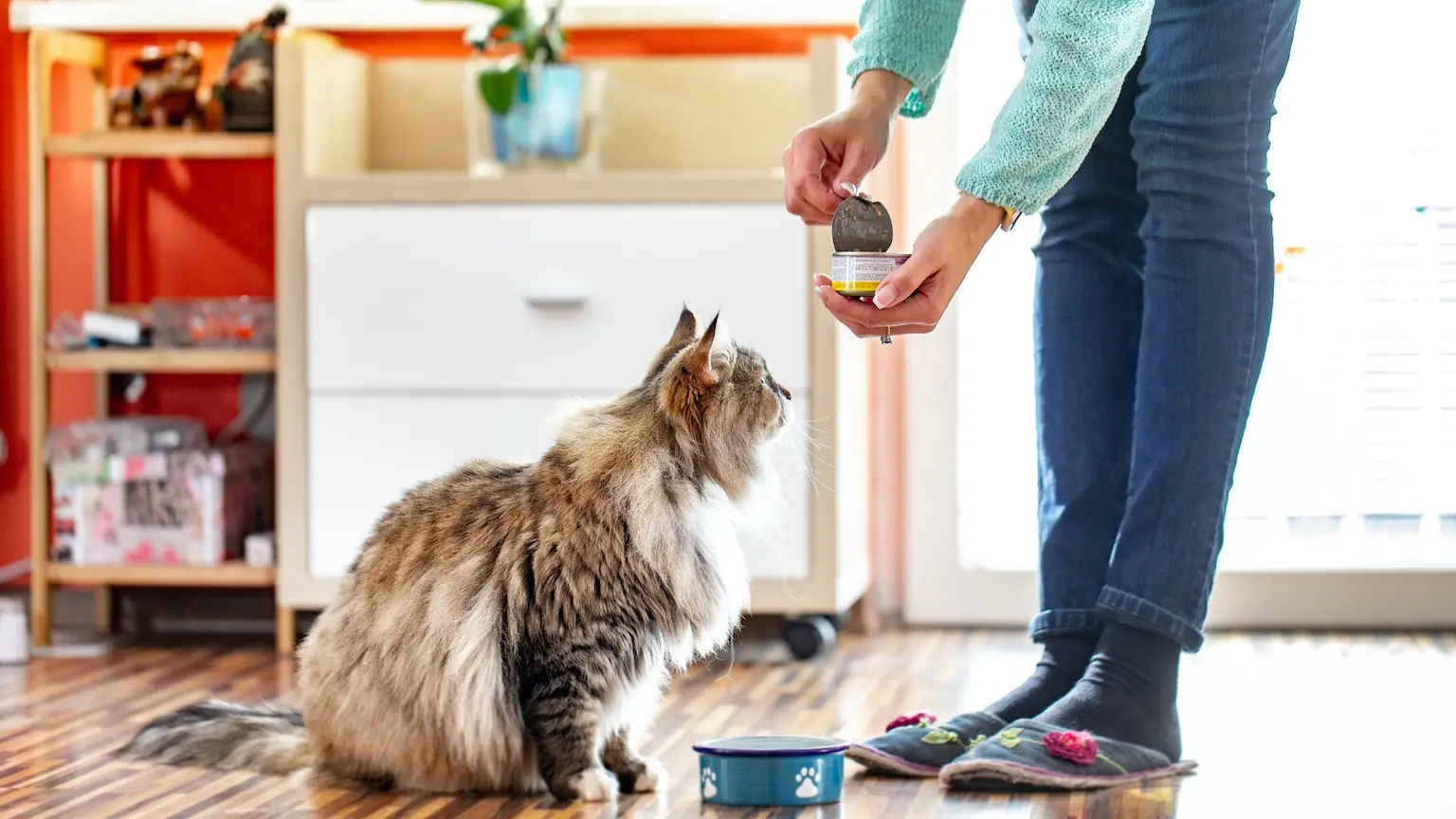 We're reader-supported and may be paid when you visit links to partner sites. We don't compare all products in the market, but we're working on it!
Quick facts about wet cat food:
There are a lot of options available when it comes to cat food and reading the ingredients can help you choose the most nutritious option for your pet.
Prices range from $0.60 for a tin or sachet of budget food, up to $7-$8 per tin for premium brands.
For more options, check out our list of the best dry cat food in Australia.
Feeding your cat
A balanced diet is essential for giving your feline all the nutrients he or she needs at any life stage. It ensures that they have a healthy coat and skin, that they have all the energy they need to tackle each day and that they're in the best possible shape to live a long and healthy life.
Cats are obligate carnivores, which essentially means that they need to eat meat to live. So while they can digest some plant products, a high-quality source of protein is the key ingredient in their diet. Cat food labels list ingredients in order of weight, so make sure a source of animal protein (such as beef, chicken or tuna) is listed first on any food you choose.
The nutritional needs of cats also vary as they age. For example, a growing and energetic kitten needs a diet high in protein and fat to help them grow into a healthy adult, while a golden oldie who spends most of the day snoozing in the sun will need a diet that's low in fat and easy to digest.
Can I feed dog food to my cat
No. Cats and dogs have vastly different nutritional needs, so make sure your furry friend only eats pet food specifically designed for kitty consumption.
Types of cat food
One of the key dilemmas new cat owners face is whether to feed their pet wet or dry food. Dry food is generally cheaper and more convenient, and can also help remove plaque and tartar from your kitty's teeth.
However, wet food comes with a higher water content and can help keep your pet hydrated. Sufficient water intake is essential to prevent feline lower urinary tract disease and kidney disease, so wet food provides an important defence against these issues. As an added bonus, wet food is generally more palatable to most cats than dry food.
In many circumstances, a combination of both wet and dry food may offer the best balance for your cat, but ask your vet for advice if you're unsure about the right diet for your cat. And if you want more information about feeding your cat, check out our guide to what cats can and can't eat.
If you're shopping for wet cat food, you only need to take one quick glance at your supermarket's pet food aisle to know you're spoiled for choice. From Purina Pro Plan and Fancy Feast to Whiskas, Hills, Black Hawk and more, the sheer range of brands available is overwhelming. Keep reading to find out how to choose the best cat food for your four-legged friend.
How to compare wet cat food
Pet food labels contain a lot of useful information, but only if you know where to look and how to make sense of it all. Here are the key factors you need to consider when comparing one wet cat food with another.
Complete and balanced
The voluntary Australian Standard (AS 5812-2017) for the Manufacturing and Marketing of Pet Food sets out guidelines for how pet food should be labelled. One key feature to look for on a label is whether a product provides a complete and balanced diet for your pet at a particular life stage.
Look for a statement about nutritional completeness which references AAFCO (the American Association of Feed Control Officials). This indicates that the food is designed to provide all the nutrients that your cat needs, and in the right quantities, as outlined by the AAFCO requirements.
Please note that food produced in Europe may refer to FEDIAF (The European Pet Food Industry Federation).
Ingredients list
Check the ingredients panel and make sure a source of animal protein (such as beef, chicken, poultry, turkey or fish) is listed first. Another ingredient you should see mentioned is taurine, an essential amino acid that must be included in nutritionally complete cat foods.
As for the name given to the food, section 3.1.3 of the Australian Standard states the following in regard to canned pet food: "If a meat ingredient constitutes 25% or more of the meat component and is the main meal ingredient then that meat may be referred to as the variety name of the product."
In other words, if chicken is the main meat ingredient and makes up more than 25% of the meat in the product, that food can be named "chicken".
Country of origin
Check where the food is manufactured and the food safety standards and regulations in place in that country. For example, in 2007 there was a widely-publicised recall of several brands of cat and dog food that were made in China and found to be linked to kidney failure in pets.
Ingredients to avoid
Research the company behind the food to find out how long they've been in operation, where they source their ingredients and what sort of research and testing goes into their food. It's also worth checking the company's safety record and whether they have ever had to recall any of their products.
Country of origin
You may wish to keep an eye out for the following ingredients and terms on a pet food label:
Meat "by-products" or "derivatives". AAFCO says meat by-products in animal feed "includes but is not limited to, lungs, spleen, kidneys, brain, livers, blood, bone, partially defatted low-temperature fatty tissue, and stomachs and intestines freed of their contents. It does not include hair, horns, teeth and hoofs." Some experts argue that the inclusion of by-products is nothing to worry about as these are the sorts of things that cats eat in the wild. However, other experts (and many cat owners) disagree and prefer to steer clear of meat by-products altogether.
Artificial colours and preservatives.
Ambiguous terms such as "and/or" between ingredients. This means that the contents of a can of wet cat food could potentially change from one batch to the next, resulting in an upset stomach for your fussy feline.
Your cat's age
Your cat's nutritional needs change as he or she gets older, so check the label to see which life stage a food is designed for. You should typically buy kitten-specific foods until your cat reaches 12 months of age, which is when it's time to start feeding them an adult diet. Senior foods are usually necessary from around 7 years of age, while some manufacturers also have diets specifically formulated for kitties 12 years and over.
Kitten diets are higher in fat and protein to help maintain their active lifestyle and promote healthy growth.
Adult cats have lower energy requirements than playful kittens, so adult diets are focused on giving your cat all the protein, fat, vitamins and minerals needed to stay at a healthy weight and in optimum condition.
Senior cat food is low in fat to cater to the slower metabolism and sedentary lifestyle of an ageing pet. These diets are also designed to promote joint health and reduce the workload of the kidneys.
Additional features
Your cat's lifestyle. Consider how your cat spends their day. For example, outdoor cats will generally need more calories in their diet than indoor cats, while active cats have higher energy needs than those kitties who spend most of the day asleep on the couch.
Any special dietary requirements. There are also some cat foods that have been specially designed to help tackle specific health problems. For example, there are products that promote urinary tract health, kidney health, weight loss and joint health, and even foods to prevent hairballs. Make sure you check with your vet before starting your pet on any special feeding plan.
Grain-free?. Grain-free diets have experienced a surge in popularity in recent years, with some people believing a low-carb, high-protein diet is best for their cat. This is something of a controversial topic, so speak to your vet about the pros and cons of grain-free food if you're considering it for your pet
Feeding guidelines. Labels provide guidelines for how much food to give to your pet based on their weight. This will give you an idea of how many meals you'll get out of one can, but remember that these are a guide only and your pet may need more or less food based on their age, metabolism, lifestyle and body condition.
Price. You get what you pay for. Cheap, no-frills supermarket brands are more likely to contain low-quality ingredients and may not meet all of your pet's nutritional needs. Premium brands can be substantially more expensive, but they're usually backed by years of research and testing to ensure that they provide a complete and balanced diet. And while they cost more upfront, they'll help your cat stay in the best possible shape and could lower your vet bills in the long run.Prices start as low as $0.60 for a tin or sachet of budget wet cat food, right up to $7-$8 per tin for super-premium brands. Make sure to calculate the price per 100g to ensure an even comparison across all brands.
More guides on Finder