Epic Western Australia road trips that showcase the best of the state
Download that Spotify playlist, crank up the volume and live your best life on the open road.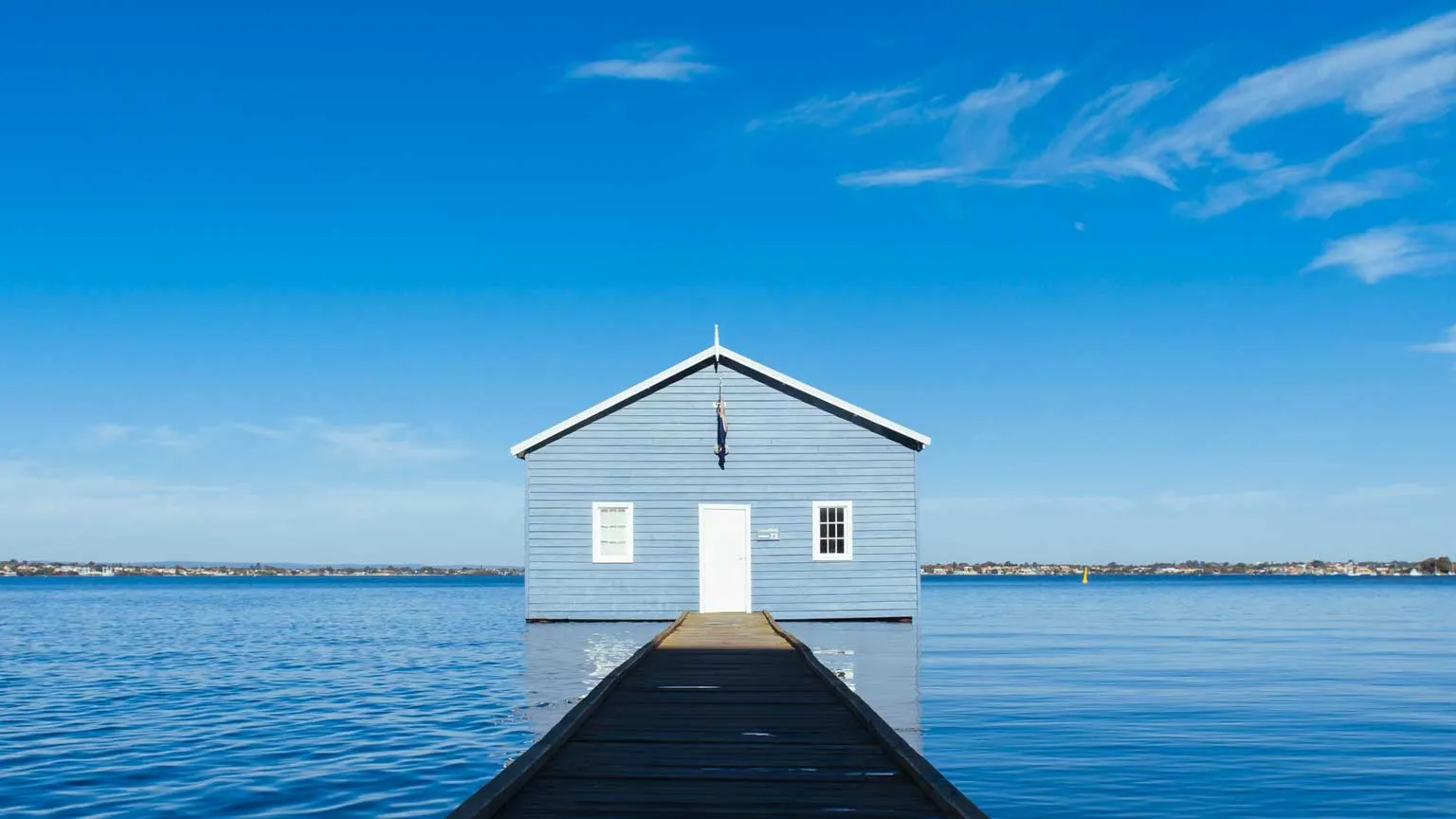 With a boundless coast, space-like rock formations and sunshine in spades, there's a reason they call Western Australia the Road Trip State. You could spend days, weeks and even months driving its network of bitumen and dirt trails.
However long you have in mind, here are our top picks of drives that must be ticked off the bucket list.
South Western Australia road trip
That south-west corner of our country is full of surprises. Along its coast are limestone caves, hidden coves and beaches, sand dune systems and the chance to spot whales and dolphins playing in the distance.
Tread inland and it won't be long until you're wandering among ancient trees, kissing the skies on mountain skywalks and tipping back glasses of world-class wine.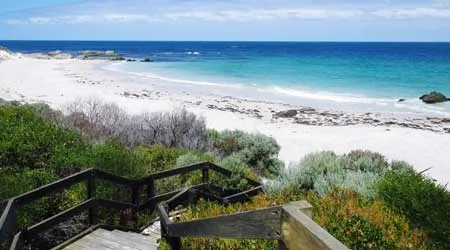 Distance: 2,171km, 2 days, roundtrip
Route: Perth to Lucky Bay via the coastline, return
Highlights: Rottnest Island, Busselton, Injidup Natural Spa, Geographe Bay, Margaret River, Ngilgi Cave, Cape Leeuwin Lighthouse, Walpole, The Gap in Albany, Granite Skywalk in Porongurup National Park, Bremer Bay, Esperance, Lucky Bay, Twilight Bay and Lake Hillier.
Things to do: Take the ferry to Rottnest Island for a day trip, walk under the ocean in Busselton, explore the karst cave system of Ngilgi Cave, take your tastebuds on an adventure in Margaret River, trek through the Walpole Wilderness, walk the Granite Skywalk, spot orca whales in Bremer Bay and swim in Lucky Bay.
Stay at: Terrace Central B&B Hotel in Fremantle, Riveresque in Margaret River, Sleepwell Motel in Albany, Wavecrest Village & Tourist Park in Hopetoun, Bayview Motel Esperance and Wave Rock Motel.
Eat at: Rottnest Bakery on Rottnest Island, Margaret River Brewhouse in Margaret River, Ocean and Paddock in Albany and Fish Face Takeaway and Restaurant in Esperance.
---
Canning Stock Route
One of the greatest four-wheel-drive adventure drives, Canning Stock Route is the longest stock route in the world. It runs from Halls Creek to Wiluna through the rugged territory of the Gibson Desert and is marked by a series of wells and lakes that were used to sustain cattle as they were driven along the way.
Not for the faint-hearted, Canning Stock Route is not well maintained and takes anything from 10 to 20 days to drive. Come well equipped with fuel, supplies and camping gear as there are only two indigenous communities along the route (near wells 33 and 22) where you can refuel. You will also need to obtain a permit to drive the route as it runs through native land.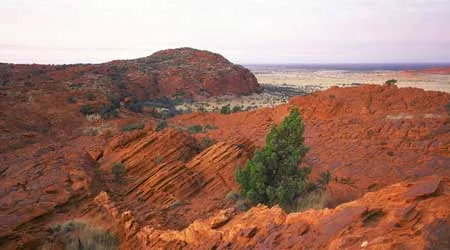 Distance: 1,850km, 10-20 days
Route: Halls Creek to Wiluna
Highlights: Breaden Pool, Gravity Lakes, Kiwirrkurra Rd/Canning Stock Route Intersection, Lake Disappointment, Durba Springs, Little Sandy Desert and a series of wells.
Things to do: Stop by the wells and hunt for the Aboriginal rock paintings and carvings that line the way.
Stay at: There is no accommodation except in Earaheedy near the end of your trip. You will have to camp along the way. Popular camping points include Ruby Plains, Well 49, Well 46, Well 42, Well 38, Well 33, Well 24, Lake Disappointment, Durba Springs and Well 10.
---
Perth to Albany, Denmark and Pemberton
If you're headed down the south coast on a 2-3 day trip, Denmark and Albany are two heralded cities that have it all.
Fringed by cakey soft beaches and craggy cliff faces, spend your days pumping those legs along the networks of walking trails in Pemberton and Porongurups. At night, dine on freshly shucked oysters overlooking the beach.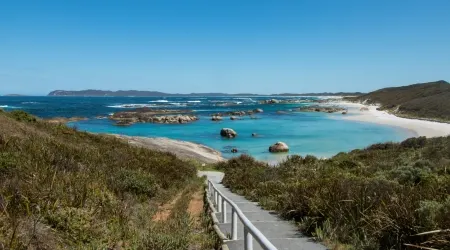 ---
Perth to Esperance
Esperance is one of the most aesthetically pleasing spots on the southern coast of WA. Its beaches are pristine with surf that begs to be ridden, but it's not so much Esperance as what lies beyond that takes your breath away.
On its doorstep is Cape Le Grand. Famously known as the home of Lucky Bay, this piece of heaven is all pearly white sands, turquoise green waters, beach-loving kangaroos and colourful wildflowers.
From Esperance you can also charter a flight to Middle Island to spy its bubblegum pink Hillier Lake from above.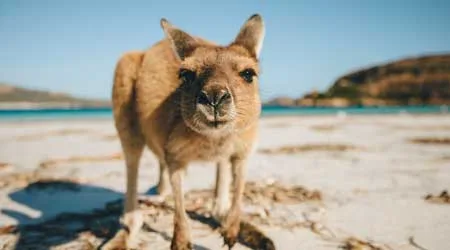 Distance: 1,522km, 16 hours and 40 minutes, roundtrip
Route: Perth to Esperance, return
Highlights: Cape Le Grand, Lucky Bay, Lake Hillier, Hyden Wave Rock.
Things to do: Relax on Twilight Beach, fly over Lake Hillier or, if that's too expensive, visit Pink Lake, hike through Cape Le Grand and play with kangaroos at Lucky Bay.
Stay at: Comfort Inn Bay of Isles in Esperance.
Eat at: Coffee Cat and Fish Face in Esperance.
---
Coral Coast (includes Perth to Pinnacles)
Point your compass north and ready your Instagram as you skirt your way up part of the Coral Coast. This drive takes you from Perth to the Pinnacles, then further up to Jurien Bay and Gregory.
It's a popular tourist route, to be fair, but one that deserves all its accolades. From sandboarding over sand dunes at Lancelin and sizing up against the 12-metre high rock formations of the Pinnacles to spotting sea lions in Jurien Bay and snapping pics of the pink salt lake at Gregory, this road trip will not be easily forgotten.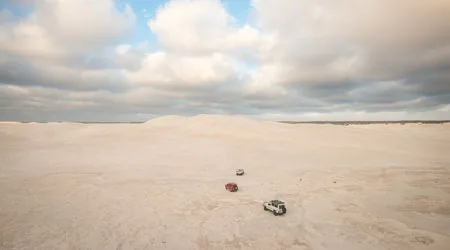 ---
Perth to Wave Rock
No stranger to the Instagram feed, Wave Rock is a monument of Western Australia's outback. Naturally carved over time, it stretches 15 metres in height and offers heaps of fun photo opportunities.
Unfortunately there's not much in the way of tourist attractions between it and Perth. If it's on your bucket list, it can easily be done over a day or half day. Otherwise, you may want to consider tacking it onto a longer trip – for example, as a pitstop on the way to or from Esperance.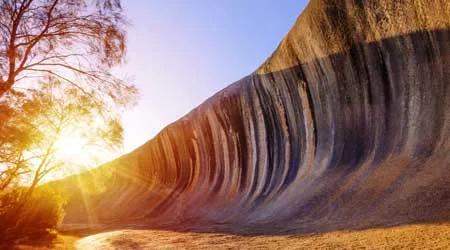 Distance: 664km, 7.5 hours, roundtrip
Route: Perth to Hyden, return
Highlights: Corrigin, Mundaring State Forest.
Things to do: Take an epic picture with Wave Rock, run through canola fields in Corrigin and chase waterfalls in Mundaring State Forest.
Eat at: Corrigin Hotel Restaurant & Pub and Wave Rock Bistro in Hyden.
---
Avon Valley 500 Loop
Two hours out of Perth CBD, the Avon Valley 500 Loop boasts Spanish and Victorian architecture.
Start in York where Victorian and Federation architecture is the face of converted museums, art galleries and local stores. Then, continue to New Norcia, which is Australia's only monastic town and revels in Spanish architecture having once been the home to Benedictine monks.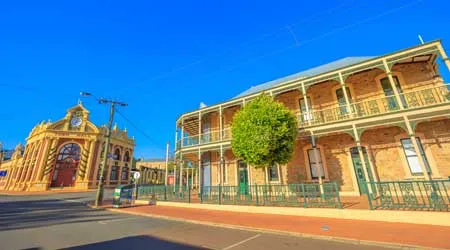 Distance: 395km, 5 hours, roundtrip
Route: Perth-York-New Norcia-Perth
Highlights: Mundaring, York, Northam, Toodyay and New Norcia.
Best time to drive: May to November due to the cooler, more comfortable driving weather.
Things to do: Break up the trip into two days and you can add a hot air balloon ride over Avon Valley to your itinerary.
Eat at: Rivers Edge Cafe in Northam.
---
Need a car? Book a ride now
Latest deals and discounts on Western Australia travel
Related Posts