The best smartwatches for sleep tracking reviewed
Your smartwatch is used for so much more than just telling the time.
We're reader-supported and may be paid when you visit links to partner sites. We don't compare all products in the market, but we're working on it!
If 2007 was the year of the smartphone, then 2015 must be the year of the smartwatch. The fitness and health applications for these wrist pieces have been embraced by consumers, so much so, the lines between fitness band and smartwatch are quickly fading. Sleep tracking is one feature that's gaining popularity among smartwatch wearers. These handy little devices can automatically, and pretty accurately, measure how long and well you've slept each night, by tracking noise, movement and other disruptions.
Science has found that a good night's sleep is the key to a host of health benefits. Weight loss, a strong immune system, stable mental health and concentration, you name it, a good night's sleep is not to be underestimated. Smartwatches with sleep tracking can show you the quality of your sleep, and ease you out of your sleep with a soft tune and gentle music.
These are the best smartwatches for sleep tracking in 2015.
The best smartwatches for sleep tracking
Prices are in Australian Dollars unless stated otherwise.
Pebble smartwatch
The Pebble smartwatch and Pebble Steel are low-cost smartwatches you can jazz out with a number of apps for the Apple Store, Google Play or the Pebble Store. Morpheuz Sleep is one app that gives you detailed sleep data sent to your smartphone each day.
The watch can wake you up at the ideal time with a gentle vibration and the low-energy e-paper interface means you're less likely to run out of battery during the night. Generally, you will only need to charge the Pebble once a week.
Compatible with Apple & Android
Pebble Watch RRP: $149
Pebble Steel RRP: $289
Fitbit Surge
Part smartwatch and part fitness tracker, the Fitbit Surge can tell the time, relay phone and text notifications, monitor your heart rate and tell you how many calories you've burned in a day. Sleep tracking is automatically activated so all you need to do is wear the smartwatch to bed. In the morning, the smartwatch syncs with a second device like a phone or computer wirelessly so you can easily monitor your sleep tracking data.
The Fitbit Surge has an impressive host of fitness based features, but it lacks on 'smartphone' features compared to products like the Apple Watch. For example, apps like Facebook and Twitter are not supported by the Fitbit Surge — yet.
Compatibility: Apple & Android.
RRP: $249
Samsung Gear S
The Samsung Gear S is just about the closest to a smartphone a smartwatch can get. It's quite large, more expensive than most smartwatches and it needs to be coupled with a Samsung phone to access all it's features (though, it does take a nano SIM, so network features can be used straight from the watch). It's reported that the design of the watch can get in the way when it's worn during the night.
But, design issues aside, the Gear S has other great qualities, like outstanding battery life. You can wear it for a number of days without needing a charge — a very important feature for a device that tracks your sleep and awakes you in the morning. Simply select the 'sleep' option for the smartwatch's menu and when you're ready to nod off, touch sleep and let the watch do the rest. Let the phone know you're awake by touching a button and the data is automatically displayed in graphs and charts for you to review.
Compatibility: Samsung Android.
RRP: $446.00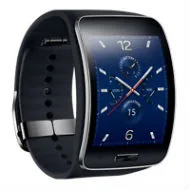 Basis Peak
The Basis Peak is a fitness watch with some smart features for fitness enthusiasts. The Basis Peak watch has BodyIQ technology so the smartwatch will automatically start tracking your daily activities, like hours slept, as soon as you start wearing it. As mentioned above, smartwatches that tout sleep tracking features should have a battery that can last for days.
The Basis Peak can be worn for up to four days before it needs a charge– pretty impressive. You can monitor your sleeping patterns on the watch itself or through the Android or iOS App for a more user-friendly interface. The free Basis Peak Ultimate Fitness and Sleep Tracker app gives you a breakdown of each phase of your sleep cycle so you can see how long you spent in the REM and deep sleep phases of sleep.
Compatibility: Apple & Android
Sony Smartwatch 3
The Sony Smartwatch 3 comes with a rubber or steel band depending on your price range. Smartwatch features include the ability to receive texts and calls and control music and, of course, it tells the time. The attractive low energy interface keeps the battery life going for days on end. The Sony Smartwatch automatically starts tracking your sleep and your daily activities like steps taken as soon as you put it on.
You can also graph time spent working out in a day and time spent in deep sleep each night courtesy of the Sony LifeLog app, the app can even show you how long you spend on Facebook everyday. There's a lot the Sony Smartwatch 3 can do; however, it is missing the heart rate monitor, which is a standard feature with most smartwatches.
Compatible with Android Wear
RRP: $399
Garmin Vivoactive
The Garmin VivoActive is an all-rounder, it's a smartwatch, an activity tracker and a GPS unit all rolled into one attractive wearable. The watch can notify you when you have an incoming call, SMS and email alerts from your smartphone. It also tracks your daily activity like the number of steps in a day and hours slept at night. The watch offers automatic sleep detection, so you don't have to tell the watch when to start counting zzz's.
A vibration alarm wakes you when the time is right. Users have reported that the sleep tracking functionality provides fewer insights than other smartwatches for sleep tracking; however, ConnectIQ allows the installation of third party apps and widgets on the device and Garmin's sleep tracking software can be improved from the manufacturer's end with future software updates. The battery life can last for 7 - 9 days on watch mode. Battery time decreases when the watch's GPS is used.
Compatibility: Apple and Android.
RRP: $340.00
It looks like we don't have any coupons at the moment. Take a look at our most recent deals
Fitness bands for sleep tracking
If sleep and activity tracking is more important than smartphone features, you may want to have a look at a fitness band. Generally, a fitness band offers more for people who exercise a lot, and for half the price, but these bands do not offer smart features, like SMS alerts and phone calls and they need to be paired with a smart device to work.
| Image | Fitness Band | Description |
| --- | --- | --- |
| | Jawbone UP | The UP Wristband is a sleek looking wristband that can track your daily activities including your sleep. The wristband uses a number of sensors to tell you how often you move during the night and how long you've slept, the device can wake you at the ideal time in the morning. The UP Wristband from Jawbone costs under $100. |
| | Misfit Shine | Arguably the most aesthetically pleasing fitness tracker or smart band on the market, the MisFit Shine doesn't even have a display. You need to link the band to an iOS device to see your data. It can measure your sleep but lacks some of the high-end features we have on some smartwatches for sleep tracking. You have to tell the fitness band that you're about to sleep, for example. |

If sleep and activity tracking is more important than smartphone features, you may want to have a look at a fitness band. Generally, a fitness band offers more for people who exercise a lot, and for half the price, but these bands do not offer smart features, like SMS alerts and phone calls and they need to be paired with a smart device to work.
Frequently asked questions