Where to live stream the 2019 Super Rugby Final – Crusaders vs Jaguares
The Super Rugby Final has been decided and its Crusaders vs Jaguares, who will battle for supremacy on July 6, 2019.
It was yet another intense Super Rugby season, featuring an endless supply of exciting moments, controversy and world-class rugby action. Now, it's all coming to an thrilling end.
First the Highlanders Bulls, Chiefs and Sharks all bowed out of contention in the quarterfinals, then the Hurricans and Brumbies followed in the semi-finals. It's left the top of the table Cruasders from New Zealand and the Jaguares of Argentina to battle for the trophy. Who will win in Crusaders vs Jaguares? Can the Crusaders claim three Super Rugby championships in a row, or the Jaguares take the final on the first attempt?
When does Crusaders vs Jaguares Super Rugby final start?
The Crusaders and Jaguares will face off from 5:35 pm AEST on July 6, 2019. The broadcast will start at 5:00pm and finishes at 7:45pm AEST after the pre and post show entertainment. Here is how it all looks across the nation.
| Event | Teams | Venue | Kick Off AEST | Kick Off ACST | Kick Off AWST | Kick Off NZST | Where to Watch |
| --- | --- | --- | --- | --- | --- | --- | --- |
| Super Rugby Final | Crusaders vs Jaguares | Christchurch Stadium | 5:35 PM | 5:05 PM | 3:35 PM | 7:35 PM | Kayo Sports, Foxtel |
How to stream the Super Rugby Final
There are only two ways to watch the Super Rugby Final on your TV or via a live stream. Your options are Foxtel or Kayo Sports; here is how they compare. Note: As well as Super Rugby, both these options also broadcast the Bledisloe Cup, Currie Cup, Gallagher Premiership Rugby, Mitre 10 Cup, National Rugby Championship, Six Nations, The Rugby Championship and the Men's and Women's World Rugby Sevens throughout the year.
Live stream Super Rugby final on Kayo Sports
The all new live sports streaming service Kayo offers something of a revolutionary experience for Rugby fans. Kayo Sports takes the 14 best sport channels from Foxtel's premium Sports pack and puts them into a single service, slashing the price down to $25 per month in the process. You can then live stream these channels, which amounts to over 50 sports, onto PC, Mac, iOS and Android devices, as well as to your TV via ChromeCast, Android TV, Apple TV or Telstra TV.
Kayo Sports brings with it a host of unique features, including SplitView (four channels at once), Key Moments timeline, Kayo Minis highlight packages, hide scores mode, picture-in-picture and more. It also has a great Netflix-style user-interface that puts not just live sport, but documentaries, classic games, interviews, press conferences, entertainment shows and more into focused hub pages.
Kayo Sports is also introducing Interactive Graphics for the Super Rugby final, which bring visual breakdowns of things like tries, conversions, penalty goals, field goals, possession and territory percentages, penalties, attack stats, defence stats and kicking stats to the experience.
We've got a detailed review of Kayo Sports for those or you who want to learn more, but the good news is with the 14-day free trial you can enjoy the Super Rugby Final for free.
Get to know
Kayo

with our guides
Live stream Super Rugby final on Foxtel
In order to watch the Super Rugby final via Foxtel on your TV, you'll need a Foxtel IQ subscription with the premium Sport Pack. This costs $29 per month, plus an additional $10 per month if you need to add HD as well. You can instantly add this to your existing subscription through the Foxtel website. Plus, as you get the Foxtel Go app free with our Foxtel IQ subscription, you can live stream the Super Rugby final to your mobile device.
Alternatively, you can also stream the Super Rugby final with Foxtel Now. The streaming platform allows you to watch Foxtel channels live via a variety of devices, all through your broadband or mobile connection. There are no contracts involved, so you can cancel your subscription anytime, and there is a 10-day free trial.
To stream the Super Rugby Final you need the Sport Pack, priced at $29 per month. This is a Premium Pack, however, so you will also need to add a Starter Pack to your subscription to gain access to it, bringing the total tally to $54 per month. The benefit is that you will get to see non-Sport content, but given the price and the lack of the modern viewing features, it's not a better solution that Kayo Sports for Australians most-focused on Rugby.
Foxtel Now works on PCs and Macs, iOS and Android smartphones and tablets, PS4 consoles, and through your TV via Telstra TV, ChromeCast, Airplay and the Foxtel Now Box.
It looks like we don't have any coupons at the moment. Take a look at our most recent deals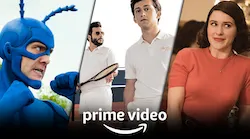 FREE TRIAL: 30 days of Prime Video's premium TV shows and movies for free
from Prime Video
Prime Video's free 30-day trial will give you instant access to thousands of premium TV shows and movies.
View details
Latest streaming headlines