Where to watch Designated Survivor online in Australia
When the President and Vice President are killed in a terrorist attack the next designated politician in power must step up to the task and lead the country.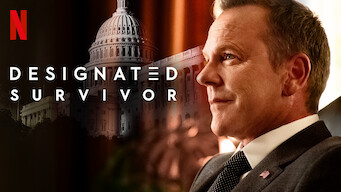 Title
Designated Survivor
Year released
2019
Genres
TV Shows, TV Dramas, Political TV Shows, Crime TV Dramas, Crime TV Shows, US TV Shows, TV Thrillers, Netflix Originals
Classification
MA 15+
Strong Themes, Strong Coarse Language, Violence
Synopsis
He's mild-mannered and politically unambitious. Then a disaster thrusts him into the most powerful job in the world.
Seasons
Season 1
Season 2
Season 3
Cast and crew
Kiefer Sutherland
Maggie Q
Kal Penn
Adan Canto
Italia Ricci
Anthony Edwards
Julie White
LaMonica Garrett
Natascha McElhone
Geoff Pierson
Lauren Holly
Elena Tovar
Benjamin Charles Watson
Mckenna Grace
Tanner Buchanan
Ben Lawson
Paulo Costanzo
Zoe McLellan
Designated Survivor is a hit series on ABC where Tom Kirkman (Kiefer Sutherland) must become the President overnight when every other possible politician is killed in a bombing. Despite being a low-level cabinet member, he was sworn in as the designated President in the wake of a catastrophic event that wipes out the chain of command. It was only ever supposed to be a safeguard, but when every single person above Kirkman in the line of succession is killed, only he can answer the call.
Kirkman must keep the country calm and running, all while tracking down those responsible for the attack on Washington. Family, friends and his social life are all put on hold as the role proves to be more than he can handle.
Try before you buy with these
free trials
Related Posts
Stream the best and save