Where to watch 7th Heaven online in Australia
This heartwarming show may be the perfect binge for the entire family.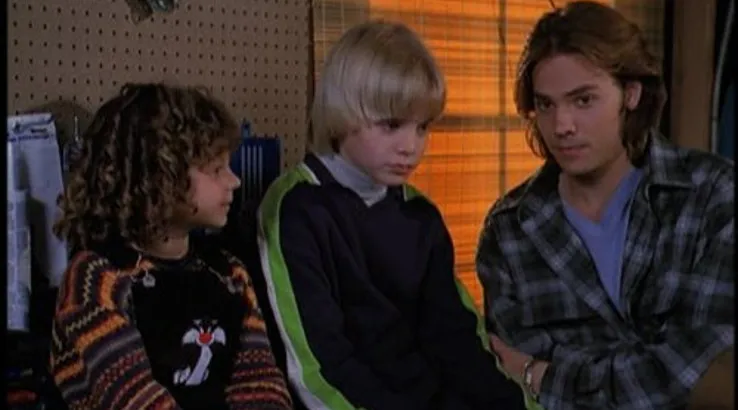 Title
7th Heaven
Year released
1996
Genres
Drama
Classification
PG
Synopsis
The third season of <i>Seventh Heaven</i> begins with a bang, Annie (Catherine Hicks) and husband Eric (Stephen Collins) celebrate their 20th anniversary in "Baby, It Takes Two." Plus "In Praise of Women," finds Annie giving birth to a sixth and a seventh child. As for the other kids: Matt (Barry Watson) stops to help a young pregnant girl and get his car stolen in "A Nice Chianti." Mary (Jessica Biel) and Lucy (Beverley Mitchell) are hit by a drunk driver in "Sometime That's Just the Way," Simon (David Gallagher) gets a girlfriend in "Johnnie Get Your Gun," and Ruthie (Mackenzie Rosman) remains the most precocious member of the Camden household. In other developments, Annie's widowed father, Charles Jackson (Graham Jarvis), weds his longtime girlfriend, Ginger (Beverly Garland) in "And the Home of the Brave." The season's two-part finale, "There Goes the Bride, Part 1 and 2" finds Matt getting depressed over the wedding of his onetime sweetheart Heather (Andrea Ferrell); younger Camden son Simon (David Gallagher) undergoing his first love pangs, with Deena Stewart (Nicole Cherie Saletta) and there is news of yet another pregnancy in the family.
Seasons
Season 1 (1996)
Season 10 (2005)
Season 11 (2006)
Season 2 (1997)
Season 3 (1998)
Season 4 (1999)
Season 5 (2000)
Season 6 (2001)
Season 7 (2002)
Season 8 (2003)
Season 9 (2004)
This beloved family drama from Aaron Spelling premiered back in 1996 and was on the air for 11 seasons, over the course of which the Camden family went through numerous ups and downs, always learning an important lesson in the process.
The series follows reverend Eric Camden, his wife Annie and their five (later seven) children. Despite its faith-based theme, the show doesn't shy away from tackling controversial issues like drug abuse, hate crimes, homelessness or teen pregnancy, and it does so with much intelligence and grace. Some of the kids leave the family home over the course of the seasons, but the Camden house is always full, as the reverend is more than willing to offer shelter to various house guests. Plus, the kids all have distinct personalities, so we guarantee you'll find yourself rooting for one of them.
The cast of 7th Heaven includes Stephen Collins, Catherine Hicks, Barry Watson, David Gallagher, Jessica Biel, Beverley Mitchell and Mackenzie Rosman. The show concluded in 2007 after airing 243 episodes.
---
Try before you buy with these
free trials
Related Posts
Stream the best and save