Where to watch 13 Reasons Why online in Australia
This ambitious high school drama tackles important issues that shouldn't be ignored.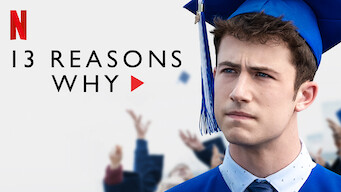 Title
13 Reasons Why
Year released
2020
Genres
TV Shows, TV Mysteries, TV Dramas, Crime TV Dramas, Crime TV Shows, Teen TV Shows, US TV Shows, Netflix Originals, TV Shows Based on Books
Classification
MA 15+
Strong suicide themes and sexual violence
Synopsis
Secrets. Lies. Revenge. Everyone at Liberty High has something to hide ... and the truth is about to come out.
Seasons
Season 1
Season 2
Season 3
Season 4
Cast and crew
Dylan Minnette
Katherine Langford
Alisha Boe
Brandon Flynn
Justin Prentice
Ross Butler
Christian Navarro
Devin Druid
Miles Heizer
Brenda Strong
Grace Saif
Kate Walsh
Derek Luke
Timothy Granaderos
Amy Hargreaves
Wilson Cruz
Anne Winters
Bryce Cass
RJ Brown
Brian d'Arcy James
Based on the popular novel of the same name by Jay Asher,
13 Reasons Why
follows Clay, a high school student. The story begins shortly after his classmate and crush Hannah took her own life and sent him tapes detailing the 13 reasons why she decided to do it. As the story develops, we find out more about both Clay and Hannah, while also learning quite a bit about what exactly pushed Hannah over the edge.
A Netflix original production, 13 Reasons Why premiered in 2017. The series prompted concern from mental health professionals due to its sensitive subjects, to the point where the streaming giant added a card and video that plays at the start of each season warning viewers about the show's strong themes.
Despite the tough subjects it approaches, 13 Reasons Why gained a lot of popularity shortly after its release. We're guessing the talented cast has a lot to do with that. The main players include Katherine Langford, Dylan Minnette, Christian Navarro, Alisha Boe, Brandon Flynn, Justin Prentice, Miles Heizer and Kate Walsh.
Try before you buy with these
free trials
Related Posts
Stream the best and save