Washer dryer combo Finder
Learn how to compare washer dryer combos from leading brands.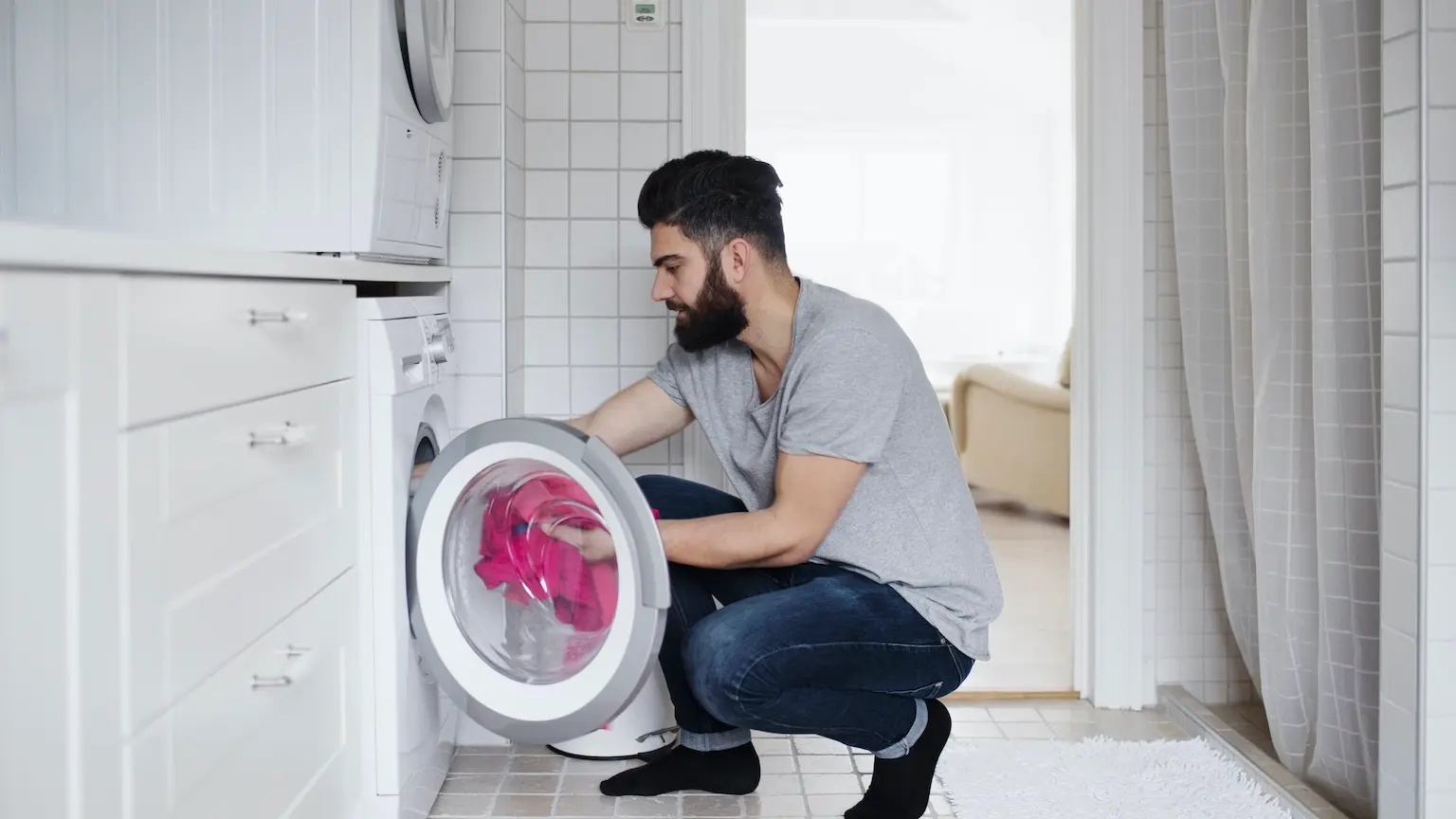 We're reader-supported and may be paid when you visit links to partner sites. We don't compare all products in the market, but we're working on it!
Best Rated Washer Dryer Combo Brand: Whirlpool
If you're after a washer dryer combination, then Whirlpool is the brand to try. It had top ratings for noise and performance.
Quick facts about washer dryer combos:
A washer dryer combo can make doing laundry easier and less time-consuming.
By combining a washer and dryer into the one machine, these space-saving appliances allow you to clean your clothes and dry them in a single cycle.
The cost of a washer dryer combo ranges from $800 up to as much as $6,000 with machines to suit everyone from couples to families.
What is a washer dryer combo?
A washer dryer combo is an all-in-one appliance that features a washing machine and dryer in a single unit. It's roughly the same size as an ordinary washer and usually includes the following:
A front-load washing machine. Front-loaders open at the front and are generally more energy- and water-efficient than top-load machines.
A condenser clothes dryer. Unlike vented dryers, which expel humid air into your laundry, condenser dryers work by extracting moisture from your clothes and then draining it down the sink via a hose. Most models also include a lint filter that you will need to clean regularly.
Some new models use a heat pump dryer rather than a condenser dryer. These are extremely energy efficient and quicker than a condenser, but they're also much more expensive.
Pros and cons
There are several reasons why buying a washer dryer combo could be a smart decision:
If you've got limited space. A washer dryer can perform the jobs that you would usually rely on two machines to do, so it can free up space in your laundry as a result. This makes them a practical solution for many apartments or any home with a small laundry and allows you to tuck them away under a benchtop. In fact, washer dryer combos are one of many great space-saving ideas for small laundries.
If you want to spend less time doing laundry. Instead of loading a washing machine, washing your clothes and then unloading them into a separate dryer, combos allow you to wash and dry your clothes all in one cycle. This means you can potentially start the machine before you go to bed and wake up to clean, dry clothes.
If you want to save energy and water. Just like front-load washing machines, washer dryer combos are energy- and water-efficient, helping you save money. Running your machine overnight can also allow you to benefit from off-peak energy prices.
If you want to save money. While prices vary, the cost of buying a washer dryer combo may be less than buying two separate appliances. (That said, the drying performance of a combo with a condenser dryer won't be able to match that of a standalone dryer.)
Not the best option for large families. Most washer dryer combos are best suited to small loads. So if you're cleaning and drying clothes for a large family, they often won't be the most practical choice. Some busy families will need to do multiple loads in a day, putting on another pile of washing while the first load is in the dryer, but this isn't possible with an all-in-one machine.
Smaller drying capacity. The washing capacity of a machine will always be greater than its drying capacity – for example, a product with an 8kg washing capacity may only be able to dry 4-5kg of clothes at a time. This means you may need to pull up to half of your load of washing out of the drum before setting the machine to dry, so drying large loads of sheets and towels may take a while.
Where to buy appliances online
Types of washer dryer combos
If you're shopping for a washer dryer combo, you'll come across products from a host of major whitegoods manufacturers including the following:
Apart from price, the main way to distinguish between the different models is by their washing and drying capacity. Washing capacities start at around 6kg in the smallest models and max out at 16kg, while drying loads generally range from 3kg to 9kg.
How to compare washer dryer combos
The best washer dryer combo for you depends on your personal circumstances. For example, a single 20-something will most likely have very different washing requirements than a family with three school-age kids.
When choosing a washer dryer combo, make sure you consider your budget as well as the performance, energy efficiency, water usage and size of the products available. You'll need to take the following into account:
Size
Not only will you need to consider how much space you have in your laundry and whether the machine will fit, but also the product's washing/drying capacity. Washers in the 6-7.5kg range are suitable for 2-4 people, while families of 4 people or more will likely need a model with a capacity to handle 7.5kg or above.
Energy efficiency
Compare the energy star ratings for the machine's wash and dry cycles. The more stars it has, the less energy it uses.
Water usage
Washer dryer combos use water in both the washing and drying process. While the water used for washing is included when calculating the machine's water efficiency star rating, the water used in drying is not; however, the water used per drying cycle must be listed on the WELS water rating label, so read it carefully.
Wash functions
Compare the range of wash functions and cycles each machine offers. Examples include fast and heavy-duty cycles, night-time settings (designed for quiet operation) and special modes for washing baby clothes, sporting gear, bedding, cotton and more. Many even have a setting designed for washing the clothes of asthma and allergy sufferers.
Dryer features
Check the specs sheet for any features offered by the dryer, such as a moisture sensor, noise dampening, reverse tumbling to reduce the risk of tangled clothes and extended tumbling cycles to decrease the wrinkles in your clothes.
Load time
Pore over specs from the manufacturer for details of the average load time. How long do washing and drying cycles take? What about a combined wash and dry cycle?
Additional features
Other features. Does the machine include safety features like a child lock and leak protection? Can you pause a load halfway through to add an item you forgot to put in at the start? Does it have an LED display? Is it Wi-Fi compatible so you can manage some functions from your smartphone?
Weight. While portability isn't really an issue for whitegoods, keep in mind that some models can weigh upwards of 85kg. If you're planning on taking it home and/or installing it yourself, you may need some help.< li>
Reliability. Check a range of independent online reviews to find out whether other users have had any issues with their washer dryer combo. If so, were they fixed under warranty or did the owner have to pay from their own pocket?
Warranty. Check the length of the manufacturer's warranty on parts and labour – two years is a common figure. Is there also a separate, longer warranty to provide protection if the machine's motor breaks down?
Price. Washer dryer combo prices range from around $800 up to $2,200 for most models. Prices can vary substantially based on a machine's capacity, so make sure you're comparing apples with apples.If you want a model with a heat pump dryer, expect to pay top dollar.
3 things to consider
Reliability risk. Because washer dryer combos are more complex than a run-of-the-mill washing machine, there may be a higher risk of something going wrong and they may also cost more to repair. It's worth remembering that if your combo stops working, you'll have to replace the whole thing, whereas you can replace standalone appliances individually.
Use as a standalone washer. You can run washing and drying cycles independently. This means you can use your washer dryer combo as a conventional washing machine and hang your clothes out to dry, opting only to use the dryer on rainy days.
It takes time. One common bugbear for new washer dryer combo owners (if their machine features a condenser dryer) is the time taken to dry clothes. While drying times vary depending on the appliance you use, the cycle you select, the type of clothes and the size of the load, it's not uncommon to have to wait three hours for clothes to dry.
Best rated washer/dryer combo brand award breakdown
| | Total Score | Overall rating | Value for Money | Ease of use | Performance | Noise Level |
| --- | --- | --- | --- | --- | --- | --- |
| Whirlpool | 8.31 | 4.46 | 4.54 | 4.54 | 4.46 | 4.58 |
| LG | 8.21 | 4.52 | 4.3 | 4.48 | 4.44 | 4.44 |
| Bosch | 8.14 | 4.42 | 4.46 | 4.4 | 4.42 | 4.31 |
| Miele | 7.87 | 4.4 | 4.24 | 4.08 | 4.28 | 4.24 |
| Electrolux | 7.8 | 4.29 | 4.06 | 4.2 | 4.2 | 4.04 |
| Samsung | 7.72 | 4.18 | 4.26 | 4.12 | 4.24 | 4.04 |
| Fisher & Paykel | 7.58 | 4.1 | 4.02 | 4.3 | 4.2 | 4.16 |
| Other | 7.5 | 4 | 5 | 5 | 4 | 4.5 |
| Speed Queen | 7.28 | 3.9 | 4.1 | 3.85 | 4 | 3.85 |
Data: Finder Retail Brand Survey, 2020, Kantar. Metric out of 5 stars unless indicated. Methodology and more info.
More guides on Finder