Warner Bros. Movie World Gold Coast review: Travelling with kids
It sounds like the perfect place for youngsters, but is Warner Bros. Movie World on the Gold Coast any good for families holidaying with kids?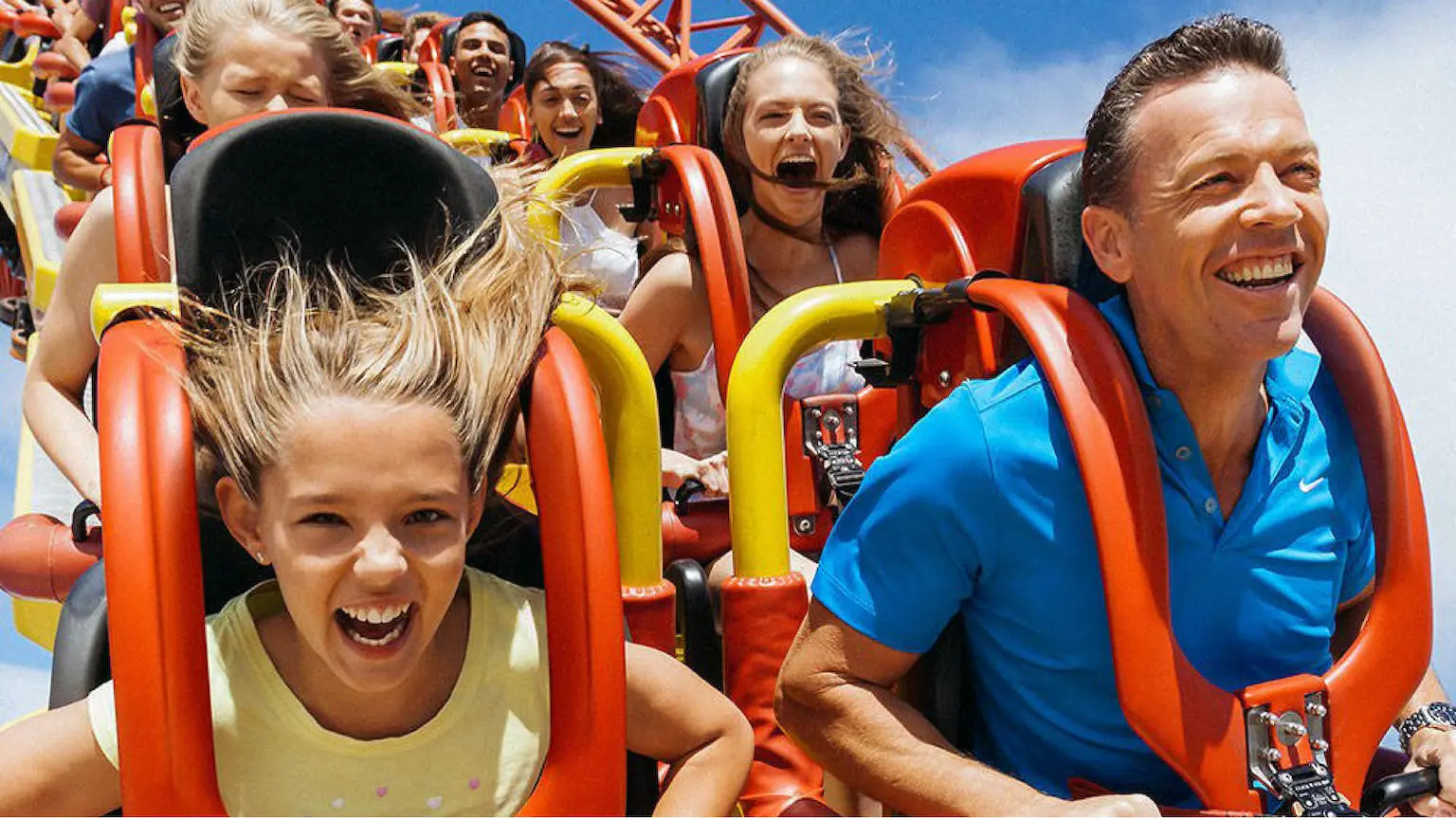 We're reader-supported and may be paid when you visit links to partner sites. We don't compare all products in the market, but we're working on it!
MOVIE WORLD SUMMARY
Warner Bros. Movie World on the Gold Coast has grown from humble origins into a true, world-class theme park. It's big, opulent, excessive and mesmerising, even if it's a struggle on a hot day. It's not that great for the youngest of families, but for everyone else, it's blockbuster entertainment.
OUR SCORE: ★★★★½
---
Key Information
Location: Pacific Mwy, Oxenford QLD 4210
Adult ticket: AU$99.00
Concession ticket: AU$89.00
Child's ticket: AU$89.00
Opening times: 9:30am to 5:30pm
Highlight: The DC Rivals Hypercoaster is unique to the southern-hemisphere and it lives up to the hype.
Family friendly: All ages, but suited to kids over 12.
Reviewer: Family of five (kids aged 8, 6 and 4)
Pros and Cons
A genuine theme park with stacks of rides, shows and attractions
Easy to get to from Gold Coast or Brisbane
Well laid-out design
Great atmosphere
Queues are upwards of 45 minutes
Not much shade for hot days
No fast track for parents with small kids
It was the mid-90s when I first went to Warner Bros. Movie World on the Gold Coast. The theme park hadn't been open for long and as a young thrill-seeking teenager, I was less than impressed by the lack of rides and the focus on kids' shows.
How things have changed.
Returning all these years later as a father of three kids (eight, six and four), it was hard not to be impressed. Wonderfully conceived and built with excellent attention to detail, Warner Bros. Movie World is as close as Australia gets to the Disney World experience we've all dreamt about since we were in nappies. There are rides everywhere nowadays, many of which will push even the bravest adult's heart into a beating frenzy. But the shows and the appeal for the youngest kids remain intact.
It's just those aged between 6 and 10 who might feel a little left out in the cold when holidaying with kids.
Is Warner Bros. Movie World Gold Coast big?
The architects of Warner Bros. Movie World on the Gold Coast have done a very impressive job cramming a lot of stuff into a relatively compact space. It's a big area, but there isn't much in the way of endless zig-zagging walks to sap your energy. It feels like everywhere you look there is another ride or exhibition to stop at and enjoy. Sometimes there's one hidden behind another, so the park kind of opens up and reveals itself in interesting ways.
Indeed, we didn't do nearly as much walking as I would have expected from a theme park of this scope. There is a main street with all your shops, shows and performers, which offers the park's only decent shade, too. Then this branches off into three regions. There are the big coasters to the south, the kids' WB zone to the north and an adventure zone to the west. The latter best serves those families with older kids (but not teenagers).
As everything funnels back through the one central road, it's pretty easy to set up a meet spot and then let people roam to one of these zones. You can easily spend hours in each zone without having to move on. It's all pram/stroller friendly, too, with wide concrete paths to everything. Very handy when holidaying with kids.
Warner Bros. Movie World Gold Coast ride review
What I love most about the rides at Warner Bros. Movie World is they're not flash-in-the-pan experiences that feel over even before they've begun. I will get to queues in a bit, but like most theme parks, in the summer months you can expect a fair wait to get on the best rides. As such, it's great that the rides – for the most part – are worth the wait. They are both substantial in length and heart-pounding fun.
Take the Scooby-Doo ride, for example. Hidden in the dark behind a wall, I didn't expect much when I finally got to the end of the queue. But the ride goes on and on, higher and higher. I couldn't work out how they had kept it all so hidden. The Wild West Falls adventure ride is similar, as the little canoe takes you down its water rapids through a cave. On the other side is a surprisingly huge set filled with detail, curiosities and plenty to keep the heart pounding.
However, the focus of Warner Bros. Movie World is most definitely on coasters, of which there are plenty – in fact, more than I could even get on in one day given I was also juggling kids.
Front of the lot and monstering the carpark so it cannot be missed is the DC Rivals Hypercoaster. It's truly amazing. I waited close to an hour in the queue for it and that's a long time to brew the nerves. I was pretty grumpy by the time I actually got strapped in, but when I got off a couple of minutes later I couldn't stop grinning. What a thrill! Don't miss it!
The nearby Green Lantern coaster is also a death-defying joy that turns park-goers upside down and sideways at multiple points. For reasons I can't understand the queue for it was a matter of minutes all day, making it a good one to help build up the courage of the kids, especially as you're fully strapped in and the speed is controlled, measuring out the fear in a digestible fashion.
The Superman was the only other roller-coaster I had time to get on, but it too was really, really good. And even over in the Kids' WB Fun Zone the little ones are still granted quite a ride on the Roadrunner Coaster.
Speaking of the Kids' WB Fun Zone, there's plenty to do here, but it's aimed at the very young. At four, my youngest was in his element and there is a broad selection of experiences on offer. But for my six-year-old, not so much – which brings me to the one downside of Warner Bros. Movie World's rides. While they are all excellent and there are a lot of them, there is definitely a focus on older visitors. There's not a heck of a lot there for children between 6 and 10 to ride unless they are tall and have plenty of courage.
That said, for those of you holidaying with kids, there are a few shows to catch that are enjoyable for all ages. The Stunt Show is upbeat and fun, even if there isn't a whole lot in the way of actual stunts. There's a 3D movie experience and an augmented reality Justice League ride. Seasonally there are some spot-events, too, but nothing when we were there.
The kids enjoyed the shows a lot more than we did as adults, but at the very least these moments offered a chance to sit down and absorb an ice-block for a while, while the kids were still and quiet.
How are the queues at Warner Bros. Movie World Gold Coast?
We attended Warner Bros. Movie World in the first week of December. That's a summer month, but tactically, it's before school holidays begin. (A great time to go holidaying with kids, even if they have to miss some school.) The waits for most of the big rides were at least 45 minutes, if not an hour. And I could tell from the length of queue provisioned at these rides that those numbers can be greatly exceeded in peak months.
At least most of the queues are decently shaded, and some rides allow for people to go as singles. This puts your wait for a ride in the hand of fate, but when I tried it, there was little difference between the singles queue and the main one.
We got to Warner Bros. Movie World at opening time and were able to snag a few rides with the kids before the queues really got bad and I recommend following that same plan. But do keep in mind that late in the day things improved again. The Superman roller-coaster queue dropped to as low as 10 minutes in the last hour, after being close to an hour for most of the day.
Is Fast Track at Warner Bros. Movie World worth it when holidaying with kids?
Similar to Wet'n'Wild, Warner Bros. Movie World offers a Fast Track ticket add-on for park-goers. This lets you basically walk onto all the major rides as many times as you want throughout the day with relatively no queueing.
The concept has obvious benefits. I saw one couple go on the Hypercoaster six times in a row through a period where I only moved halfway down the main queue. And I'm gutted that I simply couldn't find the time to experience rides such as the Batman Arkham coaster. But at $149 per person, Fast Track is an immense cost.
As a family holidaying with kids, I couldn't see the point. Affording five Fast Track passes just isn't realistic, so maybe you could get one for yourself to try and nab a few rides while the kids are at lunch. But there's just too much that can go pear-shaped or can slow you down with kids in tow to ever be able to bank on getting value for the price.
If I was a 20-something with a few mates planning a huge day out, you could get 10 goes on each coaster in a day, as opposed to 10 rides in total. But have you got that kind of money?
The Warner Bros. Movie World map
Where is Warner Bros. Movie World on the Gold Coast?
Warner Bros. Movie World is an easy 20- to 25-minute drive north of Surfer's Paradise on the Gold Coast. It's a highway most of the way, too, so even during peak hour it's not a bad trip. Warner Bros. Movie World is right next to Wet'n'Wild and if you have the Ultimate Theme Park Pass, it's worth keeping that in mind. After spending most of the day at Warner Bros. Movie World, nicking over for a quick hour of waterworks at the end of the day is totally viable.
Is Warner Bros. Movie World any good on a hot day?
If you're looking at the forecast and plotting your theme park journey for the Gold Coast, earmark Warner Bros. Movie World for the coolest day. We didn't. We suffered. It was 38°C the day we chose to visit Warner Bros. Movie World and the lack of shade and the plentiful amount of concrete made us pay. There's the smallest of little waterparks in the kiddy area – aka the Kids' WB Fun Zone – and a wooden log water ride, but outside that, you'll be relying on slushies and ice creams to stay cool. At theme park prices, no less. Not so great when you're holidaying with kids.
Is Warner Bros. Movie World worth it?
I was super impressed by Warner Bros. Movie World on the Gold Coast. The rides are epic and plentiful, the shows entertaining, and the attention to detail everywhere really does work to make you feel like you're out of reality and in a place of fun. It's nothing near the scale of Disneyland, but it's got that same vibe.
Queues are, of course, the big pain. It's really unfortunate that they don't offer anything for parents attending with small kids. Maybe a few complimentary Fast Track tickets so at least mum and dad (or dad and dad, or mum and mum) can take turns running off to try and secure at least one go on the big coasters while the kids are preoccupied would be a good idea? That's about the best you're going to get when holidaying with kids.
It would take that for me to come back in the short term despite how much fun our family had. That's because the value was greatly lessened with kids our age, and as parents, we barely got time to do anything for ourselves.
My eight-year-old is tall and scraped over the height line for the roller-coaster only thanks to his thick-soled shoe, but was then too thin to be strapped in successfully anyway. He had a great day, but was a bit stuck in limbo. My six-year-old neither had the height nor the guts to go on most rides. My four-year-old enjoyed the little kids' area, but he also would have been just as happy back in the Sea World Resort pool.
However, if you're a family with kids over 10, I think Warner Bros. Movie World offers a thrilling day out and some experiences that won't be forgotten.
More guides on Finder