Vodafone is waiving plan fees for one month with Samsung Galaxy Note10 pre-orders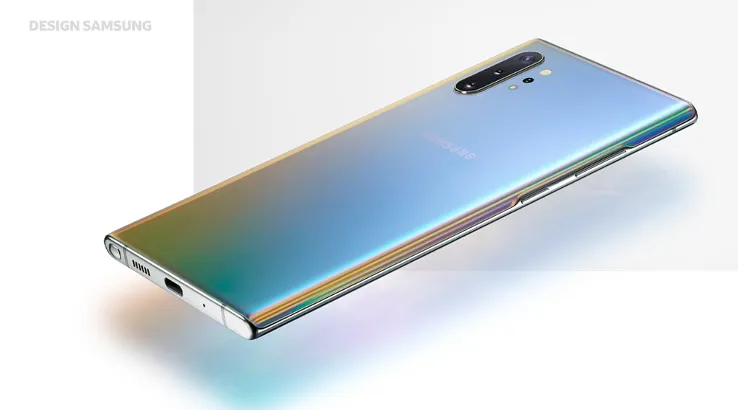 If you're after the standard Galaxy Note10 on contract, Vodafone is one of your only options.
Now that Samsung has officially revealed its top-of-the-line Samsung Galaxy Note10 and Galaxy Note10+, Aussie telcos have taken the wraps off their contract plans for the upcoming smartphones.
Vodafone has an edge over both Telstra and Optus in that it's the only one of the three to offer the vanilla Samsung Galaxy Note10 in addition to the Galaxy Note10+. The flip side to that is it's not offering the 5G version of the smartphone, which makes sense given Vodafone doesn't yet have an active 5G network.
To further distinguish itself from the competition, Vodafone is waiving one month of plan fees for all customers who sign up for a Galaxy Note10 or Galaxy Note10+ before 22 August 2019.
As is the case with all Vodafone's contract plans, you can pair either the Galaxy Note10 or Galaxy Note10+ with any of its Red or Red Plus plans. Those plans operate on a month-to-month basis but the handset repayments are spread over your choice of 12 months, 24 months or 36 months. This gives you the freedom to switch between plans at any time, but if you decide to cancel before your handset contract term is up, you'll have to pay out the remaining cost of your phone all in one go.
You can compare Vodafone's Samsung Galaxy Note10 and Galaxy Note10+ plans in the table below:
| Plan and Device | Monthly plan cost | Handset repayment | Total monthly cost | Data | Minimum term | Minimum total cost (1 month plan + handset costs) |
| --- | --- | --- | --- | --- | --- | --- |
| Vodafone Red $35 Samsung Galaxy Note10 256GB | $35.00 | $62.45 | $97.45 | 5GB | 24 months | $1,533.80 |
| Vodafone Red/Red Plus $45 Samsung Galaxy Note10 256GB | $45.00 | $62.45 | $107.45 | 30GB | 24 months | $1,543.80 |
| Vodafone Red/Red Plus $55 Samsung Galaxy Note10 256GB | $55.00 | $62.45 | $117.45 | 80GB | 24 months | $1,553.80 |
| Vodafone Red/Red Plus $65 Samsung Galaxy Note10 256GB | $65.00 | $62.45 | $127.45 | 120GB | 24 months | $1,563.80 |
| Vodafone Red $35 Samsung Galaxy Note10+ 256GB | $35.00 | $70.79 | $105.79 | 5GB | 24 months | $1,733.96 |
| Vodafone Red/Red Plus $45 Samsung Galaxy Note10+ 256GB | $45.00 | $70.79 | $115.79 | 30GB | 24 months | $1,743.96 |
| Vodafone Red/Red Plus $55 Samsung Galaxy Note10+ 256GB | $55.00 | $70.79 | $125.79 | 80GB | 24 months | $1,753.96 |
| Vodafone Red/Red Plus $65 Samsung Galaxy Note10+ 256GB | $65.00 | $70.79 | $135.79 | 120GB | 24 months | $1,763.96 |
| Vodafone Red $35 Samsung Galaxy Note10 256GB | $35.00 | $41.63 | $76.63 | 5GB | 36 months | $1,533.68 |
| Vodafone Red/Red Plus $45 Samsung Galaxy Note10 256GB | $45.00 | $41.63 | $86.63 | 30GB | 36 months | $1,543.68 |
| Vodafone Red/Red Plus $55 Samsung Galaxy Note10 256GB | $55.00 | $41.63 | $96.63 | 80GB | 36 months | $1,553.68 |
| Vodafone Red/Red Plus $65 Samsung Galaxy Note10 256GB | $65.00 | $41.63 | $106.63 | 120GB | 36 months | $1,563.68 |
| Vodafone Red $35 Samsung Galaxy Note10+ 256GB | $35.00 | $47.19 | $82.19 | 5GB | 36 months | $1,733.84 |
| Vodafone Red/Red Plus $45 Samsung Galaxy Note10+ 256GB | $45.00 | $47.19 | $92.19 | 30GB | 36 months | $1,743.84 |
| Vodafone Red/Red Plus $55 Samsung Galaxy Note10+ 256GB | $55.00 | $47.19 | $102.19 | 80GB | 36 months | $1,753.84 |
| Vodafone Red/Red Plus $65 Samsung Galaxy Note10+ 256GB | $65.00 | $47.19 | $112.19 | 120GB | 36 months | $1,763.84 |
| Vodafone Red $35 Samsung Galaxy Note10 256GB | $35.00 | $124.91 | $159.91 | 5GB | 12 months | $1,533.92 |
| Vodafone Red/Red Plus $45 Samsung Galaxy Note10 256GB | $45.00 | $124.91 | $169.91 | 30GB | 12 months | $1,543.92 |
| Vodafone Red/Red Plus $55 Samsung Galaxy Note10 256GB | $55.00 | $124.91 | $179.91 | 80GB | 12 months | $1,553.92 |
| Vodafone Red/Red Plus $65 Samsung Galaxy Note10 256GB | $65.00 | $124.91 | $189.91 | 120GB | 12 months | $1,563.92 |
| Vodafone Red $35 Samsung Galaxy Note10+ 256GB | $35.00 | $141.58 | $176.58 | 5GB | 12 months | $1,733.96 |
| Vodafone Red/Red Plus $45 Samsung Galaxy Note10+ 256GB | $45.00 | $141.58 | $186.58 | 30GB | 12 months | $1,743.96 |
| Vodafone Red/Red Plus $55 Samsung Galaxy Note10+ 256GB | $55.00 | $141.58 | $196.58 | 80GB | 12 months | $1,753.96 |
| Vodafone Red/Red Plus $65 Samsung Galaxy Note10+ 256GB | $65.00 | $141.58 | $206.58 | 120GB | 12 months | $1,763.96 |
---