Vodafone finally launches Apple Watch Series 3 eSIM support

Vodafone's NumberSync for Apple Watch Series 3 will set you back $5 per month with the first 3 months free.
Back when Apple announced the Apple Watch Series 3, the headline feature was the eSIM support for single number sharing between a compatible iPhone handset and the new smartwatch. That feature allows you to use the Apple Watch Series 3 to make and take calls, send SMS and use data features without needing a nearby paired iPhone to speak of.
At launch, Apple rather specifically name-checked Telstra and Optus as launch partners in Australia. It wasn't long before both Telstra and Optus announced eSIM plans charged at $5 per month to pair your existing postpaid SIM account to your new Apple Watch Series 3.
Missing in action until today in the eSIM discussion was Vodafone, but it was expected that the nation's third major mobile network (at least until TPG launches at some point in 2018) would launch eSIM services by the end of the year. That's happened today, with Vodafone announcing what it's calling NumberSync.
Like its competitors, it's a paid subscription service on top of your existing mobile plan priced at $5 per month. Vodafone will shout you 3 free months of access, at least as long as you sign up before 31 December 2018.
That $5 per month doesn't buy you any extra data, so all you'd be using would be your existing plan provisions whatever they may happen to be. Like its competitors, it's not a service open to prepaid customers right now, and it's not clear if this will change in the near future.
You can find our complete thoughts on the Apple Watch Series 3 in our comprehensive review here.
Prefer to buy the Apple Watch Series 3 outright?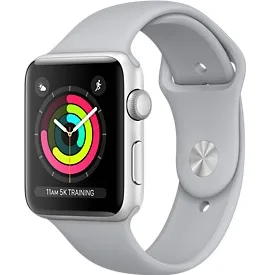 Purchase Apple Watch 3
from Apple Store
The third generation of the Apple Watch adds cellular functionality so you can make calls, send texts and even stream music when you're away from your phone.
View details
Keen on an iPhone X to run with Numbersync? Here's what you'll pay for Apple's latest smartphone on contract through Vodafone.
Latest wearables headlines
---
Follow us for all the latest mobile phone news and deals
---
Image: Shutterstock