Virgin Australia Business Class Boeing-777 Overview
What you'll get when you fly in Virgin Australia's The Business class.
From lounge invitations to lie-flat beds and a spacious bar, here's a rundown of what you'll get when you travel in business class on a Virgin Australia Boeing-777 international long-haul flight.
Pre-flight privileges
Virgin Australia's "The Business" offers a range of benefits before you even get on the plane. This starts with a complimentary limousine transfer service to the airport if you're booked on an international long-haul business class fare marked with a J or C.While you won't be able to use this service if your fare class has a different letter or if you've used Velocity Points to book a Reward Business seat, you will still be able to enjoy some pre-flight luxury thanks to the airport lounge access that comes with your ticket. The actual lounges available vary depending on your flight routes and Velocity status but could include lounges operated by Air New Zealand, Etihad or Singapore Airlines. You can check the Virgin Australia website for full details of which specific lounges you'll be able to visit before your flight.
As well as pre-flight luxuries, fares in The Business class also give you the following generous baggage allowances:
Carry-on baggage: Two pieces of up to 7kg each, plus one small personal item.
Checked baggage: Two bags up to 32kg each. If you have Velocity Silver, Gold or Platinum status, this increases to three bags of 32kg each. You'll also enjoy priority baggage delivery at your destination.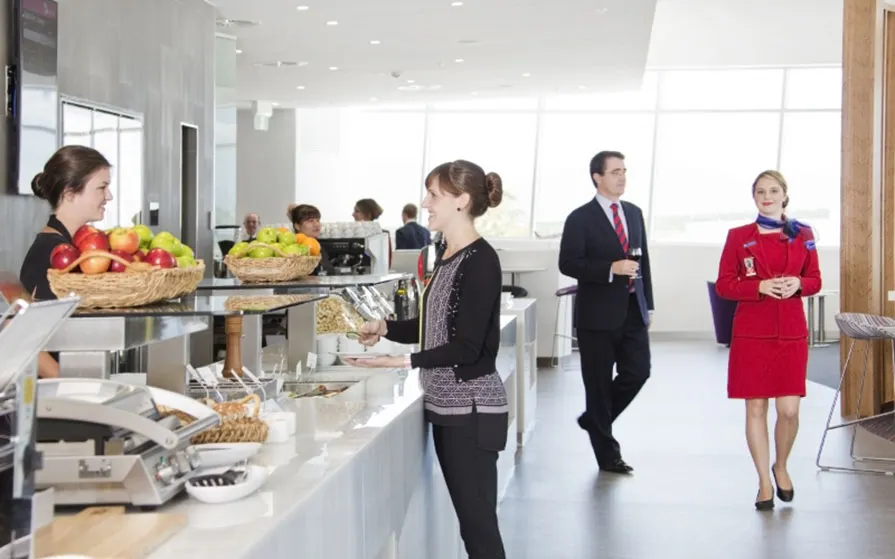 Priority check-in and boarding
As a business class guest, you'll have access to a dedicated check-in service at the airport. You'll also be invited to board first or, if you prefer, you can head onto the plane at your leisure using the dedicated boarding lane available at most gates.
Frequent flyer perks
As well as the potential additional checked baggage, if you're a Velocity Frequent Flyer member you can also earn more points and Status Credits when you fly business class on an international long-haul flight with Virgin Australia. As a guide, you'll earn at least 2 Velocity Points per mile flown on your business class fare (plus point bonuses if you're a Silver, Gold or Platinum member). The Status Credits you'll earn depend on your flight length, starting from 40 if you're flying 0 to 750 miles and going up to 200 for flights of 8,000 miles or more.
Space and seating
Once you're on the plane, the crew will welcome you by name and guide you to one of the 37 suites at the pointy end. The Business makes use of the space available on Virgin Australia's 777 aircraft with a 1-2-1 seating configuration that means everyone has privacy and aisle access. If you're in one of the two middle seats, you'll have a retractable partition that can separate or connect you to the person sitting next to you (depending on who you're travelling with).In terms of dimensions, The Business seats are a comfortable 28 inches (71.1cm) wide, or 21 inches (53.3cm) wide when the armrest is extended. The seats also stretch out to 80 inches (208cm) in lie-flat mode – the same length as a queen-size bed, which makes it a lot easier to get some sleep while you're up in the air. The crew provide mattresses and bedding when you do want to sleep, so just let them know and they'll get it all ready for you.
While your bed's being made, you can head to the fully serviced bar in the middle of the cabin. Here there's enough room for 10 people and everything from spirits and wine to Nespresso coffee and snacks. Only the restrooms and curtains separate this area from the business class seats, so if you do plan to sleep it's ideal to get a seat towards the front of The Business.
Carry-on storage
While flying in Virgin Australia's The Business class is spacious in many ways, the trade-off is that you will need to store larger carry-on bags in the overhead lockers for your departure and landing. Fortunately, there are several smaller storage compartments around your seat, including two fold-up panels for items such as watches, phones and passports, a charging station, a tablet holder and a compartment in your armrest that houses bottled water and headphones.
Amenities
Another major perk of travelling The Business is the great extras you get on board. This includes a Mandarina Duck amenity kit complete with eye mask, socks, earplugs, a toothbrush and toothpaste, as well as REN Skincare face cream, hand lotion and lip balm. You also get a stretchy set of pyjamas designed by Juli Grbac and noise-cancelling headphones.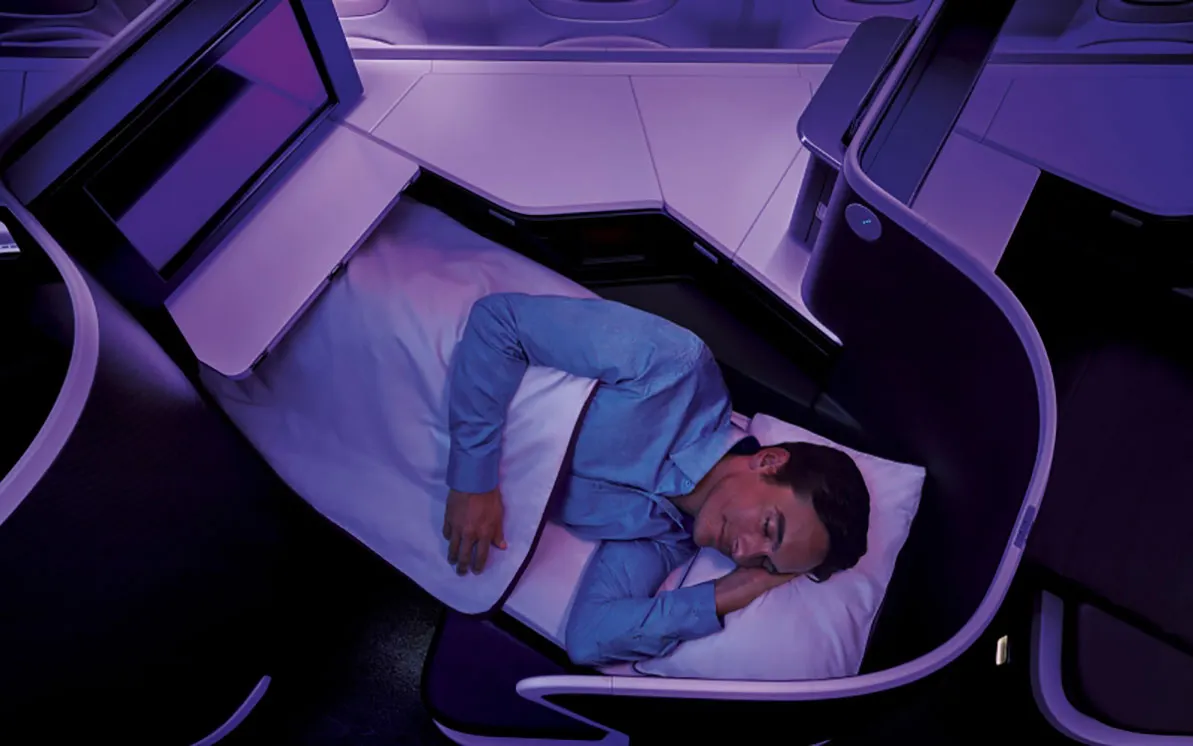 Entertainment
Your suite in The Business includes an 18-inch (45.72cm) touch screen packed with over 500 hours of movies, TV and music. Generally the selection will include a mix of recent and classic releases, which are regularly updated.
There are also power plugs and a USB port if you'd prefer to watch something on your tablet or laptop (or catch up on work if you really need to). As well as providing entertainment, the touch screen allows you to adjust your seat position and lighting for maximum comfort throughout the flight.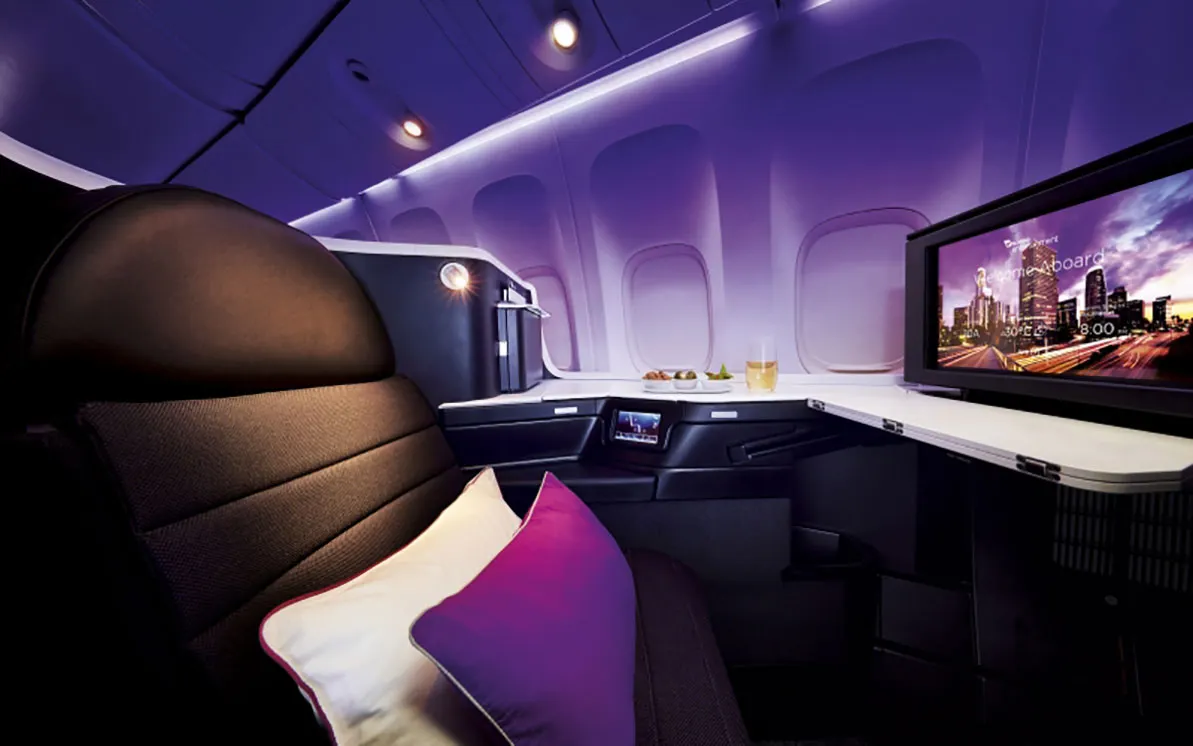 Dining and refreshments
If you're a guest in The Business, you'll generally be offered a complimentary drink before take-off, with both alcoholic and non-alcoholic options typically available. Once you're in the air, you'll have a range of food and drink choices, including an á la carte menu, light ready-made meals, packaged snacks and, of course, refreshments at the bar.
For overnight flights that include breakfast, you'll be given an ordering card that you can fill out before you go to sleep. With a continental breakfast option available at the bar, you could also choose to be left sleeping through meal service instead. If you do head to the bar, keep in mind that it is designed to be serviced by a crew member. So if no one's there when you arrive, just press the call button to let the crew know you'd like a drink or snack.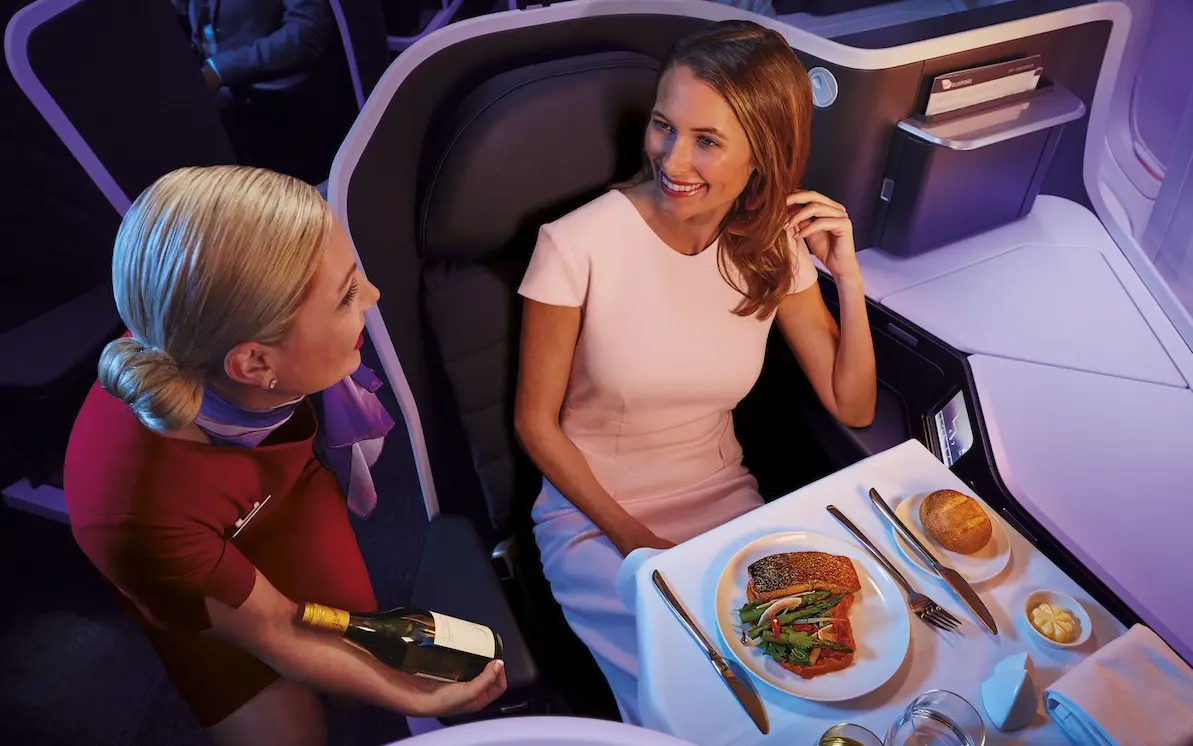 Where can I fly?
Virgin Australia currently has five Boeing-777s in its fleet, which currently fly on the following routes:
Brisbane to Los Angeles
Melbourne to Los Angeles
Sydney to Los Angeles
You can also enjoy The Business (without the bar) on flights from Australia to Hong Kong and on domestic Virgin Australia flights to and from Perth when travelling on one of Virgin Australia's A330 planes.

Virgin Australia's business class experience on its Boeing-777s offer luxuries, entertainment and services that can make an international long-haul journey fly by. With features that are as close to first class as you can possibly get without that label, forking out the cash or points needed for The Business could be worth it for the hours of comfort you'll get both on and off the plane.
Pictures: Virgin Australia
Back to top
Supercharge your frequent flyer points with Points Finder