Overview of Virgin Australia 737-800
Travel in comfort in the intimate business class on Virgin Australia's 737-800.
Whether you're looking for space to relax or work, Virgin Australia's 737 business class cabin offers a combination of comfort and luxury. From the lounges to entertainment and dining options, you can use this overview to decide for yourself whether or not it's worth flying in business class with Virgin.
Pre-flight privileges
Flying Business Class means that you are able to benefit from a range of pre-flight privileges, including a larger baggage allowance of two 35kg bags as well as access to the Virgin Australia Lounge, where you can relax and work in a stylish environment.
As a Business Class flyer, you can also take advantage of priority boarding, where you can check your luggage in at the priority check-in facility available at the airport, then glide through boarding with your own dedicated priority boarding lane.
However, the priority boarding lane is only available in Brisbane, Sydney, Melbourne, Perth, Canberra, Adelaide, Hobart, Darwin and Cairns. You are invited to either board the aircraft first or whenever you prefer.
Another privilege is that if you are departing from Sydney, you are able to benefit from Sydney lounge premium entry and valet, where you're able to enjoy direct kerbside lounge access, optional valet parking and a dedicated security screening point.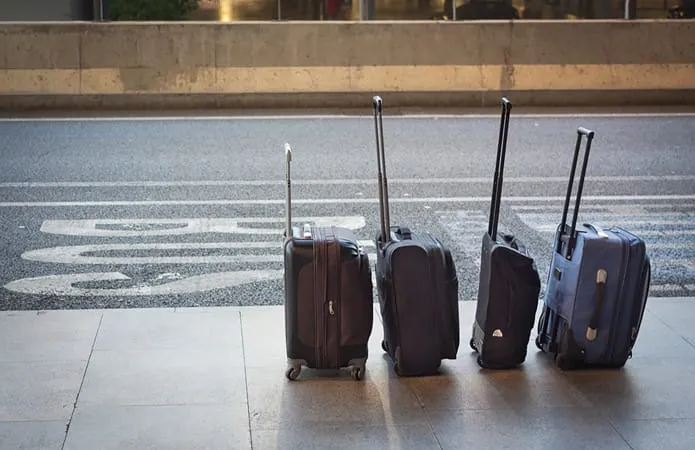 Frequent flyer perks
If you're a Velocity Frequent Flyer, you'll earn two Velocity Points per mile travelled in business class with Virgin Australia. This is a leg up from the 1.25 Velocity Points per mile you'd earn for Premium Economy or 0.5 Velocity Points per mile you'd pick up on most Economy flights.
Space and seating
The Virgin Australia 737-800 only boasts a small business class section, making for a more intimate setting. The seats are spread across two rows of a 2-2 configuration, adding up to eight seats in total.
The seats themselves are upholstered with luxurious leather and offer a generous 12.7cm recline for those who want to kick back and relax. The seats have a 95cm seat pitch and 49.5cm width, which is more than enough room for you to enjoy your flight in comfort.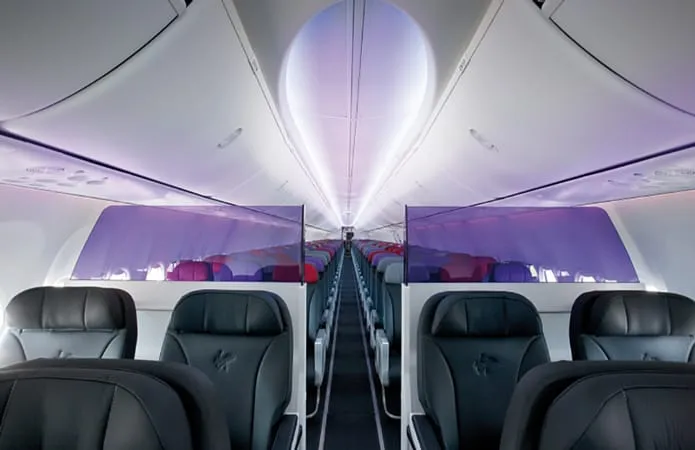 Amenities
If you are on a flight that is longer than three hours, you'll receive a blanket, pillow and amenities kit which includes an eye mask and premium headset.
Entertainment
You'll have plenty of content to keep you occupied when you fly in business class on the Virgin Australia 737-800. You'll be provided with a complimentary Samsung Galaxy tablet and headset which you can use to access Virgin's wireless in-flight entertainment system. You'll have access to hundreds of hours of movies, TV programs, music and more. You can also access the wireless entertainment system using your own device if you'd prefer.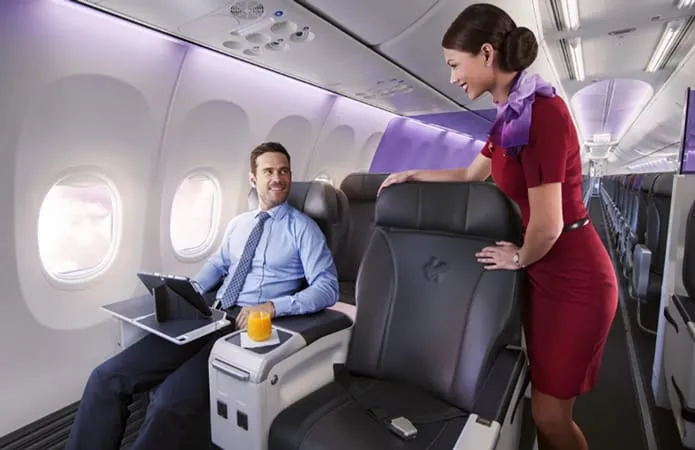 Dining and refreshments
With a sophisticated menu handcrafted by Australian chef Luke Mangan, you can expect meals fit for royalty when you fly in business class. If your flight is longer than two hours and 45 minutes, you'll enjoy a full three-course dining experience for lunch and dinner. Dining options include fresh salads, gourmet mains and desserts to satisfy your sweet tooth.
If you're travelling during the night, you can enjoy a quick snack shortly after departure and you'll wake up to a continental breakfast. If you're peckish in between meals, you can also enjoy items from Virgin Australia's light snack range.
You can also take your pick from a range of premium Australian beers, spirits and fine wines. If you'd prefer a non-alcoholic beverage, you can also request soft drinks, juices, fresh Nespresso coffee and Madame Flavour tea. The exact menus will vary depending on your flight, but you can view example menus on the Virgin Australia website.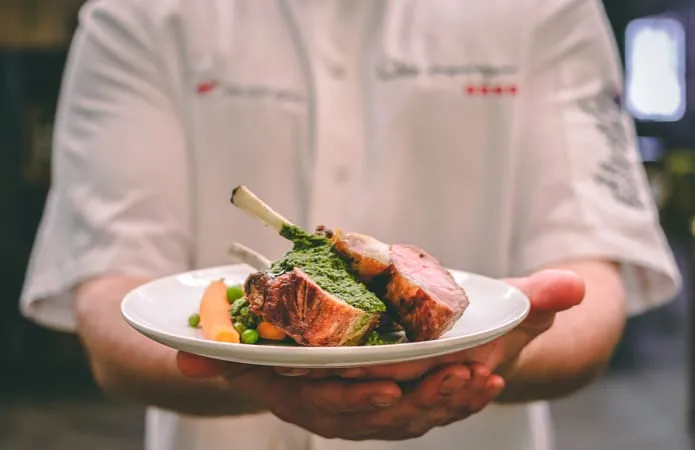 Where can I fly?

Adelaide - Alice Springs
Adelaide -Brisbane
Adelaide – Canberra
Adelaide – Darwin
Adelaide – Melbourne
Adelaide – Coolangatta
Adelaide – Perth
Adelaide – Sydney
Alice Springs – Darwin
Ayers Rock – Sydney
Broome – Perth
Brisbane – Canberra
Brisbane – Cairns
Brisbane – Darwin
Brisbane – Hobart
Brisbane – Hamilton Island
Brisbane – Launceston
Brisbane – Melbourne
Brisbane – Mackay
Brisbane – Newcastle
Brisbane – Perth
Brisbane – Proserpine
Brisbane – Rockhampton
Brisbane – Sydney
Brisbane – Townsville
Ballina – Sydney
Canberra – Melbourne
Canberra – Coolangatta
Canberra – Perth
Canberra – Sydney
Coffs Harbour – Sydney
Cairns – Melbourne
Cairns – Sydney
Darwin – Melbourne
Darwin – Perth
Darwin - Sydney
Hobart - Melbourne
Hobart - Sydney
Hamilton Island - Melbourne
Hamilton Island - Sydney
Harvey Bay - Sydney
Kalgoorlie-Boulder - Melbourne
Kalgoorlie-Boulder - Perth
Karratha -Perth
Launceston - Melbourne
Launceston - Sydney
Sunshine Coast - Melbourne
Sunshine Coast - Sydney
Melbourne - Mildura
Melbourne - Newcastle
Melbourne - Coolangatta
Melbourne - Perth
Melbourne - Sydney
Coolangatta - Sydney
Perth - Port Headland
Perth - Sydney
Perth - Newman
Sydney - Townsville
If you're curious about where else Virgin Australia flies to, click here to explore your options.
Virgin Australia's 737-800 offers one of the more intimate business class cabins flying out of Australia. With leather recliner seats and a gourmet menu, it offers most of the same creature comforts you'd expect from flying business with Virgin. One thing's for sure, you'll arrive to your next destination in style and comfort if you opt for business class on the 737.
Pictures: Virgin Australia
Back to top
Supercharge your frequent flyer points with Points Finder