Inspirational and romantic Valentine's Day quotes 2020
If you're searching for the perfect way to say "I love you" this Valentine's Day, quote a great and say it in style.
Sometimes when we look at the ones we love, we can get a bit lost for words. On Valentine's Day, you really want the right thing to say - so why not borrow a quote from a classic!
Whether you steal a line from an old romance movie, or even one from a funny TV show, quoting something sweet to your Valentine is a surefire way to win their heart and put a smile on their face.
---
Top 10 Valentine's Day quotes from TV
If you count Netflix as a hobby, chances are that your partner is the person you've been binge-watching with.
Let them know how much you've loved that bonding experience by including a quote from one of their favourite shows in a Valentine's Day card.
If you've spent hours upon hours watching everything from Game of Thrones to Brooklyn Nine-Nine, you might as well make use of that knowledge. Trust us, they'll be impressed with how much you remember!
Besides, there's no love story that hasn't been told in some way on the small screen. You just have to find the perfect quote from the right show and let it out.
Whether you've been together for years or are just plucking up the courage to confess your feelings, TV has your back.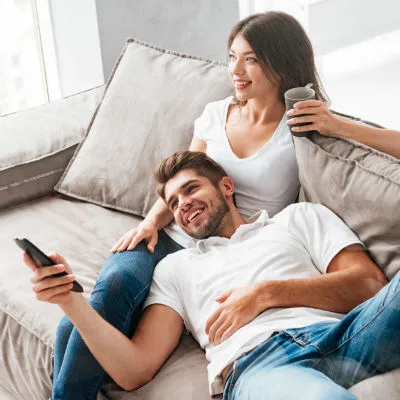 "When you're a kid, you assume your parents are soulmates. My kids are gonna be right about that." - Pam, The Office
- Khal Drogo, Game of Thrones
"The things that you have done for me to help me, support me, surprise me, to make me happy, go above and beyond what any person deserves. You're all I need. I love you and I like you." - Leslie Knope, Parks and Recreation
"It's like my life isn't even real to me unless you're there, and you're in it, and I'm sharing it with you." - Luke Danes, Gilmore Girls
"It's fate, it's destiny. We both like burritos." - Seth Cohen, The OC
"When you meet the right person, you know it. You can't stop thinking about them. They are your best friend and your soulmate. You can't wait to spend the rest of your life with them. No one and nothing else can compare." Ted, How I Met Your Mother
"Any surprises that come our way, it's okay, because I will always love you. You are the person I was meant to spend the rest of my life with." - Chandler, Friends
"I will always choose you." - Damon, The Vampire Diaries
"I never told you, but sometimes when I'm at work, I think of you and smile" - Homer, The Simpsons
"I love you. You annoy me more than I ever thought possible, but I want to spend every irritating minute with you." - Turk, Scrubs
---
Top 10 Valentine's Day quotes from movies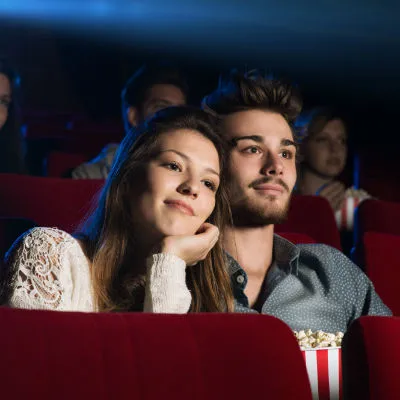 Most couples have probably had a date night at the movies, so there's bound to be at least one film that you both find sentimental.
Use those memories to create a Valentine's Day card in true Hollywood style - go big or go home!
Maybe one of you sobbed at the end of Finding Nemo, or maybe listening to them quote every second line from The Lord of The Rings made you realise they were the one.
Remind your loved one of why you're the best movie buddy and quote your favourite romantic lines this Valentine's Day.
Don't worry about being too cliché or cheesy - that's what the day is for!
"When you realize you want to spend the rest of your life with somebody, you want the rest of your life to start as soon as possible." - Harry, When Harry Met Sally

"I like you very much. Just as you are." - Mark, Bridget Jones' Diary

"I wish I had done everything on earth with you" - Daisy, The Great Gatsby

"It's like in that moment the whole universe existed just to bring us together." - Jonathan, Serendipity

"So it's not gonna be easy. It's gonna be really hard. We're gonna have to work at this every day, but I want to do that because I want you. I want all of you, forever, you and me, every day." - Noah, The Notebook

"Every morning I still wake up and the first thing I want to do is to see your face." - Gerry, PS I Love You

"Do you remember when we first met? I thought I had strayed into a dream." - Arwen/Aragorn, The Lord of The Rings: The Fellowship of the Ring

"It doesn't matter if the guy is perfect or the girl is perfect, as long as they are perfect for each other" - Sean, Good Will Hunting

"You should be kissed, every day, every hour, every minute." - Logan, The Lucky One

"When I look at you I can feel it. I look at you and I'm home." - Dory, Finding Nemo
---
Top 10 Valentine's Day quotes from songs
Whether your singing voice is on par with Adele, or perhaps best reserved for a shower performance, song lyrics can be a really fun way to tell your partner how much you love them.
Maybe you've taken a road trip where you just couldn't stop listening to this one song, or maybe you want to commemorate the song you first danced to at your wedding.
If your music taste is vastly different to your partner's, it's a great way to introduce some meaningful lyrics without forcing them to sit through a genre they may not appreciate.
Besides, if there's one thing we've learned from decades of hits, it's that song writers know how to woo.
So let them do the work for you with one of these quotes!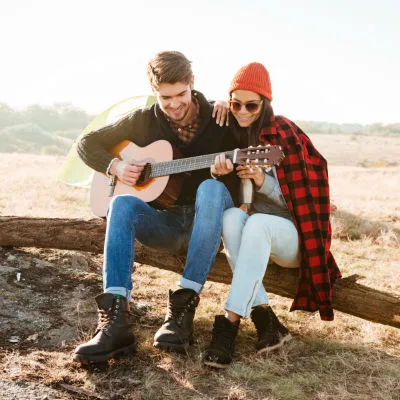 "Cause all of me loves all of you. Love your curves and all your edges, all your perfect imperfections." - John Legend, All of Me
"I could make you happy, make your dreams come true. Nothing that I wouldn't do. Go to the ends of the earth for you, to make you feel my love." - Adele, Make You Feel My Love
"I said I love and that's forever and this I promise from the heart. I could not love you any better, I love you just the way you are." - Billy Joel, Just The Way You Are
"When we first met I got so nervous I couldn't speak. In that very moment I found the one and my life had found its missing piece." - Shane Filan, Beautiful In White
"Whenever I'm alone with you, you make me feel like I am home again" - The Cure, Lovesong
"The long and winding road that leads to your door will never disappear. I've seen that road before, it always leads me here." - The Beatles, The Long and Winding Road
"I will always love you." - Whitney Houston, I Will Always Love You
"I've been with you such a long time. You're my sunshine and I want you to know that my feelings are true- I really love you. Oh, you're my best friend." - Queen, You're My Best Friend
"Oh, and you look as beautiful as ever, and I swear that everyday you'll get better" - James Arthur, Say You Won't Let Go
"It's warm and real and bright, and the world has somehow shifted. All at once everything looks different, now that I see you." - Zachary Levi and Mandy Moore (Tangled), I See The Light
---
Top 10 Valentine's Day quotes from poetry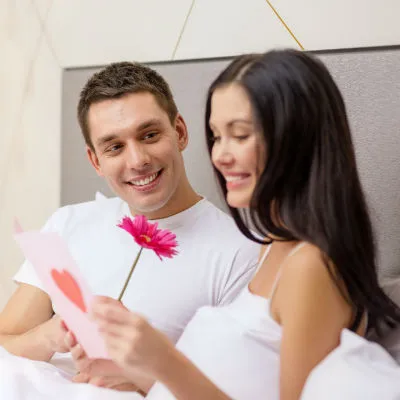 There's nothing quite as traditionally romantic as poetry, so take a leaf out of the books of Wordsworth and Tennyson and go old school.
If your partner is a true romantic, they'll appreciate the effort you've taken to research and find the perfect line, or even stanza, to show how much they mean to you.
Picture this: you're out on a Valentine's Day date. Candles are lit, the atmosphere is perfect and you've decided to splurge for some flowers just because you can.
Add in a romantic line of poetry to your Valentine's Day card and we guarantee you're going to be winning major points.
Besides, if you can't break out the poetry on Valentine's Day, when can you?
You know you're in love when you don't want to fall asleep because reality is finally better than your dreams - Dr. Seuss
For you see, each day I love you more. Today more than yesterday and less than tomorrow - Rosemonde Gerard
She walks in beauty, like the night / Of cloudless climes and starry skies; / And all that's best of dark and bright Meet in her aspect and her eyes - Lord Tennyson
Our love is old and sure, not new and frantic / You know I'm yours and I know you are mine / And saying that has made me feel romantic / My dearest love, my darling valentine - Wendy Cope
I am in you and you in me, mutual in divine love - William Blake
I'll love you, dear, I'll love you till China and Africa meet and the river jumps over the mountain and the salmon sing in the street - W. H. Auden
I carry your heart with me (I carry it in my heart) - e.e. cummings
I love thee to the depth and breadth and height my soul can reach - Elizabeth Barrett Browning
I love you without knowing how, or when, or from where - Pablo Neruda
When you look at me, when you think of me, I am in paradise - William Makepeace Thackeray
---
Top 10 Valentine's Day quotes from books
Book-lovers know just how important it is to get the words right, so when it comes to a Valentine's Day you'll want to choose carefully.
Do you and your partner read the same books? Easy, choose a passage or line you both enjoy!
Not a book fan but your partner is? Well, first of all good on you for taking notice of your partner's interests. Is your partner's favourite book not on this list? Just have a cheeky Google to find out.
This works particularly well if you know they've got a crush on a fictional character. Bonus points if you can find (or make) a card with their favourite character on it!
Either way, when it comes to quotes there's nothing quite so reliable as a book.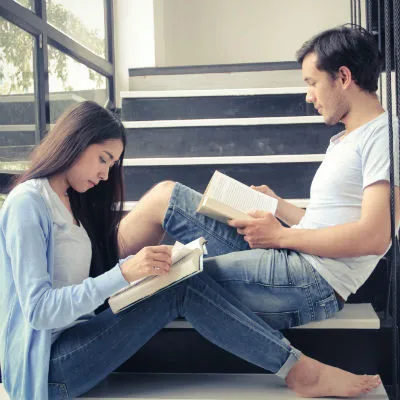 "Your face is my heart, Sassenach, and the love of you is my soul." -Diana Gabaldon, Outlander
"In one respect I have succeeded as gloriously as anyone who's ever lived: I've loved another with all my heart and soul; and to me, this has always been enough." - Nicholas Sparks, The Notebook
"Grow old along with me! The best is yet to be." - Robert Browning, Rabbi Ben Ezra
"You deserve to be kissed and often, and by someone who knows how." - Margaret Mitchell, Gone With The Wind
"Whatever our souls are made of, his and mine are the same." - Emily Bronte, Wuthering Heights
"If you live to be a hundred, I want to live to be a hundred minus one day, so I never have to live without you." - A. A. Milne, Winnie the Pooh
"I've never had a moment's doubt. I love you. I believe in you completely. You are my dearest one. My reason for life." - Ian McEwan, Atonement
"True love is the best thing in the world, except for cough drops." - William Goldman, The Princess Bride
"What I feel for her is a wholly different emotion. It stands and walks on its own, living and breathing and throbbing and shaking me to the roots of my being." -Haruki Murakami, Norwegian Wood
"I would rather share one lifetime with you than face all the ages of this world alone." – J.R.R Tolkein, The Lord of the Rings: The Fellowship of the Ring
---
How to give your quote as a gift:
You don't just need to stick to flowers and chocolates for Valentine's Day. Once you've found your perfect message, get creative and think of an original way to present it. Here are some ideas:
A handwritten note on handmade paper is a personal way to say 'I love you'.
Collect your favourite photos of you and your Valentine together and get them made into a fold-out card, or small book. You can include your quote/s between the pages and sign off at the end with a personal sentiment.
Mount your message onto a glass block or a metal plate to be displayed around the house.
Have your quote printed on something your Valentine can use, like a pillowcase or a coffee cup. It's a bit kitsch, but your partner will love drinking their coffee out of a mug that reminds them every day how much you adore them.
Put it in a card. It might not be the most original idea, but if you find an adorable card and fill it with personal sentiments, it's a guaranteed way to put a smile on your loved one's face. Read on to shop the cutest selection of Valentine's Day cards.
---
Where to buy cards and stationery to present your quote on 2020
Top cute Valentine's Day cards
---
Looking for a gift to go with the card? We've got you sorted with our gift guides:
---
Valentine's Day deals and discounts:
---
More Valentine's Day ideas
Main image: Pinterest
Related Posts