How You Can Use a Debit Card to Access Your Offset Account
Offset accounts can potentially save you thousands in interest over the life of your loan, and can be accessed with a debit card
We're reader-supported and may be paid when you visit links to partner sites. We don't compare all products in the market, but we're working on it!
If your loan has an offset account attached to it, it may be worth asking your banking institution if there is a debit card you can link to it. People with offset accounts linked to their savings accounts or debit cards could have the ability to withdraw cash.
An offset account consists of any mortgage overpayments, which are in excess of the scheduled repayments and charged interest. If you have an overpayment, it will be transferred to the offset account instead of coming off the mortgage. This will mean that the funds can be withdrawn any time by the borrower. If the borrower does not make a payment in a month, then the funds will be withdrawn from the overpayment account.
Interest is not usually charged on the balance and the mortgage interest will be higher than it is on the savings account. In addition, the interest is also going to be free of any tax obligations because technically the interest on a mortgage has no tax relief.
Overpayment can take place via direct payment into the mortgage account, which can then be withdrawn via redraw privileges. These privileges give the borrower the ability to automatically withdraw overpayments from the mortgage. Unlike the offset account, a borrower who exercises the rights to redraw may incur a fee, which may utterly reduce the advantage of a good interest rate when money is put into the mortgage.
It is worth keeping in mind that some banks and credit unions place a minimum withdrawal amount on an offset account. Make sure to check with your bank first.
About fixed rate home loans with 100% offset accounts
Did you know?
Overpayment is considered a type of savings. However, the funds can be instantly accessed at any time in an offset account.
Transaction account debit card access
One significant and noticeable difference with a transaction account debit card is that it often facilitates overdraft. This means the borrower could take an unapproved overdraft, which accompanies a fee and a high interest rate.
One single transaction on this account may cost the cardholder a high fee and triggered penalties because it will appear as if the user has reached the overdraft limit. Offset account holders don't have to experience this since there are no overdraft facilities. If the cardholder runs out of funds, the debit card transaction is turned down.
Offset accounts can be added to your variable rate mortgage loan. It connects to a normal savings account and utilizes your account balance to offset the balance on your mortgage loan. You will pay less interest on your home mortgage loan when you have more funds in your connected savings account.
How offset accounts perform
When you buy a home, the lender will usually charge interest on the entire loan balance. When you add the offset feature to your home loan, it changes this scenario. Rather than having to pay interest on the entire home loan balance, the lender subtracts the interest on the home loan balance from the funds you have in your connected savings account.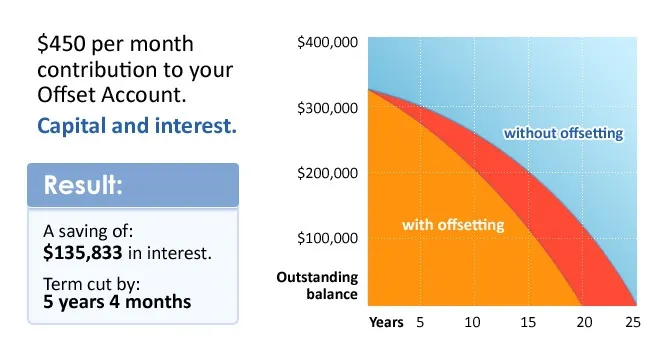 Read on to find out how Mary and Steve accessed their overpayments to budget for a baby
Case study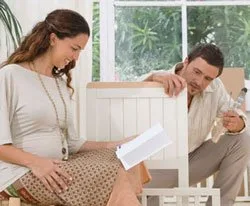 Mary and Steve have a home loan balance of $340,000 and have built up a considerable amount of $7,500 in their connected offset savings account. They have been over paying their loan for a few years now and are expecting their first baby in a few months.
Whilst preparing for the arrival of the newborn by fitting out the spare room, they have had the option of spending on their credit card or using their offset account Visa Debit card. They opt to use the debit card and withdrawn from their offset account.
This way they can reduce the amount of interest paid, i.e. 20.24% p.a. on their credit card as opposed to 5.72% p.a. on their home loan balance. Once the room has been fitted, they have spent $3,500, leaving $4,000 left in the offset account.
This now means they are only paying interest on their new loan amount of $336,000.
Compare home loans with offset accounts
By utilising a debit card transaction account in conjunction with your offset account, you can get access to your funds when you need them. Basically you are paying interest on the total outstanding minus the amount you have in savings. The incentive is to save more.
More guides on Finder