USB-C hub buying guide: How to find the best USB-C hub
Learn how to choose the right USB-C hub to future-proof your tech products.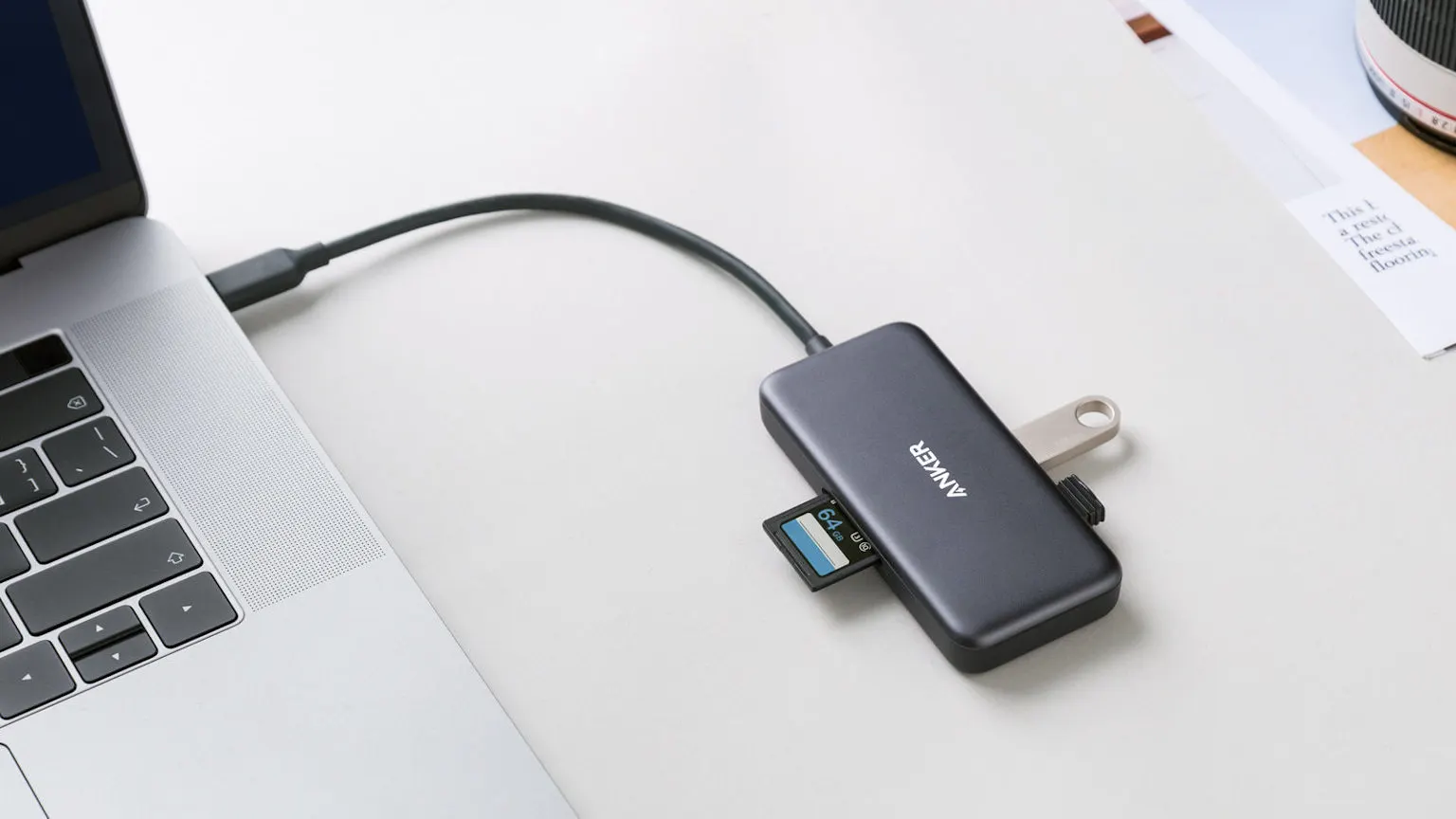 We're reader-supported and may be paid when you visit links to partner sites. We don't compare all products in the market, but we're working on it!
Quick facts about USB-C hubs
USB-C is the main connector type for most new phones, laptops and gadgets.
USB-C hubs let you connect older devices to newer laptops.
They also increase the number of devices you can connect to your laptop simultaneously.
New USB-C hubs cost anywhere from $50 to $150, depending on the brand, number of ports and extra features.
How do USB-C hubs work?
USB-C is fast becoming the main technology for connecting and charging devices. It has been lauded as a future-proof, universal standard that is more powerful and user-friendly than previous USB types. The USB Implementers Forum developed the USB-C connector, which is currently the fastest and most powerful cable connection on the market. The organisation's membership is comprised of more than 700 technology companies, including Microsoft, Apple, Samsung, Hewlett-Packard (HP), NEC, Dell and Intel. Given this extensive and authoritative roster, USB-C has quickly become the most popular connection type on the market.
The majority of new computers, laptops, phones and external hard drives now come with USB-C. Purchasing a USB-C hub can be a cost-efficient way to continue to use your current devices if your PC or Mac only supports this new format. They also allow you to connect extra peripherals to lightweight laptops that typically only have two or three ports.
Universal Serial Bus (USB) ports are found on most computers. These ports allow you to connect external devices to your computer. There are different types of USBs and different standards for what you can connect to the other end of the USB cable.
What types of USB connectors are available?
| | Design | Usage |
| --- | --- | --- |
| Type-A | Flat and rectangular | Standard connector for many computers, TVs and gaming consoles |
| Type-B | Square shaped | Often used in printers and other computer accessories |
| Type-C | Reversible rectangular shape | Universal connector for computers, phones, gaming consoles and more |
| Mini-USB | Small and rectangular | Used to connect older mobile phones and cameras to computers |
| Micro-USB | Smaller than mini-USB | The previous standard for smartphones, tablets and other small devices |
A USB-C hub allows users to connect multiple non-USB-C devices to laptops and desktop computers that support USB-C. Many new laptops only possess USB-C ports due to their compact and slim design, so a USB-C hub will let you connect your non-USB-C devices to your new laptop.
Our guide explains the different types of USB-C hubs that are available, so you can purchase the device that best suits your needs and budget. We'll detail the important features and provide essential information on where to buy one and what you can expect to pay.
USB-C costs
A new USB-C hub will typically set you back between $50 and $150. Some hubs can exceed this price bracket and costs vary depending on the brand, model and technical features. It's helpful to know what specific types of ports you'll need as well as the power capabilities you'll require. You should also think about how frequently you'll be transporting/carrying the hub. Understanding these details will help to determine the size, weight and layout of your USB-C hub and whether you need pass-through power. (Pass-through power means the USB-Hub can charge compatible devices while they are connected.)
USB-C hubs come in a range of styles, designs and offer a variety of different features.
How to compare USB-C hubs
When choosing a USB-C hub, consider the following factors:
Connection types
Most USB-C hubs provide a variety of connection ports for different types of devices. This may include USB-C, USB-A, Micro-USB, HDMI, DisplayPort and SD card slots for your memory cards. Work out the types of ports you need and make sure they are all included.
Number of ports
How many products do you intend to connect to the hub at the same time? This is an important consideration if you plan to use multiple peripherals simultaneously. For example, plugging in a mouse, keyboard and external hard drive will require a minimum of three USB ports.
Transfer speeds
USB-C hubs are an ideal way to transfer large amounts of data between devices. It's important that you check the specifications to learn how much output power your hub offers. Look for a maximum data-transfer rate of up to 5Gbps and check online user reviews to determine the actual data-transfer speed as not all hubs live up to their advertised rate.
Pass-through power
Most USB-C hubs can be powered by the laptop or computer they are connected to. They can also pass on any excess power to connected devices – charging your phone, for example. Just be mindful that connecting multiple or high-power devices will affect the hub's ability to pass on the required power. In some cases, you may need to connect your USB-C hub to an external power outlet. Check to see that your hub has this capacity if this is something you'll require.
SD or MicroSD?
If you require a memory card slot, check the hub's specifications to see what size card it takes. A standard SD card slot is preferable, as you'll still be able to use MicroSD via an adaptor.
Laptop charging
Some USB-C hubs are powerful enough to charge your laptop via the USB connection. Check the USB hub's product page to see if this feature is included for your laptop. (Look for a power pass-through rating of at least 100W.)
Design
USB-C hubs come in a wide variety of shapes and finishes – from narrow columns of colourful plastic to squat cubes of brushed aluminium. Some are better suited to portability while others are designed to stay on your desk.
Dimensions and Weight
You might think that most USB-C hubs would be similar in size, but this isn't always the case. Some are larger and bulkier than others. If you plan on taking your hub on the road with you for work or pleasure, consider purchasing a lighter, sleeker product more suited for travel.
Extra cables
Most USB-C hubs don't come with the various cables you'll need to connect your external devices. Make sure you have all the necessary cables to hook up your gadgets. For example, some hubs come with a mini HDMI port. This means you will need an HDMI Type-A to Type-C cable to connect to TVs and monitors.
Where to buy USB-C hubs in Australia
The most convenient way to buy USB-C hubs is to shop online. Regardless of your budget or specific requirements, retailers generally offer the same deals and products online as they do in-store. In some cases, they'll also offer exclusive online-only prices and discounts. You can see some of the best USB hub providers below.
More guides on Finder