Should you upgrade to the new Apple TV?
Does the new Apple TV make sense if you've got an older model?
The Apple TV hasn't always been the star of the show as far as Apple's concerned, with the tiny black set-top box often relegated to the side walls of Apple's own iconic stores, and upgrades years apart from a company that otherwise loves a yearly upgrade cycle. Still, Apple has sold a lot of the first three generations of Apple TV to consumers over the years, despite the general lack of focus from the company.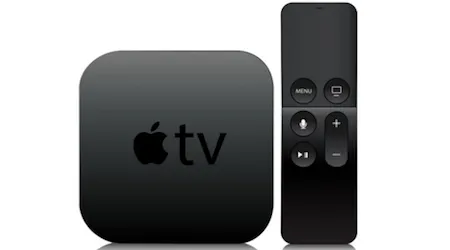 Buy Apple TV
from Apple Store
It might not look much different on the outside, but 2016's Apple TV is packed with awesome new features, like voice control, a touch-sensitive remote and gaming.
View details
That looks set to change with the fourth-generation Apple TV, which runs Apple's new tvOS platform, finally bringing iOS-style apps to your TV. The new Apple TV is on sale now. Here's a basic rundown of its specifications:
| Spec | Details |
| --- | --- |
| Processor | 64-bit Apple A8 processor |
| Storage | 32/64GB |
| Wireless | Wi-Fi 802.11ac with MIMO* |
| Video Output | HDMI Support |
| Receiver | Integrated circuit (IC) |
| Wired connection | 10/100 Ethernet |
| Remote | Glass touch controls, gyroscope and accelerometer |
| Remote connection | Bluetooth 4.0 |
| Remote charging | Lightning cable (iPhone 5 and up) |
| Remote battery life | 3 hours with full charge |
| Software | iOS 9 rebranded as tvOS: App store access and Siri support |
| Australian Price 32GB | $269.00 |
| Australian Price 64GB | $349.00 |
| Release date | Available now |
If you own a standard flat panel sans Smart TV features, the argument for getting an Apple TV is subtly different, and we'll address that in our full review, coming soon.
But what if you're an existing owner of an Apple TV? Apple hasn't actually discontinued the 3rd generation Apple TV just yet, which you can pick up for a comparatively inexpensive $109. It's almost certainly not going to see much in the way of future operating system upgrades, but does that justify the upgrade to the 4th generation model right away? Having had some testing time with the new unit, here are our observations.
Upsides: Upgrading your Apple TV
Integrated Push-To-Talk Siri: Being able to press the microphone button on the Siri Remote and query for searches or quickly rewind a set amount isn't just a cool party trick. It's surprisingly useful if you missed a snippet of dialogue or just want to lazily search for content to watch.
Content-aware search: Apple loves its own ecosystem, so naturally iTunes is present when you search for content to watch. However, Apple has been fairly open here, allowing content services such as Netflix and Hulu Plus to also deliver results that open directly when you select them.
HDMI-CEC works really well: Apple didn't invent HDMI-CEC, an industry standard for HDMI devices to talk to each other and share commands, but the integration within the Apple TV is incredibly smooth. On our test LG TV, which is a couple of years old, the Siri Remote automatically handled volume controls without us having to do anything at all.
Cleaner and faster interface: There's no denying that the Apple TV interface was getting a little long in the tooth. The 4th generation Apple TV's interface is much brighter, with more onscreen information and a faster overall experience that gets you into your entertainment options much more rapidly.
New OS updates: Apple isn't officially discontinuing the third generation Apple TV just yet, but the odds of future OS upgrades aren't all that high. The fourth generation TV is clearly going to be Apple's ongoing focus.
A bright App future: The key secret sauce in the fourth generation Apple TV is the ability for it to run Apps via either the included Siri remote, or any MFI-compatible game controller. The primary focus at launch is largely game-centric, with a variety of iOS-style casual games apps and some more in-depth titles already available. As an added plus, developers can opt to make iOS apps "Universal", which means if you buy them for your iPhone or iPad, you'll automatically qualify for the tvOS version for no extra charge
Downsides: Upgrading your Apple TV
The TV content remains the same: The UI is improved, but what you're able to watch remains the same, which means if you primarily only use your Apple TV for video purposes and don't feel compelled right now by the promise of apps, you're going to be able to continue to do so for the time being.
You can run apps on the big screen right now (sort of): If you have existing apps on an iPhone or iPad, you can generally send them via Airplay to your Apple TV. There are exceptions to this -- most notably, Foxtel explicitly blocks it for its Foxtel Play (now known as Foxtel Now) app for iOS -- but for many app styles you can already go big screen if that's what you want.
Siri searches are limited: Right now in Australia if you're signed in with an Australian iTunes account, you're going to be limited to content searches across the local iTunes video catalog and Netflix Australia's content library only. There's no Presto, no Stan, no ABC iView or any other service within the search matrix. It's only marginally better in the US, where HBO Now, Hulu Plus and Showtime are also available. Some other Siri contextual commands do work across other apps, but it's a very hit-and-miss affair at this point in time.
The App store is a mess: The situation with tvOS apps is incredibly similar to the original version of the app store that launched back with the iPhone 3G. App availability is somewhat limited, but even the store layout is messy and hard to search, with no Siri support to speak of.
Apple's remote app doesn't work: If you buy the 4th generation Apple TV, the good news is that your existing Apple TV remote will work for basic operations, but not functions such as Siri. What doesn't work at all right now for the most baffling of reasons is Apple's own iOS Remote app. If you're used to using an iPhone or iPad as a touchscreen Apple remote, you're out of luck. This is particularly painful because the 4th generation Apple TV uses a single line style text entry methodology, which is slow and fiddly. Hopefully Apple will change this very soon indeed.