Updating your business equipment
If you're looking for new equipment, you can consider a lease or other financing options to help upgrade your equipment without the costly upfront purchase price.
We're reader-supported and may be paid when you visit links to partner sites. We don't compare all products in the market, but we're working on it!
Your equipment often plays a vital role in the success of your business. Whether it's the latest IT software, heavy machinery, office items or other equipment, finding the right financing option can help you eliminate costly funding required for upfront purchasing.
Should I purchase or lease my business equipment?
Consider the following factors when choosing between leasing or purchasing equipment:
Equipment life span. Purchasing is usually appropriate for equipment with a long life span, while leasing is better suited to equipment with a shorter life span
Cash flow. Having consistent cash flow gives you access to both options, though leasing is generally better suited for businesses in a cash flow squeeze. If you'd like to manage your cash flow effectively, invoice financing could be an option. Compare the products below.
Control. Purchasing equipment means it's yours to use as you see fit. On the other hand, if you're leasing, the leasing company keeps ownership, so certain restrictions may be imposed on the equipment's use.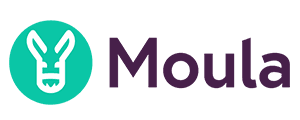 Moula Business Loan
Borrow up to $250,000
Flexible lending criteria
No hidden fees

100% confidential application
Moula Business Loan
An unsecured business loan with online application and no upfront or early repayment fees.
Interest rate type: Fixed
Loan security: Unsecured
Upfront fee: 2% Establishment fee
Minimum loan amount: $5,000
Maximum loan amount: $250,000
Maximum loan term: 2 years
Business lenders you can compare
Where can I get finance to update my business equipment?
Equipment/commercial loans. These loans can help you finance equipment that's put up as security for your loan. You make monthly repayments based on a pre-agreed interest rate.
Lease. Companies selling your equipment may offer to lease it to you, which means little-to-no deposit and flexible monthly repayments. At the end of the term, you can either purchase the equipment outright, forego the equipment or renew the lease.
Hire purchase. This involves a financier buying equipment on your behalf, with you then purchasing it from them in installments. Be aware that your lender will own the equipment until you pay off the loan.
Chattel mortgage. Here, a lender advances you funds to buy equipment that you claim ownership of at purchase. You then mortgage the equipment to your lender as security and, when the loan is repaid in full, you receive a clear title to your equipment. Chattel mortgages may also offer significant tax deductions.
Insurance considerations
When deciding on insurance, you may choose to deal directly with the insurance companies, an agent on their behalf or a broker. Insurance companies look to maximise premiums while brokers help you look for the best deal.Even though brokers work for a small fee, it still may be worth using one to find the best deal. Although you can shop around on your own, insurance policies can be complex and a broker can help you work through the product intricacies.
Even though brokers work for a small fee, it still may be worth using one to find the best deal. Although you can shop around on your own, insurance policies can be complex and a broker can help you work through the product intricacies.
How much does updating my business equipment cost?
Keep in mind the following factors when comparing the cost of different options:
Deposits. Most purchase financing options, and some lease types, require putting a down payment on your equipment. Make sure you're fully aware of any down payments that are required and how this will affect your short-term cash flow.
Interest rate. As this has a big influence on what you will be paying, make sure you're looking for the lowest rates possible. Also, consider whether a fixed or a variable rate works better for you. If you can't risk an upwards-spike in the variable rate, then opt for a fixed rate.
Fees and charges. Make sure you're aware of all the fees and charges for each option. Read the fine print to uncover any indirect fees, such as early repayment penalties and establishment fees.
Tax benefits. Each finance option is assessed differently at tax time and each has its own potential tax benefits. Ask your financial adviser or accountant to find out which option might work best for you.
Is there anything else I should consider before I apply?
With endless equipment financing options available, things can get confusing. You can seek the help of your financial adviser or accountant to make sure you've made the right choice. Also, be cautious about not selecting financing that you simply can't afford over the long term.
If managed properly, leasing or financing your equipment can be a practical option for acquiring the equipment you need even if you don't have the necessary cash upfront.
Image: Shutterstock
More guides on Finder