Upcoming hybrid and electric car comparison
Here are the incoming hybrid and electric cars launching over the next few years.
We're reader-supported and may be paid when you visit links to partner sites. We don't compare all products in the market, but we're working on it!
A comparison of soon to launch hybrid and electric vehicles
Over the next few years, there is a shedload of hybrid and electric vehicles launching. Here's a comparison of the new green vehicles coming soon.
Hybrids
Here are some of the new hybrids, both Mild Hybrid Electric Vehicles (MHEV) and Plug-In Hybrid Vehicles (PHEV), coming before 2023.
Toyota C-HR Koba MHEV
If you look on the Toyota website, you'll see you can order the C-HR Koba online right now. C-HR stands for both Compact High Rider and Cross Hatch Run-about.
The Koba has a 1.8-litre petrol engine paired with a Toyota Hybrid System and automatic CVT gearbox. The compact SUV is built on Toyota's New Global Architecture (TNGA). It has an interesting Nanoe E air-con system, which is supposed to purify the cabin air. The C-HR also has Toyota Safety Sense, with all kinds of advanced safety assists, and front seats with three-stage, dual-zone heating.
Combined fuel economy: 4.3L/100km
Range: N/A
Price: $41,607 drive-away
Launch: Available for order now
Summary: The C-HR is a compact, mild hybrid SUV crossover for a reasonable drive-away price. When you buy a C-HR, you're getting a fuel-efficient and small hybrid suited for urban drivers.
---

MG HS PHEV
MG recently launched its first electric car, the ZS EV. That car is the cheapest EV on sale in Australia right now. Straight off the back of that launch, MG is readying to launch a plug-in hybrid in the first quarter of 2021. It was first shown at the Chinese auto show in 2019, and it is known as the MG HS PHEV.
It seems almost certain the model will be one of the most cost-effective PHEVs when it goes on sale in Australia. The specs are pretty decent too. It has a 16.6kWh battery, which should translate to a very useable 75 kilometres of electric-only range. In the engine bay, MG installs a 1.5-litre four-pot petrol, with 125kW, plus there's a 90kW motor. All told, the MG HS is pumping out 215kW combined, with 480Nm.
Combined fuel economy: TBC
Range: 75km
Price: TBC
Launch: Q1 2021
Recharge time: TBC
Summary: It's not a deadset, but the MG HS could be the cheapest plug-in hybrid in Australia. The company is performing well in the sales charts and its range offers a surprisingly high-spec vehicle for not much money. If you're looking for a hybrid, but don't want to spend too much, you might want to wait for the launch early next year.
---

Volvo XC40 Recharge PHEV
Swedish car manufacturer Volvo has announced that it's ditching diesel and by mid-2021, will be producing only hybrid and electric vehicles.
The XC40 Recharge launch has been delayed until 2021, due to the COVID-19 pandemic.
As you'd expect from a Volvo, the feature list is extensive. Highlights include a cabin air filtering system which monitors incoming air, keyless entry, dimming exterior mirrors, a charcoal interior roof headlining, a power-opening boot and a comprehensive suite of advanced safety features.
Power is rated for 132kW, from its 1.5-litre 3-cylinder turbocharged petrol engine. A 10.7kWh battery gives the XC40 PHEV a 46km range.
Combined fuel economy: 2.2L/100km
Range: 46km
Price: $71,508 drive-away
Launch: 2021
Summary: When you want luxury, a stellar safety reputation and excellent build quality, you think Volvo. The compact XC40 Recharge SUV will be popular with urban and rural drivers thanks to its decent 46km range and super frugal 2.2L/100km fuel economy. Plus, Volvos are classy without the same air of ostentatiousness you'd project by owning a similar vehicle from more flashy rivals.
---

Mitsubishi Outlander PHEV
The Outlander plug-in hybrid is one of the most established PHEVs, having premiered in 2013. The 2022 model will be the fourth generation of the SUV, and it could share a platform with the next Nissan X-Trail. Details are scarce, but it's a bold-looking SUV, that will surely arrive in Australia as a PHEV.
Combined fuel economy: TBC
Range: Up to 70km (TBC)
Price: TBC
Launch: Q2/3 2021
Summary: The Outlander has been the benchmark PHEV for the longest time, but it's getting a bit long in the tooth. Rivals have overtaken the model's range and specs. Plus, the design is a few years old now, so the new look and re-designed architecture should breathe new life into the Outlander. Expect improved fuel economy and electric range too.
---

Toyota Corolla Cross Hybrid
Another new hybrid based on Toyota's TNGA platform is coming in late 2022. The crossover Corolla looks set to have a 1.8-litre petrol engine with 72kW and 142Nm, and a 53kW electric motor that adds 163Nm to the mix. The current Corolla and Lexus UX both use the TNGA-C platform. However, Australia-market models may have a different engine upon launch.
The Corolla Cross has already gone on sale in some markets, namely, Thailand (October 2020). There, it has LED headlights, dual-zone air-con and a 440-litre boot.
Combined fuel economy: 4.3L/100km*
Range: N/A
Price: TBC
Launch: 2022
Summary: This model will slot between the C-HR and the RAV4. Then, the Toyota range will mirror Mazda's expanded SUV line-up after the addition of the CX-30. This could be a very popular model with buyers when it arrives. It'll be interesting to test out the differences the raised body style makes to the interior layout and design.
---

Mitsubishi Eclipse Cross PHEV
Next year, Mitsubishi will update its compact size SUV, the Eclipse Cross. As part of the redesign, the model will receive a plug-in hybrid system, shared with the Mitsubishi Outlander. Innovatively, the car can also be connected to a compatible electric network for not just charging reasons, but also to direct battery power to the grid.
Combined fuel economy: TBC
Range: 57.3km
Price: TBC
Launch: Mid-2021
Summary: The Eclipse Cross SUV looks like it could find an audience both with rural and urban drivers. AWD options will be popular with those who need to travel on gravel roads. It has a compact form but should offer a reasonable amount of cargo space. The range is very usable, especially around town. One to keep an eye on.
---

Toyota Kluger MHEV
Known as the Highlander elsewhere, the Kluger will go hybrid next year. The AWD vehicle is described as a "self-charging" model in other markets. Of course, you need to put fuel in for it to do this.
In the UK, the vehicle has a 2,000kg towing capacity and a 2.5-litre petrol engine with two motors. There, the combined power output is 179kW. Combined WLTP economy figures for the Kluger, in the UK, are 5.49L/100km.
Combined fuel economy: 5.49L/100km*
Range: N/A
Price: TBC
Launch: Q1/2 2021
Summary: Reports suggest that this is going to be a seven-seater hybrid, which are reasonably rare. Prices are yet to be fully finalised, but the Kluger could be an ideal family car. It might also be an ideal SUV for dog owners. Internet commenters are predicting this model will be a very easy sell.
---

Kia Sorento MHEV/PHEV
It looks like the Kluger won't launch without competition. Kia is evidently planning to release a plug-in and mild hybrid version of its seven-seater Sorento SUV. Details are scarce, though one motoring journalist observed it could make the Sorento one of the only vehicles with a choice of all major powertrains with everything from diesel to plug-in hybrid power.
Some of the more interesting features expected include a key-operated self-parking function and Kia's unique DriverTalk intercom system, which allows the driver to speak with third-row passengers.
Combined fuel economy: TBC
Range: 40-50km est. (plug-in)
Price: TBC
Launch: 2021
Summary: The Sorento hybrid looks like it could be another hit with families, with a large boot space, fold-down third-row, and fuel-saving hybrid technology to boot. It will doubtless appeal to drivers in the suburbs too.
---

Hyundai Santa Fe MHEV
Speaking of the Sorento, its twin-under-the-skin, the Hyundai Santa Fe shares the same N platform. Hyundai told the Australian motoring media that a mild-hybrid is on the books for Australia. A Santa Fe hybrid is expected to launch by mid-2021.
Journalists anticipate it will have a 1.6-litre turbocharged petrol engine, along with a 1.49kWh battery and a 44kW electric motor. Combined output should be 169kW and 350Nm. International market models have advanced driving assist. Other reports suggest the hybrid Santa Fe is an AWD.
It is thought that there might not be a plug-in hybrid version for Australia just yet.
Combined fuel economy: TBC
Range: N/A.
Price: TBC
Launch: Mid-2021
Summary: Hyundai's decent-seller, the Santa Fe, looks set to remain as such for the 2021 model year. Adding a hybrid option is a smart move, but buyers might also miss the option to buy a PHEV.
---

Mazda MX-30 MHEV
Also capitalising on the market demand for SUVs of all sizes is Mazda, with the MX-30 crossover. The hybrid is expected to launch sometime next year. In Japan, the hybrid has already launched and there, it has 115kW of power and almost 200Nm of torque. It's powered by a 2.0-litre petrol engine.
The back doors are super cool trailing-edge hinged style ones, often called "suicide doors". It should be noted that Mazda calls them "freestyle" doors, like the ones fitted to the Mazda RX8.
Thanks to those clamshell doors, the MX-30's exterior is super futuristic and reductionist.
Combined fuel economy: 6.4L/100km*
Range: N/A.
Price: TBC
Launch: Q1/2 2021
Summary: The fully electric version of this Mazda is making more headlines, but the hybrid could be the one that serves as a more appetising stepping stone from conventional motoring to battery power.
---
Hyundai Tucson PHEV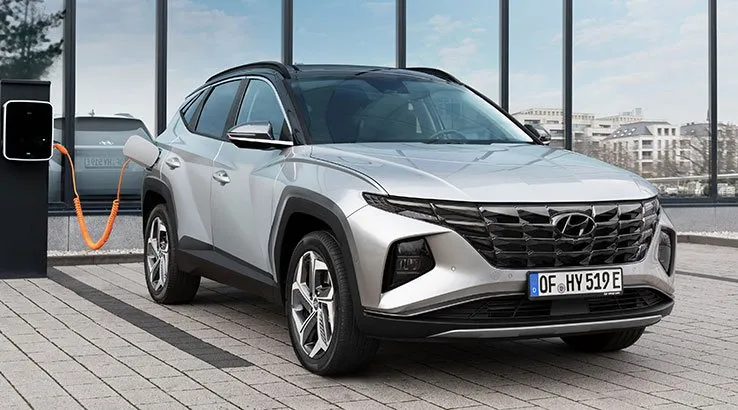 Hyundai hasn't committed to bringing a plug-in hybrid Tucson here, but other markets are getting one.
The specs sound thoroughly practical. A 1.6-litre turbo petrol teams up with an electric motor to produce a combined 195kW and 350Nm. It has an AWD system and a 13.8kWh battery. The Tucson also boasts an impressive 558-litre boot.
It looks like Europe will get the model in the first quarter of 2021, but Hyundai Australia has not yet confirmed if it will bring it here. The model is very modern looking, especially so with the front grille that has discrete LED lights housed within it. An app lets owners operate the vehicle's climate control and seat heaters remotely.
Combined fuel economy: TBC
Range: 49.88km
Price: TBC
Launch: Q1 2021 (Europe)
Summary: At the moment, we don't know if a Tucson plug-in hybrid is coming here, but if Hyundai Australia registers enough interest around the model, it may take the plunge. Hyundai spokespersons told motoring outlets that they were analysing the model for an Australian launch. Surely they must have noticed the RAV4 hybrid's strong sales performance?
---

Toyota LandCruiser 300 PHEV
One of the mainstays of the 4x4 market, the LandCruiser, in its current guise, has existed since 2007. The replacement 300 series is expected to break cover by the end of 2021. In addition to a revamped exterior and modernised tech, you can expect a hybrid LandCruiser.
It sounds like it will still be very much a LandCruiser at heart though, with a re-engineered ladder chassis forming the basis for the rugged off-roader. This was hinted at by Toyota representatives, who told the press they have no interest in compromising its all-terrain abilities.
Indications seem to suggest the model will have a petrol V6, with the V8 turbo diesel taken off the shopping list.
Combined fuel economy: TBC
Range: TBC
Price: TBC
Launch: 2021
Summary: One of the most legendary and capable off-roaders looks likely to gain plug-in hybrid technology in the next year or so. Agricultural and commercial buyers will be looking critically at things like towing capacity and off-road angles, so Toyota will need to make sure the hybrid components don't compromise the large SUV in a major way.
---

Land Rover Defender P400e PHEV
In terms of classic, legendary off-roaders, the Land Rover Defender is up there with the LandCruiser. After a four-year hiatus, the second generation Defender was resurrected, completely new from the ground up. It doesn't share a single common part with the first iteration, which was quite a departure for a model line that remained largely unchanged across a more than thirty-year run.
Now, Jaguar Land Rover has announced something that just five years ago would seem a radical idea, the Land Rover Defender will be produced as a plug-in hybrid, called the P400e.
Under the bonnet, there's a 2.0-litre petrol engine, with a 105kW electric motor. The lithium-ion battery pack is rated at 19.2kWh.
Combined fuel economy: 3.3L/100km*
Range: 43.45km*
Price: TBC
Launch: 2022?
Summary: This one hasn't been given the stamp of approval for an Aussie launch yet. But if the LandCruiser plug-in is on the horizon, then surely that will prompt JLR to respond with its own take on the plug-in 4x4.
---

Mercedes-AMG One PHEV
Can you get any cooler than a hybrid that is powered by a 2016 F1-spec engine? The two-seater hypercar has four electric motors and power is estimated to top out at 745kW. The EV range is a reported 25km, with a top speed of over 350km/h.
On the downside, the price is astronomical. US$2.72 million, to be exact. Additionally, because of the F1 engine, Project One owners will need to have their power plant inspected and refurbished every 50,000km.
Production is limited to just 275 models, to keep the model "exclusive".
Combined fuel economy: TBC
Range: 25km
Price: US$2.72 million
Launch: 2021
Summary: On paper, the AMG One has all the makings of a truly legendary hypercar with its ridiculous power readings and a price tag to make your eyes water. But, it also has a modest 25km EV range, meaning you could quietly take your road-going-race-car into the city without emitting local pollution.
Electric vehicles
More and more car manufacturers are going electric! Here's what the new electric car calendar looks like for the next few years.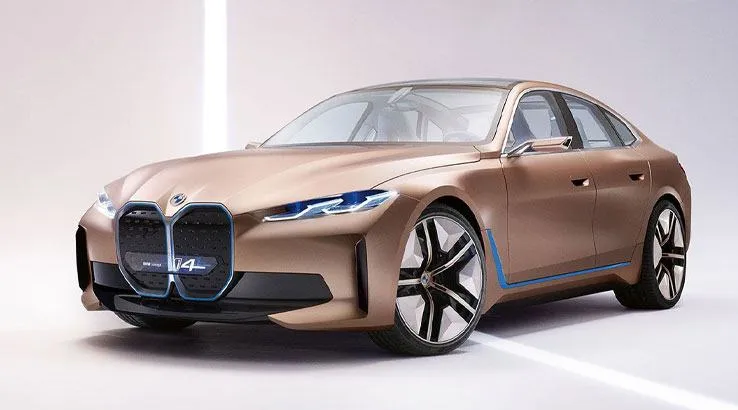 BMW i4 EV
The BMW i4 is expected to arrive in Australia as early as next year.
This is the brand's first electric sedan and it is unashamedly targeting the Tesla Model S. The i4 has a 0-100km/h time of "around" 4.0 seconds. According to BMW, the motor developed for use in the i4 can match the current V8 engine on performance – by summoning up to 390kW of power.
However, the main stand out feature of this car has to be the estimated 600 kilometres range. Certainly not quite at the level of Internal Combustion Engine (ICE) cars, but up there in the electric world. The 80kWh battery pack reportedly weighs a stout 500kg. Then again, an engine and all its ancillary components, when wet, aren't exactly light. Plus, you'd have to factor in the weight of a fuel tank.
Uniquely, Academy Award-winning composer and scorer, Hans Zimmer, created the sound cues for the i4. The interior of the i4 concept shown last year looks like it has been lifted straight from the latest sci-fi show. It's honestly some next-century, another-galaxy type stuff. The car is likely to be a dedicated four-seater.
Range: 600km (approx.)
Price: TBC
Launch: 2021
Summary: The i4 is an ambitious and fresh look at the car of the future. And it seems it will launch next year, with performance to match current-generation M Division cars. It's also quite a striking car to look at. We expect it will strike a chord with 30-something professionals who want to align themselves with BMW's image and also convey their environmental sensibilities.
---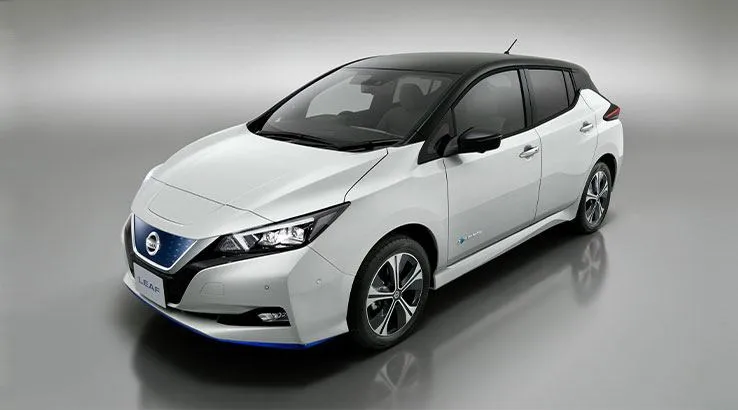 Nissan Leaf E+
The Leaf E+ has a bigger battery than the current Leaf on sale in Australia. Thanks to that 62kWh battery, this model boasts a range of 385km (according to Japan's WLTC testing cycle). According to Nissan Australia, the current Leaf has a range of 270km. That battery is reportedly also able to handle higher power loads, meaning it should recharge in similar times to the smaller battery pack. Squeezing in the physically larger power cell has meant the car gained 5mm in height.
Besides the extended range, the Leaf also has more power, a stout 160kW, versus 110kw. Torque is also increased, meaning the Leaf E+ should feel zippier on the road.
In terms of features and specs, it is expected the E+ will remain largely unchanged.
Range: 385km
Price: TBC
Launch: 2021
Summary: One of the key benefits of the revised Leaf E+ is more power to access for vehicle-to-grid or vehicle-to-home users. Plus, that extended range puts it ahead of rivals like the Hyundai IONIQ. If Nissan can keep the price as low as possible, it might have a very popular addition to its electric car offerings.
---

Peugeot e-208
Peugeot's first completely electric vehicle, the e-208, could arrive in Australia as early as 2022. Apparently, final availability hinges upon the demand for some of the French brand's plug-ins coming soon. The e-208 has a hefty 50kWh lithium battery, with a single motor powering the front axle.
The little hatch boasts 101kw and 260Nm (in the UK market specs anyway). Its range is rated at 312.2km, again in UK RHD specs. Crucially, for a small hatch, Peugeot states that no compromise was made on the passenger compartment proportioning or technology.
Proving this point is the inclusion of Peugeot's 3D i-cockpit.
You can view a video from the premiere of the infotainment system below:
Range: 312km
Price: TBC
Launch: 2022
Summary: The non-electric version of this car, as sold around the rest of the world, has clocked up a number of awards. It is a very stylish car. Many hold the view that Peugeot is designing the most pleasing-looking cars right now. It's hard to disagree with them. If you value design, the Peugeot e-208 is probably the most attractive electric car. It also appears likely that it will pack practicality and useable tech into that tasty shell.
---

Volkswagen ID.3
Volkswagen's first major foray into a production-ready electric car is the ID.3.
It's Volkswagen Golf-sized. It's got 150kw of power, 310Nm of torque and will hit a top speed of 160km/h.
The battery is 45kWh, though there are models with more, like a 58kWh, or a 77kWh option. For the 45kWh battery, range measures 330km. For the 77kWh, a highly respectable 550km.
As you'd imagine, it comes with a fair specification, things like a DAB radio, sat-nav, 18-inch alloys and heated seats are all standard. Moving through the range, you get matrix LED headlights, large alloys and adaptive cruise. The top-flight ID.3s have a Beats® audio system, 20-inch alloys and an augmented reality Head-Up Display.
Range: 330-550km (depending on model)
Price: TBC
Launch: 2022
Summary: Volkswagen consistently delivers refined and well-made vehicles. The ID.3 shouldn't be any different in those aspects, though it does obviously vary on its power source. Reportedly, it's got a roomy and light cabin, with lots of space. Speculation estimates the car won't arrive here until 2022 or later and will command quite a sizeable asking price.
---

BMW iX3
Under the surface, the iX3 shares the BMW eDrive system used in the i4. This SUV isn't a ground-up redesign, in fact, its architecture has been in use since 2017 on ICE-powered X3 models.
BMW gave the iX3 an 80kWh battery, which enables it to travel up to 460km on one charge. Power measures 210kW, while the SUV has 400Nm of torque. The car will top out 180km/h. Like the i4, award-winning film scorer, Hans Zimmer, composed the vehicle's audible notifications and alerts.
The sat-nav system plans journeys to incorporate charging mid-journey, factoring stops into estimated arrival times. With the right charging point, you'll be able to top the car up to 80% capacity in only 34 minutes.
In terms of styling, it's an understated electric car. BMW isn't trying to rock the boat too much here, which some buyers might favour.
Range: 460km*
Price: TBC
Launch: Mid-2021
Summary: This subtle electric SUV won't stand out too much in a car park. It offers the practicality of an SUV body, but with the local-emission free driving of an electric car. With an impressive promised range and the ability to ultra-rapid charge (where available), it looks like it could become a milestone model for the brand. Add to all this, you'll get the typical high-level of build quality and finish you'd expect from a BMW.
---

VW ID.4
The ID.4 is VW's compact electric SUV. This segment is currently one of the most popular with car buyers, so launching an electrified model is a stroke of genius.
It has a 77kWh battery, meaning a theoretical range of 520km is possible. It's running a very Aussie drivetrain too, in that it is rear-wheel-drive. The electric motor makes up to 150kW. Interestingly, VW says the ID.4 has 21cm of ground clearance. For reference, a 2020 Toyota LandCruiser 200 has 23cm, though VW said the ID.4 is only really suitable for light off-roading.
One of the most striking things about the VW electric vehicles is their white steering wheels.
VW says that a 125kW DC charger can replenish up to 320 kilometres of range in about half an hour.
Range: 520km*
Price: TBC
Launch: Mid-2021
Summary: 520 kilometres of range is awesome and it could potentially put the ID.4 at the forefront of its class. It's not an unattractive vehicle either and you can be sure VW will carry over its decades of experience in building solid and high-quality cars to this EV.
---

Genesis GV60
Details are rarified, but a small electric SUV is expected from Hyundai's luxury wing, Genesis.
It will be sold as the GV60, a name that was reportedly trademarked back in 2015. Reputedly, it will share the platform that the Hyundai Kona EV SUV rides on and some sources state its an AWD.
Photos of prototypes testing on public roads in Korea have surfaced online. Though the car is clad in camo and covers to obscure the presumably nearly finalised underlying bodywork.
Range: TBC
Price: TBC
Launch: 2022?
Summary: There are no firm details about this one, only that it is happening and is currently undergoing testing and development. It's hard to say when it will arrive, or speculate on final pricing.
---

LDV Maxus Ute
Again, this one isn't a definite for Australia, but it would be interesting to see this Chinese-built electric ute arrive here. Reports suggest this one will be a replacement for the T60 ute currently on sale.
Figures circulating online aren't confirmed, but they indicate it will have 130kW and 310Nm. With a large 88.55kWh, 535km is touted as a possible range.
Noteworthily, LDV/Maxus is part of the SAIC Motor Corporation. Sister brand MG has an electric SUV on sale in Australia right now. If that gains enough interest and, crucially, orders, then we might see this electric ute for sale here in the next few years. Some media sources suggest that it will be up to the Australian importer of LDV to make the call.
Range: 535km#
Price: TBC
Launch: TBC
Summary: Again, there's very little verified information about this one. But, if it did arrive here, it would be almost certainly the cheapest electric ute on sale. Probably not as a cheap as the MG ZS EV, which is the lowest cost electric vehicle available in Australia as of December 2020, but still an incredible offer. Excitingly, it could herald the launch of EV utes from big-name marques like Ford and Toyota, within a few years.
---

Nissan Titan EV
According to all reports, Nissan Australia is considering importing the huge Titan ute. If that happens, we might also see the electrified model that is in the works. Ostensibly, Nissan has approached an EV start-up based in Detroit to form a partnership. At least, according to a Bloomberg report.
If it all came off, it would mean that Australia would get another "full-size" ute, like the Chevrolet Silverado and RAM Trucks that undergo factory-backed right-hand drive conversion domestically.
An EV Titan would have to tick boxes like:
High towing capacity
Large payload
Decent off-road capability
Range: TBC
Price: TBC
Launch: 2022?
Summary: Reports suggest Nissan has looked longingly at the Titan for Australia over many years. If an ICE Titan model comes here, then the barrier to importing an EV model would be substantially lower. Then, speculatively, things could snowball from there. Ford might introduce the F-150 and Toyota could follow with the Tundra. Who knows?
---

Rivian R1T
Rivian is an EV car builder startup, working on offering a ute and an SUV in America. The ute has four electric motors, can smash out a 0-100km/h dash in 3 seconds and has a high towing capacity of almost 5 tonnes!
Thanks to its skateboard chassis design, there's more storage to be found under the bonnet, like a Tesla or Porsche 911. Tesla calls this a frunk, but here it should surely be a fronnet or froot?
The Rivian R1T sounds like a technological marvel. It has 11 cameras, 5 radar and 12 ultrasonic sensors. It also has an interesting secured tunnel that runs through the tray, just behind the cab. Pictures show owners using a slide-out camping kitchen that stores in this void. Another press shot shows the ute's spare wheel storage situated under the tray floor, a feature often seen in conventional vehicles but less often on utes. Normally, a ute's spare wheel is slung underneath, in between the chassis rails, meaning you get dirty when you need to change a flat tyre. In addition, it has 4G and Wi-Fi routers, a panoramic roof and vegan leather upholstery.
US deliveries are scheduled to start as early as June 2021, for the Launch Edition.
Power measures a maximum of 550kW, while torque is a huge 1,124Nm. The battery measures an astounding 180kWh!
Range: 482km*
Price: TBC
Launch: 2022?
Summary: The Rivian R1T is an innovative and unconventional take on the traditional ute. It certainly looks like something from the next century, as though it's come straight from the cargo bay of the Starship Enterprise. Plus, it's understood the brand wants to launch in Australia, so watch this space.
---

Tesla Cybertruck
Tesla pitches the Cybertruck as being more practical than a ute, with the performance of a sports car.
It sounds like a strange combo, but the most unusual thing about the Cybertruck is its slab-sided exoskeleton body made from stainless steel. It honestly appears to be closer to a piece of abstract cubist art than a ute. The glass on the Cybertruck is armoured. It's a serious bit of kit. Tesla says it'll carry up to 1,587kg, which is beyond the reach of most utes on sale in Australia, even with a heavy-duty tray.
The towing capacity is equally as outrageous, 6,350kg to be precise. It's also a six-seater.
Even with all this practicality, Tesla says it'll accelerate from 0-100km/h in less than 2.9 seconds, which is just unfathomable. The range is estimated to be 800km. Ground clearance is said to be up to 40cm.
Range: 800km△
Price: TBC
Launch: 2022?
Summary: You can reserve a Cybertruck for $150 on Tesla's Australia website. It's one of the most daring automotive designs ever, which might put some off, but the performance of the ute is frankly, in a market of its own. This will be the ute to go for if you want to draw some attention to your business, or you need a vehicle that can essentially do everything. Elon Musk tweeted a full-size Cybertruck would come to Australia subject to passing local regulations.
---

Polestar 2
Volvo-owned Polestar is planning on bringing the five-door fastback Polestar 2 to Australia.
The specs for the Polestar 2 look promising. Range measures just shy of 470km. Power sits at 300kw, with a conventional ute-beating 600Nm of torque. The battery bank, broken into 27 modules, is 78kWh. In terms of practicality, the Polestar 2 has 440-litres of storage.
Polestar says it's the first vehicle in the world to have Android running its infotainment system. Plus, you get all the usual high-level safety assists you'd expect in a modern Volvo. You've got things like collision mitigation, an engine-replacing crash absorption component, plus things like road sign information and Adaptive Cruise Control with lane centring assist.
Range: 470km*
Price: TBC
Launch: 2021?
Summary: The styling is relatively inoffensive, but the specs are very good. A potential 470km range would make the Polestar 2 a very useable electric car for rural drivers and urbanites alike. Most sources suggest it could be more pricey than the Tesla Model 3, but it's built by an arguably more experienced car maker. Plus, it might be available on a subscription basis for those that want it.
---

Skoda Enyaq IV
The Skoda Enyaq IV is the first electric car made by the Volkswagen Group brand. It hasn't been confirmed for Australia, nor ruled out. Ranges run from 340km-510km depending on the model you go for.
The SUV comes as either a 2WD or 4WD. Power runs from 109kW to 225kW on a hot RS model. Torque jumps from 220Nm, on the entry-grade Enyaq 50 IV, to 460Nm for the RS Enyaq.
The infotainment screen is one of the largest we've heard of to date, measuring 13-inches. The driver also has a 5.3-inch digital instrument cluster. Skoda is apparently placing a big priority on customisation, with a reported 10 different trim packages.
Range: 340-510km*
Price: TBC
Launch: 2022-2023
Summary: It's not confirmed for Australia, but neither has it been ruled out. It's a good-looking SUV, with plenty of storage. Depending on price and trim, it could prove popular with Aussie buyers, given the chance.
*International model specs
#Unconfirmed reports online
△Estimate, from Tesla
Best electric vehicle range
With more car makers getting behind battery power, ranges are consistently moving upwards from where they were just a year or two ago.
Of the upcoming electric vehicles, the BMW i4 looks set to possess the highest car range, with approximately 600km. Meanwhile, the Tesla Cybertruck has 800km, meaning it could have the longest legs of the electric utes.
Best electric ute
We think the Rivian R1T could be the best of the upcoming electric models. It's refreshing to see designers and engineers take a different approach to car design and the result is a ute with plenty of storage and useful cubby boxes, plus it should be a bit of a weapon off-road.
Best electric off-roader
It's hard to say which is going to be the best, but working from the confirmed specs, the Tesla Cybertruck is obviously going to be up there, pun intended. It has 16-inches of ground clearance, which for a stock factory model is madness.
Fastest charging upcoming EV
Only a few manufacturers have announced recharge times, so it's hard to say for sure. But the VW ID.3, with the right charger, is capable of some pretty blistering top-up times. The BMW iX3 also has the capacity for some quick recharges.
Best new electric car for families
If you're buying a family car, you'll likely want:
Space
Practicality
Safety
Affordability
Taking all those points into consideration, you'll probably want to check out cars like the BMW iX3 and the Polestar 2.
Best-looking electric car
Opinions and tastes vary, but the Peugeot e-208 ticks all the boxes in our books. It's a gorgeous little car and fabulously classy. It's also been clocking up gongs across the globe and it just seems to have pleasing proportions and styling.
Most affordable electric car
Again, this is highly theoretical, but the MG ZS EV is currently the cheapest electric car on sale and it looks likely to remain so for the foreseeable future.
Best hybrid off-roader
The Toyota LandCruiser 300 PHEV and the Land Rover Defender P400e are likely going to be duking over this hotly contested crown.
Most affordable hybrid car
Again, this is pure speculation, but the MG HS PHEV will surely sell at a very affordable price.
Hybrid with the best electric range
Of the numbers we have, it looks like the MG HS PHEV and Mitsubishi Outlander PHEV have the best electric-only ranges.
Most fuel-efficient hybrid car
Again, this is just for the upcoming models we have the figures for. But it looks like the Volvo XC40 Recharge PHEV, which uses just 2.2L/100km combined is one of the most frugal.
More guides on Finder