Free university resume templates (Australia)
Your university resume is your opportunity to stand out and find the perfect course.
We're reader-supported and may be paid when you visit links to partner sites. We don't compare all products in the market, but we're working on it!
When applying for the university or course of your dreams, you may have to prepare a resume. To give yourself the best possible chance of admission, you'll want to prepare the best resume possible to stand out from the other applicants. A resume template can help you achieve this by assisting you to create a resume that looks professional and includes all the necessary information.
Here you will find plenty of advice on where to find a university resume template, and what it should look like to make your application successful.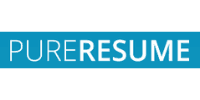 Pure Resume Offer
Get a professionally designed resume starting from $24.99.
What is a university resume?
A university resume is a short 1 - 2 page document which showcases your attributes and accomplishments to help you win a place at the university of your choice.
This paper must call attention to all your educational and employment accomplishments, as well as your skills and personality. On the other hand, it should be quick and concise, and provide a brief and essential overview of what makes you the perfect candidate.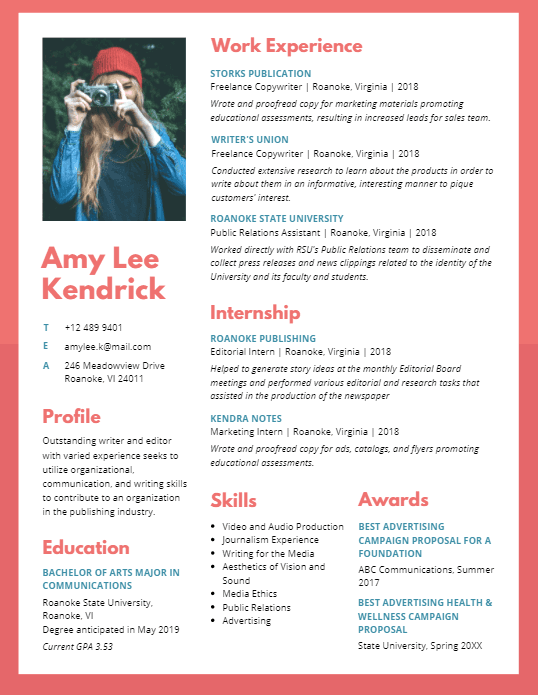 Download this template at Canva
What are the features of a university resume?
Your university resume should highlight your ability and commitment to achieve your goals. To demonstrate that you are a multitasking and reliable student, you should include the following:
Your contact details.
Your high school or secondary school accomplishments.
All your relevant employment experiences, in reverse chronological order.
Your skills and all the information relevant to the place you are applying for.
You must always remember that the purpose of your resume is to stimulate the interest of the university enough to accept your application or proceed with an interview. You need to provide a brief and concise overview of all your skills and experiences and organise all the details following the specific order requested by the template. You can choose one of the following formats:
Chronological order for your experiences, useful to highlight your career and educational path over the years;
Functional order, if you don't have any previous experience in the field, or if you prefer to focus on your skills.
What should I include in a university resume?
To evaluate your application, the university will need as much information as possible about the following:
Your name and contact details. Don't forget your phone number and email address, as well as your physical address with details about your current location.
Your personal summary. This is where you need to outline in a few words all your aspirations. When writing this part of your resume you should focus on explaining why you are applying for that course or university, and what makes you the perfect candidate.
Your education and training. Don't forget to add the years you started and completed each course, as well as the type of institution.
Your professional experience. Always include a brief summary of what your position entailed, your key responsibilities and main achievements.
Get a university resume template to meet your needs
Does your company belong in this list?
How much does a university resume cost?
There are many free or cheap university resume templates available on the Internet that you can customise and download. These are offered through websites like resume.io, Pure Resume and Canva, and allow you to customise a professional resume template for free or for a small fee.
If you are looking for a particular bespoke design and someone to help you write it, you can use a resume writing service which can cost up to a few hundred dollars. However, this usually includes an extensive support service, meaning that an expert will format, review and build your resume on your behalf.
Pros and cons of a university resume template
Pros
A template takes the guesswork out of what to include in your resume
Templates can save you time formatting your resume
Some template providers offer extras like spell check and preformatted phrases
Cons
Using a template might cost more than writing and formatting the resume yourself
When it comes to your university resume, consider using a template, which will make you look professional and help your application.
Frequently asked questions
What shouldn't I include in my university resume?
When writing your resume, you want to include all the most relevant information about your circumstances. However, you should avoid the following:
Experience which is unrelated to your application and which didn't help you gain any necessary skills.
Multiple phone numbers, as it may make it less easy for the recruiter to get in touch with you.
Unprofessional email addresses, which can make your resume look amateurish.
Vague statements about your objective, or odd sentences that you have copy-pasted from other templates.
Try to avoid hard-to-read fonts, distracting colours or irrelevant details, since they will just distract the recruiters and make them less favourable towards your application.
Can my university resume be more than one page?
Yes, if you need more space to include all your details and past experiences, you can write up to 2-3 pages. However, the first page is the most important one, and should always include all the most relevant details.
Usually, unless you need a resume to apply for a job, your resume shouldn't be too long. Otherwise, it would be easier for you to include trivial information about yourself. Recruiters are busy and the last thing they want is to spend hours reading each resume they receive.
More guides on Finder