UNIT NINE product review: Yoga mat & boxing gloves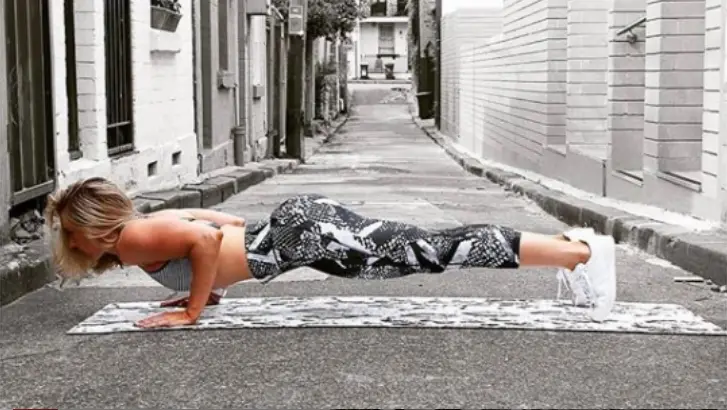 This was hands-down the best yoga mat and boxing gloves we've ever used. And oh so pretty!
UNIT NINE is an Australia-based company specialising in everyday exercise equipment such as yoga mats, boxing gloves, beach gear and more. Here at finder.com.au, we trialled the white python yoga mat and boxing gloves and this is what we had to say about them.
Yoga mat review by Clare Cribbin
UNIT NINE's yoga mats are 100% recyclable and the pretty designs are printed using non-fade ink, to ensure you don't sweat the beautiful shapes off. There is a range of 17 different mats to choose from, as well we three different yoga towels.
Even before trying the yoga mat, I noticed the beautiful white python design. I am used to using very ordinary looking yoga mats, but this one definitely had a stand-out look – enough to make other people jealous!
The yoga mat was quite heavy but it came with little black straps to throw it over your shoulder and carry to class. I often find that my hands slip when doing yoga as they get quite sweaty, but I can honestly say that I did not have this problem with the UNIT NINE mat; it was highly absorbent. I was able to complete my whole one-hour yoga session without my hands slipping once, which was a first for me!
The mat was easy to wipe down after my session and it can even be thrown in the washing machine for a deeper clean. Remembering to put the wash on a gentle setting and do not add detergent.
I absolutely loved the UNIT NINE yoga mat and would recommend it to anyone, especially those who also get sweaty hands during practice.
Boxing gloves review by Shirley Lui
Prepare yourself for many compliments because when you put these babies on, you'll have the best looking gloves in the room. Plus, the compliments will give you a bit of an adrenaline rush so you'll be well and truly ready to rumble.
Available in black and white, or just black, the UNIT NINE gloves are the perfect balance between protection and beauty.
The compartment is a cosy fit for your hand with a large velcro wrist for sturdy protection. The small air holes help with the airflow so your hands don't feel gross and sweaty after the session. At a mere 341g, the gloves are quite light so you can power through your routine.
The gloves are made of 100% genuine cowhide leather so it takes a while to break into. It took me about four sessions before they started to loosen up but they became incredibly comfortable. After each session, there would be no pain or aching in my hands or knuckles.
For a regular boxer who's not looking to take it to the MMA level, they suit just fine. The cushioning is quite dense so it's not ideal if you're constantly sparring.
Make sure to listen to your coach or trainer to avoid injury. Technique is important!
To care for the gloves, give them a wipe down and don't put them into the washing machine or tumble dryer. They're so beautiful anyway, you wouldn't want to ruin the pattern!
Affordability
The items from UNIT NINE are not in the cheap price range, with yoga mats costing between $115 and $129 and the boxing gloves $125. However, I would say that the cost is money well spent. UNIT NINE uses good quality materials and is conscious of the environmental aspects of the materials used. Both items can be used at home which could save you a little extra cash by working out at home instead of in a gym.
Where can I buy them
You can only buy directly from UNIT NINE, with free shipping available within Australia on orders over $90. The online system is easy to use and the company is contactable via phone or email if you require any assistance.