Uniden Guardian App Cam Solo review: Simple to setup, but not perfect security
Uniden's Guardian App Cam Solo runs simply from your smartphone, but its underlying security model is something of a concern.
Quick Verdict
Uniden's App Cam Solo is rugged and easy to setup to monitor events around your home, but its use of local rather than cloud-based video backup is cause for concern.
The Good
Attractive design
Easy to set up and share via QR codes
Clear video
Included voice speaker
The bad
No interface outside app
No cloud backup
Only 3 sensitivity settings for camera
Fussy about storage card speeds with little explanation
You're not exactly left wanting for choice when it comes to home security cameras that talk to mobiles, with options such as Nest's cameras, Ring's video doorbells, Arlo or Swann's complete home security cameras and more jostling for space on shelves and in homes. Uniden's Guardian App Cam Solo joins the fray with the promise of simple setup and app control for your home or business monitoring needs.
Design
If I had to describe the Uniden Guardian App Cam Solo to anyone, the first frame of reference I'd use would be the EVE robot from Wall-E.
Sure, that might seem like a weird reference to make, but the moment I unpacked the Uniden Guardian App Cam Solo, the resemblance struck me. It wasn't just me, either, with my kids instantly understanding what I meant when I referenced "That camera that looks like EVE from Wall-E".
Uniden sells its Uniden Guardian App Cams in multi-packs, but as the name suggests, you only get the one in the Uniden Guardian App Cam Solo box, alongside two different mounts for connecting it anywhere you might choose to.
It's designed to be weatherproof, so you can throw it out into your garden as long as your Wi-Fi extends to it, although its white colour is likely to make it rather obvious to miscreants.
Installation
The Uniden Guardian App Cam Solo is an entirely wireless camera that runs on four CR123A batteries, putting it in the same class as Netgear's rather similar ARLO cameras. Installation is a matter of inserting batteries into the rear casing of the camera, and then walking through the app-led installation process. The camera will incessantly repeat key phrases that relate to different steps in the installation, making it mostly simple to install.
This is a simple, QR-code led affair that only stumped me at the point where, instead of looking at the QR code on the camera, it wanted me to point a QR code on my phone at the camera.
Once I'd jumped that hoop and had given it my Wi-Fi credentials, it was all set up. The Uniden Solo app allows you to add multiple cameras, all of which appear as distinct "channels" within the app itself.
While other security camera solutions rely on cloud backup, the Uniden Guardian App Cam Solo instead uses local microSD cards for storage, although with the paired app and an internet connection you can access your recorded incidents from just about anywhere on the planet.
Performance
The Uniden Guardian App Cam Solo is, by default, a very sensitive motion tracking camera, for better or worse. There are only three levels of sensitivity on offer, and finding the one that works well for your purposes can involve quite a lot of trial and error.
For one space near my carport, I frequently found that it would set off false alarms from outside movement of trees unless set to low sensitivity, where it was very slow to detect and alert. High sensitivity was better, but it pestered me a lot around false identifications, something that even the app itself admits is a bit of a waste of battery power.
At an alternate angle in the same room, though, medium sensitivity worked quite well at detecting most motion in front of it. The Uniden Guardian App Cam Solo also incorporates a two-way speaker, so you can use it to converse with intruders, or presumably as a simple communications system in lieu of an actual doorbell.
At that level, the Uniden Guardian App Cam Solo works, although you are limited to app-based access on smartphones and tablets only. While it sits on your local Wi-Fi network, there's no interface for accessing its cameras from a PC or Mac.
Then there's the issue of recording intruders, because even if you are alerted, you may not be in a position to do much except identify those in front of the camera.
It has become very common for manufacturers to opt for cloud-based solutions to this, typically with a subscription component. That's an additional cost to bear, but it's balanced against the idea that even if your camera is smashed or stolen, your recordings (or at least parts of them) should be safe and useful as evidence in any burglary investigation.
The Uniden Guardian App Cam Solo eschews cloud subscriptions, but it does so by using microSD card storage locally. There's no provided card, so you'll need to budget for one, and buy carefully.
It took me some time to work out why the Uniden Guardian App Cam Solo was continually telling me that my existing cards needed formatting but had zero available storage. They weren't faulty, but the camera itself is rather fussy about having Class 10 or better cards, and it doesn't give great feedback to this effect.
However, there's a secondary issue with local storage. While it is good at a budget level not to have to pay for cloud backup, and it dodges the low-bandwidth issues of devices like the Ring Video Doorbell, it is still very much an eggs-in-one-basket solution, because if somebody steals your camera, they're taking the storage with it.
Verdict
The Uniden Guardian App Cam Solo is an efficient and easy to install camera, and it's clear that you could expand the system to incorporate multiple views of your property and, with a little sensitivity tweaking get a security system set up that should detect everything you want with only a few false positives.
However, if you're already thinking about needing this level of always-on security, you've got to consider the issues around the use of local storage, because if thieves steal the actual camera and you're not quick enough to download the video of them doing it, you'll be plumb out of luck.
Alternatives
While its headline product is a doorbell, you could consider the Ring range of devices, which use cloud-based storage, or Netgear's Arlo cameras, which use the same wireless battery type as the Uniden Guardian App Cam Solo, or Google subsidiary Nest.
Pricing and availability
The Uniden Guardian App Cam Solo sells as a standalone camera for $229.95, as a dual pack for $449.95 or as a quad pack for $849.95.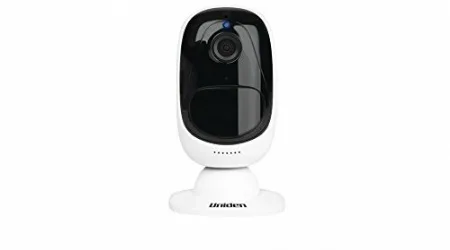 Buy the Uniden Guardian App Cam Solo
from Amazon
Control your home security from your smartphone with Uniden's simple Guardian App Cam Solo, available now from Amazon Australia.
View details
---
Follow us for all the latest mobile phone news and deals
---