Uncharted The Lost Legacy review: Set Frazer to stun
A new trilogy starring Chloe Frazer, please.
We're reader-supported and may be paid when you visit links to partner sites. We don't compare all products in the market, but we're working on it!
When Uncharted: Drake's Fortune was first released on PlayStation 3, many discredited it as a Tomb Raider rip-off that replaced Lara with a handsome dudebro. Forgetting, of course, that Lara Croft was to video games what Indiana Jones was to movies, and further still that Indy was inspired by real-world archaeologists like T.S. Elliot and explorers like Roy Chapman Andrews and Amelia Earhart. The roguish scholar/explorer torch has been handed on time and time again across just about every medium. Hell, even Nic Cage took a shot at the role once.
In 2017, both Uncharted and Tomb Raider have lived whole lives (10 and 20 years, respectively) and have transcended their influences by nurturing their own legacies. A Thief's End marked the end of an era for the Uncharted series, Nathan Drake's One Last Job. That torch has now been handed over to Chloe Frazer, the enigmatic Aussie from Among Thieves and Drake's Deception, for the DLC-turned-standalone title Uncharted: The Lost Legacy. After some quality time travelling India with the new lead, I hope it's a legacy she'll carry for the series' foreseeable future.
If there were ever any doubts that Frazer would be able to carry her own game, they should have been quashed the moment you set eyes on the PSX or E3 trailers for The Lost Legacy. Chloe and Nadine have some fiery chemistry thanks to lead VO artists Claudia Black and Laura Bailey and some top-notch writing from returning scribe Josh Scherr and newcomer Shaun Escayg. Let's not forget Naughty Dog's state of the art facial animation system, which will a) blow you away all over again and b) give you a taste of the technical wizardry you can expect in The Last of Us Part II.
Chloe is particularly magnetic. She has all the quips and snappy one-liners you've come to expect from Uncharted's band of thieves but also a degree of modesty and fragility we rarely saw from Drake. Subtleties in her speech and manner suggest there is something on Chloe's mind early on. Small tells that could onlybe conveyed with Naughty Dog's surreal motion capture tech.
This is, after all, a very personal journey for the characters. Chloe has enlisted the help of A Thief's End's villainous merc Nadine Ross to help search for the Tusk of Ganesh, a mythical Indian artifact Frazer's father spent his (and her) life pursuing. Whereas Ross has been dethroned as the leader of her father's private military company Shoreline (who you used for target practice in A Thief's End). So our anti-heroes are both on a high-stakes mission to reclaim their fathers' lost... legacies. My god.
That's honestly all the story details I'm going to shell out here, because what's an Uncharted game without the thrill of discovery?
What I will say is that the historical side of The Lost Legacy's story is significantly more gripping than the hunt for Every's treasure in A Thief's End. The story behind Every's missing $400 million plunder from the Gunsway heist was largely lost on me in A Thief's End, suffering from being told through the lens of three hoity-toity history nerds.
However, The Lost Legacy gives us Nadine, an inexperienced researcher and explorer. Nadine is studious, quizzing Chloe on the ins and outs of the Hoysala Empire's fall. In turn, Chloe is an enthusiastic educator. Framing this part of the narrative through the eyes of Nadine makes it easier for the player to follow along and makes moments of discovery and awe all the more rewarding. And whoo-ee, there are some awe-inspiring moments. One scene that comes to mind even rivals The Last of Us' touching "giraffe moment".
Story aside, The Lost Legacy plays more or less like Uncharted 4. The grappling hook is back, the 4x4 is back, the winch is back and mostly used for the same puzzle solving tricks save for a few neat additions we won't spoil here.
The Western Ghats (where you will spend most of your time) deliver an expanded take on the wide-linear idea Naughty Dog used with Madagascar in A Thief's End and feel awfully similar at that. There are more paths to take and treasures to plunder but environmentally it's pretty uncanny. Thankfully, Naughty Dog has mixed it up with an actual side-quest this time around that forces you to more-thoroughly crawl the map. If you head to a mysterious ruin in the top-right corner of the map, you will find an ancient donation box of sorts that you can feed Hoysala Tokens (collectables spread across the map). Tracking down these tokens not only presents you with some clever small-scale puzzles but also compensates you with one of the game's (maybe series?) most helpful items. We definitely recommend heading there first.
The brevity of Chloe's journey means her story begins and ends in India. India and the Hoysala Empire are decadent and beautiful, no doubt, but Chloe doesn't have the luxury of hopping over to snowy Scotland for a third of the game, so a few environments feel a bit same-same over The Lost Legacy's run.
That's not a criticism of The Lost Legacy's length at all. One of my only gripes with Uncharted 4 was that its third act outstayed its welcome. By virtue of its shorter runtime, The Lost Legacy stays just long enough.
I don't like to equate playtime with the cost of a game because the experience is so much more important, but The Lost Legacy is also reasonably priced at roughly half the cost of a normal AAA release. So you actually are paying for what you get with this one.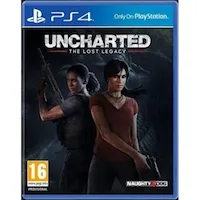 Purchase Uncharted: The Lost Legacy PS4
from ozgameshop.com
Take Chloe Frazer and Nadine Ross on a journey through the Western Ghats in search of a priceless artefact.
View details
Even with its shorter length, I enjoyed The Lost Legacy morethan A Thief's End, and that's mostly thanks to its two compelling leads. Whatever's next for the Uncharted franchise, whether it's two or ten years away, whether it's in Naughty Dog's paws or palmed off to another third party developer, I truly hope this is just the beginning of Chloe Frazer's legacy.
We reviewed Uncharted The Lost Legacy on PlayStation 4 with a copy provided by the publisher.
Uncharted: The Lost Legacy
9.0 AMAZING
What we liked...
Chloe Frazer is a stunning lead
More of that amazing facial animation tech
Stands strong as its own game
A more gripping story behind the treasure/mystery
Shorter length actually works
What we didn't like...
Environments a little too similar to Uncharted 4
VERDICT
Want to know who can carry the Uncharted series now Drake's tapped out? Here's your answer: Chloe Bloody Frazer.
Available for PS4
For more information on how finder scores games, check our review guidelines.
---
More guides on Finder