Ultimate Ears MEGABLAST Review
Looking for amazing sound that's portable and waterproof? Check out the Ultimate Ears MEGABLAST
Quick Verdict
The Ultimate Ears MEGABLAST is the complete companion for your sound. If you need rich bass, high sound quality and Amazon Alexa in a portable speaker, the MEGABLAST won't disappoint.
The good
Amazing sound quality
Great design
Very easy to charge
The bad
No 'party up' feature
Pairing is difficult since the application is required
Battery life could be slightly longer to match sound quality
---
The Ultimate Ears MEGABLAST is for those who want amazing sound quality, good battery life and the latest smart speaker features. With 360 sound, Amazon Alexa, Wi-Fi connectivity and voice control, the MEGABLAST is a smart speaker that gives its indoor competitors a run for their money. This review will test the MEGABLAST on design, performance, sound, battery and price. Read on to find out whether this speaker is for you!
Ultimate Ears has been making waves in the portable Bluetooth speaker market since 2013, establishing itself with good sound quality, good battery life and market-leading features. Ultimate Ears offers a suite of powerful speakers including the WONDERBOOM, BOOM 3, MEGABOOM 3, BLAST and MEGABLAST.
The Ultimate Ears MEGABLAST sounds like a portable soundbar and is ideal for social gatherings, working out or an all-purpose entertainment speaker at home.
If sound quality is your top priority and you're looking for a waterproof Bluetooth speaker with good battery life, the MEGABLAST could be the speaker for you.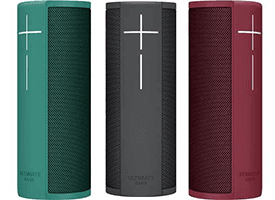 Ultimate Ears MEGABLAST Wireless Speaker with Alexa
from The Good Guys
The Ultimate Ears MEGABLAST offers high-quality sound and Amazon Alexa voice control.
View details
Design
The MEGABLAST is well crafted and sturdy, continuing Ultimate Ears signature woven design which envelopes most of the speaker. The woven design allows the speaker to be waterproof, dustproof and even sand proof! I tested it at the beach and although sand got stuck on the woven material, I could easily remove it by slapping the speaker.
A hard rubber synthetic wraps the remainder of the speaker, making up the control panel for volume, power and Bluetooth. The buttons are straightforward and easy to use. The only constructive criticism I can provide would be the volume buttons could be slightly easier to press, since considerable pressure is required to change volume.
The charging port is on the bottom of the speaker as is a removable D-ring if you want to mount your speaker on a tripod or stand.
The Ultimate Ears MEGABLAST comes in Graphite (grey), White Blizzard, Mojito Green, Merlot Red, Lemonade Yellow and Blue Steel. I chose Mojito Green, since this colour isn't offered with other Ultimate Ears speakers and it matches my snowboarding gear colour scheme.
Size
The MEGABLAST is slightly taller and thicker than the MEGABOOM, measuring 237mm in height and 88mm in width. However, I didn't find the size of the MEGABLAST to be inconvenient, and it fits comfortably even in smaller backpacks or gym bags. Its size is similar to a 1L bottle of water.
Durability
The MEGABLAST is IP67 waterproof and dustproof, allowing you to immerse the speaker in liquid up to 1 metre for up to 30 minutes. It is important to note that you can't submerse waterproof speakers in salt water or in a spa, so keep it away from beach waves and jacuzzis.
Although it isn't part of my review process, Ultimate Ears states that the MEGABLAST is "drop proof". At time of writing, I've dropped the speaker two times from waist height and it didn't break, so that speaks well to Ultimate Ears' claim.
Performance
The performance of the MEGABLAST was very impressive. It holds up for a full day of use (at least 10 hours) on 75% volume, which is very loud and keeps the party vibes going. I haven't had the opportunity to push the MEGABLAST to 16 hours in one sitting, but am confident it would hold up with previous experience using the Ultimate Ears Wonderboom and Boom 2 speakers.
If you are serious about getting your Christmas party started, turning it up to full blast will ensure that your music will reach everyone.
Compared to its twin brother, the Ultimate Ears MEGABOOM, the MEGABLAST has gained a pair of tweeters, making it 40% louder.
Many steps forward with one step back – the loss of "party up"
One of the disappointing updates for the MEGABLAST was losing the "party up" feature, which was available with the MEGABOOM. This means that you cannot connect it to another MEGABLAST for even bigger sound. Since this feature was a key part of Ultimate Ears' advertising strategy, not including it raises questions around what they will do in the future to differentiate themselves from their competitors. Ultimate Ears has announced that this feature will be available in a firmware update, but they haven't provided a specific date yet.
This seems to be a popular feature since in the reviews for the MEGABLAST on Google Play, four out of ten of the latest reviews were negative comments asking for the "party up" feature to be released.
Connectivity
Pairing my phone to the speaker was a seamless experience. Ultimate Ears makes it a painless experience especially with its mobile app. The mobile app allows you to turn the speaker on and off and run more complex tasks such as modifying the EQ (equaliser) to maximise the MEGABLAST's performance in different rooms. The MEGABLAST also supports Bluetooth pairing using NFC.
The advertised Bluetooth range is 45m, which proved to be true. I could move my speaker to the other side of a basketball court and still receive excellent audio quality from my phone. According to versus.com, the average portable speaker range is 10.83m, which puts the MEGABLAST in the top of its class for Bluetooth connectivity range.
Amazon Alexa
Connecting with Amazon Alexa was extremely difficult. The reason I wanted to connect was to use Spotify. However Alexa by default forces you to use Amazon music, which I wasn't inclined to join since I already had Spotify. In order to use Spotify, I had to dig through a few forums and go into my Amazon account to change the setting to use Spotify by default.
This took around 30 minutes that could have been easily avoided if the option was available in the Ultimate Ears mobile application.
Using the mobile app
The Ultimate Ears application allows you to use it like a remote. It lets you easily change the volume as well as do the following:
Customise your sound with equaliser settings
Set standby time to optimise for battery life or performance
Add and manage Wi-Fi networks
Check battery level
Set up and activate Amazon Alexa
Set the language for Alexa
Sound
Boasting the lowest frequency of any Ultimate Ears speaker at 60Hz, the bass of the MEGABLAST is something to froth over. For any listeners who enjoy music with deep sounds, large drops or exciting climaxes, the MEGABLAST delivers. This was a big win for myself, since a lot of speakers fall short when playing epic soundtracks that contain big climaxes.
The MEGABLAST can also produce high frequencies of up to 20000Hz, or 20kHz, which is considered a very high frequency for human hearing.
Sonics
The treble is extremely clear and well balanced with the bass. The MEGABLAST holds up regardless of the music you're listening to, including classical, techno, hip hop, hardstyle, jazz, rock 'n' roll, pop and any funky tunes that fall outside said genres. The pitfall of speakers with heavy bass is that the bass drowns out the higher layers of music, but the MEGABLAST balances the higher and lower layers with ease.
Bass
If you're a fiend for good bass, the MEGABLAST's lowest frequency is 60Hz, and it comes with a 55mm driver unit, two 25mm tweeters, two 55mm active drivers and two 85mm x 50mm passive radiators (passive radiators allow woofers to produce deep tones that otherwise may not have been possible).
In layman's terms, this means the MEGABLAST has a lot of hardware to back up its deep bass. More drivers allow the speaker to produce richer sounds, and bigger drivers are more powerful and can produce better bass.
Battery
The MEGABLAST's advertised battery life of 16 hours held true. I used the speaker for many basketball training sessions and a couple of social occasions across two weeks without requiring any charge.
Accessories - Charging made easy with POWER UP
The MEGABLAST supports wireless charging if you purchase their POWER UP wireless charging dock. The dock comes with good aesthetics and looks as if it were crafted by Apple. The dock makes charging your MEGABLAST easy since all you need to do is place the speaker on top of the charging pad.
The other key benefit of using POWER UP is that the speaker stands upright when playing music while it is charging. To charge previous speakers from Ultimate Ears, you had to plug in the speaker from the bottom, which meant your speaker would be lying on its side making it very awkward to use and place on a surface.
How does the MEGABLAST measure up to its rivals?
| Speaker | Price | CONTROL PANEL PLACED ON DEVICE | WEATHER SEALED | SUPPORTS A REMOTE SMARTPHONE | IS DUSTPROOF AND WATER RESISTANT | HAS STEREO SPEAKERS | HAS A PASSIVE RADIATOR | HAS A BATTERY LEVEL INDICATOR | WIRELESS CHARGING | HAS AN AUX INPUT | HAS VOICE COMMANDS |
| --- | --- | --- | --- | --- | --- | --- | --- | --- | --- | --- | --- |
| MEGABLAST | $379 | Y | Y | Y | Y | Y | Y | Y | Y | N | Y |
| JBL Pulse 3 | $299 | Y | Y | N | N | N | N | N | N | N | Y |
| Bose Soundlink Revolve Plus | $389 | Y | Y | N | N | Y | Y | Y | N | Y | Y |
| Beats Pill XL | $249 | Y | N | N | N | N | N | Y | N | Y | N |
| JBL Xtreme | $249 (from $349) | Y | N | N | N | Y | Y | Y | N | Y | N |
Pricing and availability
The MEGABLAST's price places it in the top of its bracket, but the speaker's features also place it well ahead of the pack. Ultimate Ears has crafted a speaker for users who aren't willing to compromise on sound quality and are interested in the latest smart speaker features. If you're looking for a new wireless Bluetooth smart speaker this Christmas, the MEGABLAST should be one of the options you consider.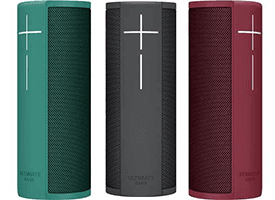 Ultimate Ears MEGABLAST Wireless Speaker with Alexa
from The Good Guys
The Ultimate Ears MEGABLAST offers high-quality sound and Amazon Alexa voice control.
View details
Specifications
Product Name

Ultimate Ears MEGABLAST
Connectivity

Bluetooth/ Wi-Fi
Battery life

16 hours
Bluetooth range

45m
Waterproof rating

IP67: MEGABLAST can be dropped into a body of water up to a meter deep for half an hour.
Size

237mm in height and 88mm in width.
Colours

Graphite (grey), White Blizzard, Mojito Green, Merlot Red, Lemonade Yellow and Blue Steel.
---
Follow us for all the latest smart home news and deals
---