Trust.Zone Review | Price, performance and deals compared
We break down what Trust.Zone brings to the crowded market of VPN providers.
We're reader-supported and may be paid when you visit links to partner sites. We don't compare all products in the market, but we're working on it!
Trust.Zone, as the company name would imply, knows that buying into a VPN requires a leap of faith on your behalf. At the end of the day you're paying somebody who's promising to A: keep you off the grid to a reasonable degree from the prying eyes of your ISP and "The Man". And B: if you do run afoul of law enforcement, said company should be expected to not rat you out and hand over details about you which shouldn't have been stockpiled in the first place.
The first good news on that front is that Trust.Zone is based in Seychelles, something of a safe haven for data-obscuring services. Why? Mostly because it's outside of the jurisdiction of the "The 14 Eyes". (Think a joint Internet intelligence sharing programs run by...you guessed it... 4 major countries). The security of operating out of this independent island chain is coupled with the fact that Trust.Zone has opted to go with the community-maintained and constantly improving OpenVPN protocol, plus military-grade AES-256 encryption. It's a great start.
If you're serious about staying anonymous, Trust.Zone must be looking pretty attractive right about now. That said, you might want to belay your wallet grab – this VPN is lacking in other areas.
Trust.Zone deals for June 2021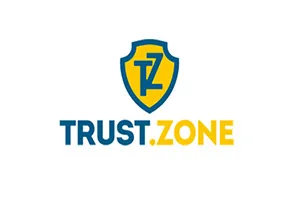 Get 75% off Trust.zone VPN today
from Trust.zone VPN
Hide your identity online and browse the internet anonymously with Trust.zone's trusty VPN service
View details
What features does Trust.Zone offer?
Let's get the bad news out of the way first. Trust.Zone only offers 3 devices per subscription which is a painfully low number unless you're just now taking your first tentative steps away from your luddite upbringing. I'd expect device support to be twice that number, minimum.
Trust.Zone staff aren't the most communicative bunch that I've seen in my trawl through VPNs. Livechat and direct email correspondence are out – an on site form is in. Sadly, it's only staffed from Monday to Friday 6:00AM to 4:00PM GMT (4:00 PM to 2:00 AM AEST), though within of those hours they get back to you inside of an hour. This could be much, much better and has the potential to cause headaches.
The privacy terms laid out on the discount-filled Trust.Zone website are a smidge misleading, too. They have "no logging" listed in the infographics despite the fact that you can clearly see your used bandwidth being recorded in the members' area. Trust Zone also specifically mentions a "below 1GB of use" bandwidth requirement in its 10-day money-back guarantee terms. So that's odd.
What is IPv6?
Internet Protocol Version 6 (IPv6) was created with the sole purpose of overtaking IPv4 as the industry standard for network layer protocols.
IPv4 (32-bit) only consists of four-digit number strings with three digits (fairly limited by today's standards) whereas IPv6 (128-bit) consists of eight-number strings with four characters each, allowing well over 340 undecillion unique IP addresses.
To illustrate, here's what the Google's Public DNS IP looks like on both.
IPv4 8.8.8.8
IPv6 2001:4860:4860::8888
Looking beyond that, the good news is this is easy to setup with a simple connection wizard roll out. Connecting is a cinch, too, plus the app promises to prevent IP address leaks and DNS leaks (I personally spotted none during my own tests). Unfortunately, you can only expect some very basic app options from here on out – automatic connection on launch and a kill switch to ensure you don't net trawl into iffy waters should the VPN go offline on you. Staunch IPv6 users will also find no support here either as Trust Zone has deemed this alternate protocol too leaky for their needs.
That said, it's nice that the site is overflowing with FAQs that get you out of all but the most serious problems (of which I had zero). There's even an active news feed that hands out tips and tricks. I'm happy to say that no fancy footwork was required to leap over a few geoblocks to get my US and UK Netflix on. Trust.Zone also worked well with torrenting, Amazon Prime and a few other usually US-only streaming services. This, coupled with decent speeds and impeccable reliability put Trust.Zone pretty high in my esteem.
---
How much does Trust.Zone cost?
Aside from the always appreciated Free Test, Trust.Zone offers three different pricing plans. 1 month is going to set you back US$6.99. You can get it a bit cheaper by going for 3 months at US$4.99 per month. The biggest saving is US$3.33 per month if you chain yourself up for a year.
What payment methods does Trust.Zone accept?
You're looking at three payment options here. The always appreciated Bitcoin is available for those looking to be less trackable. Else you can use five major credit cards, or a wide variety of PayPro Global options (AliPay, UnionPay, etc).
What devices does Trust.Zone support?
The platforms supported are pretty standard when compared to other providers: MacOS, Windows, Android and iOS are available. Bonus points are awarded for having Linux support which, sadly, seems to be a rare thing with most VPNs.
What servers does Trust.Zone offer?
You're buying into a comparatively smaller network of 127 servers (some of the big dog competitors offer 700+). These are set up in 31 countries with Trust Zone concentrating their efforts on the United States and Europe especially.
How fast is Trust.Zone VPN?
To speedtest Trust.Zone VPN, we ran three consecutive control tests for upload, download and ping, with Trust.Zone disconnected (to establish how the base broadband connection performance). Then we repeated these steps connected to Trust.Zone's Australian and North American servers to measure the change in performance.
We averaged the results and put them in the table below.
| Provider | | Trust.zone |
| --- | --- | --- |
| Control Ping | | 27.00 |
| Control Download | | 52.93 |
| Control Upload | | 24.50 |
| AU server Ping | | 25.67 |
| AU server Download | | 24.47 |
| AU server Upload | | 18.50 |
| US server Ping | | 309.67 |
| US server Download | | 20.47 |
| US server Upload | | 26.40 |
How does Trust.Zone compare?
---