Treadmill removal services
Here's how you can ensure your treadmill is moved safely and at a convenient time.
We're reader-supported and may be paid when you visit links to partner sites. We don't compare all products in the market, but we're working on it!
Any kind of relocation, whether it be moving bulky items from a home or a business, can be stressful. If you have a treadmill that you need to move or get off your hands, the job can be done easily and efficiently for you with a treadmill removal service.
Read on to learn your key options when it comes to treadmill removals, and compare services side-by-side.
What main options do I have for moving my treadmill?
Moving a treadmill usually involves getting a removal company to come to your home or business in order to take your treadmill and transport it to another place, such as your new home or commercial property. A removalist may be able to help if you want to recycle or donate your item.
If you plan to get rid of the item, you may also source a rubbish removal service (or a council pick-up) that will take your treadmill and dispose of it in a safe manner.
Should I hire a removalist?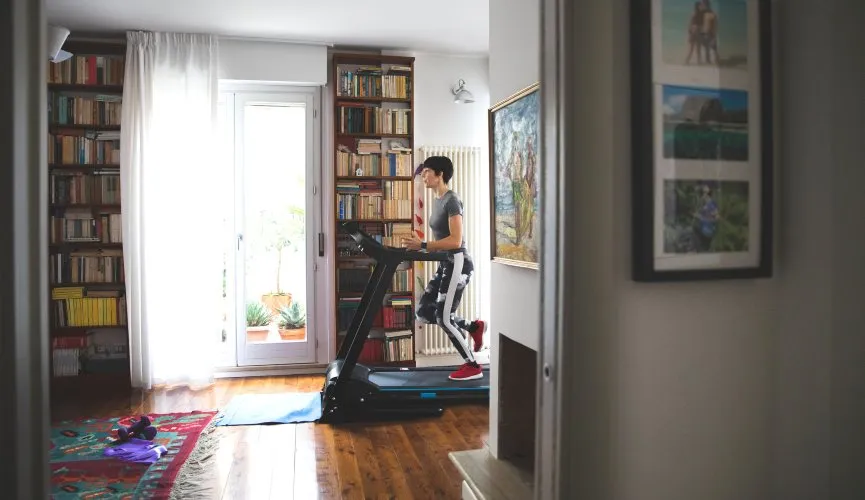 Treadmills are hefty, awkward things to move by yourself. If you're moving home or office locations, and you don't have anyone to help you, a removal service will come in very handy. Likewise, if you don't have suitable transport to carry your treadmill, the removalists can provide all this for you.
How do I compare treadmill removal services?
You can easily compare services by simply using online marketplaces such as Airtasker, TaskRabbit or Oneflare. Just enter your specific job details, and you'll receive quotes from various companies and individuals offering the service.
You can also find several removal companies online. Simply take a look at their websites and fill out a form or pick up the phone to get a quote.
Does your company belong in this list?
How much does a treadmill removalist cost?
Prices for a treadmill removal can typically start from around $200 per job. Some companies may charge by the hour.
If you are disposing of your treadmill, a rubbish removal company charges fees from around $130 + GST per cubic metre.
There's often a call-out fee necessary for a removal and this will vary depending on your location. A call-out fee is often a 30-minute fee at the given rate of your move which covers the driving time to and from your location. However, some removalists do not include this fee, particularly if you are in a metropolitan area.
The cost of a treadmill removal will depend on the size of your treadmill and how far you need to move it. There may be additional charges for special requirements such as difficult access, like moving down several flights of stairs or disassembly.
How should I prepare my treadmill for removal?
If you want to reduce the cost of your removal, it's a good idea to disassemble your treadmill for easier removal. Otherwise, many removal companies offer a disassembling and reassembling service at no extra charge. Some companies do charge a fee for this service, so be sure to clarify this before you book.

If you are sending your treadmill to the rubbish, you should leave it outside your home or business premises so the removalists can easily collect it.
Do I need to be there when my treadmill is picked up for removal?

If you are moving your treadmill to another location, you or someone you know will need to be at the premises when the removalists arrive to let them in and direct them to your treadmill.
If you're disposing of your treadmill, you usually won't need to be there when the rubbish removalists (or council workers) arrive. You might simply be able to leave the item outside your home and they will collect it.
What does a treadmill removal service include?
Whether you want to send your treadmill to the rubbish or move it to your new home, the services that a treadmill removal can provide range from free quotes, to packing and unpacking and even storage facilities and donations.
Pick up and drop off
Disassembly and reassembly
Packing and unpacking
Storage facilities
Rubbish collection
Site clean-up
Treadmill donation
Recycling.
Many removal companies include a disassembling and reassembling service as well.
Pros and cons of a treadmill removal service
Pros
Save the time and energy of moving large items by yourself
Fast pick-up times at your convenience
Many removalists will also disassemble and reassemble your treadmill
Some removalists provide a self-storage facility while you're in transition.
Cons
Possible damage to your treadmill or home
Costs more than moving yourself
It takes time to collect quotes and find the right removalist.
Bottom line
Hiring a removalist to relocate or dispose of your treadmill can definitely save you the time and headache involved in sorting it out yourself. Many friendly removal companies also offer extra services, including self-storage and arranging donations to make your life a whole lot easier.
Frequently asked questions
Can I scrap my treadmill myself or do I need to book a professional?
Scrapping your treadmill by yourself can be a time-consuming process which involves finding the right rubbish site and a vehicle large enough to carry your treadmill, not to mention getting help to lift the heavy item. For many people, it is much easier to organise a rubbish removal service that is experienced in scrapping all kinds of large items. They will ensure the job is done cleanly and efficiently, and some can help if you want to be environmentally friendly and donate your treadmill to a charity or arrange for it to be recycled.
Can I get my treadmill removed today?
Many companies may be able to remove your treadmill on the day you contact them for a quote and often quite quickly. This will depend on your location and the company's availability. In most cases, removal can be organised within around a day or two.
What risks are there with treadmill removal?
In many cases, the risks involved in treadmill removal will be minimal. However, while removalists do everything to ensure your item is protected, there is a chance your treadmill or premises could be damaged in the moving process. If this is a concern, it's a good idea to look into your home and contents insurance policy to check that everything is covered.
More guides on Finder