Travel Money Guide: Portugal
Find out which travel money options will make your dollar go further in Portugal.
We're reader-supported and may be paid when you visit links to partner sites. We don't compare all products in the market, but we're working on it!
Save yourself a headache on your holiday to Portugal by making sure you've planned the best way to spend on those important travel purchases, like side trips to Sintra and the perfect glass of port.
Since most multibancos (Portuguese ATMs) don't charge a fee for withdrawals we suggest you pick a travel card that won't charge you for international transactions so you can have completely fee-free withdrawals.
Compare your travel money options
Visa and Mastercard can be used everywhere in Portugal which means you'll have the option to choose between a debit, credit and prepaid travel card. It's always handy to have some euros so you might want to exchange money ahead of time or use one of the local ATMs.
How many Euros do I need to bring to Portugal?
While Portugal is not as cheap as it used to be, visitors will find it much cheaper than destinations in Western and Northern Europe. Accommodation and shopping will be where you spend (or save) your money. If you prefer to stay in hotels your estimated travel expenses will be much higher than someone else who stays in hostels. Food, even eating out, and traveling from A-B are quite affordable all over Portugal. You will be able to find budget accommodation, food and activities right through to 5-star treatment.
Basic costs
Mid range
A royal experience

Hostel

$15 - $30 per night

2-Star Hotel

$100 per night

5-Star Hotel

$150 - $300 per night

Casa de pasto

$5 - $10

Restaurant

$20 - $40 per dish

5-Star Restaurant:

$45 - $80 per dish

Free entry to most museums
Free sightseeing ancient ruins and castles

Lisbon Oceanarium

$20 for an adult ticket

Guided 7-day & night bike tour of Portuguese castles and vineyards (expenses included): $1,000+
*Prices are approximate and subject to change.
Exchange rate history
The AUD currency pair has been relatively stable since mid-2013. Travellers to Europe will find that $AUD 1 is equal to 0.65 - 0.70 Euros. If you think you know whether it's going to be more expensive or cheaper to buy Euros in the future, you may want to lock in the exchange rate using a prepaid travel card.
| Year | Average annual exchange Australian Dollar (AUD) to Euro (EUR) |
| --- | --- |
| 2012 | 0.806041 |
| 2013 | 0.728778 |
| 2014 | 0.679508 |
| 2015 | 0.677914 |
| 2016 | 0.654243 |
| 2017 | 0.69038 |
*Exchange rates are accurate as of 5 September 2017
Back to top
Today's exchange rate AUD to EUR
Should it be a travel card, a debit card or a credit card?
The national currency of Portugal is the Euros. Conveniently, all Australian travel cards let you load and hold Euros. Neighbouring Spain and France also use the same currency, so a travel card can make sense if Portugal is one stop on a European vacation, but how does a travel card stack up against a debit or credit card?
Visa and Mastercard can be used everywhere (look for the Visa [Plus] and Mastercard [Maestro/Cirrus] logos on ATMs and card terminals). Advances in contactless payments now mean you can also use your credit or debit card for small purchases at major Portuguese retailers, which somewhat eliminates the need to make ATM withdrawals.
Tip: Most Portuguese bank ATMs (multibanco) do not charge a local ATM operator fee, you should look for a product which doesn't charge for international ATM withdrawals as well as currency conversion to withdraw on the cheap in Portugal.
A quick summary of travel money options in Portugal
Travel money option
Pros
Considerations
Debit cards for travel

Protected by PIN & chip
Pre-load Euros and make over the counter transactions
Ideal for managing your travel budget
Comes with backup cards

Compare and choose carefully — the wrong debit card can charge you excessively

Prepaid travel money cards

Euro is a supported currency
Protected by PIN & chip
Pre-load and secure your exchange rate in multiple foreign currencies
Accepted worldwide
Emergency card replacement and backup cards
Ideal for managing your travel budget

While travel cards do not charge for international transactions (currency conversion fees), you may still be charged for ATM withdrawals

Credit cards for travel

Protected by PIN & chip
Access to funds up to your credit limit
Accepted worldwide
No currency conversion/ transaction fees
Benefits including rewards points on spending, 0% purchases, frequent flyer perks, complimentary travel insurance
Emergency card replacement

Can charge high withdrawal and cash advance fees
Higher spending limit (depends on your approved credit limit)

Traveller's cheques

Secure and can be easily replaced if lost or stolen
Photo I.D. needed to cash cheques

Banks and exchange offices won't accept traveller's cheques in Portugal
Can be costly with initial purchase charges
Not all merchants accept traveller's cheques

Cash

Greater payment flexibility
Convenience

More difficult to manage expenses
Higher risk of theft
This table is a general summary of the travel money products in the market. Features and benefits can vary between cards.
How travel money products work in Portugal
Using prepaid travel cards
The Euro is a supported currency on all travel cards. Compare the back and front end fees like charges for ATM withdrawals and loading and reloading your card. You can lock in a rate when you transfer Aussie dollars to Euros, which can be handy if you think the value of the Australian dollar is going to drop. And you can avoid ATM charges by choosing a product which doesn't charge for international ATM withdrawals — Portuguese bank ATMs are generally fee-free.
Using debit cards
If your bank is a member of the Global ATM Alliance (Westpac Group accounts), you can avoid international ATM charges by using Barclays Bank ATMs in Portugal. There are no Westpac Group cards which waive the fee for currency conversion, which makes the Citibank Plus Transaction Account an obvious choice if you're looking for a debit card to use in Portugal. This account waives the international ATM fee, currency conversion fee and there is no monthly account keeping fee.
Tip: Portuguese multibanco ATMs are fee-free. This means that if you choose a product that doesn't charge international ATM withdrawal fees or currency conversion fees, you can make withdrawals for a similar cost as you would in Australia.
Using credit cards
A travel friendly credit card will allow you to make day to day payments in Portugal without the charge for currency conversion, and supplement your travel budget with perks which would ordinarily be an out of pocket expense — travel insurance, for example. Credit cards also offer interest free days on purchases when you pay your statement in full by the due date.
The Bankwest Platinum range of credit cards don't charge for currency conversion fees, as with the Latitude 28° Global Platinum Mastercard. The annual fee is the difference, with the exception of the Bankwest Zero Platinum Mastercard, you'll pay a yearly fee to own the Bankwest cards. But it's not for nothing. Bankwest Platinum cards give you complimentary travel and purchase protection insurance when you use your card to make certain purchases.
Tip: Avoid using your credit card for ATM withdrawals. This is a cash advance. Cash advances accrue interest at about 20% p.a. from the time of the withdrawal, and you'll pay a cash advance fee.
Using traveller's cheques
It will be difficult to cash traveller's cheques in Portugal. Banks and exchange offices won't accept traveller's cheques. Use the right credit card, debit card or a travel card instead. These travel money products offer all the advantages of traveller's cheques and none of the drawbacks.
Taking cash with you
While Portugal has all the facilities to accept card payments you'd expect from a modern economy, there are going to be many instances when you need cash on your trip. Some places won't take cards if you're spending less than €10 - €20 Euros, other merchants won't take cards at all. Banking reforms in Europe have made it cheaper than ever to make withdrawals from bank ATMs, and if you pick the right card, there's no reason why you shouldn't have euros in your pocket.
Tip: While most supermarkets in Portugal will let you pay with your card even for transactions of only a couple of Euros, the Pingo Doce supermarket chain won't accept card payments for transactions under €20.
If you've brought Australian dollars with you to Portugal, you won't have trouble getting your cash changed to Euros on the street. They are frequent in bigger cities and touristy areas. The worst rates will be at the airport or inside hotels, the best will be at independent offices in larger towns and cities. Most banks no longer offer foreign exchange services.
Tip: Following the EU's austerity measures, Portugal raised its VAT (value-added tax) from 19% to 21%. Like everywhere in Europe, if you are leaving within 3 months of purchase, you can claim the tax back by requesting a form named "Isenção de IVA". Upon your departure, present this form to customs for a refund.
Back to top
Interview with Julie in Lisbon
What cards did you take with you?

Julie took these products with her:

Why did you take these cards?
Julie says she transferred money from her Westpac Choice Account to her Cash Passport Platinum Mastercard as she needed it. She did this so she could make over-the-counter purchases and ATM withdrawals without paying extra for currency conversion.
She had her 28 Degrees Platinum Mastercard to use for emergencies (she avoids using credit if possible).
She didn't use her Westpac card, she took it along with her incase she lost both her Cash Passport cards. However, it didn't leave her passport sleeve the entire time she was in Europe.
Where could you use your cards?

She didn't have a problem using her cards 90% of the time. She did come across the odd restaurant which was cash only, which was a little surprising since she said much smaller cafes accepted cards. She recommends that you always ask whether they take card before you sit down to avoid awkward circumstances. She says that when she went out for drinks with her friends, the bars they visited were mainly cash only.

What about withdrawing money from ATMs?

She had no problems using her Cash Passport Platinum Mastercard to make ATM withdrawals. However, she was charged a €2.50 fee per withdrawal, so she tried not to do it too often.

Do you have any travel money recommendations for Portugal?

She says the best thing she did was apply for a product which had the ability to lock in exchange rates, so she knew exactly how much money she had to spend and could stick to her budget.

What are your travel money tips for Portugal?
Skip the taxis in Lisbon. Julie says Lisbon is well serviced by a metro, train and bus network. She says you can buy a 7-day carris card for 0.50 Euro and reload as you need. Using the card gives you a discounted travel across public transport networks.
Ask about the price of sides. When she was eating out with her friends, a couple of times the restaurant gave them sides like bread and olives. They didn't ask for it, but they were charged a couple of Euros. They paid for the sides, but in hindsight, she would have asked for the waiter to take it back.
Back to top
A guide to Portugal banknotes and coins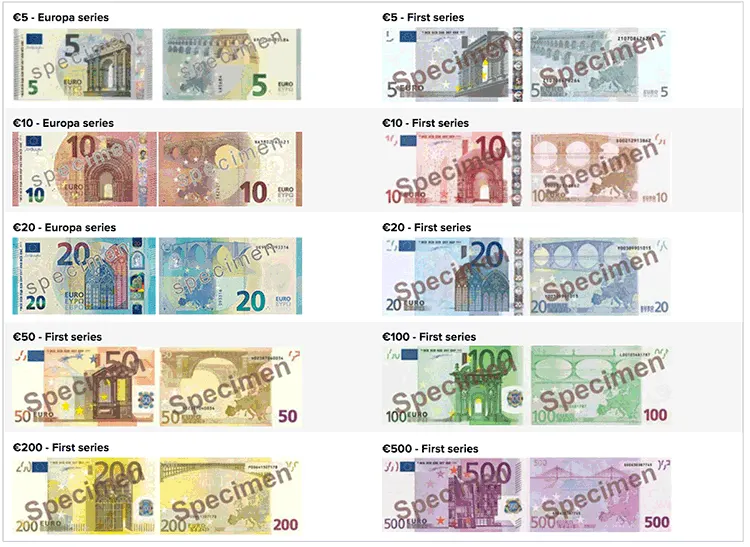 Buying currency in Australia
You can take as many Euros with you to the European Union as you want. You have to declare if you're carrying more than €10,000 cash. This includes bank notes and traveller's cheques, gold bullion etc. It's easy to buy Euros in Australia. Your options for changing AUD to EUR in Australia include the banks and providers of foreign cash like Travelex. Travelex also have airport pickup locations, which adds the element of convenience to their offer as well as price.
Find cash and ATM's in Portugal
Why you'll need a combination of travel money options
The Citibank Plus account is a standout travel debit card, and is a no-brainer if you're travelling to a country where Citibank have a presence; however, there are less than a handful of Citibank ATMs in Portugal, so in terms of accessing your own money, a travel card with no international ATM fee and the Citibank Plus are more or less on par.

One of the main differences between these travel products is the exchange rate. You'll get a better rate using Citibank's Visa AUD to EUR 'on the spot' exchange rate. Conversely, it can make sense to load funds and lock in a rate on your travel card if you think Euros are going to get more expensive to buy in the future. As always, you might want a credit card for emergencies as well as access to different travel perks such as complimentary insurance and rewards.

Whether you go for the sun, the olives or to explore the ancient cities of the once great imperial power, compare and apply for the right travel money so you don't get smashed by fees when withdrawing money or making purchases using your cards — your money will go further.

Back to top
Find travel insurance for your trip to Portugal
A critical component of getting your travel money organised is getting the right travel insurance in place. It's by far the most exciting aspect of planning a trip but travel insurance offers protection from a range of losses including;
Cancellation cover for pre-booked travel expenses
Loss/theft of luggage and personal belongings
Medical emergencies
Personal liability
Nobody wants to pay too much for their travel insurance. Compare quotes from leading Australian insurers and access exclusive codes to help you save even further.
Type or Select your destination(s)
Popular Destinations
Americas
Asia
Europe
Pacific
Africa
Can't find your destination? Just type it in the box above.

Back to top
You might also be interested in:
More guides on Finder