Travel Money Guide: Poland
Want to know how you can organise your travel money before your trip to Poland? This guide is for you.
We're reader-supported and may be paid when you visit links to partner sites. We don't compare all products in the market, but we're working on it!
Passport: Check. Winter coats: Check. Extra baggy jeans for after you've overindulged in hearty Polish cuisine: Check. Now all that's left to do is organising your travel money. Poland has been a member of the European Union since 2004 and a member of the Schengen area since 2007. As Poland isn't a Eurozone member, zloty is the national currency. If you're one of the increasing number of travellers visiting Poland each year, it's a safe bet you will be also visiting another European Union member state. If this is the case, a card which waives the currency conversion fee for transactions in both euros and zloty is preferable. Even better if you can find a product which also waives international ATM withdrawals fees — you're going to need cash on your trip. Unlike other European member states, Polish ATMs charge an operator fee if you make a withdrawal. Be up to date with your options for travel money and get the most out of your trip. Spend your time enjoying Poland, and not worrying about spending money.
Compare travel cards for Poland
How much zloty do I need to bring Poland?
Poland is still cheap compared to Western Europe and Australia. How you choose to travel will dictate the final cost of your trip. If you eat out (and drink out) every night and stay in nice hotels, your trip will be much more expensive than somebody who rents a bed in a dorm and cooks with food from the market.
Krakow
Budget
Midrange
Expensive
$15 - $30 per night
2 star hotel
$40 - $80 per night
5 star hotel
$150 - $250 per night
Zapiekanki (Polish pizza)
$3
Pierogi (Polish dumplings)
$5
Restaurant and wine bar
$10 - $20 per dish
plus wine
$20 (500ml)
5 star restaurant traditional set 3 course menu plus drinks
$80 a head
1 hour river cruise
$15 Bike tour of Krakow
$35 per person
Auschwitz-Birkenau guided tour from Krakow plus museum entry
$60 per person
Private wine tour of Krakow over 2 nights with accommodation
$250 per person
*Prices are approximate and for one guest in summer.
Exchange rate history
Following a period of economic instability as a result of the global financial and European debt crisis, in recent history, the Australian dollar has been worth about 2.6 - 3 Polish zloty.
| Year | Average annual exchange Australian Dollar (AUD) to Polish złoty (PLN) |
| --- | --- |
| 2012 | 3.370230 |
| 2013 | 3.057843 |
| 2014 | 2.843892 |
| 2015 | 2.834151 |
| 2016 | 2.854570 |
| 2017 | 2.83735 |
*Exchange rates are accurate as of 5 September 2017
Today's exchange rate AUD to PLN
Which travel card, debit card or credit card?
You won't have a problem using your Visa or Mastercard debit card, credit card or travel money card at point of sale terminals and Polish bancomat machines. Like in Australia, American Express is not accepted in as many places as Visa or Mastercard. Card payments are the norm in supermarkets, shops, petrol stations, restaurants and more, especially in major towns and cities such as Warsaw, Krakow, Lodz, Wroclaw and so on. There are two charges to worry about: compare products which waive the currency conversion fee when you spend in zloty and compare cards that let you withdraw from Polish ATMs without paying the international ATM withdrawal fee.
Travel money options for Poland at a glance
Travel money option
Pros
Considerations
Debit cards for travel

No currency conversion, international ATM withdrawals or both
ATMs are the common feature of the public spaces in Krakow

There is a fee for ATM cash withdrawal (approx. $3) from bankomats

Prepaid travel money cards

Convenient and safe
Prepaid travel cards can be used to spend and withdraw (fees may apply)

No Australian travel money cards support Polish zloty
There are cheaper travel money products to use than a prepaid travel card

Credit cards for travel

Credit cards are widely accepted, especially Visa and Mastercard
Some cards have no annual fees, no foreign exchange fees and they perform currency exchanges at the best possible interchange rate

Credit cards can usually only be used in larger cities and tourist areas and you may be charged to use them
Smaller businesses and out-of-city areas credit card acceptance might not be so common

Traveller's cheques

Security
Traveller's cheques can be exchanged at the larger hotels

Only accepted by main banks and hotels
They are not accepted by kantors.

Cash

Greater payment flexibility
Convenience

More difficult to manage expenses
Higher risk of theft
This table is a general summary of the travel money products in the market. Features and benefits can vary between cards.
How travel cards, debit cards, credit cards and more work in Poland
Using Australian debit cards
Transaction accounts with travel features don't charge for currency conversion, international ATM withdrawals or both. Because Poland is not a Eurozone member, you'll pay a local ATM operator fee when you withdraw cash (approx. $3) from bankomats. You can avoid the international ATM withdrawal fee using the Citibank Plus Transaction Account (the currency conversion fee too). You can save even more money using your Citibank Plus Visa Debit Card to withdraw from Polish Citibank ATMs. Cardholders can withdraw for free from all Citibank ATMs in Poland and all over the world.
Tip: If you're a Westpac, St.George, Bank of Melbourne or BankSA cardholder, use Deutsche Bank ATMs in Poland and you won't pay the international ATM withdrawal fee.
Using credit cards
Travel credit cards let you spend in zloty without paying the additional 3% charge to convert Australian dollars into a foreign currency. This is a handy feature when you're overseas as it allows you to use you credit card in Poland for approximately the same price as Australia. In Poland, as in most developed countries, credit cards are widely accepted, especially Visa and Mastercard. However, be mindful that in smaller businesses and out-of-city areas credit card acceptance might not be so common.
Exchange rates. When you make a transaction in zloty using your credit card or debit card, the Visa or Mastercard (or American Express) foreign exchange rate applies. This rate is usually better than the rate you'll get on a travel card and is pretty close to the market rate.
Using travel prepaid cards
No Australian travel money cards support Polish zloty. Unless you're using a no currency conversion fee travel card, you'll pay an additional fee when you use your travel card to spend and withdraw. The cards which don't charge for currency conversion charge for ATM withdrawals and vice versa. While travel cards may be suited to take to trips to Eurozone member countries, there are cheaper travel money products to use in Poland than a prepaid travel card.
Using traveller's cheques
Traveller's cheques are a travel money dinosaur. These products have been replaced by debit cards and travel cards and you will have trouble finding a place where you can get your traveller's cheques cashed. Taking traveller's cheques to Poland is not advised. Learn more on this guide how to get a refund if you're a victim of a fraudulent transaction.
Paying with cash in Poland
You will find that you can pay using your card in Poland in a similar number of places to Australia. The difference is the time it takes for the transaction to process. It can be minutes rather than seconds with some merchants, and you may get the odd look while a line builds up behind you. Some stores will only take cards for transactions over the Polish equivalent of $20 Australian dollars. Pubs and clubs are frequently cash only as with some restaurants. Of course, markets are cash only.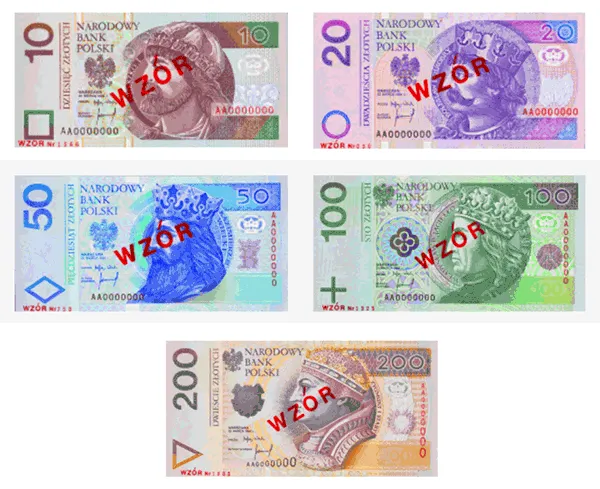 Back to top
East meets West Top Deck Tour: One day in Krakow
For her 19th birthday, Kacey visited Poland as part of a 13 day Top Deck tour. The tour started in Budapest and finished in London. She spent a day travelling from Vienna to Poland and one day in Krakow before continuing to the Czech Republic.

What cards did you take with you? Kacey took these cards with her on her trip.

Why did you take these cards?

Her parents paid for her trip for her birthday. They recommended she open the Citibank Plus Transaction Account before she left Australia, which she was to use as her travel account. The Citibank Plus account doesn't charge for international ATM withdrawals, currency conversion and has no account keeping fee. She spent the majority of her trip in the Eurozone (Germany, the Netherlands & Austria) where she could make free ATM withdrawals (Eurozone ATMs don't charge local ATM operator fees). She used the card to pay for over the counter expenses when she could, which was quite often during her 13 day tour. ANZ is Kacey's bank in Australia. She took her Access Advantage Debit Card with her in case something happened to the Citibank Card (the Access Advantage has no account fee for under 25's) and she used the Low Rate Card for emergencies. She's happy to report there were no 'emergency situations'. She transferred lump sum amounts from her Access Advantage Account to her Citibank Plus account as she needed it.

Where could you use your cards?

She didn't have a problem with card acceptance. When she arrived in Poland, she made one ATM withdrawal of about 200 Polish zloty (about $80AUD), which was more than enough to cover her for a day and a half — the tour paid for breakfast, but not lunch, dinner, drinks or activities for the day. She didn't want to withdraw too much money as they headed to the Czech Republic the next day, and she had to make another ATM withdrawal so she could get Czech Koruna.

What about ATM withdrawals?

Kacey made a withdrawal from a Bank Polski bancomat around Krakow's main square and was charged a fee of 5PLN, which is about $2. She says that the ATM offered an English language option and displayed exactly what she would be charged before she accepted the transaction.

What travel money recommendations do you have for Poland?

She says the Citibank Plus was a great card to use around Europe. Not only are there plenty of Citibank ATMs in different countries, Eurozone ATMs don't charge a fee, so she paid nothing to withdraw cash using this card.

Do you have any travel money tips?
Reload time. Kacey says it took at least 2 or 3 days to transfer money from her ANZ Access Advantage Account to her Citibank account. She says watch out for weekends, she tried to make a transfer on a Friday and the funds didn't clear until Wednesday (5 days).
Back to top
Buying currency in Australia
If you want to purchase zloty in Australia, banks and foreign exchange providers can sell you cash before you leave. The following banks and foreign exchange providers can sell you zloty in Australia. Banks charge a commission, Australia Post and Travelex. You can even order your foreign cash online with Travelex and Australia Post and collect the money from Australian international airports.
Exchanging cash
Aussie dollars, euros, pounds and US dollars can all be easily changed at Polish 'Kantors' or exchange offices. Kantors can offer a very good exchange rate. Always use a Kantor which displays a 'buy' and 'sell' rate, if there is only one rate on display, there's a good chance it's a dodgy exchange office and you may get ripped off. In Krakow, head to Slawkowska Street close to the main square of the city to find a decent place to exchange cash. There should be no commission but double check before you start the transaction. Avoid changing money at the airport. If you find yourself in smaller villages, banks will usually change foreign currency, but come prepared with enough Zloty beforehand.
Tip: Some towns near the border of Eurozone member states may accept euros as a form of payment. Always pay in the local currency to avoid an unfavourable exchange rate.
Finding cash and ATMs in Poland
Contactless payments
Contactless payments are extremely handy when you're overseas. This form of payment eliminates the minimum transaction limit so common among merchants. Poland has had an enthusiastic uptake of contactless payment technology and is currently the biggest market in Europe for Visa PayWave. Almost half of all Visa payments in Poland are contactless and all Visa point of sale terminals will support contactless payments by 2017.
Why you'll need a combination of travel money options
The best advice for how to carry and use your travel money while in Poland is to split up your travel funds between cards, always have access to cash to make small payments, and carry enough cash on your person to get you through any small emergency. In larger cities like Krakow and Warsaw, pulling out your card to pay for lunch is not likely to raise an eyebrow; paying with card is perfectly normal. There will definitely be some situations where cash is the preferred, if not the only way to pay. That's why it makes sense to keep your options open, and have easy access to both cash and cards. If you are planning a trip to Poland, or are considering traveling to Europe, compare the travel money options before you leave. If you have any other tips for traveling wisely and using travel money in Poland, leave a comment in the forum. If you have any questions, ask us using the form below.
Back to top
Get travel insurance quotes for your holiday in Poland
Type or Select your destination(s)
Popular Destinations
Americas
Asia
Europe
Pacific
Africa
Can't find your destination? Just type it in the box above.
Back to top
You might also be interested in
More guides on Finder