Travel Money Guide: Ireland
Planning a trip to Ireland? Here's all you need to know to prepare your travel money.
We're reader-supported and may be paid when you visit links to partner sites. We don't compare all products in the market, but we're working on it!
Are you taking a trip to the land of green pastures, rolling hills and leprechauns? Equally important to flights and accommodation, organising your travel money is crucial for a stress-free holiday. As Ireland has its own unique currency and travel money customs, it's important to do your research before you leave.
Ireland is divided politically between the Republic of Ireland and Northern Island. Euros are the currency of the Republic of Ireland, Northern Ireland uses pounds. We have a look at the travel money products suited to spending in euros and pounds as well as tips to make your money go further in the Emerald Isle.
Compare travel cards for Ireland
How many euros or pounds do I need to bring to Ireland?
You'll have to declare your bank bills If you're carrying more than 10,000 euros cash in or out of the Eurozone. Cash includes travellers cheques as well as notes. Save the time and hassle of exchanging cash before you leave and make an ATM withdrawal at the airport. You'll pay for the convenience (upwards of $10 per transaction for most debit cards, some travel cards can be cheaper), but it saves time exchanging funds before you leave.
Dublin
Budget
Midrange
Expensive
Hostel dorm bed
$15 - $30 per night
2 star hotel
$20 - $200 per night
5 star hotel
$250+ per night
Get a full Irish breakfast sandwich on Nassau Street
$10
A meal at a midrange restaurant
$20 per head
3-course meal at a michelin star restaurant
$150 a head
Visit the national galleries of Dublin
Free
Beat the queues at the Guinness Storehouse
$20 (early entry and first service)
3-day tour of South Ireland starting and returning to Dublin
From $300 per person
*Prices are approximate and are subject to change.
Tip: Apply for a card with reduced ATM withdrawal fees so you can get cheap euros or pounds. There are credit cards, debit cards and travel cards which don't charge for ATM withdrawals.
Exchange rate history
Northern Irish banks issue their own pound sterling banknotes. These notes are legal currency in Great Britain; however, some merchants may not accept Irish pound notes outside of Northern Ireland, you can easily get these notes changed at any bank. Most banks are open from 10am to 4pm weekdays, some stay open till 5pm. Some department stores offer foreign exchange services, post offices no longer provide this service.
| Year | Average annual exchange Australian Dollar (AUD) to Euro (EUR) | Average annual exchange Australian Dollar (AUD) to Pounds sterling (GBP) |
| --- | --- | --- |
| 2012 | 0.806041 | 0.653805 |
| 2013 | 0.728778 | 0.619212 |
| 2014 | 0.679508 | 0.547796 |
| 2015 | 0.677914 | 0.492231 |
| 2016 | 0.672243 | 0.551105 |
| 2017 | 0.690959 | 0.601159 |
*Exchange rates are accurate as of 3 September 2017
Tip: Always pay in euros or pounds when you're using your credit or debit card. You may be asked to pay in Australian dollars, you'll get robbed on the exchange rate if you do this.
Today's exchange rate AUD to EUR
Which one do I choose: Travel card, debit card or credit card?
You shouldn't have a problem using Visa or Mastercard travel, debit or credit cards at Irish shops and ATMs. American Express can also be used (albeit in a fewer number of places than Mastercard and Visa). Diners Club is accepted in fewer places than American Express and Discover cards are not accepted at all.
Travel money options for Ireland at a glance
Travel money option
Pros
Considerations
Debit cards for travel

Secured with a chip and a PIN technology
Can be easily blocked by your issuer with just a phone call
ATMs are 'everywhere' in Switzerland

Don't come with a back-up card
Linked directly to bank account. This could have security implications if your card goes missing.
Local ATM operator fees may apply

Prepaid travel money cards

All travel cards let you load euros and pounds
Save on currency conversion fees
Can be easily blocked by your issuer with just a phone call
Come with a back up card and are protected by PIN
Money back guarantee for victims of fraudulent transactions

You'll need to pay reload fees/ATM fees to use the card
Can take up to 5 or 6 days if you're trying to reload your travel card over a weekend or Australian bank holiday
Subjected to inflated travel card exchange rate margin

Credit cards for travel

Protected by PIN & chip
No currency conversion fees
Features such as complimentary travel insurance
Interest-free period on purchases

Withdrawing cash can be considered a "cash advance" and can charge you fees and high interests
Attracts an annual fee
ATM cash withdrawals may attract cash advances and higher fees
International transaction fees and interest charges may also apply

Traveller's cheques

Acceptance
Secure and can be easily replaced if lost or stolen
Card schemes such as Mastercard give you a money back guarantee if you're a victim of card fraud

You may be charged a commission when cashing your cheques
Can be costly with initial purchase charges
Not all merchants accept traveller's cheques

Cash

Greater payment flexibility
Convenience

More difficult to manage expenses
Higher risk of theft
This table is a general summary of the travel money products in the market. Features and benefits can vary between cards.
How each type of travel money product works in Ireland
Using prepaid travel cards
All travel cards let you load euros and pounds, the currencies of Ireland and Northern Ireland. Pounds are also used throughout the rest of neighbouring Great Britain, most trips to Ireland also involve trip to the United Kingdom.
Travel cards let you spend without paying extra for currency conversion; however, you'll pay back and front end fees (reload fees/ATM fees) to use the card and an inflated travel card exchange rate margin. You're also responsible for maintaining your travel card balance, which can take up to 5 or 6 days if you're trying to reload your travel card over a weekend or Australian bank holiday.
Tip: Travel cards may use a different currency exchange rate to regular debit or credit cards. Depending on the card you use, you may end up with a higher or lower exchange rate. You can check with your providers to see what rates apply and work out the most affordable option (keeping in mind that travel money cards can also help you avoid currency conversion fees).
Travelling with an Australian credit cards
Credit cards are handy for big ticket purchases like travel bookings and souvenirs. Credit cards give you a month and a half to pay back what you've spent before interest is charged on purchases (if you pay back your entire balance by your statement due date). Some credit cards also provide complimentary international travel insurance when you buy your airfare with your card.
A credit card with no currency conversion fee can be a cost effective way to make purchases in Ireland. The card scheme (Visa, Mastercard etc.) exchange rate applies, which is as close as a general consumer can get to the market rate. Drawbacks include international transaction fees, interest and ATM withdrawal charges.
Tip: Credit and debit card provider, Bankwest waives the currency conversion fee on their platinum products. Even with these travel benefits, avoid using your credit card to withdraw cash. Cash advance interest and cash advance fees apply for this type of transaction, and you don't get interest-free days either.
Using debit cards
There are only a handful of debit accounts with features suited to travellers. The Citibank Plus Transaction Account doesn't charge for currency conversion (approximately 3%) or international ATM withdrawals ($5 plus), which makes this account a clear standout. Local ATM operator fees may still apply ($2 - $4) as Citi don't have an ATM presence in Ireland.
The other debit cards worth considering are offered by Bankwest and Westpac. We've included these accounts in this comparison because both card providers don't charge for international ATM withdrawals. This is across the board for Bankwest, Westpac waive the international ATM fee at selected International ATM Alliance Partner ATMs only. You're charged an international transaction fee when you spend using the Bankwest and Westpac debit cards (for ATM withdrawals and over the counter purchases); it's just a little cheaper using these accounts to withdraw cash.
Tip: Make sure you tell your bank about your travel plans to Ireland. There's a good chance your card will be blocked if you try and use it outside of Australia.
Using traveller's cheques
Travellers cheques have been made redundant by the bank's fraud protection policies and the ever increasing number of places where credit cards and debit cards are accepted overseas. If you're the victim of card fraud, such as ATM skimming, your bank or card provider will be able to give you a full refund if you have complied with the terms of the Visa and Mastercard Zero Liability Guarantees.
Back to top
Interview with traveller Luke about using Australian travel money in Ireland
Where did you visit?
Luke visited:
Dublin & Limerick (Ireland) and Belfast (Northern Ireland)
Edinburgh (Scotland) and London (England)
What cards did you take with you?
Why did you take these cards with you?
Luke took the Westpac Global Currency Card to use to pay for his day to day expenses. He had preloaded both euros and pounds sterling on the card and he used the product for over the counter purchases and withdrawals at Barclays Bank ATMs. Westpac cardholders can make free ATM withdrawals at Barclays Bank ATMs. Luke didn't pay anything to withdraw pounds loaded onto his travel card in the United Kingdom and the Republic of Island.
He used the Bankwest Breeze Platinum Mastercard for some over the counter purchases and to pay for purchases like flights, car rental and hotel bookings. A low purchase rate and no currency conversion fee are the main reasons he used this card. Bankwest don't charge for international ATM withdrawals either, but he avoided using his card for ATM withdrawals.
What about ATM withdrawals?
Luke withdrew the pounds and euro equivalent of about $300 Australian Dollars each time from his travel card. Westpac and Barclays Bank have an agreement, so Luke didn't have to pay ATM withdrawal fees (or currency conversion fees) in the United Kingdom. Luke did pay ATM fees in the Republic of Ireland of €2.00 per transaction.
Could you use your cards everywhere?
Even though Luke's Westpac travel card didn't have his name on the front, he didn't have any trouble using his travel card in any of the cities he visited.
What do you think is the best way to travel with money to Ireland?
Luke says use a combination of products: a debit card or travel card and credit card. Start with looking at products which don't charge for currency conversion and then compare other features such as fees.
Do you have any tips?
Tell your bank. Luke says Bankwest blocked his card after he used it for the first time. He says tell your bank about your travel plans before you leave to avoid the hassle of calling your bank to unlock your credit card.
Back to top
A guide to Ireland's coins and banknotes
Did you know?
In the Republic of Ireland, the official currency is the euro. Notes are €5, €10, €20, €50, €100, €200 and €500, while coins are 1c, 2c, 5c, 10c, 20c, 50c, €1 and €2.
In Northern Ireland, pound sterling is the local currency. Notes are £5, £10, £20, £50 and £100, while coins are 1p, 2p, 5p, 10p, 20p, 50p, £1 and £2.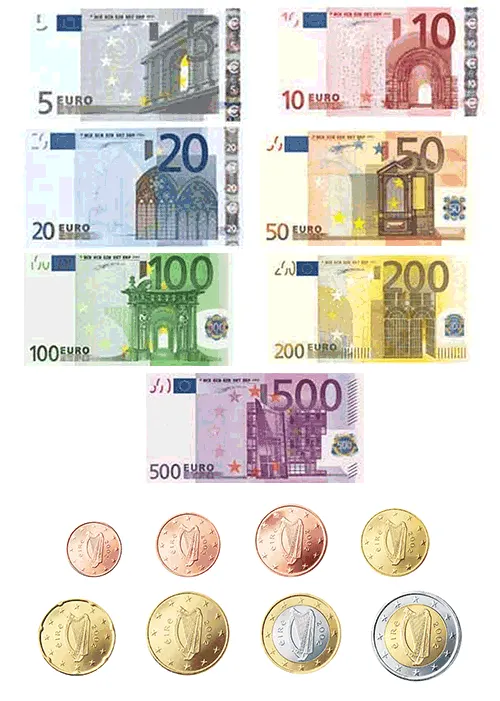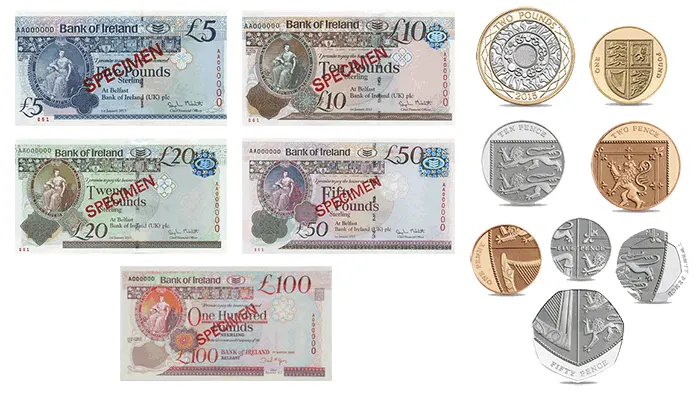 Buying euros and pounds sterling in Australia
ATMs take the hassle out of exchanging cash to local funds. Australian's don't have to pay to enter Ireland or the United Kingdom, so there's no reason why you should need a large amount of cash right away. However it can be a good idea to have some small bills to pay for food or a train or taxi from the airport. Australian banks will charge a commission to exchange funds. Travelex and Australia Post are better options. There's no commission, and Travelex and Australia Post have a number of locations (including airports) which make it extremely convenient to change your Aussie dollars before you leave.
Finding cash and ATMs in Ireland
Why you'll need a combination of travel money options
A combination of travel money products will give you the best mix of affordability and convenience. A credit card is almost an essential item for any overseas holiday. Most people opt to take their regular credit card overseas and apply for a debit or travel card to use as their dedicated travel account. Some debit cards and travel cards waive international transaction charges and give you free international ATM withdrawals. Use a travel card or debit card for cash withdrawals when you need euros or pounds and everyday purchases and a credit card for everything else.
If you're in the market for a new credit card, why not apply for a credit card with travel features to use on your Irish holiday? Complimentary insurance can save you hundreds before you've even left the country. There are even cards which offer extended interest-free terms for up to a year or more.
Get travel insurance quotes for your holiday in Ireland
Type or Select your destination(s)
Popular Destinations
Americas
Asia
Europe
Pacific
Africa
Can't find your destination? Just type it in the box above.
Compare international travel insurance options for Ireland
Plan your travel money for your trip to the Emerald Isle so you can access your spending money cheaply, conveniently and safely. If Ireland isn't your only destination, have a look at our other travel money locations guides:
You might be also interested in:
More guides on Finder