Travel Money Guide: Germany
Before you pack your bags make sure you've got the facts on how to get the most out of your travel money in Germany.
We're reader-supported and may be paid when you visit links to partner sites. We don't compare all products in the market, but we're working on it!
Germany is a modern country and cool global force, but you'll also find outside major cities it can be quaint and traditional and a lot of that culture comes across in the country's quirky spending habits.
Cash is very much the way of life throughout a lot of Germany so you'll need to get familiar with the geldautomat (the German ATM). Credit cards are not as common as debit so our advice is to always have a back-up option.
Before you head off on your German getaway, understand the ins and outs of spending money in Germany so you don't get caught out.
Compare your travel money options
Cash is used in an estimated 75% of transactions in Germany so while you can use a debit, credit or prepaid card, you'll need to be prepared with some cash on hand or consider a card without ATM withdrawal fees.
How many euros do I need to bring to Germany?
Germany is a western European country so don't expect prices to be rock-bottom. It is, however surprisingly affordable, especially Berlin which is by far one of the best-value cities in Europe. Depending on your spending habits, you can compare some of the daily expenses you can expect below:
Berlin
Budget
Midrange
Expensive
Sleep
Hostel
$15 - $30 per night
2 star hotel
$30 - $100 per night
5 star hotel
$160 - $320 per night
Eat
Currywurst $3
+ chips: $5
Midrange restaurant
$20 - $40 per dish
4+ course meal at a 5 star restaurant
$250 a head
Do
Walking tour of Berlin
Free (Give a tip to your guide at the end if you're satisfied)
Jazz every wednesday at The B-flat Jazz Club on Rosenthaler Straße
Free
Private WW2 and cold war walking tour of Berlin
$30 per person
Private Berlin Wall tour
$90 per person (up to 3 hours)
1 hour private flight over Berlin
$350 (up to 3 people)
Tour of Jewish heritage in Berlin
$350 (up to 3 people)
*Prices are approximate and based on summer seasonality and are subject to change.
Exchange rate history
The global financial crisis and European debt crisis resulted in instability among global currencies. The past couple of years, AUD$1 will get you between 0.6 and 0.7 euros. Travel cards and traveller's cheques let you lock in a rate if you think it's going to be more expensive to buy euros in the future.
| Year | Average annual exchange Australian Dollar (AUD) to Euro (EUR) |
| --- | --- |
| 2012 | 0.806041 |
| 2013 | 0.728778 |
| 2014 | 0.679508 |
| 2015 | 0.677914 |
| 2016 | 0.672243 |
| 2017 | 0.690959 |
*Exchange rates are accurate as of 3 September 2017
Today's exchange rate AUD to EUR
Travel card, debit card or credit card?
Visa and Mastercard are widely accepted in Germany. You can also use American Express and Diners Club credit cards; however, they're accepted in fewer locations. While Germany ranks highly in Europe for the acceptance of new technology like contactless and mobile payments, it's still a cash economy. Some businesses may not accept cards for purchases below a certain amount, for example €20, and most supermarkets (even Aldi) won't take credit cards at all. While it's important to find a card that'll let you make over the counter purchases cheaply, a card which lets you use ATMs without the ridiculous charges is more relevant for a trip to Germany.
A quick summary of your travel money options in Germany
Travel Money Option
Pros
Considerations
Debit cards for travel

No currency conversion and international ATM fees
Convenience
No extra set-up before setting-off
Usually offer cheaper ways to access cash via ATMs while overseas

Debit cards are linked directly to your personal savings account. If your card is stolen, or you become a victim of fraud, the thief could gain access to your entire bank balance.

Prepaid travel money cards

Comes with a back-up to use, if the card is missing or stolen
Lets you load Australian dollars and spend it in a variety of currencies
Easier to manage expenses
All travel cards support Euro

May need to wait for the funds to be cleared before you can use your money
Can be an expensive way to access the travel money for Germany if used incorrectly

Credit cards for travel

Line of credit for both regular and emergency use
Accepted in large German retailers and mid to upmarket restaurants
Often comes with features such as complimentary travel insurance or a rewards scheme

Withdrawing cash from an ATM can get expensive. The transaction is treated as a cash advance.

Traveller's cheques

Expensive way to carry foreign cash
Commission of up to 8% when encashed

Not all merchants accept traveller's cheques

Cash

Greater payment flexibility
Convenience

More difficult to manage expenses
Higher risk of theft
This table is a general summary of the travel money products in the market. Features and benefits can vary between cards.
How credit cards, debit cards and travel cards work in Germany
Using a prepaid travel card
Prepaid travel cards let you load Aussie dollars, convert the funds to euros (at a fixed rate) and spend the euros in Germany and wider Europe. You won't pay the usual fee for spending in a foreign currency (about 3% on most credit cards and debit cards), you can hold a number of different foreign currencies on the card at the same time (which makes sense if you're travelling to the UK as well as Germany; however, there's cards don't support the currencies of smaller European nations such as the Czech Republic or Hungary) and you get a backup to use if the main card is stolen or lost.
Using a debit card
A travel debit card lets you make cheap overseas ATM withdrawals and over the counter purchases by waving the currency conversion fee, international ATM fee or both. The Citibank Plus Transaction Account is the only travel debit card in Australia, and is product to use if you're conscious about saving money on international transactions. As part of the Global ATM Alliance, Westpac account holders will have their usual foreign ATM withdrawal fee waived when withdrawing cash from Deutsche Bank ATMs. Citibank transaction plus customers still enjoy most Citibank privileges in Targobank, which bought the German arm of Citibank in 2009. That means a lot of options for fee free withdrawals.
Tip: Westpac cardholders can avoid the international ATM withdrawal fee as well as the local ATM fee by using Deutsche Bank ATMs in Germany.
Using a credit card
A credit card provides a line of credit suited for both regular and emergency use. If you don't use your card, you won't pay for it (besides the annual fee). Plus, if your card has an interest free days offer, purchases won't accrue interest if you pay back everything at the end of the month. Credit cards are accepted in large German retailers and mid to upmarket restaurants, for example. While Germans are typically considered innovative, they're hanging on cash. Credit cards are accepted in fewer places than Australia, and in some of the places which do take cards, you'll find that the EuroCard is the preferred plastic. If in doubt about credit card acceptance, shop windows will have little Visa and Mastercard stickers, and you can always ask too, many people in Germany have an understanding of English or have a go with this one: 'Akzeptieren Sie Kreditkarten?'
Tip: Avoid using your credit card to withdraw cash. Cash advance charges will eat up your available credit quickly.
Using a traveller's cheques
Banks can cash traveller's cheques if this is your preferred method of taking euros to Germany. Traveller's cheques can be an expensive way to carry foreign cash. Expect to pay a commission of anywhere up to 8% when you get your cheques cashed. Traveller's cheques have been replaced by ATMs, which make it cheap (if you use the right card) and easy to get euros when you arrive.
Paying with cash in Germany (Euro)
More than 80% of payments in Germany are made using cash. The same research indicates cash payments account for 60% of all transactions in Australia. It suggested that the history of hyperinflation in Germany following both World Wars has influenced German's preference to use cash. Regardless of the reason, you will need cash to pay for many of your transactions on your trip. The best way to get euros is to make an ATM withdrawal when you arrive in Germany using a card which doesn't charge an international ATM fee.
Back to top
Oktoberfest in Munich

Caroline went to Germany on her trip to Europe. She visited Berlin and then travelled South to Munich for Oktoberfest. She visited a number of other countries including France, Belgium, Netherlands and the Czech Republic.
What cards did you take?
Why did you take these cards?
Caroline applied for the Citibank Plus Transaction Account as her dedicated travel card so she could use the Visa Debit Card in Germany. The Citibank Plus account does not charge a fee for converting Australian dollars to euros, Citibank gave her free international ATM withdrawals and the account cost nothing to open and keep. Caroline originally applied for the NAB Low Rate because it had a 24 month balance transfer promotion, which she used to pay off the balance of her Woolworths Everyday Money Qantas Platinum Credit Card. Although she took both credit cards with her to Germany, she avoided using them as much as possible as they both charged 3% for spending in euros and her Citibank Visa Debit Card does not.
Where could you use your cards?
She says the beer tents at Oktoberfest were cash only, and there was no entry fee to get into any of the tents. Outside the festival, Caroline says she could use her card in more places back home than she could in Germany. She notes supermarkets don't take credit cards (with the exception of FAMILA which take Visa and Mastercard). Many restaurants, cafes, markets and street vendors (obviously) and taxis are cash only too. She used her card to book her travel tickets (including train tickets throughout Germany), car rental and to pay for her hotel.
What about ATM withdrawals?
Card acceptance wasn't such an issue because Caroline made frequent ATM withdrawals and used cash. She didn't pay any ATM fees when she used her Citibank Plus Visa Debit Card to get euros. She always had enough cash in her wallet to cover whatever expenses she had for the day (and euros for the unexpected too). At the beer festival, there are a few ATMs in some tents; however, Caroline says you'll pay a fee to use these ATMs. She says make a withdrawal in Munich at a bank Geld Automatic so you have enough cash to last you for the whole day.
What is your travel money recommendation for Germany?
Make ATM withdrawals for peace of mind. Caroline says German bank ATMs don't charge fees and she didn't pay international ATM fees as well as currency conversion fees. She was able to withdraw euros for no cost and at a great rate set by Visa (plus a tiny margin from the bank which provides the ATM).
What are your travel money tips?
Caroline says tipping is generally appreciated and polite in Germany, but isn't expected. If you're at a bar, in a taxi or at a restaurant, a tip between 5% - 10% is good form but you don't need to tip unless you really want to. It's also good practice to round up to the nearest euro if the bill is under €10. She also says to remember not to leave change on the table if you want to tip, it's considered rude in Germany and other parts of Europe, give the tip to the person directly.
Back to top
A guide to euro banknotes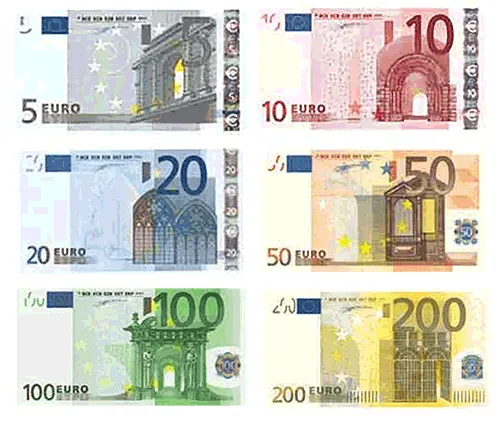 Buying currency in Australia
It will be cheaper to buy euros in Germany than Australia. If you want euros in your pocket when you land, you'll have to get money changed before you leave. As euros are a major international currency, you won't have any issues finding a place to get your money changed in Australia. Your options including financial institutions such as banks and mutuals and specialist foreign exchange providers such as Travelex. Banks tend to charge a commission, although NAB don't when you order online. This is the main point of difference between say, Commonwealth Bank and Travelex for example. The rates are comparable, choosing one service over the other is going to save you a couple of dollars, but it comes down to convenience. Travelex and Australia Post let you order cash online and offer pickup locations at major Australian airports. We compare these providers if you want to buy euros in Australia.
ATM withdrawals
ATMs are plentiful all over Germany. Independent ATM operators will charge a fee, ATMs from German banks are free to use (stick to ATMs attached to the side of a bank to be sure). If you put an Australian issued credit, debit or travel card into a German ATM, the screen will automatically come up in English, nine times out of 10. If not, you will be prompted to 'pick your language' making ATM use easy for non-German speakers.
Where to exchange cash
There are a number of places you can change cash: Banks and exchange offices can change cash in Germany. Some exchange offices (Wechselstuben) can offer a good rate, but always check what's on offer against the market rate before you agree to a deal to get an idea of how many euros you should receive. Sometimes it might be better to withdraw money from an ATM.
Finding cash and ATMs in Germany
Why you'll need a combination of travel money options
It is possible to find a card that ticks all the boxes in Germany? No currency conversion fee, international ATM fee and no annual fee. That's unlikely. Remember German Bank ATMs don't charge a fee either. Even if you can get by using the one card for all your transactions, never put all your eggs in one basket. A combination of travel debit or travel prepaid cards and credit cards will ensure you can make cheap transactions in euros all the while giving you access to an emergency line of credit and travel perks like insurance.
Why pay fees and charges on holiday if they can be easily avoided. A little homework before you leave can mean the difference between smooth sailing and rough seas. If you have any questions or comments that will help you or other readers clarify the best way to take and spend money in Germany, please leave them below.
Back to top
Get travel insurance quotes for your holiday in Germany
Type or Select your destination(s)
Popular Destinations
Americas
Asia
Europe
Pacific
Africa
Can't find your destination? Just type it in the box above.
Back to top
You might also be interested in
More guides on Finder