Camila's 5-Day Blue Lagoon Wanderer Cruise in Fiji
Camila started her trip in Suva before heading across the island to Port Denarau. She joined a cruise which lasted for 4 nights. The cruise took her to see the sights of the Sacred Islands, Yasawa Islands and Blue Lagoon region before returning her to Port Denarau. She was in Fiji for a week and a half.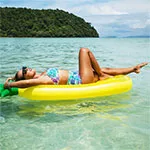 What cards did you take with you?
Camilla took these cards with her to Fiji
Why did you take these cards?
Camila took the Citibank Plus Visa Card because she could use the card to make purchases on the cruise without paying extra for currency conversion, she also used the card to make an ATM withdrawal so she had some cash as spending money for gratuities when she was on the cruise.
She paid for her return ticket to Fiji using her St.George Vertigo Platinum to take advantage of the complimentary international travel insurance and to use for big ticket purchases because it offers extended warranty insurance and purchase cover insurance.
Where could you use your cards?
She says she could use her cards on the cruise to pay for drinks and meals (which weren't included in the package). She says she could use her Citibank card in Suva in more places than not. Camila says she had to pay cash when she took taxis and when she picked up souvenirs at Suva's flea markets.
What can you tell us about ATM withdrawals?
Camila says she made a withdrawal at an ANZ ATM using her Citibank card in Suva when she arrived at the airport, she was charged a couple of dollars when she made this withdrawal.
What's your travel money recommendation?
She says take the Citibank Plus if you're heading overseas, it's low on fees, offers the worldwide acceptance of Visa and she says it's free to own. She applied for this account specifically for her trip. She says when she got back home she didn't use the card at all and will keep it for her next trip, which was fine because it costs her nothing to keep.
Do you have any travel money tips for Fiji?
She says ATMs in some places in Fiji are unreliable, so make sure you have enough cash if you're heading outside the major cities. Camila also says to check whether your hotel charges a credit card surcharge. She says she was charged a surcharge of 5%, which she could've avoided by using a debit card instead. Finally she says always pay in the local currency when you're in Fiji. Dynamic currency conversion is a credit card feature which allows spending in Australian dollars overseas, but it will cost you more.