Travel Money Guide: Belgium
How to pick a winning combination of travel money products to take to Belgium
We're reader-supported and may be paid when you visit links to partner sites. We don't compare all products in the market, but we're working on it!
Belgium is considered the heart of the European union. The country is a world leader in financial services and has the highest rate of card payments in the world.
For your trip to Belgium, and the rest of Europe, you'll need a product which lets you spend euros minus the extra international transaction fees — there are a few on the market and it will pay to look beyond prepaid travel cards. Read our Belgium travel money guide for a comparison of travel friendly credit cards, debit cards and travel cards as well as tips for using and spending money in Belgium.
How many euros do I need to bring to Belgium?
Belgium prices are indicative of the cost of travel throughout Western Europe. Like all places, you'll find a range of prices to cater to budget and wealthy travellers alike.
Brussels
Budget
Midrange
A royal experience
Eat
Sausage and onion baguette (street food)
$5 - $7
Cream filled chocolate kisses (street food)
$1 each
$15 - $50
per dish
Gourmet restaurant
$350 a head
Sleep
Hostel
$20 - $30 per night
2 star hotel
$100 per night
5 star hotel
$210 - $500 per night
Do
See a movie at Cinematek
$4.50
Beer tasting tour
$80 a head
Chocolate tour and workshop
$90 a head
*Prices are approximate and based on summer seasonality and are subject to change.
Exchange rate history
Following the European debt crisis and global financial crisis, 1 Australian dollar will buy you about 0.60 - 0.70 euros. It's difficult to predict which way the currency pair will move; however, you can lock in an exchange rate using a prepaid travel card if you have reason to believe euros will become more expensive to purchase during the course of your trip.
| Year | Average annual exchange Australian Dollar (AUD) to Euro (EUR) |
| --- | --- |
| 2012 | 0.806041 |
| 2013 | 0.728778 |
| 2014 | 0.679508 |
| 2015 | 0.677914 |
| 2016 | 0.672243 |
| 2017 | 0.690959 |
*Exchange rates are accurate as of 3 September 2017
Today's exchange rate AUD to EUR
Back to top
Should you take a travel card, a debit card or a credit card?
If you had to pick one country where you could get about just using your card, it would be Belgium. More than 90% of all transactions in Belgium are handled with plastic. In the past, the Belgians have placed an emphasis on automating payment systems, today, Visa and Mastercard can be used to pay for almost everything; while American Express and Diners Club are accepted in fewer places.
A quick summary of travel money options for Belgium
Travel money option
Pros
Considerations
Debit cards for travel

Save on currency conversion fees
Waived overseas ATM withdrawal fees

International transaction fees still apply

Prepaid travel money cards

Hold different currencies
Save on currency conversion fees

ATM fees
Initial load fees
Reload fees
Inactivity fees

Credit cards for travel

Waived currency conversion fees
Waived international ATM fees
Contactless payments
Interest-free period on purchases
Complimentary travel insurance

Traveller's cheques

Can be costly with initial purchase charges
Not all merchants accept traveller's cheques

Cash

Payment flexibility
Convenience

More difficult to manage expenses
Higher risk of theft
This table is a general summary of the travel money products in the market. Features and benefits can vary between cards.
Compare travel cards for Belgium
How do travel cards, credit cards, debit cards and more work in Belgium?
Using a travel money card
Travel cards let you load Australian dollars, exchange Aussie dollars to euros and lock in a rate so you can spend without paying an additional cost for currency conversion (3% on most credit cards and debit cards). Although you miss out on the currency conversion fee, you'll pay either when you first load the card with money, or each subsequent load thereafter, when you make a withdrawal from an ATM, and some of these cards even actually charge you for 'inactivity'. There are a number of countries in the EU which have not yet adopted the Euro, for example Hungary, the Czech Republic and Poland. Compare other travel money products if you're travelling to these countries as well as Belgium. The fee for currency conversion can be almost double what's charged on a credit card when you spend using a currency not loaded on a prepaid travel card.
Using debit card
A travel debit card provides the following features: no charge for currency conversion when you transact in euros and no international ATM withdrawal fee. There's one account which provides both of these features, the Citibank Plus Transaction Account. The Citi account is free as well as there are no establishment fee or ongoing fees.
Tip: Make sure you tell your bank about your travel plans. As a security measure, your cards may be blocked after the first overseas transaction if you don't.
Using credit cards
Travel credit cards give you a line of credit you can use overseas. These cards are characterised by the lack of international charges such as currency conversion fees. Bankwest and GE Money are two popular credit card providers in the travelling community, the Latitude 28° Global Platinum Mastercard and Bankwest Platinum range of credit cards let you make purchases (including contactless payments) in Belgium and you won't pay the additional 3% for spending outside Australia. What's more, credit cards give you an interest free period on purchases (you must pay your balance back by the statement due date) and extra perks like free travel insurance when you buy your return ticket with your card.
Tip: Although the Latitude 28° Global Platinum Mastercard waives international ATM fees, it's advised you don't use your credit card for ATM withdrawals as this transaction is a cash advance.
Using traveller's cheques
Traveller's cheques were a popular way to take money overseas; however, ATMs have largely replaced traveller's cheques. It's possible to get local currency at a good rate 24/7 by using one of the many ATM machines located throughout Belgium — It's cheaper too! If you want to take traveller's cheques to Europe, you can purchase cheques at banks, American Express and Thomas Cook are popular providers of traveller's cheques. Cheques can be cashed at Belgian banks, you'll pay 1% - 4% commission when you do so.
Paying with cash in Belgium
While it's true that the majority of payments in Belgium are made with cards, it's always a good idea to have some Euro banknotes and coins on you. While most businesses will accept card payments, markets and other smaller vendors will prefer or only accept cash.
Back to top
From Brussels to Bruges: Lincoln's trip to Belgium
Belgium was on Lincoln's must-visit list for a while. On his trip to Europe, he made sure a stop in the cities of Bruges and Ghent were included on the itinerary. He visited the battlefields of Flanders in the city of Ypres first. And it wasn't hard, Belgium is sandwiched between France and the Netherlands and only a couple of hours on a train from either Paris or Amsterdam.

What cards did you take with you?

Why did you take these cards?

He took his Citibank Card because it doesn't charge any international transaction fees. He uses this card in Australia, it was a bonus that it also happened to be his product of choice for a European vacation. The Citibank Plus Visa Debit Card let Lincoln make free ATM withdrawals and purchases (including contactless payments). The Coles Rewards Mastercard gave Lincoln the worldwide acceptance of a Mastercard product as well as the ability to earn flybuys rewards points all without paying the additional currency conversion fee when he made purchases in euros.

Where can you use your cards?

Lincoln did some day to day shopping at Carrefour hypermarkets (big supermarkets) and Carrefour Express (smaller stores). Carrefour have contactless terminals at the checkout so Lincoln says he had no issues using his Citibank card to pay for food, toiletries, alcohol and more, he says there was no minimum transaction limit either. He also says he used his Citibank Plus Card at every ATM he tried. The only time he was required to pay cash was when he picked up a snack from a man selling hot dogs on the street.

Did you make ATM withdrawals?

While Lincoln says was able to use his debit card freely to make purchases at shops, he still wanted to have cash in his pocket at all times. He says every ATM he saw supported Cirrus (Mastercard) and PLUS (Visa). Lincoln didn't pay anything to make ATM withdrawals in Belgium. Belgium bank ATMs do not charge a local ATM operator fee. He says he thinks it was actually a little cheaper than using his card back home.

Do you have recommendations for the best travel money for Belgium?

He says it's that easy to pay with card in Belgium (and Western Europe too), his main concern with avoiding the currency conversion fee when he used his card to pay 'over the counter'. He recommends all travellers to Europe do the same. He knew from a previous trip that there was no charge to use ATMs, so he says it's important to find a product that waived the international ATM fee as well. The Citibank Plus ticked all these boxes.

What are your travel money tips?
Get the metro pass. He says you can save quite a bit of money if you buy the metro pass rather than individual tickets. Get a MOBIB Basic Card, which can be bought pretty easily. 10 trips on the MOBIB cards costs about €10 whereas buying 10 individual tickets will cost you about double this.
Tipping isn't expected. Lincoln says tips are included in the bill when you pay, and only leave a tip if you believe the service went above and beyond.
Don't drink too much beer. Lincoln says this is common sense but it's worth saying anyway: too much beer will blow your budget quicker than you can say, 'Une autre pinte, s'il vous plaît' (another pint, please). Belgium has more breweries per capita than anywhere else on Earth.
Back to top
A guide to euro banknotes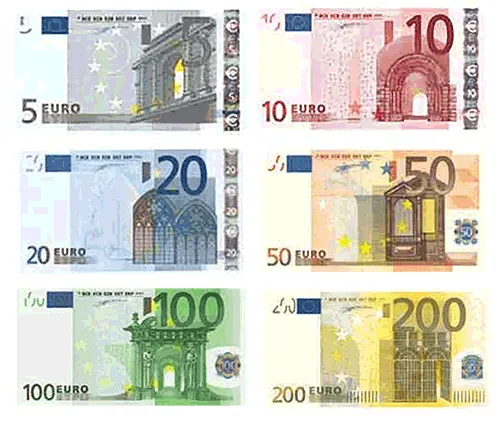 Buying euros in Australia
As a major international currency, euros are available from a number of sources in Australia. All banks will sell you euros, as will foreign exchange providers like Australia Post. Banks will charge a commission for orders of euro cash (some banks waive this fee for online orders), Australia Post and Travelex do not, and these providers have convenient cash collection points at major airports too.
Exchanging cash
You will be able to cash foreign currency in banks, hotels, at airports and train stations and in the number of exchange bureaus located in Belgian cities. While rates and commission charges are reasonably standard in Belgium compared with other destinations, for the best rates stick to banks and exchange offices in the centre of town. Exchange offices at the airport will have poorer rates than those located in the city centre. Banks are open from about 9am to 4pm Monday to Friday.
What exchange rate will you get?
Credit card and debit card transactions use the card scheme (Visa, Mastercard etc) exchange rate. This rate is usually better than what you'll get using a travel card and is pretty close to the market rate.
Tip: You may be charged an additional surcharge if you use your credit card to pay at restaurants and like businesses in Belgium.
ATMs
ATMs in Belgium are widespread, even outside of cities. They will usually accept all cards linked to the Cirrus (Mastercard) and Plus (Visa) networks.
Tip: Use a Belgian bank ATM to avoid paying the ATM operator fee.
Finding cash and ATMs in Belgium
Why you'll need a combination of travel money options
A combination of travel money products is going to give you peace of mind, so you'll be prepared for any surprises, of the financial kind, in Belgium. A credit card will provide a line of credit in case you blow your budget — but there are so many stories of Australians returning from a European holiday with a sizeable credit card debit, so use it sparingly.
A travel debit card or prepaid travel money card gives you a cost effective way to transact in Belgium. It's up to you which mix of products you take — the important thing is you take more than one way to access your travel funds.
Belgium offers travellers a chance to experience the charm of old-world continental Europe in a highly modern setting. Taking your regular everyday card could be the easiest option, but it will to be more expensive than taking a card that is 'designed to travel'.
If you are considering getting a specific card for your trip, ask yourself what kind of card will give you more for your money and make your trip to Belgium cheaper, and easier. If you have questions about the products compared on this page, get in touch with us and we can help you with your comparison of travel money products for Belgium.
Back to top
Get travel insurance quotes for your holiday in Belgium
Type or Select your destination(s)
Popular Destinations
Americas
Asia
Europe
Pacific
Africa
Can't find your destination? Just type it in the box above.
Back to top
You might also be interested in:
More guides on Finder